Association of N6-methyladenosine with viruses and related diseases
Part of the following topical collections:
Abstract
Background
N6-methyladenosine (m6A) modification is the most prevalent internal modification of eukaryotic mRNA modulating gene expression. m6A modification is a dynamic reversible process regulated by three protein groups: methyltransferases (writers), demethylases (erasers), and m6A-binding proteins (readers). m6A modification is involved in all phases of RNA metabolism, including RNA folding, stability, splicing, nuclear exporting, translational modulation and degradation.
Main body
In recent years, numerous studies have reported that abnormal m6A modification causes aberrant expression of important viral genes. Herein, we review the role of m6A in viral lifecycle and its contribution to the pathogenesis of human diseases. Particularly, we focus on the viruses associated with human diseases such as HIV-1, IAV, HBV, HCV, EBV and many others.
Conclusions
A better understanding of m6A-virus relationship would provide new insights into the viral replication process and pathogenesis of human diseases caused by viruses. In addition, exploration of the role of m6A in disease-causing viruses will reveal novel approaches for the treatment of such diseases.
Keywords
N6-methyladenosine (m6A) 
Methyltransferases 
Demethylases 
m6A-binding proteins 
Viral diseases 
Abbreviations
3'UTR

3'untranslated region

5'UTR

5'untranslated region

AIDS

acquired immunodeficiency syndrome

ALKBH5

alkB homologue 5

CC

Cervical cancer

co-IP

co-immunoprecipitation

CSCC

cervical squamous cell carcinoma

DAA

3-deazaadenosine

DFS

disease-free survival

EBV

Epstein–Barr virus

ERCC1

excision repair cross-complementation group 1

EV71

Enterovirus 71

FTO

fat mass and obesity-associated proteins

HBV

Hepatitis B virus

HCC

Hepatocellular Carcinoma

HCV

Hepatitis C virus

HIV-1

Human immunodeficiency virus I

HPV

Human papillomavirus

IAV

Influenza A virus

IGF2BPs

the insulin-like growth factor 2 mRNA-binding proteins

KS

Kaposi's sarcoma

KSHV

Kaposi's sarcoma-associated herpesvirus

m6A

N6-methyladenosine

m6Am

N6,2′-O-dimethyladenosine

m6A-seq

high-throughput RNA sequencing

MCD

multicentric Castleman's disease

MeRIP-seq

methylated RNA immunoprecipitation sequening

METTL14

methyltransferase-like 14

METTL16

methyltransferase-like 16

METTL3

methyltransferase-like 3

miR126

microRNA126

mRNA

messenger RNA

MT

methyltransferase

ORF50

Open reading frame 50

OS

overall survival

PA-m6A-seq

photo-crosslinking-assisted m6A sequencing

PAR-CLIP

photoactivatable ribonucleoside-enhanced crosslinking and immunoprecipitation

PEL

primary effusion lymphoma

RBM15

RNA binding motif protein 15

RdRp

RNA-dependent RNA polymerase

RRE

Rev response element

rRNA

ribosomal RNA

RSV

Rous sarcoma virus

RTA

replication transcription activator

SOCS2

suppressors of cytokine signaling 2

SV40

Simian Virus 40

tRNA

transfer RNA

VSV

vesicular stomatitis virus

WTAP

Wilms' tumor 1-associating protein

ZIKV

Zika virus

ZVD

Zika virus disease
Background
Like histone and DNA, RNA undergoes covalent modifications that fine-tunes its function [1]. Post-transcriptional modification of RNA is very common in eukaryotes, with more than one hundred types of RNA modification reported so far [2]. Most of these modifications occur on ribosomal RNA (rRNA) and transfer RNA (tRNA), which modulate RNA structures, functions, translation, as these RNAs are accessory molecules in eukaryotic processes [2, 3]. Messenger RNA (mRNA), a primary information-bearing molecule, is also post-transcriptionally modified [2]. As early as 1970s, researchers discovered that N6-methyladenosine (m6A) is present on cellular mRNA [4]. Since then, m6A modification has been identified in many mRNA, with 25% of all cellular mRNAs containing multiple m6A residues [5, 6]. Furthermore, it has been found that m6A modification mostly occur at RRACH motif (R = A or G, H = A, C, or U), and m6A sites are significantly clustered around transcription start sites, exonic regions flanking splicing sites, stop codons, 5'untranslated region (5'UTR) and 3'untranslated region (3'UTR) [7, 8, 9].
m6A modification is dynamically and reversibly regulated by methyltransferases (writers) [10, 11], and removed by demethylases (erasers) [12]; in addition, it functions by interacting with m6A binding proteins (readers), or by indirectly altering the structure of modified RNA to regulate RNA reader–protein interactions [6]. It has been demonstrated that m6A modification and its related enzymes play an important role in different phases of mRNA life [13].
Writers induce m6A modification, which is mediated by methyltransferase-like 3 (METTL3), methyltransferase-like 14 (METTL14), Wilms' tumor 1-associating protein (WTAP), methyltransferase-like 16 (METTL16), RNA binding motif protein 15 (RBM15), and KIAA1429 [10, 14, 15, 16]. Bokar et al. discovered a ~ 200 kDa methyltransferase (MT) complex in nuclear extract lysate from HeLa cell which exhibited methyltransferase activity, from which a 70 kDa protein was identified, named MT-A70 or METTL3 [17]. Recently, Liu et al. found that METTL14, an RNA writer, forms a stable heterodimer core complex with METTL3 [10]. This complex component facilitates m6A deposition on nuclear RNA in mammalian cells. Furthermore, the combination of METTL3 and METTL14 dramatically enhanced methyltransferase activity compared to single protein. In addition, WTAP is a regulatory subunit in the m6A methyltransferase complex. Although it lacked methylation activity, it interacted with METTL3/14 complex to influence the deposition of m6A. Moreover, Ping and colleagues showed that WTAP might play a critical role in epitranscriptomic regulation of RNA metabolism [11]. Besides WTAP, RBM15 and KIAA1429, which are part of the complex, affected the activity of METTL3/14 [18]. Schwartz et al. showed that depletion of KIAA1429 decreased m6A level in vitro [19]. Moreover, knockdown of RBM15 caused a significant reduction of m6A deposition on mRNAs [15]. This means RBM15 and KIAA1429 might be involved in methylation process. A recent study [14] identified a new component of writers METTL16, which is independent from the METTL3/METTL14/WTAP complex, that caused m6A deposition on U6 snRNA [20] and U6-like hairpins of MAT2A mRNA [21] in a C-m6A-G context.
It has been demonstrated that m6A modification on RNA can be removed by at least two erasers, alkB homologue 5 (ALKBH5) or the fat mass and obesity-associated (FTO) proteins. Generally, ALKBH5 and FTO are mainly localized in the nuclear compartment [12, 16]. FTO is homologous to the DNA repair protein AlkB, and is involved in oxidative demethylation of 3-methylthymine in single-stranded DNA and in the 3-methyluracil activity in single-stranded RNA [22]. Several studies have reported that FTO is a potent regulator of nuclear mRNA processing events, participating in alternative splicing and processing of the 3′ end mRNA [23]. Additionally, as a demethylase, FTO manipulates the level of N6,2′-O-dimethyladenosine (m6Am); as depletion or overexpression of FTO selectively regulated the abundance of mRNAs containing m6Am in cells. Moreover, FTO reduced the stability of m6Am mRNAs, thus preferentially demethylated m6Am rather than m6A [24]. Zheng et al. demonstrated that ALKBH5 contributed to the removal of m6A modification from nuclear RNA (mostly mRNA) both in vitro and in vivo [16]. Furthermore, ALKBH5 significantly regulated the nuclear RNA export, metabolism and gene expression, indicating that reversible m6A modification on RNA has broad biological effects.
Proteins that selectively bind m6A sites are defined as m6A "readers", which exert regulation by influencing the recognition of methylated RNA. It has been established that the YTH N6-methyladenosine RNA-binding protein family comprising YTHDF1, YTHDF2, YTHDF3, YTHDC1, and YTHDC2 is the major protein family among all "readers". In general, YTHDF1 directly enhanced translation through binding with the m6A modification in 3'UTR region [
25
]; YTHDF2 recruited CCR4-NOT de-adenosine complexes to promote mRNA decay [
26
]; YTHDF3 acted as a helper of YTHDF1 and YTHDF2 [
27
,
28
]. YTHDF1, 2, and 3 are dominantly located in the cytoplasm, while YTHDC1 is mainly localized in the nucleus where it regulates mRNA export from nucleus to cytoplasm and induce exon inclusion [
29
,
30
]. YTHDC2 modulates the translation of RNA by interacting with the 40-80S subunit in the cytoplasm [
31
]. Recently, Huang et al. identified a new family- the insulin-like growth factor 2 mRNA-binding proteins (IGF2BPs, including IGF2BP1/2/3) [
32
]. In contrast to YTH domain family, IGF2BPs bind to m6A-modified mRNAs through GG(m6A)C, a typical m6A motif, to promote mRNA stability. Moreover, other proteins have been found to recognize m6A, such as eIF3 and HNRNP2AB1. eIF3, as part of the 43S pre-translational initiation complex, promotes protein translation by binding to the m6A site of mRNA 5'UTR region [
24
,
33
,
34
]. Therefore, m6A is dynamically regulated by writers, erasers, readers and other potential proteins associated with these regulators (Fig.
1
).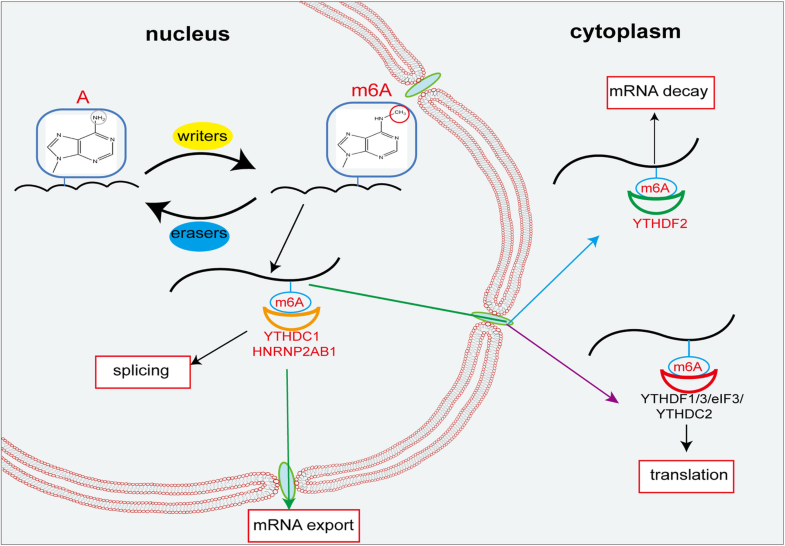 Main text
Accumulating evidence shows that m6A modification not only exists in eukaryotic cells but also in viruses. Currently, it is known that deregulation of m6A modification is associated with diseases caused by pathogenic viruses. m6A has long been identified in RNA transcripts of viruses and it regulates nuclear replication in viruses such as influenza A virus, simian virus 40, Rous sarcoma virus, avian sarcoma virus, and adenovirus [
35
,
36
,
37
,
38
]. In recent years, numerous studies have revealed that m6A modification regulates viral life cycles and m6A modification in pathogenic viruses is increasingly being investigated. Other scholars have revealed that m6A modification influences the expression of key genes involved in the viral life. In addition, m6A modification plays a role in the inhibition or promotion of different types of pathogenic viruses (Table 
1
). Therefore, exploring the biological functions of m6A methylation in different viruses is of great significance to understanding the pathogenesis and innovative prevention of viral infection. Relationships between m6A and viruses, in relation to diseases caused by different types of viruses are reviewed in following sections.
Table 1
The regulators of m6A in different viruses
Virus/cancer type

Molecule

Change

Sample source

Target

Biological function

Reference

HIV

METTL3/METTL14

Down

CD4+T cell

Rev

Suppress virus replication

[39]

ALKBH5

Down

CD4+T cell

Rev

Promote virus replication

YTHDF1–3

Up

CEM-SS T cell

–

Promote virus replication

HeLa/CD4 cell

Gag

Suppress virus replication

[40]

EV71

METTL3

Down

Vero cells

RdRp 3D

Decrease in virus titer

[41]

FTO

Down

Vero cells

–

Promote in virus titer

YTHDF2/3

Down

Vero cells

–

Suppress virus replication

IAV

METTL3

Down

A549 cell

–

Suppress IAV replication

[42]

YTHDF2

Up

A549 cell

–

Promote IAV replication

KSHV

METTL3

Down

BCBL1 cell

ORF50

Suppress viral lytic replication

[43]

FTO

Down

BCBL1 cell

ORF50

Promote viral lytic replication

YTHDC1

Up

BCBL1 cell

ORF50

Promote ORF50 pre-mRNA splicing

YTHDF2

Down

iSLK.219/ iSLK.BAC16 cell

ORF50

Suppress transcription in ORF50

[44]

HBV

METTL3/14

Down

HepAD38 cell

–

Promote HBc/s protein expression and the half-life of pgRNA

[45]

FTO/ALKBH5/YTHDF2–3

Down

HepAD38 cell

–

Suppress HBc/s protein expression and the half-life of pgRNA

HCV

METTL3/14

Down

Huh7 cell

–

Enhance titer of HCV

[46]

FTO

Down

Huh7 cell

–

Decrease viral titer

YTHDF1–3

Up

Huh7 cell

–

Suppress HCV replication

HCC

METTL3

Down

Patient sample/ HepG2, Huh-7 and MHCC97L

SOCS2

Attenuate SOCS2 mRNA stability

[47]

METTL14

Down

Patient sample/ tumor tissues/ SMMC-7721, Hep3B and HepG2

miR-126

Regulate processing of miR-126 by DGCR8

[48]

CC

FTO

Up

Patient sample/ SiHa cell

–

Induce poor prognosis

ZIKV

METTL3/14

Down

Vero cell

–

Increase viral titer

[51]

ALKBH5/FTO

Down

Vero cell

–

Decrease viral titer

YTHDF2

Up

Vero cell

–

Suppress ZIKV replication

SV40

METTL3

Down

BCS40 cell

–

Reduce SV40 replication

[52]

YTHDF2

Up

BCS40 cell

–

Enhance replication of SV40

EBV

METTL14

Up

LcLs and Akata cells

EBNA3C

Promote growth and proliferation of EBV-infected cells

[53]
Conclusions
The viruses described in this review are harmful to human health. Some viruses RNA undergo m6A modification such as Rous sarcoma virus (RSV) [79], vesicular stomatitis virus (VSV) [80], and adenoviruses [37], and are less pathogenic in human. Several advances have been made in understanding human pathogenic viruses in recent years, however, only few drugs for these diseases have been put on the market in the past decades. For this reason, it is necessary to focus on the development of new treatments that may replace or improve the standard therapies.
The emergence of posttranscriptional modification of RNAs, especially the methylation of RNAs, has triggered several investigations into the role of such modifications on gene expression, cell behaviors, and physiological conditions in many species, including humans. Among more than 100 kinds of chemical modifications, m6A is the most common modification initially discovered in the poly(A) RNA fractions and has been predicted to be involved in mRNA processing [4]. m6A is a dynamic and reversible process initiated by "writers" and removed by "erasers" and binds to "readers". Emerging evidence indicates that aberrant expression of proteins related to m6A modification is associated with the development of various cancers, such as acute myeloid leukemia [81, 82], lung cancer [83], and hepatocellular carcinoma [47, 48]. Particularly, m6A has been detected in viral mRNA and the RNA of retroviruses. It can influence the expression of viral genes and viral life cycle, providing a new method for the treatment of many malignant virus-related diseases.
The development of small molecule inhibitors targeted at writers, erasers and readers in m6A modification process is expected to improve antiviral therapy. Recent studies have shown that the use of writer inhibitors may affect viral replication and the development of tumors [1, 47, 84]. Thus, inhibition of m6A modification may be a potential therapy for virus induced diseases.
Numerous studies have shown that m6A modification plays a significant role in human pathogenic viruses, but there are some challenges to be addressed. First, the specific mechanism explaining the interaction of m6A modification proteins with viral RNA is largely unknown. Second, before the m6A modification-related regulatory genes and proteins can be used as prognostic and diagnostic markers for some viral diseases, studies are needed to explore the specificity and targeting precision of these molecules. Moreover, the effects of these biomolecules on normal cells remains to be clarified. Third, many researchers have reported that substances similar to inhibitors could be used to block m6A-modified abnormalities to control related diseases, but due to the lack of large clinical trials, the corresponding effects of these substances are not fully known. Thus, further studies are required to address these issues.
Notes
Acknowledgments
Not applicable.
Authors' contributions
FW, WC and FZ collected references and wrote the manuscript; WC, YD, MT and RX revised and completed the final manuscript. All authors read and approved the final manuscript.
Funding
This study was supported by the National Natural Science Foundation of China (No. 81271692), the Ocean Antithrombotic Fibrinolytic Enzyme Gene Bank of Taiwan Strait (No. 2014FJPT08), the Science and Technology Innovation Public Technology Service Platform of Function of Drugs and Food (No. 3502Z20141015), Education Department of Fujian Province (JA14020) and Subsidized Project for Postgraduates' Innovative Fund in Scientific Research of Huaqiao University (No. 17013071028).
Ethics approval and consent to participate
Not applicable.
Consent for publication
Not applicable.
Competing interests
The authors declare that they have no competing interests.
Copyright information
© The Author(s). 2019
Open AccessThis article is distributed under the terms of the Creative Commons Attribution 4.0 International License (http://creativecommons.org/licenses/by/4.0/), which permits unrestricted use, distribution, and reproduction in any medium, provided you give appropriate credit to the original author(s) and the source, provide a link to the Creative Commons license, and indicate if changes were made. The Creative Commons Public Domain Dedication waiver (http://creativecommons.org/publicdomain/zero/1.0/) applies to the data made available in this article, unless otherwise stated.