Exosomes in hepatocellular carcinoma: a new horizon
Abstract
Exosomes are a class of extracellular vesicles released by multiple cells types including tumor cells, with a size range of 30-100 nm and a lipid bilayer membrane. Recently, the role of exosomes in cell-to-cell communication has been extensively studied, showed that exosomes can deliver their functional RNAs and proteins to recipient cells, impacting transcription and translation of recipient cells. Emerging evidence suggests that hepatocellular carcinoma (HCC) cell-derived exosomes can construct a fertile environment to support HCC cells proliferation, grow, invasion and metastasis, development of drug resistance. Circulating exosomes can be used as noninvasive biomarkers for early diagnosis, moreover as drug delivery vehicles, provide new insights into the treatment of HCC.
Keywords
Hepatocellular carcinoma 
Exosomes 
Biomarkers 
Therapy 
Abbreviations
5-FU

5-fluorouracil

ABCG2

ATP-binding cassette, sub-family G member 2

AFP

Alpha-fetoprotein

AMSCs

Adipose tissue-derived mesenchymal stem cells

B4GALT3

β-1,4-galactosyltransferases

CAFs

Cancer-associated fibroblasts

CHB

Chronic hepatitis B

DCs

Dendritic cells

EGFR

Epidermal growth factor receptor

EMT

Epithelial-mesenchymal transition

ESCRT

Endosomal sorting complexes required for transport

FBS

Fetal bovine serum

HCC

Hepatocellular carcinoma

HCV-E2

epatitis C virus E2 envelope glycoprotein

HLSC

Human adult liver stem cells

hnRNPH1

Heterogeneous nuclear ribonucleoprotein H1

HUVECs

Human umbilical vein endothelial cells

ILVs

Intraluminal vesicles

LBPA

Lysobisphosphatidic acid

linc-RoR

Long intergenic noncoding RNA regulator of reprogramming

lncRNAs

Long noncoding RNAs

MVB

Multivesicular body

NF

Nuclear factor

NTA

Nanoparticle tracking analysis

PD-L1

Programmed-cell death ligand 1

rRNA

Ribosomal RNA

snoRNA

Small nucleolar RNA

snRNA

Small nuclear RNA

TAK1

Transforming growth factor β activated kinase-1

TEM

Transmission electron microscopy

TRAIL

Tumour-necrosis-factor-related apoptosis-inducing ligand

tRNAs

Transfer RNAs
Background
Liver cancer is the sixth most common cancer and the fourth leading cause of cancer-related deaths worldwide in 2018, with approximately 841,000 new cases and 782,000 deaths annually [1]. Hepatocellular carcinoma (HCC) is the most primary malignant liver tumors, and linked to hepatitis B or hepatitis C infection as well as cirrhosis [2]. Although great advancement has been achieved in diagnosis and therapeutic strategies, such as hepatic resection, liver transplantation, ablative therapy, chemoembolization, and sorafinib, the long-term survival remains daunting, owing to high rate of metastasis and relapse [3].
Exosome, a nanosized membrane vesicle, contains nucleic acids, proteins, and lipids. Surprisingly, exosomes are not only specifically target to the membrane proteins of host cells to initiate downstream signaling, but are also able to deliver genetic cargos into the cytoplasm, which provide novel mechanisms of intercellular communication. Similarly, in cancer, exosomes act as vehicles for exchange of cargos between heterogeneous populations of tumor cells and neighbor cells as well as distant cells, reprogramming tumor environment. In a review, we summarize the recent findings regarding HCC cell-derived exosomes, contribute to elucidate the molecular mechanisms underlying HCC progression and may provide a novel diagnosis and therapy strategy of HCC.
Conclusion
Indeed, exosomes play an improtant role in HCC cells communication with their microenvironment, and provide fertile soil for the seed, thereby facilitating HCC proliferation and metastasis (Table
2
, Fig. 
2
). Nonetheless, there are many problems remain to be elucidated. How miRNA, lncRNA and proteins are sorted to exosomes, and whether or not exosomes uptake is a cell type specific process need to intensive researches. In experimental research, successfully extracting exosomes from cell culture supernatant is challenging and expensive, which limit the study of exosomes. Importantly, the serum of cancer patients contain plenty of exosomes [
139
], which is beneficial for investigating exosomes as biomarkers for cancers screening and monitoring. Large sample studies are needed to select those exosomal RNAs and proteins with high specificity and sensitivity. Whether exosomes can regulate adaptive immunity in HCC cells microenvironment need further researches, which may offers potential therapeutic strategies for HCC. In addition, new therapeutic agents can be developed utilizing exosomes as biological vehicles.
Table 2
Exosomal cargos detected in HCC and their target and clinical relevance
Exosomal cargos

Target

Biological/clinical relevance

Reference

(1) miRNA

 miRNA

TAK1

Facilitated tumorigenesis

[104]

 miR-1247-3p

B4GALT3

Converted normal fibroblasts to cancer-associated fibroblasts (CAFs)

[114]

 miR-122

 

Suppressed HCC cells growth and proliferation

[115]

 miR-320a

PBX3

Suppressed CAFs proliferation

[118]

 miR-335-5p

 

Inhibited HCC cells proliferation

[119]

 miR451,miR223, miR24,miR125b miR31,and miR122

 

Inhibited HCC cells growth and stimulated apoptosis

[120]

 miR-103

 

Facilitated tumor metastasis

[122]

 miR-32-5p

PTEN

Induced multidrug resistance in Bel7402 cells

[131]

(2) lncRNA

 lncRNA H19

 

Promoted angiogenesis

[109]

 TUC339

 

Promoted HCC proliferation and spread

[116]

 linc-RoR

miR-145

Increased HCC cells viability and promoted HCC cells survival

[117]

 lncRNA FAL1

miR-1236

Promoted Huh7 and HepG2 cells proliferation and metastasis

[123]

 linc-VLDLR

ABCG2

Leaded to acquired chemoresistance in HCC cells

[133]

(3) Proteins

 proteins

 

Facilitated tumorigenesis in normal hepatocytes

[106]

 Vasorin

 

Promoted angiogenesis

[108]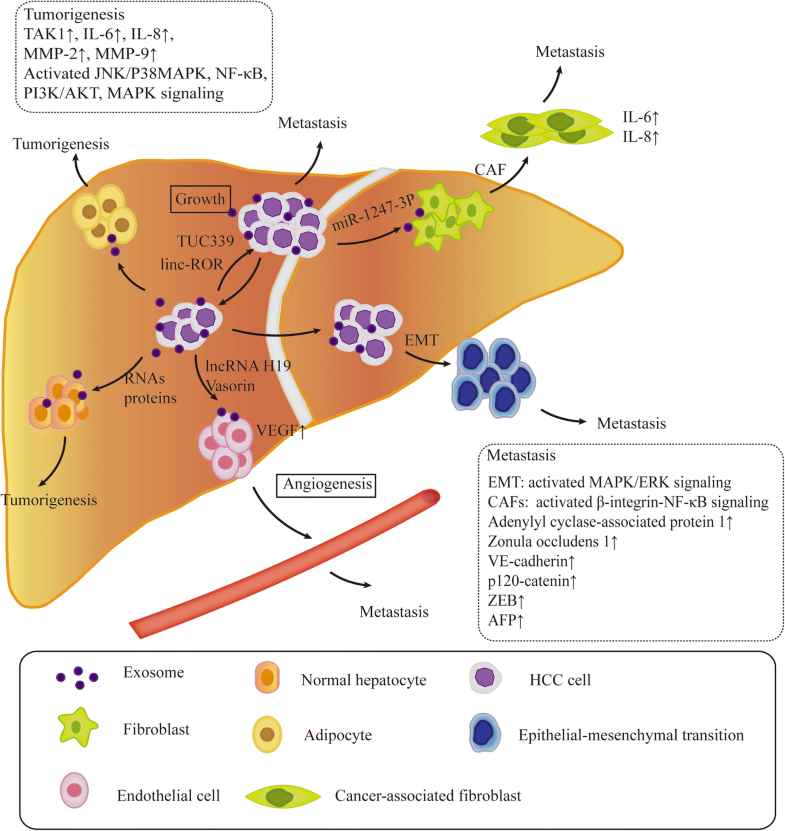 Notes
Acknowledgements
We do thank for the support of Natural science foundation of China, Shanghai Municipal Education Commission and Shanghai Education Development Foundation.
Funding
This study was supported Grants 81472124, 81774291, and 17CG43.
Availability of data and materials
Not applicable.
Authors' contributions
Yu Y participated in the design and assessed relevant bioinformatics. Chen R analyzed and interpreted data, and wrote the manuscript. Xu X, Tao Y and Qian Z helped to draft the manuscript. All authors critically read and approved the final manuscript.
Ethics approval and consent to participate
Not relevant.
Consent for publication
Not relevant.
Competing interests
The authors declare that they have no competing interests.
Publisher's Note
Springer Nature remains neutral with regard to jurisdictional claims in published maps and institutional affiliations.
Copyright information
© The Author(s). 2019
Open AccessThis article is distributed under the terms of the Creative Commons Attribution 4.0 International License (http://creativecommons.org/licenses/by/4.0/), which permits unrestricted use, distribution, and reproduction in any medium, provided you give appropriate credit to the original author(s) and the source, provide a link to the Creative Commons license, and indicate if changes were made. The Creative Commons Public Domain Dedication waiver (http://creativecommons.org/publicdomain/zero/1.0/) applies to the data made available in this article, unless otherwise stated.