A systematic literature review of patient-reported outcome measures used in gout: an evaluation of their content and measurement properties
Abstract
Background
Gout is a common, monosodium urate crystal-driven inflammatory arthritis. Besides its clinical manifestations, patients often also suffer from pain, physical impairment, emotional distress and work productivity loss, as a result of the disease. Patient-reported outcome measures (PROMs) are commonly used to assess these consequences of the disease. However, current instrument endorsements for measuring such outcomes in acute and chronic gout clinical settings are based on limited psychometric evidence. The objective of this systematic literature review was to identify currently available PROMs for gout, and to critically evaluate their content and psychometric properties, in order to evaluate the current status regarding PROMs for use in gout patients.
Methods
Systematic literature searches were performed in the PubMed and EMBASE databases. The methodological quality of included papers was appraised using the COnsensus-based Standards for the selection of health Measurement INstruments (COSMIN) checklist, and evaluation of measurement properties (reliability, responsiveness, construct validity, floor and ceiling effects) was done in accordance with published quality criteria. Item content was appraised by linking health concepts to the International Classification of Functioning Disability and Health (ICF) framework.
Results
In total, 13 PROMs were identified, of which three were targeted specifically at gout patients. The majority of the PROMs were rated positively for content validity. For most instruments, limited evidence was available for construct validity and reliability. Instruments to assess pain scored well on responsiveness and floor and ceiling effects, but not much is known about their reliability in gout.
Conclusions
The physical functioning subscale of the SF-36v2 (Short Form-36 item version 2) is the only PROM that had sufficient supporting evidence for all its psychometric properties. Many of the commonly used PROMs in gout are currently not yet well supported and more studies on their measurement properties are needed among both acute and chronic gout populations.
Keywords
Gout 
Patient reported outcomes 
Measurement properties, systematic literature review 
Abbreviations
AIMS

Arthritis Impact Measurement Scales

COSMIN

Consensus-based Standards for the selection of health Measurement Instruments

GAQ2.0

Gout Assessment Questionnaire 2.0

HAQ-DI

Health Assessment Questionnaire-Disability Index

HAQ-II

Health Assessment Questionnaire-II

ICC

Intraclass correlation coefficient

ICF

International Classification of Functioning, disability and Health

IRT

Item response theory

ISOQOL

International Society for Quality of Life Research

MOS-20

Medical Outcomes Study 20-item Short Form Health Survey

NRS

Numeric Rating Scale

OMERACT

Outcome Measures in Rheumatology

PRO

Patient-reported outcome

PROM

Patient-reported outcome measure

RA-WIS

Rheumatoid Arthritis-Work Instability Scale

SF-36v2

Short Form-36 item version 2

TIQ-20

20-item Tophus Impact Questionnaire

VAS

Visual Analogue Scale

WPAI

Work Productivity and Activity Impairment
Background
Gout is an increasingly prevalent, monosodium urate crystal-driven inflammatory arthritis, commonly presenting as debilitating acute painful flares with associated redness and swelling of the affected joint(s). In some cases a chronic course may develop when increasing crystal deposition is left untreated, leading to visible urate crystal deposits (tophi) and joint damage, as well as extra-articular complications [1]. Along with the clinical manifestations, patients suffering from gout are often confronted with pain, physical impairment, work productivity loss, and emotional distress [2, 3]. Patient-reported outcome measures (PROMs) are commonly used to assess these consequences of gout in a variety of settings [4, 5].
When choosing a specific PROM to use from a number of alternatives, one should take into account the research context, feasibility of the instrument, comparability of scores with relevant earlier work, and the measurement properties of the instrument in the population of interest. Measurement properties are arguably a particularly important factor to consider, since they have a direct bearing on, for example, the ability of a study to demonstrate the desired effects, as well as the required sample size. Therefore, choosing the best instrument from a number of alternatives importantly contributes to the potential for the success of a study. Consequently, endorsements of specific instruments should be based on a comprehensive, critical evaluation of their content and the documented evidence supporting their measurement properties [6].
The OMERACT Gout Special Interest Group has endorsed various patient-reported outcome (PRO) instruments for use in acute and chronic gout clinical research [7, 8, 9, 10, 11, 12, 13]. However, these endorsements are based only on the opinions of experts, guided by analyses performed on data from a few selected clinical trials (n = 4) and one observational study, as well as a systematic review on the performance of specific measures in previous clinical trials of acute gout [14, 15]. Important measurement properties, such as reliability and validity, are not typically reported on in trial reports, nor can information about these properties necessarily be inferred from the reported results. Also, as information about measurement properties was derived from a small, selected number of studies, new or less popular instruments may have been underappreciated.
To date, no systematic evaluation has been performed of the available evidence supporting the measurement properties of the various PROMs available for use in gout [16, 17]. The objective of this systematic review was to identify all PROMs currently available for gout, and to critically appraise their content and measurement properties, in order to evaluate the current status regarding PROMs validated for use in gout patients, and to identify areas for future research.
Results
The search resulted in 826 hits, of which 556 were screened after removal of the duplicates. After screening of the titles and abstracts, 33 were found to meet the inclusion criteria. Of these, another 19 were excluded, leaving a total of 14 studies for review (see Fig. 
1
) [
15
,
32
,
33
,
34
,
35
,
36
,
37
,
38
,
39
,
40
,
41
,
42
,
43
,
44
]. Reference checking of systematic reviews and of these included papers, or the additional PubMed search of each included instrument, did not result in any additional studies eligible for review.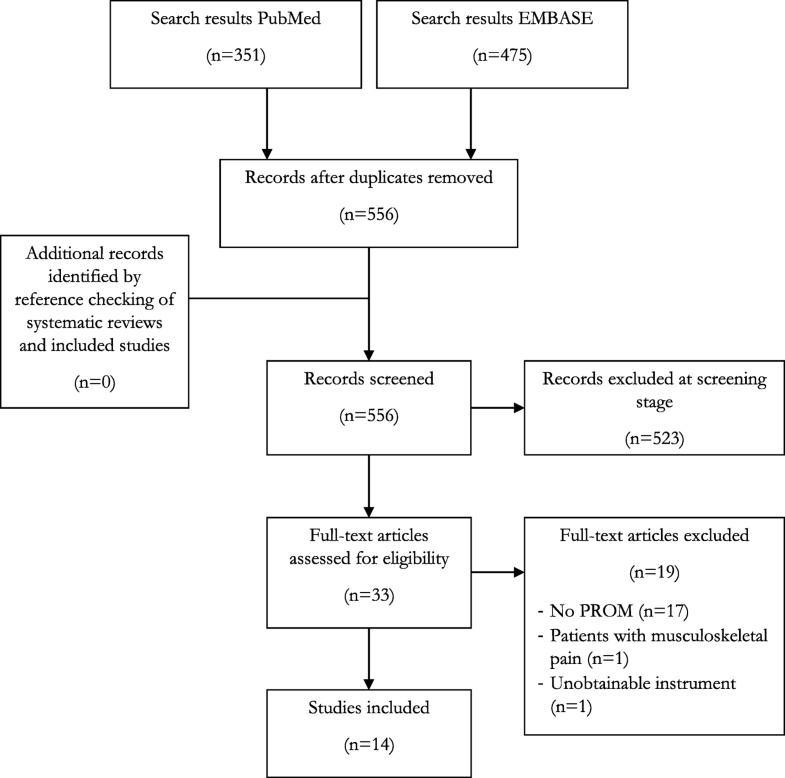 Discussion
Brief summary
In the current study, we identified and critically reviewed the content and psychometric properties of PROMs currently available for gout, using a systematic approach. This paper can be used for determining areas where further research is required for specific PRO domains and measures in gout, especially regarding their measurement properties.
Strengths
The comprehensive literature search in various databases, as well as the systematic approach applied during this entire review process, are strengths of this study. In addition, this review is the first to critically review various measurement properties of commonly used PROMs in gout, including the assessment of the methodological quality of studies reporting on these measurement properties. For this purpose, standardized criteria were used to assess both the methodological quality of the included studies using the COSMIN checklist, as well as the quality of the measurement properties using quality criteria that were proposed by ISOQOL and Terwee et al. [20, 21, 26]. Furthermore, the content validity of the included PROMs were comprehensively assessed by linking their items to the ICF using standardized ICF linking procedures [27].
Weaknesses
There were some limitations to this study. First, our search was developed to find papers that evaluated measurement properties of PROMs used in gout. As a result, we may have missed PROMs used in gout for which no evaluation of the psychometric properties are yet available. For instance, several new generic item banks, for example, those developed for the Patient-Reported Outcomes Measurement Information System project, were not included in this review for that reason [45]. Evaluation of measurement properties of such measures in gout seems very relevant. Moreover, no ICF core set for gout is currently available. The comparative ICF core set we used consisted of the ICF core set of acute inflammatory arthritis and a preliminary ICF core set derived in a recent study in which a core set of gout ICF categories considered relevant by a panel of experts physicians was defined [28, 29]. The results regarding content validity should therefore be considered preliminary and interpreted with some caution. Another limitation to the evaluation of the content of the PROMs is that all health concepts related to emotional functioning (e.g., "Have you been very nervous?") were linked to a single category, namely 'b152 emotional functions'. Since health concepts relating to emotional functioning were the second most popular category in the included PROMs, and represented quite diverse emotional experiences, different PROMs could probably be characterized in more detail with respect to the various aspects of emotional functioning they assess. Finally, authors of the included papers were usually insufficiently clear about whether patients had active gouty arthritis, or were studied in the so-called inter-critical periods of the disease. Properties of the included PROMs are likely to differ between these subpopulations, which limits the generalizability of our results. For future studies we recommend that authors provide information on the percentage of patients with active arthritis included in the study.
Discussion on findings
The results of this study show that various PROMs are available for gout, covering the majority of the outcome domains that have been endorsed by OMERACT for use in clinical studies in this field. Interesting was the absence of studies assessing the properties of PROMs for the OMERACT key outcomes of 'joint swelling' and 'joint tenderness'. Possibly because in many gout clinical studies these outcomes are not applied as a PROM, but are rather assessed by the physician [46, 47]. Nevertheless, patient-reports of these domains have been done in gout clinical studies, so that evaluation of their measurement properties is desired [48, 49]. Also, no studies were found examining the measurement properties of instruments that can be used to derive health utilities for health-economic studies.
Only the physical functioning subscale of the SF-36v2 was rated favorably for all measurement properties in this systematic review. Moreover, in one of the included studies, a direct comparison with the HAQ-DI and HAQ-II showed that it was the only instrument without floor and ceiling effects, suggesting it better targets the disability levels of gout patients [37]. Therefore, current evidence suggests that the SF-36 physical functioning subscale can be recommended for assessing disability in gout. In measuring disability, the HAQ-DI was the only other instrument for which sufficient studies of high quality were available to provide a comprehensive evaluation of its measurement properties. However, this instrument scored inconclusively for construct validity, and floor and ceiling effects. Based on the current evidence, both the VAS and the SF-36v2 bodily pain subscale may be recommended for measuring pain, as almost all measurement properties were supported by high quality studies. However, in general, few studies have yet assessed the psychometric properties of single-item pain measures.
Of the gout-specific PROMs, the health status measuring GAQ2.0 was most extensively evaluated in the literature. Although its subscales showed no floor and ceiling effects, and were all rated as positive for content validity, confirming its items contain health concepts relevant for gout populations, the GAQ2.0 does not cover all recommended OMERACT outcome domains (e.g., no activity limitations scale). This potentially limits its usefulness for gout clinical research purposes. Moreover, the available evidence suggests poor reliability and non-responsiveness to change for half of its subscales, and it was one of the few PROMs with a poorer rating for ease of reading. The overall psychometric appraisal of the GAQ2.0 in this systematic review is in line with previously reported concerns regarding this instrument and therefore we suggest caution in use of this PROM [17]. For assessing health-related quality of life, the current evidence suggests the SF-36v2 may be used as an alternative.
For other instruments, no strong conclusions regarding their psychometric quality were possible, despite the availability of at least one study of most measurement properties for each instrument. With respect to construct validity, this was mostly because authors failed to specify hypotheses about the associations they expected to find. Construct validation is an iterative process in which confidence in the degree to which a PROM actually reflects the construct it intends to measure increases as applications of the measure consistently yield results that would be expected, given theories about how this construct relates to other constructs [50]. Therefore, especially for newly introduced PROMs, proper evaluation of construct validity requires researchers to be specific about expected relations among instruments included in the assessment; taking into account that the relations between the substantive constructs, measurement error and method of measurement all contribute to the observed relations between instruments. For instance, PROMs can be expected to have relatively high intercorrelations, and therefore only limited information about construct validity can be extracted from the finding that significant correlations exist between a number of PROMs. Neither is it the case that higher correlations are always indicative of greater construct validity. Assessments of test-retest reliability in acute gout are complicated by the often rapid improvement that occurs, even without treatment, in the clinical status of patients. This makes it challenging to select a population of stable patients, which led to the many indeterminate ratings in this review. Therefore, for multi-item PROMs, reliability should, in our opinion, be assessed using coefficients that can be calculated from the interitem covariance matrix, such as Cronbach's alpha.
Implications for practice
For clinicians working in the field of gout, it may be necessary to understand that little evidence is currently available on the measurement properties of commonly used PROMs, and more importantly, which consequences this may have on outcomes data when poorly supported PROMs are used. In particular as some of the PROMs, for instance the single-item pain PROMs, may be used in daily practice for determining the severity of the pain associated with a gout flare. However, also because evidence from clinical trials, where PROMs are commonly used to collect data, are generally used for developing gout guidelines or management recommendations for in daily clinical practice.
Implications for research
To ensure high-quality patient-reported outcomes data is collected in gout research it is essential that valid and reliable PROMs are used. Their usage may enhance the feasibility of studies by, for example, creating less measurement error, leading to a smaller required sample size. However, the results from this study show that the measurement properties of the PROMs commonly used in gout clinical research settings are weakly supported. To enhance their position in gout research, we recommend that more evidence on the validity and reliability of PROMs used in gout becomes available. Choosing the most suitable PROM from other alternatives may therefore become easier, and endorsing PROMs for measuring relevant gout outcomes in clinical research, as done by OMERACT, will ideally be based on solid evidence supporting the measurement properties of PROMs.
Conclusions
In conclusion, the present report presents the results of an evaluation of the content and literature supporting the measurement properties of commonly used PROMs in gout. The results suggest that PROMs are available to assess the majority of the recommended OMERACT core outcome domains for use in clinical research for acute and chronic gout. However, the SF-36 physical functioning subscale is the only PROM that currently meets all the quality criteria we imposed for this review. Many of the commonly used PROMs in this field are currently not yet well supported and more studies on their measurement properties are needed among both acute and chronic gout populations.
Notes
Acknowledgements
Access and permission for use of the Gout Assessment Questionnaires 2.0 was granted by Takeda Pharmaceuticals, who has ownership and copyright of this instrument. The University of Leeds, owner and copyright owner of the Rheumatoid Arthritis-Work Instability Scale, granted access and permission to use this questionnaire.
Funding
No funding was received from any bodies in the public, commercial or non-profit sector to carry out the work described in this manuscript.
Availability of data and materials
Data sharing is not applicable to this article as no datasets were generated or analysed during the current study.
Authors' contributions
All authors significantly participated in the preparation of the manuscript. CJ drafted the first version of the manuscript. MOV, PtK, TJ, HV and MvdL revised it critically for important intellectual content. MOV and PtK rated the methodological quality of the included studies using the appointed checklist. All authors participated in the interpretation of the results, read and approved the final version of the manuscript.
Ethics approval and consent to participate
Not applicable.
Consent for publication
Not applicable.
Competing interests
The authors declare that they have no competing interests.
Publisher's Note
Springer Nature remains neutral with regard to jurisdictional claims in published maps and institutional affiliations.
Copyright information
© The Author(s). 2019
Open AccessThis article is distributed under the terms of the Creative Commons Attribution 4.0 International License (http://creativecommons.org/licenses/by/4.0/), which permits unrestricted use, distribution, and reproduction in any medium, provided you give appropriate credit to the original author(s) and the source, provide a link to the Creative Commons license, and indicate if changes were made. The Creative Commons Public Domain Dedication waiver (http://creativecommons.org/publicdomain/zero/1.0/) applies to the data made available in this article, unless otherwise stated.