Role of hypoxia in cancer therapy by regulating the tumor microenvironment
Abstract
Aim
Clinical resistance is a complex phenomenon in major human cancers involving multifactorial mechanisms, and hypoxia is one of the key components that affect the cellular expression program and lead to therapy resistance. The present study aimed to summarize the role of hypoxia in cancer therapy by regulating the tumor microenvironment (TME) and to highlight the potential of hypoxia-targeted therapy.
Methods
Relevant published studies were retrieved from PubMed, Web of Science, and Embase using keywords such as hypoxia, cancer therapy, resistance, TME, cancer, apoptosis, DNA damage, autophagy, p53, and other similar terms.
Results
Recent studies have shown that hypoxia is associated with poor prognosis in patients by regulating the TME. It confers resistance to conventional therapies through a number of signaling pathways in apoptosis, autophagy, DNA damage, mitochondrial activity, p53, and drug efflux.
Conclusion
Hypoxia targeting might be relevant to overcome hypoxia-associated resistance in cancer treatment.
Keywords
Cancer therapy 
Chemotherapy 
Drug resistance 
Hypoxia 
Tumor microenvironment 
Abbreviations
ABC

ATP-binding cassette

Bak

BCL2 antagonist/killer

BAX

Bcl-2-associated X protein

Bcl-2

B-cell lymphoma-2

bHLH

Basic helix-loop-helix

CBP

CREB-binding protein

CHK2

Checkpoint kinase 2

CMA

Chaperone-mediated autophagy

COX4

Cytochrome c oxidase subunit IV

CQ

Chloroquine

CRC

Colorectal cancer

Cyt c

Cytochrome c

DED

Death-effector domain

DSBs

Double-strand break

EM

Estramustine

FCM

Flow cytometry

HCQ

Hydroxychloroquine

HIF-1α

Hypoxia-inducible factor 1α

HIFs

Hypoxia-inducible factors

LDH-A

Lactate dehydrogenase-A

Mcl-1

Myeloid cell leukemia-1

MRP1

Multidrug resistance protein 1

mTOR

Mammalian target of rapamycin

NER

Nucleotide excision repair

NHEJ

Nonhomologous end-joining

Nrf2

Nuclear factor (erythroid-derived 2)-like factor 2

NSCLC

Non-small-cell lung cancer

NTD

N-terminal domain

OSCC

Oral squamous cell carcinoma cell

PAS

Per-ARNT-Sim

PDK1

Pyruvate dehydrogenase kinase1

P-gp

P-glycoprotein

PHD

Prolyl hydroxylase domain

ROS

Reactive oxygen species

TCA

Tricarboxylic acid cycle

TME

Tumor microenvironment

TMEM45A

Transmembrane protein 45A

TYR-2

Tyrosinase-2

ULK

Unc-51-likekinase

UPR

Unfolded protein response

VEGF

Vascular endothelial growth factor

VHL

Von Hippel–Lindau

XPB

Xeroderma pigmentosum group B
Introduction
Cancer is a major public health problem worldwide with few effective treatment choices, poor prognosis, and high mortality rates [1]. The antitumor treatments are based on chemotherapy, radiation therapy, and targeted therapy. However, acquired resistance has become a serious challenge for anticancer therapies. Cancer cells acquire resistance through a variety of mechanisms and signaling involving both intrinsic and extrinsic factors. In the majority of patients with end-stage cancer, the primary cause for treatment failure is resistance to cancer therapy. Either primary or acquired drug resistance particularly represents a significant impediment in clinical oncology. Therefore, studying the mechanisms of drug resistance is important in parallel with the development of the drug itself. Both pharmacological factors, including inadequate drug concentration at the tumor site, and cellular factors can contribute to clinical resistance [2]. The precise mechanisms of drug resistance in tumors are complex and multifactorial, but they can be grouped into three categories: insufficiency of pharmacokinetic properties, intrinsic factors of tumor cells, and external conditions of tumor cells in the tumor microenvironment (TME) [3].
Mounting studies have confirmed that the TME promotes cancer progression in many aspects, especially therapeutic resistance. The TME decreases drug penetration and confers the advantage of proliferation and antiapoptosis to surviving cells, facilitating resistance and common modifications in disease morphology [4, 5]. Soluble factors secreted by tumor or stromal cells are rich in the TME and contribute to abnormal proliferation, angiogenesis, metastasis, and drug resistance [6]. As the rapid and uncontrolled proliferation of tumors limits the availability of oxygen, insufficient blood supply, or hypoxia is a typical microenvironment feature in nearly all solid tumors [7]. Oxygen is essential for energy metabolism to drive cellular bioenergetics. The rapid proliferation of tumors outgrows their surrounding vasculature, resulting in a drop of normal oxygen levels of 2–9% to hypoxic levels of less than 2%. Regions with low oxygen levels are generally termed as hypoxic regions. Extensive reviews have been reported about the clinical significance of hypoxia in cancer therapy [8, 9, 10]. Diminished oxygen availability (hypoxia), as a hallmark of the TME, presents in the majority of tumors, arising from an imbalance between increased oxygen consumption and inadequate oxygen supply. Although the rapid proliferation of tumors can stimulate the growth of new vasculature and the tumor-induced angiogenesis leads to the unorganized growth of vasculature, the precisely distributed vasculature in normal tissues contributes to the delivery of oxygenated blood. The irregular distribution of tumor vasculature caused by persistent hypoxic conditions can result in an increase in the distance between the capillaries, exceeding the capacity of oxygen to diffuse [11, 12]. Such chronic hypoxia or diffusion-restricted hypoxia causes the necrosis of tumor cells within the 180-μm periphery of blood vessels. However, the current anticancer strategies target only tumor cells around the blood vessels rather than those in poorly perfused regions [13, 14]. The presence of hypoxic regions is one of the independent prognostic factors for human cancer. Tumor cells, while adapting to hypoxia, lead to more aggressive and therapeutically resistant tumor phenotypes. Hypoxia induces changes in gene expression and subsequent proteomic changes that have many important effects on various cellular and physiological functions, ultimately limiting patient prognosis [15]. For example, slowly dividing cells in hypoxic regions can escape most of the cytotoxic drugs that target rapidly dividing cells, and cancer stem cells may also be present in poorly hypoxic regions ensuring epithelial-to-mesenchymal transition (EMT) [16].
Hypoxia generates intratumoral oxygen gradients, contributing to the plasticity and heterogeneity of tumors and promoting a more aggressive and metastatic phenotype. In this process, the increased expression of hypoxia-inducible factor 1α (HIF-1α) is a pivotal hallmark. HIFs play a central role in cellular mechanisms triggered in response to hypoxia [17, 18]. HIF is a heterodimer composed of two basic helix-loop-helix proteins of the Per-ARNT-Sim (PAS) family: an oxygen-sensitive α-subunit and a constitutively expressed β-subunit [19]. Three HIF-α isoforms have been identified in mammals. Compared with HIF-1, a transcriptional nucleoprotein with a wide range of target genes, HIF-2 seems to be more restricted in expression in the tissue, and less is known about HIF-3 [20]. The oxygen status can regulate the stability of HIF-α family proteins. Under normoxic conditions, two critical proline residues in HIF-α subunits are subject to hydroxylation within their oxygen-dependent degradation domain by enzymes called HIF prolyl hydroxylase domain family proteins (PHDs), which use O2, ferrous iron, and α-ketoglutarate as substrates. PHDs are HIF-preserved hydroxylases found in mammals, with three subtypes PHD1, PHD2, and PHD3, as regulators of HIF-1α oxygen sensors to participate in the degradation of HIF-1α. PHD2 keeps HIF-1α at a stable low level in an anoxic environment as the main rate-limiting enzyme, and its activity is controlled mainly by the intracellular oxygen concentration. Then, the von Hippel–Lindau tumor suppressor protein (pVHL) interacts with HIF-α as a result of hydroxylation and recruits an E3 ubiquitin ligase complex, resulting in ubiquitination and subsequent proteasomal degradation of HIF-α. Under hypoxic conditions, the inhibitory hydroxylation of HIF-α is reduced, leading to the stability and translocation of HIF-α to the nucleus, where it heterodimerizes with HIF-β [21]. The HIF-α/β dimer binds with the transcriptional coactivator p300/CBP and hypoxia response element to induce the expression of the HIF target gene located in the promoter region [22, 23]. HIFs play a distinct role in tumorigenesis, and immunohistochemical analyses show that HIF-1α and HIF-2 α are overexpressed in the majority of human cancers. Especially in recent years, more attention has been paid to HIF-1 and drug resistance in a wide spectrum of neoplastic cells [24, 25].
This study aimed to focus on the cause of therapy resistance from the perspective of tumor cell adaptation to a hypoxic microenvironment, particularly discussing the capacity of oxygen-regulated transcription factor HIF-1 in modifying cancer sensitivity to therapeutic agents. Specifically, it aimed to provide an overview of the effect of hypoxia and HIFs on anticancer drug resistance, highlighting the multifaceted interaction of HIFs with apoptosis, autophagy, DNA damage, mitochondrial activity, and p53 in the failure of HIF-mediated therapy (summarized in Fig. 
1
and Table 
1
). Finally, the study worked toward providing a comprehensive understanding of hypoxia-mediated molecular signaling pathways and a new sight for cancer therapy.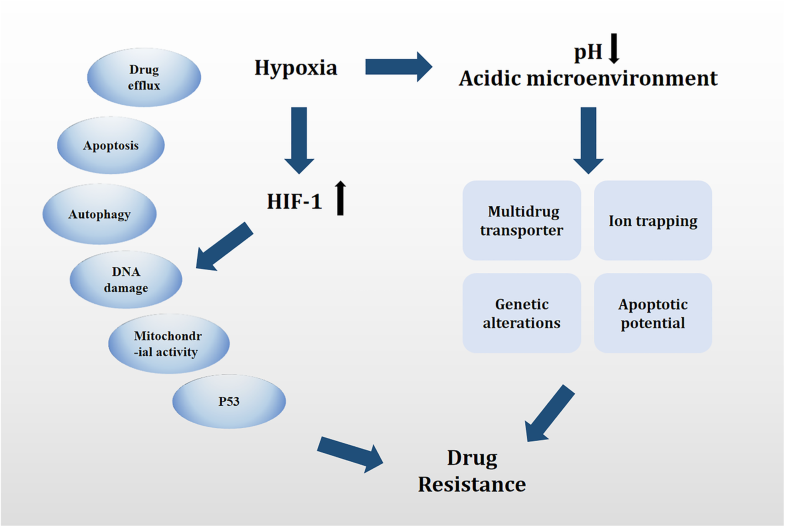 Table 1
Overview of HIF-1-mediated mechanisms in drug resistance
| Resistance phenotype | Cancer/Cell type | Resistant chemotherapy drug | Molecular basis | Reference |
| --- | --- | --- | --- | --- |
| Overexpression of drug efflux proteins | Colon cancer cells | 5-Fluorouracil | MDR1/P-gp | [26] |
| Overexpression of drug efflux proteins | Ovarian carcinoma cells | Estramustine | ABCA2 | [27] |
| Overexpression of drug efflux proteins | Lung adenocarcinoma cells | Adriamycin | P-gp | [28] |
| Apoptosis inhibition | Breast cancer cells | Paclitaxel | Caspases 3, 8, 10, and Bak | [29] |
| Apoptosis inhibition | Colon cancer cells | Etoposide and oxaliplatin | Bid and Bax | [30] |
| Apoptosis inhibition | Gastric cancer cells | 5-Fluorouracil and cisplatin | p53 and NF-kB | [31] |
| Apoptosis inhibition | Human melanoma cells | Not mentioned | P53 and TRP2 | [88] |
| Autophagy induction | HeLa cells | N-(4-Hydroxypheny) retinamide (4-HPR) | Beclin1 | [32] |
| Autophagy induction | Gastric cancer cells | Vincristine | miR-23b-3p, ATG12, and HMGB2 | [33] |
| Autophagy induction | Colon cancer cells | Cryptotanshinone Dihydrotanshinone | p53 | [34] |
| DNA damage inhibition | Mouse embryonic fibroblasts | Etoposide | DNA–PKcs and Ku80 | [35] |
| DNA damage inhibition | Breast and liver cancer cells | Taxol and etoposide | TMEM45A | [36] |
| Mitochondrial activity | Human leukemia cell line (HL-60) human lymphoma cell line (Raji) | Doxorubicin and ara-c | BAD | [37] |
| Mitochondrial activity | Renal carcinoma cells | Not mentioned | VHL | [38] |
| Mitochondrial activity | Oral squamous cell carcinoma cells | 5-Fluorouracil and cisplatin | Cytochrome, Akt, and ERK | [39] |
| P53 | Non-small-cell lung cancer cells | Cisplatin | HIF-1α and BAX | [40] |
Targeting hypoxia and HIFs in cancer
Hypoxia is arguably one of the most attractive therapeutic targets in cancer. Several approaches for targeting hypoxic tumor cells have been proposed, including hypoxia-activated prodrugs, gene therapy and specific targeting of HIFs, or targeting pathways important in hypoxic cells such as mTOR and UPR pathways. Otherwise, this feature can be used to target acid-induced tumors because tumor tissues have lower pH values compared with normal tissues.
A prodrug is an inactive compound that can be converted into pharmacologically active substances spontaneously or through specific metabolic pathways [125]. An anoxic prodrug activated in anoxic tissues was designed to kill anoxic tumor cells selectively using the characteristics of anoxic tumors. Hypoxic prodrugs are activated by cellular reductases, reoxidized into initial drug progenitors in anoxic cells, and converted into cytotoxic substances. The results of the recently published phase II clinical trial on the hypoxic progenitor TH-302 combined with gemcitabine for pancreatic cancer or adriamycin for soft tissue sarcoma are encouraging [126]. The efficacy of another mitomycin C derivative prodrug praziquantel (EO9) has been shown in preclinical studies. Therefore, topical praziquantel is recommended as adjunctive therapy for patients undergoing bladder cancer surgery [127].
Another strategy is to target and regulate HIF-1α in solid tumors to overcome resistance to hypoxia. For example, strategies for hypoxia can be targeted at downstream HIF signaling pathways. Monoclonal antibodies that target VEGF (bevacizumab) or small-molecule inhibitors that target VEGF receptors have achieved clinical benefits for advanced cancer. Methods for inhibiting the HIF response to hypoxia include siRNA treatment, blocking the dimerization of HIF-1α and β subunits, and direct inhibition of HIF-1α using anticancer agents known to inhibit the PI3K/AKT/HIF-1α pathway. Furthermore, drugs that trigger the activation of HIF-1α degradation pathways have the potential to clear overexpressed HIF-1α in hypoxic tumors. Treatments of hypoxic cells with rapamycin lead to the degradation of HIF-1α, which results in the increased inhibition of the expression of survivin and apoptosis in lung cancer cells. In addition, Shukla et al. found that HIF-1α mediated the resistance of pancreatic cancer cells to gemcitabine by upregulating the expression of cytidine triphosphate synthase (CTPS1) and transketolase (TKT). When digoxigenin is used to inhibit the translation of the HIF-1α subunit, pancreatic cancer cells are more sensitive to gemcitabine [128]. Potential molecular therapeutic targets based on the TME and breast cancer mechanism have been widely studied. Studies have shown that HIF-1α induces P4HA1 expression in a hypoxic microenvironment, and P4H can regulate cell metabolism and enhance the activity of tumor cells. Hence, targeting P4H is a potential strategy to improve the treatment of breast cancer [129]. Cui et al. found that HIF-1α was involved in the transcriptional regulation of the TFPI gene, and the hypoxic microenvironment in breast tumors can induce the procoagulant status in patients with breast cancer [130]. HIF-1α may be a target for the treatment of breast cancer–related coagulation and thrombosis. The oxygen sensor hypoxia-inducible factor prolyl hydroxylase 2 (PHD2) is considered to be the major regulator of HIF-1α. Kozlova et al. described a significant positive correlation between PHD2 and EGFR expression and introduced hypoxia/PHD2-mediated signaling and EGFR-induced tumor mitigation in patients with breast cancer [131]. This is of profound significance for the targeted treatment of breast cancer.
As illustrated earlier, cancer cells have higher levels of ROS and overexpressed antioxidant enzymes. Therefore, the elimination of enzymes involved in antioxidant defense results in higher oxidative stress, thus leading to the death of resistant cells. ROS modulators are effective in overcoming MDR in cancer cells through this principle of action. Moreover, target acid–induced tumors can improve the specificity of tumor therapy. In recent years, the application of proton pump inhibitors (PPIs) in treating the acidic environment is popular. Studies have shown that PPIs can increase the uptake of cisplatin cells in an acid-dependent manner and enhance the role of cytotoxic agents in chemotherapy-resistant epithelial ovarian cancer [89, 132]. Intervention strategies targeting the acidic microenvironment and novel combination therapy strategies may be future research directions.
Future perspectives
Drug resistance is a complex multifactorial phenomenon. Despite significant advancements in cancer care, especially the development of targeted anticancer therapies, the mechanisms of protecting cells from cytotoxic compounds mediated by tumor–host interactions continue to play a primary role as obstacles to cancer therapy. Evidence shows that these mechanisms determine the sensitivity to cancer treatment. Chemotherapy drugs exert an influence on biological damage by activating diverse signaling pathways of the cell death program. Defects in cell death processes controlling apoptosis (such as tolerating DNA damage) or promoting survival (such as efficient repair) lead to insensitivity to antitumor agents. In addition, in vitro toxicity screening performed at the standard air pressure is of paramount importance, but fails to recognize the impact of the TME. Fortunately, it is now widely acknowledged that hypoxia is responsible not only for pharmacokinetics but also for supporting the selection of more malignant cells or even resistance. Many cancer research laboratories are actively involved in the identification of novel therapies to target hypoxia. According to the characteristics of HIF in tumor biological behavior, the therapeutic strategies can be optimized by combining with the molecular mechanisms that drive therapy resistance, thus helping in the progress of cancer care. Therefore, a detailed understanding of the regulation of apoptosis, growth inhibition, and DNA repair, besides the identification of defects in the death pathway, may provide insights into the mechanisms of clinically relevant drug resistance. Targeting hypoxia is a potential therapy to eradicate the progression of various cancers and enable long-term survival for patients.
Conclusions
Clinical studies have demonstrated that the components in the tumor hypoxic microenvironment are associated with poor prognosis in patients and can promote apoptosis and autophagy or inhibit DNA damage and mitochondrial activity through a number of signaling pathways associated with the failure of immunotherapy, chemotherapy, or radiation therapy. Especially evident in advanced metastatic cancer, a hypoxic environment is often established, which plays an important role in cancer evolution. Further investigations proved that HIF-1α was involved in hypoxia-induced therapy resistance, and its knockdown could reverse the resistance. Hence, it was inferred that the selection pressure of tumor hypoxic environment ecology could affect the evolution of cancer cells. HIF-1 facilitates glycolysis and lactate production through the key enzymes of glycolysis and LDH-A, thereby inhibiting the entry of pyruvate into the TCA cycle. Furthermore, the HIF-1 target gene PDK1 directly inhibits the migration of pyruvate to mitochondria by inactivating pyruvate dehydrogenase (PDH). An increasing number of studies have shown that HIF-1 can induce mitochondrial autophagy and inhibit mitochondrial biosynthesis to inhibit cell death, ultimately leading to HIF-1-mediated resistance. The hypoxia-induced acidic microenvironment of tumor is very important for chemoresistance, in some cases promoting EMT and stem cell–like phenotypes. Major factors such as V-ATPase, NHE, and MCT in regulating the tumor acidic microenvironment also provide targets for tumor therapy. Therefore, understanding the regulation of these molecules is important for identifying potential therapeutic targets. A better understanding of the pathways in the hypoxic environment during tumor progression may contribute to breakthroughs in cancer immunotherapy research and provide a theoretical basis for clinical trials to help improve treatment outcomes.
Notes
Authors' contributions
YS, HS, and FY designed the study. XJ and FY drafted the manuscript. CS and KW critically revised the manuscript. All authors read and approved the final manuscript.
Funding
This study was supported by grants from the Natural Science Foundation of Jiangsu Province (Grants No BK20171484), the Project of Invigorating Health Care through Science, Technology, and Education (Jiangsu Provincial Medical Youth Talent QNRC2016856), the National Natural Science Foundation of China (No. 81672896), the Summit of the Six Top Talents Program of Jiangsu Province (2017-WSN-179), the Postgraduate Research & Practice Innovation Program of Jiangsu Province (KYCX18_1483), the Priority Academic Program Development of Jiangsu Higher Education Institutions (JX10231801), Postgraduate Research & Practice Innovation Program of Jiangsu Province (No. KYCX18_1482), The Natural Science Foundation of China (81874230) and the Jiangsu Social Development Project (BE2018726).
Ethics approval and consent to participate
Not applicable.
Consent for publication
Not applicable.
Competing interests
The authors declare that they have no competing interests.
Copyright information
© The Author(s). 2019
Open AccessThis article is distributed under the terms of the Creative Commons Attribution 4.0 International License (http://creativecommons.org/licenses/by/4.0/), which permits unrestricted use, distribution, and reproduction in any medium, provided you give appropriate credit to the original author(s) and the source, provide a link to the Creative Commons license, and indicate if changes were made. The Creative Commons Public Domain Dedication waiver (http://creativecommons.org/publicdomain/zero/1.0/) applies to the data made available in this article, unless otherwise stated.