Biogenesis, functions and clinical significance of circRNAs in gastric cancer
Abstract
Gastric cancer (GC) is one of the most common malignant tumours in the world and has high morbidity and mortality. Circular RNAs (circRNAs) are a class of non-coding RNAs with covalently linked circular structures. In recent years, plentiful circRNAs have been discovered that participate in many biological processes, including the initiation and development of tumours. Increasing evidences suggest important biological functions of circRNAs, implying that circRNAs may serve as vital new biomarkers and targets for disease diagnosis and prognosis. Among these, circRNAs are tend to aberrantly expressed and are regarded as potential biomarkers in the carcinogenesis and progression of GC. This review systematically summarised the biogenesis, biological properties and functions of circRNAs, with a focus on their relationship with GC, as well as their probable clinical implications on GC. As our cognition of the relation between circRNAs and GC deepens, more molecular mechanisms of GC progression will be discovered, and new therapeutic strategies will be used for the prevention and treatment of GC.
Keywords
Circular RNA 
Gastric cancer 
Biomarker 
Therapeutic target 
Abbreviations
ADAR1

Adenosine deaminase acting on RNA

AUC

Area under the curve

CA19–9

Carbohydrate antigen 19–9

CDDP

Cisplatin

CDK2

Cyclin-dependent kinase 2

CEA

Carcinoembryonic antigen

ceRNA

Competitive endogenous RNA

circRNA

Circular RNA

ciRNA

Circular intronic RNA

ecRNA

Exonic circRNA

elciRNA

Exon-intron circRNA

EMT

Epithelial-mesenchymal transition

FISH

Fluorescence in situ hybridization

GC

Gastric cancer

HDAg

Hepatitis D virus antigen

IRES

Internal ribosome entry site

lncRNA

Long non-coding RNA

m6A

N-methyladensine

MBL

Muscleblind

miRNA

MicroRNA

MRE

MiRNA response element

ncRNA

Non-coding RNA

OS

Osteosarcoma

p21

Cyclin-dependent kinase inhibitor 1

QKI

Quaking

RBP

RNA binding protein

RIP

RNA immunoprecipitation

RISC

RNA-induced silencing complex

RNase R

Ribonuclease R

RNA-seq

RNA sequencing

RT-PCR

Reverse transcription-polymerase chain reaction

snRNP

Small nuclear ribonucleic protein

SRY

Sex determining region Y
Background
Gastric cancer (GC) is a high-recurrence-rate malignancy oncoma, which is the third major cause of cancer-related death worldwide, second only to lung cancer and liver cancer [1, 2]. Data show that the incidence and mortality of GC in Asian countries are increasing year after year, especially in the countries of East Asia, such as China, Japan and Korea [3, 4, 5, 6]. In the last few decades, great progress has been made in GC treatment, and many attempts have been made to find effective treatment strategies. However, the morbidity and mortality of GC remain high.
Gastric carcinogenesis is a multistage, slowly progressive and multifactorial pathology process. H. pylori infection, obesity, excessive ingestion of salt and nitrate, and blood group A have been shown to be associated with an increased risk of GC [1]. Besides, genetic mutations, epigenetic alterations and aberrant molecular signalling pathways are involved in the processes of gastric carcinogenesis, spread and metastasis [7]. Thus, it is pivotal to identify the molecular patterns of GC and its specific biomarkers to develop treatments targeted to the specific tumour behaviour.
Accumulating reports have confirmed that many non-coding RNAs (ncRNAs), such as microRNAs (miRNAs) and long non-coding RNAs (lncRNAs), are associated with the carcinogenesis process of GC, and can be applied to be biomarkers in early risk assessment, clinic treatment and survival evaluation [8, 9, 10]. Beyond that, the participation of circular RNAs (circRNAs) in GC has been investigated.
CircRNAs are a new type of non-coding RNAs. They were firstly discovered in the Sendai virus by electron microscopy in 1976 [11]. Subsequently, researchers pointed out the existence of circRNAs in the cytoplasm of eukaryotic cells [12], yeast mitochondrion [13] and transcripts of human cells [14]. In the decades following the 1970s, circRNAs were considered to be the results of a splicing error of pre-mRNA processing with low abundance [14, 15]. With the development of high-throughput screening technology and prediction technique, the detected amounts and types of circRNAs are increasing at a rapid rate.
In recent years, circRNAs have come to be regarded as a newly appreciated class of non-coding RNAs. Increasing evidences suggest that circRNAs are involved in the occurrence and development of various diseases, such as cardiovascular diseases [16], neurological dysfunction [17, 18] and cancers [19, 20]. Moreover, due to the stability and tissue specificity of circRNAs, they act as potential biomarkers in evaluating ageing in Drosophila [21] and detecting diseases from human body fluid [22, 23]. Beyond that, the role of circRNAs in the process of cancer initiation and progression has especially gathered prominence; they have been recognised in hepatocellular carcinoma [24], breast cancer [25], colorectal cancer [26], and so on. CircRNAs may be considered dependable diagnostic and therapeutic molecular biomarkers for cancers [27].
In this paper, we summarise the current knowledge about the biogenesis and roles of circRNAs in GC and the potential clinical enlightenment for GC therapy.
Circular RNAs
Biogenesis of circRNAs
CircRNAs are formed by different combinations of sequences and domains. According to the differences of origins, circRNAs can be divided into three groups: exonic circRNAs (ecRNAs) [
28
,
29
], exon-intron circRNA (elciRNAs) [
30
] and circular intronic RNAs (ciRNAs) [
31
] (Fig. 
1
). CircRNAs were thought to be the result of exon-skipping events [
32
]. Two widely accepted models of circRNAs circularisation presented by Jeck et al. in 2013 are lariat-driven circularisation and intron-pairing-driven circularisation [
33
]. The mechanism of the two models are similar except for the first step. The former requires covalently binding between the splicing donor and splicing acceptor, thus forming an exon-containing lariat, which could then itself be internally spliced to an exon circle, thus forming ecRNAs [
34
] (Fig.
1
b). In some cases, circRNAs stem from a single exon, whereas in others, the upstream exon attaches to the end of the downstream exon, thus forming circRNAs containing several exons [
11
]. Under some circumstances, if the intron between exons is retained, the cyclising transcript tends to form elciRNAs [
30
].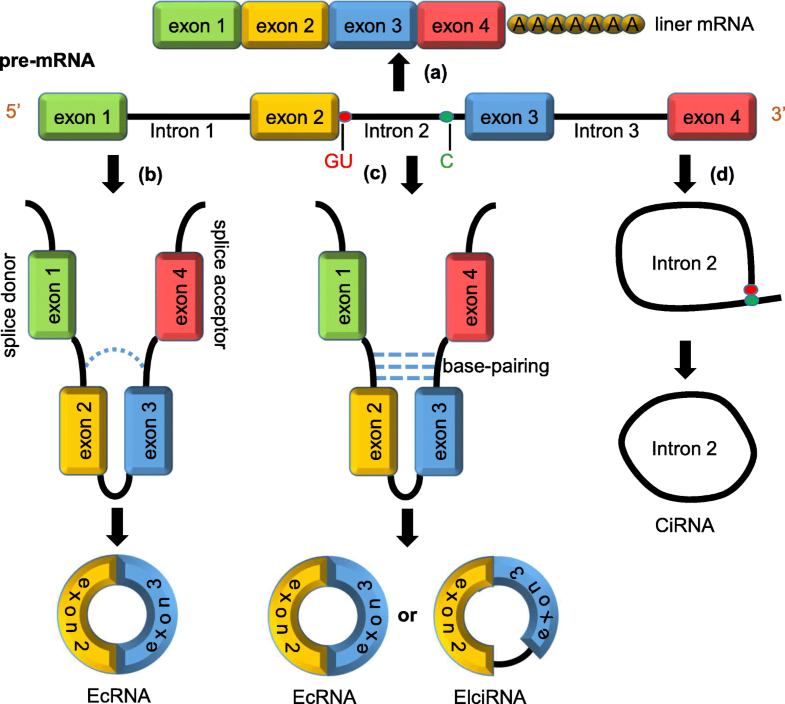 In the second cyclisation model, cyclisation happens because of intronic motifs bordering the circularised exon, which may bring the two exons close together through complementary base-pairs between introns (Fig. 1c).
Zhang et al. reported a new type of human circRNA stemming from introns that retain in the nucleus. The formation of intronic circRNAs depends on the 7 nt GU-rich element close to the 5′ splice site, and the 11 nt C-rich element near the branchpoint site [31]. During the process of backsplicing, the GU-rich element and the C-rich element first bind together to form a circular structure, then the exons and introns in this area are cut away by spliceosome (Fig. 1d). Additionally, circRNAs can also form from non-coding, intergenic genomic, antisense, 3′ UTR or 5′ UTR regions [11, 31].
The biogenesis of circRNAs is regulated by several kinds of factors, including intronic sequences, enzyme and protein factors. Zhang et al. demonstrated that exon cyclisation was dependent on the flanking intronic complementary sequences, thus making the circularisation process dynamic [28]. Moreover, exon circularisation efficiency can be regulated by competition between RNA pairing across flanking introns or within individual introns [35]. Adenosine deaminase acting on RNA (ADAR1) is a kind of RNA-editing enzyme. It has been reported that ADAR1 can negatively regulate the expression of circRNAs, whereas knocking down of ADAR1 induces elevated of circRNAs expression [36]. According to recent reports, RNA binding proteins (RBPs) might act as regulatory activators or inhibitors in the formation of circRNAs. Quaking (QKI) is an alternative splicing factor, which itself is up-regulated during human epithelial-mesenchymal transition (EMT). It has been reported that the formation of circRNAs was dependent on intronic QKI binding motifs. The overexpression of QKI is beneficial to the formation of circRNAs from normally linearly spliced transcripts [37]. Ashwal-Fluss et al. demonstrated that Muscleblind (MBL/MBNL1) could bind to its own second exon in pre-mRNA and determine its circularisation, thus competing against the canonical splicing, promoting the formation of circMBL while decreasing linear MBL level [35].
Briefly, the biogenesis of circRNAs and regulatory factors involved in circularisation remain unclear. More research is needed to help us understand these processes in depth.
Biological properties of circRNAs
With the deepening of relevant research, many characteristics of circRNAs have been gradually verified. Among them, the following characteristics are recognised and important. (1) Diversity: circRNAs are widely and abundantly present in eukaryotic cells and have a wide variety [38]. In 2012, Salzman et al. showed that circRNAs could be produced from hundreds of human genes [39]; Jeck et al. detected 25,000 circRNAs in human fibroblasts [34]. (2) Highly abundant expression: the abundance of most circRNAs is lower than that of the linear transcripts, but in some cases, the expression of circRNAs is more abundant than the linear RNAs, even dozens of times moreso [33]. (3) Stability: unlike the linear RNAs with 5' caps and 3' poly A tails, circRNAs are characterised with single-stranded, covalently closed loop structures. Therefore, circRNAs are not easily degraded by Ribonuclease R (RNase R) and are more stable than linear RNAs [40]. (4) Conservation: most circRNAs are highly conserved among different species, and only a few circRNAs are not evolutionarily conserved [41]. Jeck et al. found that 2121 circRNAs found in human fibroblasts can be matched to the mouse genome [33]. In 2013, Memczak et al. identified 1950 human circRNAs and 1903 mouse circRNAs using RNA sequencing (RNA-seq) technology, of which 81 mouse circRNAs were identical to human circRNAs [11]. (5) Specificity: the expression of cireRNA is cell-type and spatial-temporal specific [42, 43].
Functions of circRNAs
Distinguishing features reveal that circRNAs might possess vital functions (Fig. 
2
). Emerging evidence suggests that circRNAs participate in a series of pathophysiology processes.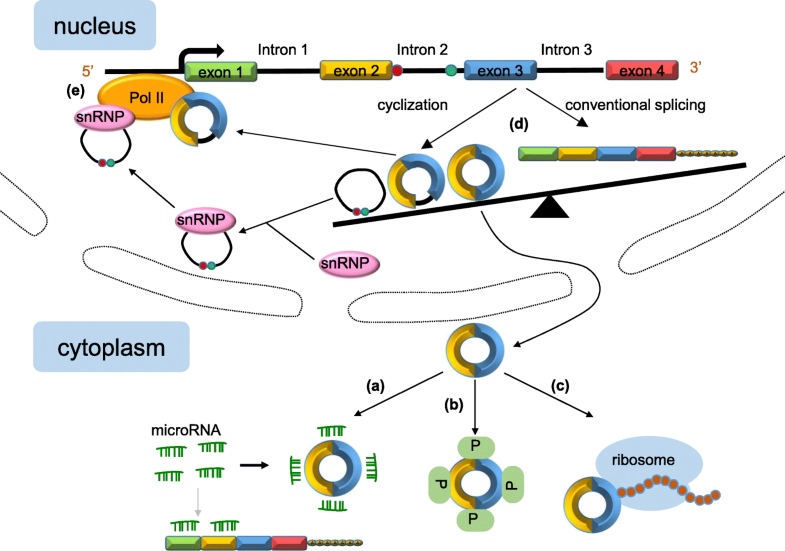 CircRNAs and GC
Numerous studies have shown that circRNAs are aberrantly expressed in many cancer tissues. In the last few decades, quantity of circRNAs have been found in tumorous tissues, including in GC, indicating that circRNA could be utilized in diagnostic and therapeutic applications [74].
With the deepening of the research on the pathogenesis of GC, many differentially expressed circRNAs in GC tissues and cells have been found. These differentially expressed circRNAs eventually lead to changes in biological, genetic information. Increasing evidences prove that circRNAs play an important role in the development and progression of GC. Here we summarized the dysregulated circRNAs that have been found related with GC (Table 
1
).
Table 1
Dysregulated circRNAs in GC
Name

Dysregulation

Sponge target

Function

Types of GC tissues and GC cell lines

Ref.

circPVT1

up-regulated

miR-125 family

Independent prognostic indicator; promotes cancer cell proliferation

187 GC tissue samples with various clinicopathologic features; MGC-803 and AGS GC cell lines

[75]

circRNA_100269

downregulated

miR-630

Inhibits cancer cell proliferation

112 GC tissue samples with various clinicopathologic features; AGS, MKN-28, MKN-45, BGC-823, MGC-803 and SGC-7901 GC cell lines

[76]

circNRIP1

up-regulated

miR-149-5p

Promotes cancer cell proliferation, invasion and migration

80 GC tissue samples with various clinicopathologic features; BGC-823, AGS, SGC-7901, MGC-803, MKN-45 and HGC-27 GC cell lines

[77]

circ-DONSON

up-regulated

–

Promotes cancer cell proliferation, invasion and migration

142 GC tissue samples; BGC-823, AGS, MGC-803, MKN74, HGC-27 and SGC-7901 GC cell lines

[78]

circRNA0047905

up-regulated

miR4516 miR1227-5p

Tumor promoter; potential therapy target

31 GC tissue samples; AGS GC cell line

[79]

circDLST

up-regulated

miR-502-5p

Promotes cancer cell proliferation, invasion and metastasis

396 GC tissue samples of various stages; MGC-803, BGC-823, SGC-7901, HGC-27, AGS, MKN-45 and MKN-28 GC cell lines

[80]

circ_0067997

up-regulated

miR-515-5p

Promotes cancer cell viability, proliferation and invasion

48 GC tissue samples with various clinicopathologic features; SGC-7901, MGC-803, BGC-823 and MKN28 GC cell lines

[81]

circCACTIN

up-regulated

miR-331-3p

Promotes GC cells migration, invasion and EMT

32 gastric adenocarcinoma tissue samples; GES1, BGC-823, MGC-803 and SGC-7901 GC cell lines

[82]

ciRS-7

up-regulated

miR-7

Promotes cancer cell proliferation

256 GC tissue samples (102 in training cohort and 154 in validation cohort) with various clinicopathologic features; MGC-803 and HGC-27 GC cell lines

[83]

circHIPK3

up-regulated

miR-124

miR-29b

Promotes cancer cell proliferation

63 GC tissue samples (28 infiltrative type samples and 35 expanding type samples); XGC-1 (infiltrative type) and XGC-2 (expanding type) GC cell lines

[73]

circPDSS1

up-regulated

miR-186-5p

Promotes cell cycle and proliferation, inhibits cell apoptosis

20 GC tissue samples; MGC-803, HGC-27, and BGC-823 GC cell lines

[84]

circFAT1

downregulated

miR-548 g

Inhibits cancer cell proliferation, invasion and migration

38 GC tissue samples with various clinicopathologic features; AGS,SGC-7901, BGC-823, MKN-28, MGC-803 and MKN-45 GC cell lines

[71]

circNF1

up-regulated

miR-16

Promotes cancer cell proliferation

23 GC tissue samples with various clinicopathologic features; MKN-28, NCI-N87, AGS, KATOIII, RF1, RF-48 GC cell lines

[85]

circYAP1

downregulated

miR-367-5p

Tumor suppressor, inhibits cell growth and invasion

80 GC tissue samples of various stages (13 of stage I, 25 of stage II, 38 with stage III and 4 of stage IV); HGC-27 GC cell line

[86]

hsa_circ_0000993

downregulated

miR-214-5p

Inhibits cellular migration, invasion and proliferation

Male patients tissue samples with stage III A primary GC (aged 59, 67 and 69 years, respectively); SGC-7901 and BGC-823 GC cell lines

[87]

circ-ZFR

downregulated

miR-107

miR-130a

Inhibits GC cell propagation, cell cycle and promotes apoptosis

48 GC tissue samples; AGS, AZ521, and HGC-27 GC cell lines

[88]

circHECTD1

up-regulated

miR-1256

Promotes glutaminolysis, proliferation, migration, and invasion of cancer cells; promotes autophagy; potential therapeutic target

GC tissue samples with various clinicopathologic features; BGC-823, MKN-45, HGC-27, AGS, MGC-803, and SGC-7901 GC cell lines

[89]

ciRS-133

up-regulated

miR-133

Aggravates tumour cachexia

Tissue and plasma samples of GC patients; SGC-7901 GC cell line

[90]

circAKT3

up-regulated*

miR-198

Enhances resistance to Cisplatin chemotherapy; therapeutic target

149 GC tissue samples (patients received CDDP treatment with/ without tumor relapse); SGC-7901 and BGC-823 GC cell lines and their CDDP-resistant strains SGC-7901CDDP and BGC-823CDDP

[91]
Conclusion and perspective
GC is a multi-step and multi-factor comprehensive disease, and the specific pathogenesis is still not fully understood. CircRNAs were once thought to be mistakes in the process of RNA splicing and are now considered to be an emerging class of RNA molecules with important functions. These abundant and stable RNAs are considered to be miRNA molecule sponges, protein baits, RNA splicing regulators, parental gene transcriptional regulators, potential protein translation templates, biomarkers and tumour suppressors. The function of circRNAs involves a variety of physiological and pathological processes.
In recent years, many studies have demonstrated the application of circRNAs in the clinical treatment of cancer. As described in this review, circRNAs are involved in numerous biological processes in the development and progression of GC, such as cell proliferation, migration, invasion, apoptosis, cachexia and drug resistance. As an important biomarker for the diagnosis and prognosis of GC, circRNAs are potential targets for the treatment of GC.
In conclusion, circRNAs provide a new perspective on the diagnosis and treatment of GC. However, compared with the coding RNAs, lncRNAs and miRNAs, our current understanding of circRNAs is still insufficient, and we are still far from applying circRNAs to clinical practice.
Here are some suggestions for future circRNA research. First, although there have been many studies, the exact mechanism by which circRNAs are involved in the development of cancer remains to be further studied. Second, current research on circRNAs in cancer mainly uses tumour cells and tumour tissue samples. Non-invasive samples (blood, urine, saliva, etc.) should be promoted for research and detection. Third, future studies could consider circRNAs as potential cancer therapeutic targets, how to transport circRNAs to relevant sites for effective long-term effects, and how to achieve no immune rejection (an urgent problem to be solved). Fourth, since the ultimate goal of circRNA research is to apply circRNAs for clinical treatment of human diseases safely, a large number of clinical studies and experiments are required.
We believe that through the development of techniques for identifying and screening novel circRNAs, as well as the improvement of online databases, circRNAs will one day be widely used for the diagnosis, treatment and prognosis monitoring of GC, thus bringing great progress to GC therapy.
Notes
Acknowledgements
Not applicable.
Authors' contributions
YFZ and XDH collected the related paper. CS drafted and wrote the manuscript. JNG and XZC revised the manuscript. KW participated in the design of the review and helped to draft and revise the manuscript. All authors read and approved the final manuscript.
Funding
This work was supported by the National Natural Science Foundation of China (Project No.: 21708021), Natural Science Foundation of Shandong Province, China (Project No.: ZR2017BC012), China Postdoctoral Science Foundation Funded Project (Project No.: 2018M632612).
Ethics approval and consent to participate
Not applicable.
Consent for publication
Not applicable.
Competing interests
The authors declare that they have no competing interests.
Copyright information
© The Author(s). 2019
Open AccessThis article is distributed under the terms of the Creative Commons Attribution 4.0 International License (http://creativecommons.org/licenses/by/4.0/), which permits unrestricted use, distribution, and reproduction in any medium, provided you give appropriate credit to the original author(s) and the source, provide a link to the Creative Commons license, and indicate if changes were made. The Creative Commons Public Domain Dedication waiver (http://creativecommons.org/publicdomain/zero/1.0/) applies to the data made available in this article, unless otherwise stated.