Exploiting vulnerabilities of cancer by targeting nuclear receptors of stromal cells in tumor microenvironment
Part of the following topical collections:
Abstract
The tumor microenvironment is a complex and dynamic cellular community comprising the tumor epithelium and various tumor-supporting cells such as immune cells, fibroblasts, immunosuppressive cells, adipose cells, endothelial cells, and pericytes. The interplay between the tumor microenvironment and tumor cells represents a key contributor to immune evasiveness, physiological hardiness and the local and systemic invasiveness of malignant cells. Nuclear receptors are master regulators of physiological processes and are known to play pro−/anti-oncogenic activities in tumor cells. However, the actions of nuclear receptors in tumor-supporting cells have not been widely studied. Given the excellent druggability and extensive regulatory effects of nuclear receptors, understanding their biological functionality in the tumor microenvironment is of utmost importance. Therefore, the present review aims to summarize recent evidence about the roles of nuclear receptors in tumor-supporting cells and their implications for malignant processes such as tumor proliferation, evasion of immune surveillance, angiogenesis, chemotherapeutic resistance, and metastasis. Based on findings derived mostly from cell culture studies and a few in vivo animal cancer models, the functions of VDR, PPARs, AR, ER and GR in tumor-supporting cells are relatively well-characterized. Evidence for other receptors, such as RARβ, RORγ, and FXR, is limited yet promising. Hence, the nuclear receptor signature in the tumor microenvironment may harbor prognostic value. The clinical prospects of a tumor microenvironment-oriented cancer therapy exploiting the nuclear receptors in different tumor-supporting cells are also encouraging. The major challenge, however, lies in the ability to develop a highly specific drug delivery system to facilitate precision medicine in cancer therapy.
Keywords
Nuclear receptors 
Tumor microenvironment 
Cancer-associated fibroblast 
Myeloid-derived suppressor cells 
Tumor-associated macrophage 
Abbreviations
AR

Androgen receptor

CAF

Cancer-associated fibroblast

ECM

Extracellular matrix

ER

Estrogen receptor

FXR

Farnesoid X receptor

GR

Glucocorticoid receptor

IL

Interleukin

LRH-1

Liver receptor homolog-1

MDSC

Myeloid-derived suppressor cells

NR

Nuclear receptor

PGC-1β

PPARγ coactivator 1β

PPAR

Peroxisome proliferator-activated receptor

PR

Progesterone receptor

RAR

Retinoic acid receptor

ROR

RAR-related orphan receptor

RXR

Retinoic X receptor

TAM

Tumor-associated macrophage

TGFβ

Transforming growth factor β

TME

Tumor microenvironment

TNFa

Tumor necrosis factor α

VDR

Vitamin D receptor

VEGF

Vascular endothelial growth factor
Background
In human cells, there are 48 nuclear receptors (NRs) that play integral roles in numerous physiological functions such as metabolism, cell development, immunity, and stress response. Classically, following direct lipophilic ligand binding, NRs will recognize and bind to specific DNA motifs across the genome, which are known as NR response elements. The binding of an NR to its response element and transcriptional activation of target genes often require homodimerization of NRs or heterodimerization with retinoid X receptor (RXR) coupled to the recruitment of coactivator proteins, although certain receptors are functionally active as a monomer [1, 2]. Independent of ligand binding, the activities of NRs can also be modulated by posttranslational modifications such as phosphorylation, ubiquitination, and SUMOylation, or indirect recruitment to the genome by other DNA-bound transcription factors via tethering mechanisms [2, 3]. Increasing evidence has also unveiled the pivotal roles of NRs in chromatin remodeling [4]. Furthermore, certain NRs such as progesterone receptor (PR) and peroxisome proliferator-activated receptor (PPAR)-γ possess different isoforms resulting from alternative splicing. Variations in the tissue expression profile, ligand affinity and target genes between different isoforms have been reported, further enlarging the scope of the cellular events coordinated by NRs [5, 6] Hence, given the complex and multifaceted regulatory network coordinated by NRs, their impacts on human physiology are undoubtedly highly consequential.
In drug development, NRs are ideal therapeutic targets because their activities can be readily induced or repressed with small molecules that mimic their natural ligands, allowing fine manipulation of the biological functions or pathological processes controlled by the receptors. This possibility is particularly true for endocrine receptors such as thyroid hormone receptor (THR), vitamin D receptor (VDR), estrogen receptor (ER), androgen receptor (AR), glucocorticoid receptor (GR) and PR, as well as adopted orphan receptors such as farnesoid X receptor (FXR), RAR-related orphan receptor (ROR) and PPARs with well-characterized endogenous ligands. In this context, the involvement of NRs in various types of cancer has been extensively documented [7, 8]. Clinically, strategies that aim to block AR and ER, namely, androgen deprivation therapy and selective ER modulators, are widely employed to treat prostate and breast cancer, respectively, strongly supporting the practicality of NRs as druggable targets to improve cancer treatment outcomes.
Recently, the tumor microenvironment (TME) has swiftly garnered the attention of the cancer research community and has been accepted as the key contributor to tumor progression. The interplay between TME and the tumor epithelium empowers the aggressiveness of tumor cells by enhancing tumor proliferation, chemoresistance, immune evasion and metastatic tendency [9]. Other than cancer cells, TME is populated by highly heterogeneous groups of cells, including cancer-associated fibroblasts (CAFs), tumor-associated macrophages (TAMs), endothelial cells, adipose cells, myeloid-derived suppressor cells (MDSCs), and other immune and inflammatory cells. All members of the microenvironment function cooperatively with the assistance of a vast variety of cytokines, chemokines, growth factors, and other signaling molecules, to compose a dynamic and ever-evolving network that offers sharpened stress responses and enhanced survivability to the malignant cells [9].
In this context, although NRs in tumor cells have been widely studied, their implications in TME are comparatively underappreciated. Given the pro-oncogenic roles of TME as well as the pronounced regulatory effects and excellent druggability of NRs, understanding the roles of these receptors in TME is of great interest. The implicated NRs in various tumor-supporting cells in TME presented in this review are illustrated in Fig. 
1
. Knowledge of the NR expression profile not only helps to provide a fundamental understanding in the realm of cancer biology but also harbors enormous clinical value in cancer therapy. Thus, this review aims to highlight key findings of the biological functions of NRs in different cell types presented in TME in relation to their pro−/ anti-tumor activities. The empirical findings are also discussed concerning the challenges, limitations and future direction of the current research paradigm with high hopes of developing a new anti-cancer strategy by exploiting NRs in TME.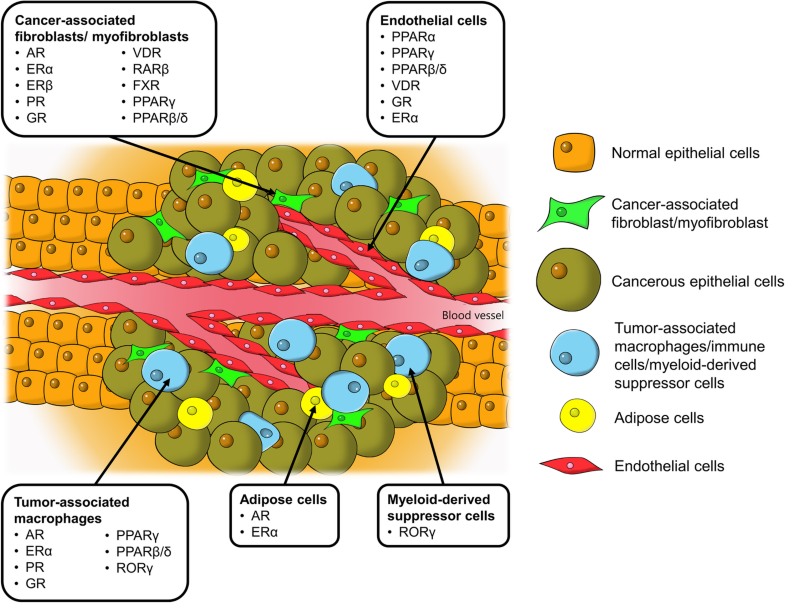 Conclusions
NRs of tumor-supporting cells in TME play an essential role in various oncogenic processes. The NR signature of TME can serve as a crucial marker to pinpoint the fragility of the disease and guide the therapeutic strategy, with the ultimate goal of improving cancer prognosis. In light of the striking druggability of NRs, the future clinical prospect of developing a TME-oriented cancer therapy by targeting these receptors is promising. Among the 48 NRs in humans, the oncogenic functions of VDR, PPARs, AR, ER and GR in tumor-supporting cells are the best-characterized to date. Evidence of other receptors, such as RARβ, RORγ, and FXR, is limited yet promising. Given the heterogeneity of cellular populations within TME, more intensive research in understanding the molecular mechanisms of cell-cell interactions and how to master intercellular communication is of paramount importance. The ability to exploit NRs in TME in a highly specific and precise manner, in this case, can lay the foundation for precision medicine in cancer therapy and may even allow us to transform tumor-supporting cells into tumor foes.
Notes
Acknowledgments
Not applicable.
Funding
This work was supported by Singapore Ministry of Education under Singapore Ministry of Education Academic Research Fund Tier 2 (2014-T2–1-012; 2017-T1–002–103) and Academic Research Fund Tier 1 (2015-T1–001-034) to NST, and by the Lee Kong Chian School of Medicine, Nanyang Technological University Start-up Grant to WW.
Availability of data and materials
Not applicable.
Authors' contributions
NST and WW designed the framework of the review. HSC and JXTL collected related studies and drafted the manuscript. NST, WW, HSC and JXTL participated in the manuscript editing. All authors have read and approved the final manuscript, and consent to publish.
Ethics approval and consent to participate
Not applicable.
Consent for publication
Not applicable.
Competing interests
The authors declare that they have no competing interests.
Publisher's Note
Springer Nature remains neutral with regard to jurisdictional claims in published maps and institutional affiliations.
Copyright information
© The Author(s). 2019
Open AccessThis article is distributed under the terms of the Creative Commons Attribution 4.0 International License (http://creativecommons.org/licenses/by/4.0/), which permits unrestricted use, distribution, and reproduction in any medium, provided you give appropriate credit to the original author(s) and the source, provide a link to the Creative Commons license, and indicate if changes were made. The Creative Commons Public Domain Dedication waiver (http://creativecommons.org/publicdomain/zero/1.0/) applies to the data made available in this article, unless otherwise stated.