Extracellular vesicles-mediated intercellular communication: roles in the tumor microenvironment and anti-cancer drug resistance
Part of the following topical collections:
Abstract
The tumor microenvironment represents a complex network, in which tumor cells not only communicate with each other but also with stromal and immune cells. Current research has demonstrated the vital role of the tumor microenvironment in supporting tumor phenotype via a sophisticated system of intercellular communication through direct cell-to-cell contact or by classical paracrine signaling loops of cytokines or growth factors. Recently, extracellular vesicles have emerged as an important mechanism of cellular interchange of bioactive molecules. Extracellular vesicles isolated from tumor and stromal cells have been implicated in various steps of tumor progression, such as proliferation, angiogenesis, metastasis, and drug resistance. Inhibition of extracellular vesicles secretion, and thus of the transfer of oncogenic molecules, holds promise for preventing tumor growth and drug resistance. This review focuses on the role of extracellular vesicles in modulating the tumor microenvironment by addressing different aspects of the bidirectional interactions among tumor and tumor-associated cells. The contribution of extracellular vesicles to drug resistance will also be discussed as well as therapeutic strategies targeting extracellular vesicles production for the treatment of cancer.
Keywords
Tumor microenvironment 
Stroma 
Metastasis 
Extracellular vesicles 
Drug resistance 
Abbreviations
ABC

ATP binding-cassette

ADAPT™

Adaptive Dialysis-like Affinity Platform Technology

AKT

AKT serine/threonine kinase

Alix

Apoptosis-linked gene 2-interacting protein X

APAF1

Apoptotic peptidase activating factor

ARF6

ADP-ribosylation factor 6

ARMM

ARRDC1-mediated microvesicles

ARRDC1

Arrestin 1 domain-containing protein 1

ATP7A

ATPase Copper Transporting alpha

ATP7B

ATPase Copper Transporting beta

CAF

Cancer-associated fibroblast

CaM-K

Calcium/calmodulin-dependent protein kinase

CBD

Cannabinol

c-MET

MET proto-oncogene, receptor tyrosine kinase

CSF1

Colony stimulating factor 1

CXCR4

C-X-C chemokine receptor type 4

ECM

Extracellular matrix

EGF

Epidermal growth factor

EGFR

Epidermal growth factor receptor

EMT

Epithelial-to-mesenchymal transition

ERK

Extracellular signal-regulated kinase

ESCRT

Endosomal sorting complex required for transport

Fas-L

Fas ligand

HCC

Hepatocellular carcinoma

HCV

Hepatitis C virus

HER2

Human epidermal growth factor receptor 2

HES1

Hes family BHLH transcription factor 1

HES5

Hes family BHLH transcription factor 5

HGF

Hepatocyte growth factor

HSP105

Heat shock protein 105

Hsp70

Heat shock protein 70

Hsp72

Heat shock protein 72

IAP

Inhibitors of apoptosis

IL-2

Inteleukin-2

IL6

Interleukin-6

ILV

Intraluminal vesicle

JAK

Janus kinase

MAPK

Mitogen-activated protein kinase

MDR

Multidrug resistance proteins

MDSC

Myeloid-derived suppressor cells

MEK

MAPK/ERK Kinase

MICA

MHC class 1 related chain ligand A

MIF

Migration inhibitory factor

MLCK

Myosin light-chain kinase

MMP9

Matrix metalloproteinase 9

MRP1

Multidrug resistance-associated protein 1

MSCs

Mesenchymal stem cells

MT-1-MMP

Membrane-type-1 matrix metalloproteinase

MVE

Multivesicular endosome

NK

Natural killer

NKG2D

NKG2-D-activating natural killer receptor

NOTCH2

Neurogenic locus notch homolog protein 2

NOTCH3

Neurogenic locus notch homolog protein 3

nSMase2

Neutral sphingomyelinase 2

PAD2

Peptidylarginine deiminase 2

PAD4

Peptidylarginine deiminase 4

PAR-2

Protease-activated receptor 2

PCP

Planar cell polarity

PD-1

Programmed cell death receptor 1

PDGF

Platelet-derived growth factor

PDGFRβ

Platelet-derived growth factor receptor-beta

PD-L1

Programmed death ligand 1

PGE2

Prostaglandin E2

P-gp

P-glycoprotein

PI3K

Phosphatidylinositol-3-kinase

PLD

Phospholipase D

PLP

Proteolipid protein

PMEL

Premelanosome protein

PS

Phosphatidylserine

PSAP motif

Proline-serine-alanine-proline motif

PTEN

Phosphatase and tensin homolog

Raf

Raf-1 proto-oncogene, serine/threonine kinase

SDF1

Stromal cell-derived factor 1

SERPINA1

Serpin family A member 1

SERPINF2

Serpin family F member 2

SOCS5

Suppressor of cytokine signaling 5

STAT

Signal transducer and activator of transcription

TF

Tissue factor

TGF-β

Transforming growth factor-beta

TME

Tumor microenvironment

TNF-α

Tumor necrosis factor alpha

TSG101

Tumor susceptibility gene 101

tTG

Tissue transglutaminase

VEGF

Vascular endothelial growth factor

VPS4

Vacuolar protein sorting 4

VTA-1

Vesicle trafficking 1

Wnt4

Wingless-type MMTV integration site family, member 4

WWP2

WW Domain containing E3 ubiquitin protein ligase 2

ZO-1

Zonula occludens protein 1
Background
The last decades have revealed that the malignant properties and progression of tumors are not controlled by cancer cells exclusively [1]. The area surrounding the tumor contains various non-malignant cell types, including fibroblasts, lymphocytes, inflammatory cells, endothelial cells, adipose tissue, and mesenchymal stem cells [1]. In the early stages of tumorigenesis, the microenvironment displays anti-tumor immunity and controls tumor growth [2]. As the tumor continues to develop, the role of the microenvironment shifts over to be tumor promotive [2]. Cells found in the tumor microenvironment (TME) have been recognized as key regulators of tumor promotion by providing mitogenic growth factors, growth inhibitory signals or trophic factors [2]. The complex heterotypic interactions between tumor cells and non-cancerous cells within the TME occur through direct contact between cells or paracrine signal exchange of cytokines and growth factors [2]. The most well-recognized cell-to-cell interaction within the TME is between tumor cells and macrophages or fibroblasts [2]. Macrophages play an integral role in host innate immune response against infections [3]. Tumor cells release factors, such as vascular endothelial growth factor (VEGF), colony stimulating factor 1 (CSF1), and platelet-derived growth factor (PDGF), that aid in the recruitment of macrophages to tumors [3]. Once the macrophages are recruited to the tumor, they can promote tumor progression by enhancing tumor cell proliferation, as well as by remodeling the tumor stroma to facilitate invasion and angiogenesis [3]. Fibroblasts are responsible for the production of extracellular matrix (ECM), such as collagen and fibronectin, and facilitate remodeling in wound healing [4]. Cancer-associated fibroblasts (CAFs) support tumor growth, invasion, metastasis and induce inflammation [4]. Stromal cell-derived factor 1 (SDF1) is a CAF-secreted factor that can activate C-X-C chemokine receptor type 4 (CXCR4) and ultimately stimulates cancer cell proliferation [2, 4]. CAF-derived transforming growth factor-beta (TGF-β) promotes the metastatic potential of tumor cells by driving an epithelial-to-mesenchymal transition (EMT) [2, 4].
Recently, it has become apparent that secreted extracellular vesicles (EVs) are proficient intercellular communication mediators [2]. EVs are a heterogeneous population of cell-derived membrane vesicles that are secreted by various cell types. They exhibit a wide size range and differ by their biogenesis. EVs include exosomes, which are small membrane vesicles, ranging from 30 to 150 nm in diameter, and shed microvesicles (MVs), which are large membrane vesicles of 150 to 1000 nm diameter budding off the plasma membrane [5]. Smaller shed MVs have also been reported, which are ~ 100 nm in diameter [6]. Oncosomes are even larger EVs that are also shed off from the plasma membrane and are 1 to 10 μm in diameter [7]. EVs contain a diverse array of bioactive cargoes, including proteins, lipids, and nucleic acid [5, 7, 8]. The lipid bilayer of EVs encapsulates their contents, shielding them from enzymatic degradation [2]. EVs regulate multiple cellular processes including cell proliferation, survival, and transformation through autocrine and paracrine interactions [5, 8].
Multiple mechanisms are involved in the biogenesis of EVs: exosomes originate as intraluminal vesicles (ILVs) via inward budding of the limiting membrane of maturing endosomes, giving rise to multivesicular endosomes (MVEs) [5]. MVEs are prone to fuse with lysosomes for degradation of their contents, however, they can also dock and fuse with the plasma membrane to release ILVs into the extracellular space [5]. One of the best-characterized mechanism of exosome biogenesis involves the recruitment of the endosomal sorting complex required for transport (ESCRT) machinery to ubiquitinated proteins in the early endosome. There are four ESCRT complexes (ESCRT-0, −I, −II, and -III), which associate with ESCRT-associated accessory proteins, such as the ATPase VPS4, its cofactor VTA-1, TSG101, and Alix. ESCRT-0 complex recognizes and sequesters ubiquitinated proteins on the outside of the endosomal membrane. ESCRT-I and –II complexes are responsible for starting and driving intraluminal membrane budding. ESCRT-III complex performs vesicle scission to form MVEs [9]. Trajkovic et al. have also described an ESCRT-independent exosome biogenesis pathway, which is mediated by the sphingolipid ceramide [10]. Ceramide is produced from the hydrolysis of sphingomyelin by neutral sphingomyelinase 2 (nSMase2) [10]. The cone-shaped structure of ceramide stimulates the negative membrane curvature to facilitate the membrane invagination of ILVs [10]. The authors reported that nSMase2 is needed for the release of proteolipid protein (PLP) from Oli-neu cells [10]. In addition, the ceramide-mediated exosome biogenesis pathway appears to be important for microRNA (miRNA) export via exosomes [11]. Tetraspanin CD63 has also been shown to be involved in the sorting of melanocyte protein PMEL into exosomes in an ESCRT-independent mechanism [12]. Some of the key regulators of MVE docking and fusion with the plasma membrane include several Rab family members (Rab11, Rab35, Rab27) as well as synaptotagmin-7 [13, 14, 15, 16, 17]. It was previously reported that cortactin and Rab27a coordinate to stabilize branched actin networks to allow MVE docking near the plasma membrane and exosome secretion at invadopodia [18].
MVs are formed by the outward budding, fission of the plasma membrane, and release into the extracellular space [5, 7]. The biogenesis of MVs is distinct from that of MVEs-derived exosomes [5, 7]. During MVs generation, there are molecular rearrangements at the sites of MVs budding resulting in an alteration of the lipid and protein compositions of the plasma membrane [5, 7]. One of the mechanisms of the MVs formation involves phospholipid reorganization by aminophospholipid translocases (floppases and flippases) [5, 7]. The translocation of phosphatidylserine (PS) from the inner leaflet to the outer leaflet by floppase induces the budding and release of MVs [5, 7]. Another contributor to MVs budding is the small GTPase protein, ADP-ribosylation factor 6 (ARF6). ARF6 stimulates phospholipase D (PLD), which subsequently leads to the association of extracellular signal-regulated kinase (ERK) with the plasma membrane [19]. ERK is responsible for the phosphorylation of myosin light-chain kinase (MLCK) [19]. Activated MLCK promotes the phosphorylation and the activation of the myosin light chain. The end result of this signaling cascade is the contraction of actomyosin at the "necks" of MVs, which facilitates MVs release [19]. Another mechanism of MVs formation is mediated by Arrestin 1 domain-containing protein 1 (ARRDC1). Nabhan et al. reported that ESCRT-I subunit TSG101 is recruited to the plasma membrane through its interaction with ARRDC1, which is dependent on a conserved PSAP motif in ARRDC1 [6]. The budding of ARRDC1-mediated microvesicles (ARMMs) needs both TSG101 and the ESCRT-associated ATPase VSP4 [6]. The association of ARRDC1 with ubiquitin ligase WWP2 subsequently leads to the ubiquitination of ARRDC1 and drives the budding of ARMMs [6]. One characteristic of ARMMs is that they differ from other MVs in their size. ARMMs are ~ 100 nm in diameter, which is similar to the size of exosomes [6]. Wang et al. recently reported that a functional NOTCH2 receptor is released via ARMMs. Once the NOTCH2-containing ARMMs are transferred to recipient cells, the expression of NOTCH2 target genes (HES1 and HES5) was induced [20].
It is now clear that EVs serve as vehicles for bidirectional communication between cells. The receptors and ligands found on the outside of EVs provide a vectorial cargo transfer to cells expressing the cognate ligand/receptors, conferring specificity to this interaction [8, 12]. There are multiple processes by which EVs and their cargoes can be transferred to recipient cells. EVs may anchor at the plasma membrane of a target cell [21, 22]. Bound EVs may fuse directly with the plasma membrane of the recipient cell [21, 22]. Additionally, bound EVs can be taken up by phagocytosis, macropinocytosis, lipid raft-mediated endocytosis, clathrin-mediated endocytosis, or caveolin-mediated endocytosis [21, 22]. When endocytosed, EVs can be targeted to lysosomes for degradation [21, 22]. An alternative fate is that EVs could fuse with the delimiting membrane of an endocytic compartment, which subsequently allows for the release of EV content into the cytosol of the recipient cells [21, 22]. EVs carry bioactive molecular cargoes, including various proteins, lipids and nucleic acids (DNA, mRNA fragments, miRNA, small nucleolar RNA, Y RNA, mitochondrial RNA, and other non-coding RNAs) that can affect the functions and phenotypes of recipient cells by altering gene expression via de-novo translation and/or post-translational modifications of target mRNAs [5, 8] or by activating various signaling pathways [8, 22].
Given the lack of standardized nomenclature and isolation protocols for extracellular vesicles, we will commonly refer to exosomes, microvesicles, oncosomes, or microparticles as extracellular vesicles.
Extracellular vesicles as modulators of the tumor microenvironment
A critical biological feature that contributes significantly to cancer progression, invasion and metastasis is the 'tumor microenvironment' [
23
]
.
The tumor microenvironment (TME) is an interactive cellular environment surrounding the tumor whose main function is to establish cellular communication pathways supporting tumorigenesis [
24
]. The cellular component of the TME mainly comprises immune and inflammatory cells, stromal fibroblasts, and endothelial cells forming the blood vessels that secrete a series of extracellular/angiogenesis signaling molecules, which in turn lead to a functional modulation of TME [
23
]
.
The TME then converts into a pathological entity that continually evolves to aid cancer progression and invasion [
24
]
.
The extracellular vesicles (EVs) secreted by tumors, commonly known as tumor-derived EVs, have been well documented to modulate the tumor microenvironment
(
Fig. 
1
) [
25
]
.
EVs are highly specialized entities of communication carrying several surface markers and signaling molecules, oncogenic proteins and nucleic acids that can be transferred horizontally to the stromal target cells and condition the tumor microenvironment for an improved tumor growth, invasion, and metastasis [
26
,
27
,
28
]. The role of EVs in cancer progression and metastasis is described in detail below.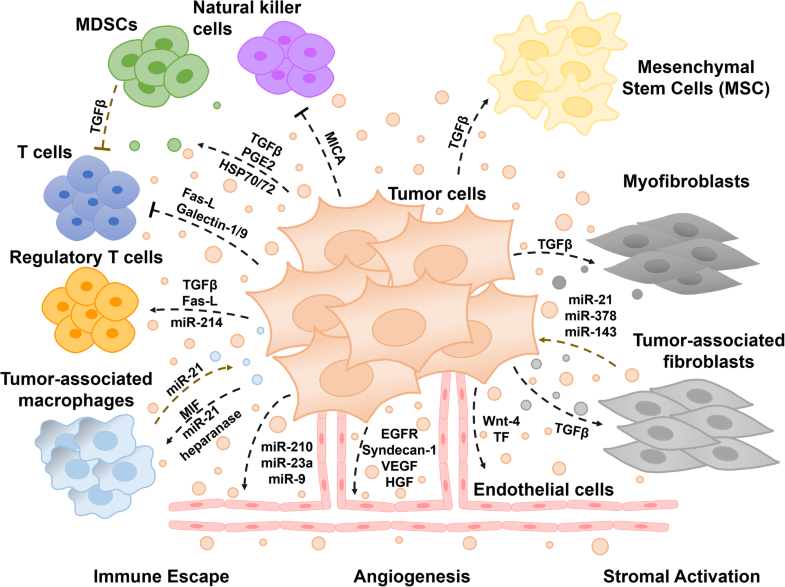 Extracellular vesicles as modulators of anti-cancer drug resistance
Drug resistance poses a serious challenge for the treatment of cancer and occurs when cancer cells become tolerant to anti-cancer drugs. Although many types of cancers are initially susceptible to anti-cancer drugs, tumor cells can develop resistance over time through different mechanisms that impair drug efficacy. The most common mechanisms of drug resistance include genetic or epigenetic upregulation of prosurvival signaling and inhibition of apoptotic pathways, drug inactivation or alteration of drug target molecules, overexpression of multidrug resistance proteins (MDR) and increased transport of efflux pumps, or drug export. Recently, the emergence of EVs as novel drug resistance modulators has added to the complexity of resistance mechanisms. EVs mediate intercellular communication by transferring proteins and nucleic acids to remote target cells. The development of drug resistance via EVs is articulated around mechanisms involving such cargo. EVs can mediate drug resistance by directly exporting or sequestering cytotoxic drugs, reducing their effective concentration at target sites. Recent evidence has shown that EVs play an important role not only in mediating drug resistance, but also in conferring resistance to drug-sensitive cancer cells. Indeed, EVs are capable of horizontal transfer of specific bioactive cargoes that may alter cell cycle control and apoptotic programs in recipient cells
(
Fig. 
2
). EVs can also mediate intercommunication between cancer cells and stromal cells within the tumor microenvironment, leading to the acquisition of drug resistance and tumor progression. Mastering our understanding of these resistance mechanisms will help in improving cancer treatments and subsequently patients' outcome. Detailed mechanisms by which resistance may occur are outlined in this section.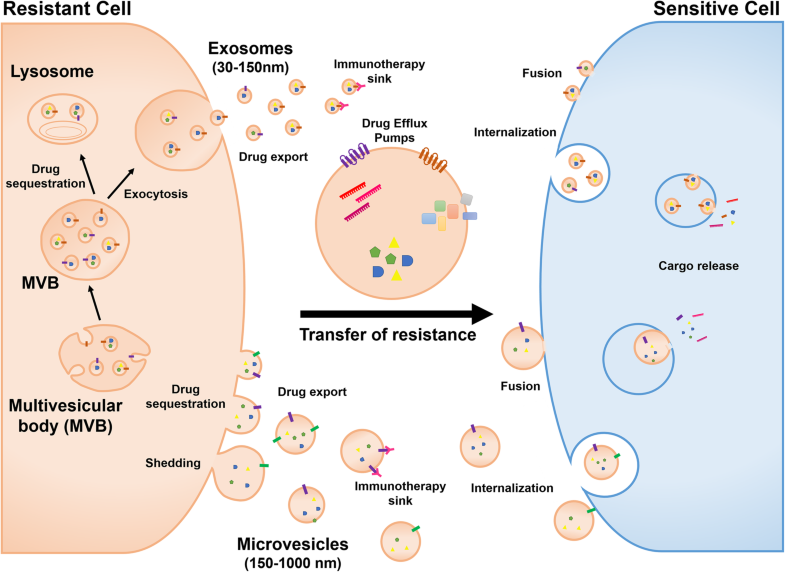 Conclusions and future perspectives
Drug resistance is a huge hurdle in the treatment of cancer. Among the mechanisms governing the establishment of resistance to anti-cancer therapies, EVs have recently emerged as important modulators of drug resistance through a variety of mechanisms described in this review. EVs dynamically contribute, even though transiently, to the heterogeneity of the tumor through their diverse cargo content. Unraveling the precise biological composition of EVs will be critical to determining their role in cancer and will likely aid in developing therapies targeting these roles. However, the field still struggles to assess EVs heterogeneity due to the lack of standardized isolation techniques that go beyond subcellular origin, size, and floatation density. Further dissection of EVs heterogeneity will be essential to improving our understanding of the critical roles of EVs in cancer.
Exploiting EVs molecular cargo as well as the potential development of EVs as drug vehicles for effective therapeutic strategies both hold promises in cancer diagnostics and therapeutics. Omics on EVs derived from liquid biopsies (such as blood, saliva or urine) will likely aid in the early diagnosis of cancer through biomarkers discovery or in the assessment of response to therapies while avoiding invasive biopsy procedures. Related to therapeutics, EVs have been proposed as a new type of drug delivery system. Bioengineered EVs loaded with chemotherapeutic drugs or expressing ligands which target particular malignant cells have the potential for future cancer treatment. The inherent protection of the cargo and personalized cellular targeting simultaneously enhance the solubility, stability, and specificity of the therapeutic agent.
Given the prominence of EVs in almost all aspects of tumor development and progression, it seems evident to explore translational approaches that would prevent these undesirable effects. Nevertheless, EVs-mediated cell-to-cell communication is a conserved mechanism in normal cell physiology and their inhibition is likely to be toxic unless specific strategies distinguishing pathogenic EVs from beneficial ones are developed. In order to develop such strategies, it is essential to establish standardized techniques allowing consistent isolation of EVs subpopulations. This knowledge is necessary to identify cancer-derived EVs that should be targeted by any therapeutic approach. The use of EVs as cell-free therapies has also been employed in cancer vaccine and immunotherapy fields. Encouraging studies suggest the use of immune cells-derived EVs as a new potential strategy for cancer vaccine research. Only if taken together, technology and biology will pave the way for the future use of EVs in many clinical applications.
Notes
Acknowledgments
SM, MH, and JCG are supported by Sidra Medicine institutional funding. AAB is supported by Sidra Medicine internal grant (SIRF_20046). LJ is supported by NIH F32 grant (CA217064). AR is supported by NCCCR, HMC institutional funding. SU is supported by Medical Research Center, HMC institutional grant (Grant #16354/16).
Funding
The authors declare no funding support was received for this study.
Availability of data and materials
Not applicable, please refer to the original reference.
Authors' contributions
SM, AAB, and LJ performed the scientific literature search, designed the review structure, elaborated the figures and tables, and wrote the manuscript. AR helped with the writing of the manuscript. MH and SU assisted with the design of the manuscript. JCG helped with the manuscript writing and corrected the final version of the document. All authors have read and approved the final version of the manuscript.
Ethics approval and consent to participate
Not applicable, neither ethics approval was required for this review nor involvement of patients.
Consent for publication
All authors consent to publication.
Competing interests
The authors declare that they have no competing interests.
Publisher's Note
Springer Nature remains neutral with regard to jurisdictional claims in published maps and institutional affiliations.
Copyright information
© The Author(s). 2019
Open Access This article is distributed under the terms of the Creative Commons Attribution 4.0 International License (http://creativecommons.org/licenses/by/4.0/), which permits unrestricted use, distribution, and reproduction in any medium, provided you give appropriate credit to the original author(s) and the source, provide a link to the Creative Commons license, and indicate if changes were made. The Creative Commons Public Domain Dedication waiver (http://creativecommons.org/publicdomain/zero/1.0/) applies to the data made available in this article, unless otherwise stated.