Thyroid cancers of follicular origin in a genomic light: in-depth overview of common and unique molecular marker candidates
Abstract
In recent years, thyroid malignances have become more prevalent, especially among women. The most common sporadic types of thyroid tumors of follicular origin include papillary, follicular and anaplastic thyroid carcinomas. Although modern diagnosis methods enable the identification of tumors of small diameter, tumor subtype differentiation, which is imperative for the correct choice of treatment, is still troublesome. This review discusses the recent advances in the field of molecular marker identification via next-generation sequencing and microarrays. The potential use of these biomarkers to distinguish among the most commonly occurring sporadic thyroid cancers is presented and compared. Geographical heterogeneity might be a differentiator, although not necessarily a limiting factor, in biomarker selection. The available data advocate for a subset of mutations common for the three subtypes as well as mutations that are unique for a particular tumor subtype. Tumor heterogeneity, a known issue occurring within solid malignancies, is also discussed where applicable. Public databases with datasets derived from high-throughput experiments are a valuable source of information that aid biomarker research in general, including the identification of molecular hallmarks of thyroid cancer.
Keywords
Thyroid cancer 
Biomarkers 
NGS 
Molecular markers 
PTC 
FTC 
ATC 
Abbreviations
ATC

Anaplastic thyroid cancer

CNV

Copy number variations

DTC

Differentiated thyroid cancer

FISH

Fluorescence in situ hybridization

FNAB

Fine-needle aspiration biopsy

FTC

Follicular thyroid cancer

GWAS

Genome-wide association study

HRM

High resolution melting

LOH

Loss of heterozygosity

MTC

Medullary thyroid cancer

NGS

Next-generation sequencing

PCR

Polymerase chain reaction

PTC

Papillary thyroid cancer

SNP

Single nucleotide polymorphism

SNV

Single nucleotide variant

TC

Thyroid cancer

TCGA

The Cancer Genome Atlas

TCV

Tall cell variant
Background
Thyroid cancer (TC) is one of the most frequent endocrine malignancies, accounting for 3–4% of cancers [1], and its occurrence has increased by approximately 5% on a yearly basis, with higher prevalence in females than in males (20.6 vs. 6.9 new cases per 1000 persons) [2]. The number of newly diagnosed cases has risen dramatically in the last 10 years, which could be partially ascribed to the availability of more sensitive diagnostic tools, i.e., ultrasonography and fine-needle aspiration (FNA) and the smaller size of diagnosed tumors. However, over diagnosis is also an issue because its occurrence rate has risen 15-fold since 2003, whereas mortality rates have not changed [3].
In general, the 5- and 10-year survival rates for TC patients are excellent (approx. 98%) but are related to the age of the patient at the time of diagnosis and the cancer subtype [1, 4, 5].
Both papillary (PTC) and follicular thyroid carcinoma (FTC) arise from follicular epithelial thyroid cells involved in iodine metabolism. PTC and FTC, together with the less common Hürtle cell carcinoma, are classified as differentiated thyroid cancer (DTC, see Fig. 
1
) [
6
,
7
]. Both PTC and FTC progress slowly and are generally characterized by good prognosis, especially if diagnosed early [
5
].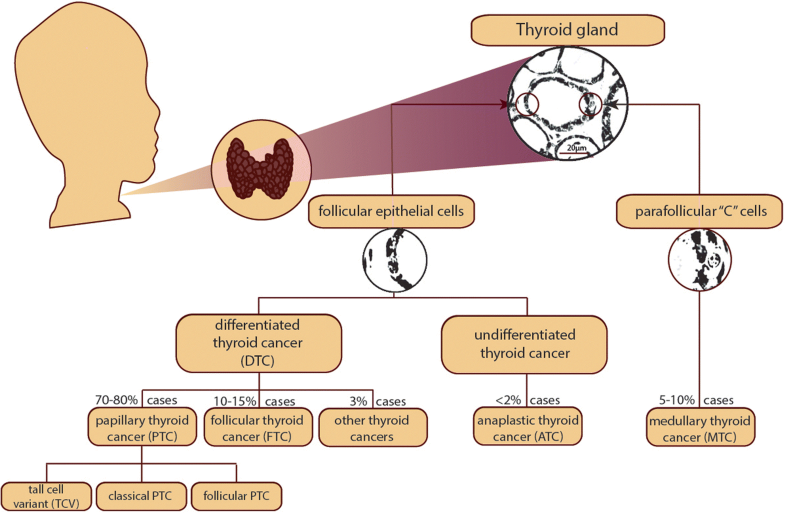 Undifferentiated anaplastic thyroid carcinoma (ATC) is the most aggressive TC type. Although ATC also originates from follicular cells, similar to PTC and FTC, it does not possess their original biological properties [8]. ATC represents 2–5% of cases, (77% in women) with the worst prognosis and a 5-year survival rate of 5% [3]. ATC is insensitive to conventional methods of treatment [9].
In contrast, medullary thyroid cancer (MTC) is derived from parafollicular thyroid "C" cells, which produce calcitonin [2].
The majority of TC cases are sporadic, with only 5% of DTC characterized as familial (mostly PTC) and ~ 25% of MTC inherited as an autosomal trait [10]. Only sporadic tumors are analyzed in this review.
Although most mutations found in TC differ among types, certain DNA alterations were found to be common in more than one subtype. As discussed later in this review, ATC tumors appear to derive from other differentiated tumors and thus possess a large overlap with mutations present in DTCs, such as TMPRSS4. Mutations in certain genes, e.g., CHEK2, are reported in both PTC and FTC, although not with the same prevalence [11, 12], and their potential contribution to TC carcinogenesis is described in the respective paragraphs. In this work, we focus on tumor heterogeneity and the mutation burden carried by thyroid tumors, as tested primarily by high-throughput methods performed within larger genomic projects, including The Cancer Genome Atlas (TCGA).
We gathered the data from RNA expression and DNA sequencing experiments and identified potential genetic biomarkers of disease progression. Genome-wide association studies (GWAS) as well as sequencing and microarrays were considered. In this work, we present an overview of the available biomarkers candidates for progression and development of thyroid cancer and drivers of carcinogenesis, as discussed in detail in the respective sections. All gene functions were inferred using GeneCards (www.genecards.org) [13].
Genome-wide studies significantly aid in the identification of cancer-specific germline and somatic mutations, which can contribute to more sensitive diversification of cancer subtypes and facilitate early diagnosis. Identification of disease-specific point mutations can accelerate the evaluation of candidate target genes for therapeutic drugs and the search for novel driver mutations. However, the identification of polymorphisms (SNPs) could additionally improve prognosis and patient outcomes.
Conclusions
Despite the large number of mutations involved in the tumorigenesis of thyroid carcinomas (Fig. 
2
), many tumors remain unclassified by FNA biopsy or even genetic testing. Pagan et al.
,
notes that over 50% of samples tested for a large number of reported mutations already observed in TC by RNA-seq do not show a phenotype, leading to the conclusion that the fast-growing database of somatic and driver mutations in thyroid cancers must be expanded with respect to histological subtype [
146
].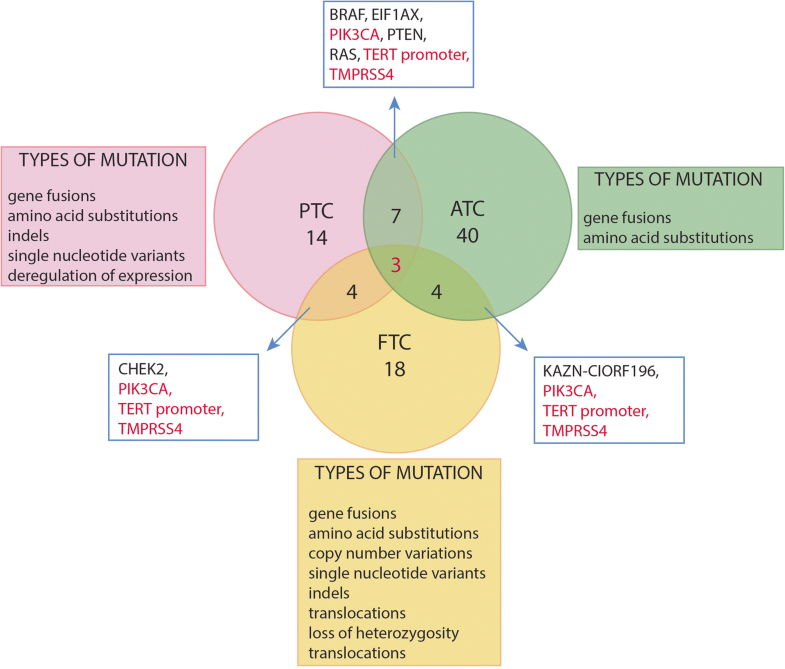 DNA methylation in thyroid cancer has been extensively studied and reviewed but was not discussed in detail in this review. However, it is worth mentioning that the advances in next-generation sequencing and microarray techniques enable in-depth research on the methylation pattern in GC-rich regions and its effect on gene expression. Most studies focus on pre-determined loci [147, 148], and fewer are available at the whole-genome scale [149, 150]. Determination of the methylation patterns can be potentially useful for differentiating between TC subtypes with greater precision. The largest study to date that examines whole-genome methylation was performed as a component of the TCGA project (PTC, n = 496) [33]. In a recent study, Bisarro dos Reis et al., proposed a hyper/hypomethylation genetic signature that allows distinction between TC subtypes (Hürtle cell, PTC, FTC, non-neoplastic tissue and benign lesions, ATC) based on the Illumina 45 k platform, with high sensitivity and specificity (63 and 92%, respectively) [151]. Methylation can also be used as a prognostic marker of disease outcome, as proposed in the same article. Beltrami et al., proposed the PTC hypomethylation signature of 41 PTC-paired samples (88% of hypomethylation) as a prognostic biomarker of PTC development [152]. This signature coincides with the presence of the BRAFV600E mutation (68% of the hypomethylation signature).
In the era of advanced molecular analysis, genetic markers have become a useful tool for the evaluation of thyroid tumor growth and progression. Molecular biomarkers can be applied in the classification of thyroid tumor subtypes and the prediction of disease outcome and might also aid development of systemic molecular therapies in cancers that are refractory to standard treatment. The discovery of specific genetic alterations and mechanisms of thyroid carcinoma development is expected to lead to more personalized treatment for patients with advanced and recurrent disease. Despite the presence of the molecular changes described in this review, the roles of molecular biomarkers in the development of different thyroid tumor subtypes still remain unclear.
Notes
Availability of data and materials
See section "References".
Authors' contributions
NP – has contributed substantially to the concept of the manuscript, researched and analyzed the literature data, was a major contributor in writing the review article, has been involved in revising the manuscript critically for important intellectual content. KZ – has contributed to the concept of the manuscript, has been involved in revising the manuscript critically for important intellectual content. HARB – has contributed to the concept of the manuscript, has been involved in revising the manuscript critically for important intellectual content. JW – has contributed substantially to the concept of the manuscript, has been involved in drafting the manuscript and revising it critically for important intellectual content, contributed to writing the manuscript. All authors read and approved the final manuscript.
Ethics approval and consent to participate
See section "References", approvals within particular articles included in the literature search.
Consent for publication
not applicable.
Competing interests
The authors declare that they have no competing interests.
Publisher's Note
Springer Nature remains neutral with regard to jurisdictional claims in published maps and institutional affiliations.
Copyright information
© The Author(s). 2018
Open AccessThis article is distributed under the terms of the Creative Commons Attribution 4.0 International License (http://creativecommons.org/licenses/by/4.0/), which permits unrestricted use, distribution, and reproduction in any medium, provided you give appropriate credit to the original author(s) and the source, provide a link to the Creative Commons license, and indicate if changes were made. The Creative Commons Public Domain Dedication waiver (http://creativecommons.org/publicdomain/zero/1.0/) applies to the data made available in this article, unless otherwise stated.