Team interventions in acute hospital contexts: a systematic search of the literature using realist synthesis
Part of the following topical collections:
Abstract
Background
Research on team effectiveness in healthcare has focussed on whether effective teams yield positive outcomes for patients and on the effectiveness of team interventions to improve performance. Limited understanding exists of what works for whom within an effective team, or how and why the context in which the team operates enables team members both as individuals and as a collective to enact behaviours that promote positive outcomes.
Methods
This realist synthesis of the literature explores the relationship between team interventions, underlying teamwork mechanisms generated by those interventions, and the resultant impact on patient outcomes in an acute hospital context. A systematic search of five healthcare and healthcare management academic databases: PubMed, PsychINFO, CINAHL, ABInform, Emerald Management and three grey literature databases: ERIC, OpenDOAR and Open Grey was undertaken. Five experts in the field were also contacted to source relevant literature. Using PRISMA guidelines, relevant studies published between January 2006 and January 2017 were systematically searched by a team of three people. Drawing on realist methodology, data were synthesised using context, mechanism and outcome configurations as the unit of analysis to identify enablers and barriers to effective team interventions.
Results
Out of 3347 papers retrieved, 18 were included in the final synthesis. From these, five contextual enablers were identified: an inter-disciplinary focus and flattened hierarchy; effective communication; leadership support and alignment of team goals with organisational goals; credibility of intervention; and appropriate team composition with physician involvement. Ten recurring mechanisms were identified, the most frequently occurring of which was shared responsibility.
Conclusions
The advantage of using realist synthesis to extrapolate data from the literature is that it considers the context and mechanisms that will impact effectiveness of healthcare team interventions. This methodological approach provides a different perspective to other types of syntheses and offers insight as to why certain contextual elements may yield more success than others. Findings therefore tend to have more practical implications. Specificity of detail in terms of how external drivers impact on healthcare team interventions was limited in the articles extracted for analysis. This broader perspective is therefore an important consideration for future research.
Keywords
Team 
Interdisciplinary 
Interventions 
Acute hospital 
Effectiveness 
Realist 
Synthesis 
Context 
Quality 
Safety 
Abbreviations
CMOC

Context, mechanism, outcome, configuration

ED

Emergency department

ICU

Intensive care unit

OR

Operating room

PDSA

Plan, Do, Study, Act

QI

Quality improvement

RAMESES

Realist and Meta-narrative Evidence, Evolving Standards

TeamSTEPPS

Team strategies & tools to enhance performance and patient safety
Background
Team performance, quality, safety and efficiency are areas in healthcare that attract a great deal of attention. Given the costs required to operate health services and an increasing evidence base that demonstrates that teamwork failure is a sizeable contributor to patient harm events and preventable medical errors [1, 2, 3] this is not surprising.
The extant literature on team effectiveness demonstrates complexity in terms of how healthcare teams are defined. Using previously conceptualised frameworks, Hughes et al. [4] describe healthcare teams as having: low temporal stability, a short team life span and a rotating leadership structure. Schmutz et al's. [5] portrayal is synonymous with this interpretation making reference to action teams especially those in the dynamic domain of healthcare often working under changing conditions, being assembled on an ad hoc basis and having a dynamically changing team membership. They indicate that they often work together for only a short period of time and consist of members from many different specialties. Gittell et al. [6] and Faraj and Xiao [7] also reflect this dynamic nature pointing out that healthcare teams are synonymous with interdependency and uncertainty. More recently, Edmondson [8] refers to "teamwork on the fly" and explores the responsiveness of systems to changing team compositions where members have to co-ordinate and collaborate in the absence of stable team structures.
Healthcare is delivered in teams involving multiple disciplines and the terms multidisciplinary, interdisciplinary and transdisciplinary are often used interchangeably and ambiguously. In their paper, which seeks to clarify this ambiguity, Choi and Pak qualify the three terms, making reference to "the involvement of multiple disciplines to varying degrees on the same continuum" ([9]:225). The common differentiation being as follows: multidisciplinary - additive or staying within their boundaries; interdisciplinary - interactive co-ordinated and a coherent whole; and transdisciplinary - holistic and integrated.
The purpose of multidisciplinary teams in healthcare is usually the delivery of clinical care. However multidisciplinary healthcare teams may also adopt leadership, governance, project management or change management functions. Lemieux-Charles and McGuire reflect on the complexity of healthcare teams in saying "a team is a multi-dimensional construct and team structures and processes can vary widely depending on the membership, work, tasks and interactions"([10]:265). They caution however that studies are frequently lacking in terms of consistency and specificity of detail when describing teams and, as suggested by West and Lyubovnikova, research is required so that we can "accumulate findings" on "real teams" as opposed to "pseudo-like groups" ([11]:332).
For the purpose of this research, we refer to "healthcare teams" as two or more healthcare disciplines working together in an acute hospital context and in receipt of a programme or intervention or directly involved in implementation of a programme or intervention to improve team-working and/or quality and safety of patient care.
Despite the lack of clarity on team definitions, a significant body of literature has emerged on team interventions, team training and team effectiveness as it relates to quality and patient safety and some researchers argue that the relationship of teamwork training to quality of care and patient safety is fundamental.
Over three decades of research on teamwork effectiveness in healthcare, emphasis has been on whether effective teams yield positive outcomes for patients and whether or not team interventions improve team performance. Early studies on team training concluded that there was limited evidence available that linked team training to positive patient outcomes [12]. Subsequently, a systematic review undertaken by Buljac-Samardzic et al. concluded that "only some studies demonstrated high quality evidence on interventions to improve team effectiveness" ([13]:193) and more recently, Weaver, Dy and Rosen found that overall, "moderate-to-high-quality evidence suggests team-training can positively impact healthcare team processes and patient outcomes" ([14]:368).
In her work on learning behaviours in teams, Edmondson [15] explores the factors and contextual conditions that contribute to making teams work more effectively, for example, the impact of leadership behaviours and professional status on psychological safety [16]. From a realist perspective, research is beginning to explore what is it about the resources on offer within an effective team or specific to the context in which the team operates that causes team members both as individuals and as a collective to enact the behaviours or mechanisms that promote positive outcomes [17]. An understanding of these factors could contribute to the design of more effective teamwork interventions as it seems "how to" enable and more importantly "how to" sustain outcomes of effective team interventions in healthcare still remains a challenge.
Healthcare teams are complex and operate within complex open systems with various healthcare professional groups having their own identity, culture, educational background and objectives. Given the complexity of healthcare teams and the complexity of the healthcare system in which they operate, there are many interacting variables to consider and it is not possible to predict that what works for one team will work for another team and what works in one context will successfully translate to another context.
While there is a large body of research on the importance of context in quality improvement interventions [18, 19, 20], there is a gap in the healthcare literature on how these contexts impact on the teams and support or inhibit the enactment of behaviours that are associated with team effectiveness.
As evidenced, many theoretical concepts regarding what constitutes and enables "effective team working" already exist but factors may vary across different settings and different healthcare systems. In order to design successful interventions to improve team effectiveness, it is important to understand the underlying mechanisms that lead to successful outcomes and the factors specific to the contexts that generate these mechanisms.
Realist methodology [21] is tailored to uncover these hidden mechanisms (M) and to elicit the conditions (C) in which they occur and the resultant outcomes (O) they generate. In order for the researcher to extrapolate context, mechanism and outcome configurations C-M-O-Cs, the researcher must make a chain of inference which derives the causal outcome between two events. This requires understanding of the underlying mechanisms that connect them and also the context in which the relationship exists. Patterns of context-mechanism-outcome configurations (CMOCs) across studies or contexts enable the researcher to understand the CMOCs that are common or 'core' to an intervention.
For the purpose of this literature synthesis, CMOCs (See also list of abbreviations) are defined as per Table 
1
.
Table 1
Definitions: Context, Mechanism, Outcome Configuration (CMOC)
Context (C)

The conditions in which the programme/intervention is introduced - the enablers/ facilitators/ detractors of teamwork.

Mechanism (M)

The process of how the participant interprets and acts upon the intervention stratagem.

How any one of the components of teamwork brings about change.

How the resources on offer permeate into the reasoning of team participants.

Outcome (O)

The intended and un-intended consequences of teamwork. Because of the variation in context and mechanisms, there are likely to be different outcomes from teamwork.

Configuration (CMOC)

The patterns and variations in patterns of teamwork.
Aim of systematic search of literature
The aim of this research is to deepen understanding of the relationship between team interventions, underlying teamwork mechanisms generated by those interventions and the resultant impact on patient outcomes in an acute hospital context with the intent of exploring: What works for whom in what conditions; why, to what extent and how?
Specific objectives
Specific objectives of this literature synthesis were as follows:
1.

To determine in what conditions and to what extent interventions appear to work best [contexts] (C).

 

2.

To explore how and why team interventions work in these conditions, i.e. what mechanisms (M) are enacted to produce outcomes (O)?

 
Methods
Best practice guidelines for the conduct of realist synthesis were followed [22]. Relevant literature on team interventions in a hospital context was interrogated to determine what worked for whom in what conditions, why to what extent and how.
Searching processes
Five electronic databases relating to healthcare and healthcare management were initially searched: PubMed, PsychINFO, CINAHL, ABInform, Emerald Management. Consistent with best practice guidelines in realist synthesis, three grey literature databases: OpenGrey, OpenDOAR and ERIC were also searched to capture non-indexed studies and grey literature. The following search strategy was used. See Table 
2
.
Table 2
Search strategy, combination of keywords
| Search string | Key words |
| --- | --- |
| 1 | Multi-disciplinary team OR Multidisciplinary team OR Trans-disciplinary team OR Transdisciplinary team OR Interdisciplinary team OR Interdisciplinary team OR Inter-professional team OR Interprofessional team OR Patient-Care team OR Patient Care Team OR Patient Facing OR Patient-Facing team |
| 2 | Hospital or clinical or medical or health or healthcare |
| 3 | 1 AND 2 |
| 4 | Teamwork or dynamics or "team roles" or roles or collaboration or process or processes |
| 5 | Group processes |
| 6 | Inter-professional relations |
| 7 | 4 or 5 or 6 |
| 8 | Effectiveness OR Performance or Efficiency or Experience or Experiences |
| 9 | AND 3, 7, 8 |
| 10 | Limit 2006 - Current |
The initial search of databases was conducted in January 2017. Articles that were subsequently published up to July 31st, 2017 were captured via electronic alerts and were considered if relevant. Search of the grey literature databases took place in July 2017. Two senior academics and three national and international practitioners working the field of teamwork in healthcare were invited to contribute recommendations via electronic communication. Bibliographies of relevant articles were also hand searched.
Narrowing the scope
The initial search addressed the broader question of enablers to effective team-working. This search retrieved 3347 articles relating to team effectiveness of which 819 were scoped by the primary researcher (UC). Preliminary findings were discussed with the research team (EMcA, MW and ADB) and a realist advisory group – this consisted of a group of researchers who were actively using realist methodology and/or academics who had an interest in realist methodology. Studies that involved team interventions appeared to yield the most information in terms of identification of enablers and barriers to team effectiveness. These studies included Lean methodology which focusses on removal of waste to add value for patients and staff. Healthcare organisations use Lean methodologies to streamline processes, reduce cost, and improve quality and timely delivery of products and services. Other team interventions included Quality Improvement, team education, strategies to improve teamwork, implementation of care pathways and introduction of new ways of working or a re-design of existing ways of working. This sub-set of articles also appeared to be evaluated more rigorously in terms of their impact on patient quality and safety outcomes. The following inclusion criteria were therefore agreed.
Inclusion criteria
Papers on studies published between January 2006 to January 2017 – all languages
1.

That were conducted in hospitals and that treated the multidisciplinary team rather than the team member or the organisation as the unit of analysis in terms of team effectiveness.

 

2.

That included a team descriptor - minimum criterion - the type of participants in the team.

 

3.

That discussed all of the following:

A relationship of a team process variable and clinical or other performance outcome e.g. change or performance improvement initiative.

Effect on a performance variable through a team process intervention.

Facilitators and barriers to effective team interventions in healthcare.

 
All study types were accepted. Studies were excluded if they were deemed unrelated to multidisciplinary teamwork, did not reference the acute hospital context and if there was no reference to team intervention and/or effectiveness. Grey literature was screened for inclusion or exclusion using the same process.
All identified articles were imported into Covidence software [23] to manage the screening process. Papers were independently screened by title and abstract for inclusion or exclusion by two members of the research team (UC, EMcA). Where conflicts arose and were unresolved, a third research team member was invited to make the final decision (MW). Following title and abstract review, the sub-set proceeded to full text review again independently by two members of the research team (UC, MW).
Selection and appraisal of documents
All documents were appraised for rigour and relevance using the following criteria to explore whether or not:
they contained data relevant to context that generated outcomes, including unintended outcomes;

chains of inference could be made in terms of context, mechanism, outcome configurations;

methods used to generate data were credible and trustworthy.
All studies were selected independently by the primary researcher (UC) in terms of suitability. One of the researchers (MW) rated a random sub-section constituting 20% of the total. As inter-rater reliability was 100%, all studies deemed suitable by the primary researcher were included.
Data extraction process
In order to identify contextual conditions that enabled or inhibited mechanisms for effective team interventions, information was gathered specific to the type of intervention, the setting in which the intervention occurred, the team description, contextual data on factors that enabled or inhibited effectiveness, mechanisms that were enacted and outcomes of the intervention. The process used for data extraction was significant in terms of its comprehensiveness and data extrapolated were reviewed in terms of their appropriateness by the research team. During the process of data extraction, what constituted a context, mechanism or outcome was discussed in detail. The framework and process for extrapolation of data were also discussed and agreed with members of a realist advisory group. Please see Additional file 1.
Analysis and synthesis processes
Data analysis and synthesis was initially undertaken by the primary researcher. Using context, mechanism, outcome configurations as the units of analysis, chains of inference of what worked for whom, in what conditions, how and why were made. These were subsequently presented to the research team and realist advisory group respectively in order to ensure consistency and validity of the process.
Patterns of CMOCs that frequently occurred across the 18 studies were identified using the same iterative process. For ease of understanding and practical application, it was agreed that these recurring patterns (referred to in realist terms as "demi-regularities" [22]) would be better represented as plausible hypotheses. These plausible hypotheses are presented below in the form of "if….then" statements. This approach of using plausible hypotheses has previously been employed in realist synthesis research [24, 25, 26].
Results
A total of sixteen peer-reviewed articles were identified for the synthesis and two additional studies were included from the grey literature searches. No additional studies were added following communication from experts as recommended articles had already been included or excluded based on the criteria. See Fig. 
1
and Table 
3
.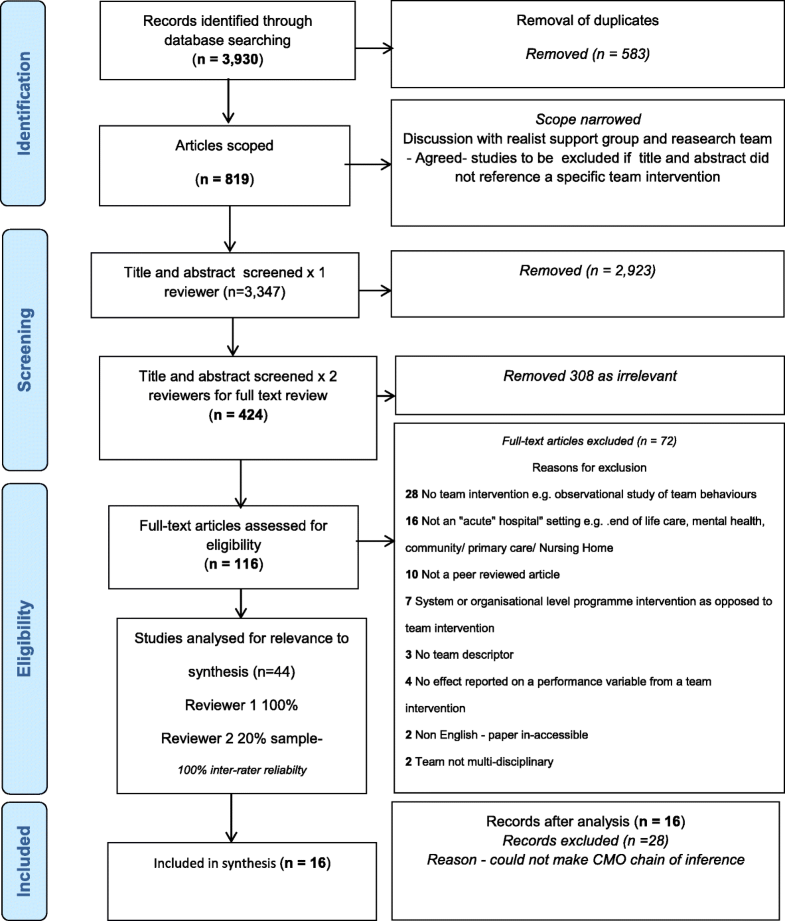 Table 3
Grey literature search and document flow
| Grey literature Search engine | Search strategy | No. of items screened | No. of items for full text review | No. of items included |
| --- | --- | --- | --- | --- |
| ERIC | As per peer review | 377 | 5 | 1 |
| OpenDOAR | Intitle: teamwork and hospital | First 100 records (results sorted by relevance) | 14 | 1 |
| Open Grey | Team and hospital | 86 | 1 | 0 |
| Hand searching | Various | 0 | – | – |
| Contact Experts | 6 | Items were already included/excluded | – | – |
Discussion
This review of the literature considered the topic of effectiveness of team interventions in healthcare using realist synthesis. It therefore adds to the existing literature including a recent narrative synthesis of team training [14]. Realist methodology lends itself well to the review of team interventions accounting for context, mechanisms and outcomes in the process of systematically and transparently synthesising the relevant literature [43]. Findings provide nuanced insight into the mechanisms enacted in various contextual conditions associated with team interventions and how and why particular contexts generate outcomes, including unintended outcomes and have the potential for more pragmatic conclusions than alternative approaches to literature reviews [44].
Building on a previous realist synthesis by Hewitt, Sims and Harris [17, 44, 45, 46] which identified thirteen different mechanisms underpinning inter-professional teamwork in health and social care, this study deepens understanding of underlying teamwork mechanisms when team interventions are introduced to or by multidisciplinary teams in acute hospital settings. By analysing interconnectedness between context, mechanism and outcomes and also inter-dependencies across contexts, important detail relating to team interventions emerged.
Five frequently recurring patterns of contexts, mechanisms and outcomes have been presented as "plausible hypotheses" (PH). Not surprisingly, effective communication was the most frequently cited contextual enabler (PH2). This is important as where teams communicate more effectively, they share mental models, perform more teamwork behaviour, and thus perform better [5].
Effective communication and tactical communication were identified by Hewitt et al., [17, 46] as underlying mechanisms for successful inter-professional teamwork. In our findings, we identify effective communication (PH2) as a contextual enabler for team interventions and differentiate between three different contextual variables therein. These include: opportunities for communication and transfer of knowledge; communication skills and communication systems. The detailed level of analysis from a realist perspective provides insight as to how and why these are important enablers by unpacking the mechanisms generated by the conditions. Rather than the more generic statement that effective communication is important, this type of analysis allows an understanding of how and why: because team members as individuals and a collective have clarity of purpose and role and share mental models resulting in increased situational awareness and more integrated care. The methodology also allows for further exploration of contextual moderators for example, in one instance, despite team training in specific communication techniques being provided, environmental noise in ED was a significant moderator in terms of success of the intervention. Without this more detailed analysis of context, mechanisms and outcomes generated, valuable information for implementation of interventions could be lost.
The use of evidence based programmes and experienced trainers were critical to success (PH4) and staff ability to relate to the programme providers appeared to be equally important [39]. Using physicians and nurses who are experienced in organisational change that staff could relate to on a clinical level therefore appeared to be particularly effective. Thus, credibility of intervention (PH4) was extrapolated as a key enabler. Going deeper into the reasoning of team members to the resources provided by credible interventions (PH4), the motivating influence appears to be the authenticity and specificity of the intervention that enacts confidence and team satisfaction, and these are necessary because healthcare workers need to feel time away from patient care is well spent.
In keeping with Weaver, Dy and Rosen's [14] findings, evidence from the empirical data was also strong to suggest an interdisciplinary approach to training as being essential to the acceptance and commitment of the teams for the specific team intervention (PH 1). However, a consideration upon further exploration is that it is through the interdisciplinary approach that hierarchical issues emerge and importantly therefore it is the coupling of an interdisciplinary approach with a flattened hierarchy that is the enabling condition.
The importance of the inter-dependency of contextual conditions is also evident in PH3 - Leadership support and strategic alignment of team goals with organisational goals. As illustrated in one study, [30] joint review of performance via the use of dashboards provided a vehicle for senior management to interact with the team and it was this engagement with leadership that made explicit the team's role in the overall organisational strategy and enacted a sense of shared or collective responsibility. If analysis treated leadership support and strategic alignment of team goals with organisational goals as two discrete contextual enablers, this important detail would have been lost.
Inclusion of staff with the appropriate skills, knowledge and attributes was also deemed important (PH5) and inclusion of physicians in training and delivery is particularly powerful as it provides varied perspectives to the learning and discussion and demonstrates visible organisational commitment (PH3) to participants. As with PH1 and PH5, interconnectivity between physician engagement and team composition needs to be acknowledged. Broad team composition is only an enabler if there is physician involvement and physician involvement is a necessary condition that probably would not work without broad team composition.
These plausible hypotheses have practical application for teamwork interventions in acute hospital contexts. Within this context however, certain types of interventions have more relevance. For example, because emergency situations are highly stressful, it is not enough to train team co-ordination behaviours just once. Stressful situations can reduce cognitive functioning and thus it is easier to rely on well-learned, automated behaviour. It is necessary to train emergency situations regularly and integrate them into everyday work practices [47].
Weaver et al. [14] describe the need for bundled interventions and there was evidence to support this in a number of studies for example the integration of TeamSTEPPS with Collaborative Care Councils [30]. Schmutz et al. [5] also advocate for bundling closed loop communication skills training with teamwork training. In these circumstances, simulation programmes are usually considered to yield positive outputs. Simulation may however also be appropriate to other healthcare contexts as the use of video assisted briefing and de-briefing could be modified in such a way that it incorporates real life situations from any of these contexts. Given that communication skills are the most frequent skill being analysed and improved, it is possible that simulation could also translate well to any non-pressurised, non-complex care area.
The strength of the synthesis in comparison to other literature reviews is that rather than explore team training or intervention content and effectiveness [14, 48], it allowed for consideration of the contexts and mechanisms that may have operated as enablers or barriers in implementation efforts and highlighted contexts that are most likely to enact team mechanisms leading to positive team behaviours, and as a consequence the quality and safety of patient care.
Weaver et al. [14] concluded that there is moderate to high quality evidence that team training works but do not give important contextual detail as to why this happened. This review of the literature using realist synthesis offers a rationale via the identification of mechanisms enacted by those contexts as to why certain contextual elements may yield more success than others beyond simply the components of the simulation, Lean, QI or service improvement initiative. This contextual data is important for replication of interventions in other contexts as it can help predict why an intervention might fail or flourish and help recommend why certain conditions need to change in advance of implementation in order to optimise chances of intervention success. By way of example, it is worth considering and addressing an interprofessional hierarchy and/or power struggle within a team prior to implementing an intervention as interprofessional tensions may impact negatively and detract from its success. Similarly, a first point to start working with improving communication in teams would be to ensure they have a shared understanding of their vision, mission and goal.
One challenge encountered during the research was the lack of detailed information with regard to teamwork mechanisms and contextual factors that drive success in the literature. Despite a high number of potential studies on this topic being retrieved from databases searches, only 18 reached the final synthesis. Several intervention studies focussed heavily on discussion of the specifics of intervention components [49] or aspects of an interventional model [50]. Many studies considered a process change that incorporated Lean methodologies [51] with little or no reference to the team processes or behaviours involved in changes in their discussion of findings. Thus, this limited the data available for synthesis purposes. Given this, we strongly advocate for adherence to intervention reporting guidelines (TIDieR) [52] to enhance the description and replicability of interventions, and ensure inclusion of relevant information on contextual variables of the team intervention (who, where and what) and on the theory or mechanisms underpinning the intervention (how and why).
Studies included in the synthesis all demonstrated positive outcomes in terms of performance improvement following the team intervention. This occurred despite criteria allowing for studies that identified barriers to teamwork with negative outcomes. This lack of reporting on negative outcomes could be reflective of what researchers seek to publish or journal publication bias. Arguably, both are unlikely to publish studies with more negative results.
The literature describes a number of interventions that resulted from a national policy for example TeamSTEPPS, Adoption in Action [41], or a Sentinel Alert [39]. This driver for implementation could have impacted on its success. The influence of a national policy or drive has not been considered in this synthesis as the unit of analysis was at the team level and there was vagueness in these studies about the specifics of these policies and how they might have impacted on the team intervention. It was therefore difficult to infer rationale for the impact. This factor is worth exploring further in future research.
Conclusions
Although complex, realist synthesis allowed for unique insights into mechanisms generated by various contextual conditions. Previous studies largely focussed on whether interventions worked or not, this study examines in more depth the how and why they work or do not work. Chains of inference do not occur as discrete entities, rather they are interdependent and exploration of these inter-dependencies yields valuable information. Attempts to over-simply contextual conditions could result in loss of critical information. On a cautionary note, it cannot be assumed that because a particular contextual condition appears to lead to a positive outcome, as a corollary that the absence of that condition will imply a negative outcome. The chains of inference are better served if interpreted as acting along a continuum and inter-dependently.
The five plausible hypotheses have a practical application; however, some types of interventions are more suited to particular contexts than others.
Notes
Acknowledgements
The authors would like to acknowledge: Content experts: Professor Mike West, Ms. Caitriona Heslin; Information Manager, Ms. Angela Rice and the Irish Realist Support group.
Funding
This research is being funded by the Ireland East Hospital Group and the Mater Misericordiae University Hospital and is part of the Collective Leadership and Safety Cultures (Co-Lead) research programme which is being funded by the Health Research Board (RL-2015-1588) and the Health Service Executive.
Availability of data and materials
All data generated or analysed during this study are included in this published article and its supplementary information files.
Authors' contributions
UC was the primary researcher and contributed to all stages of the study. EMcA completed title and abstract review with UC. MW completed full text reviews and interpretation of data for synthesis with UC. All authors contributed to the iterative process of identification of CMOCs and read, edited and approved the final manuscript.
Authors' information
Una Cunningham, Mater Misericordiae University Hospital Dublin, ucunningham@mater.ie.
Ethics approval and consent to participate
Not applicable.
Consent for publication
Not applicable
Competing interests
The authors declare that they have no competing interests.
Publisher's Note
Springer Nature remains neutral with regard to jurisdictional claims in published maps and institutional affiliations.
Copyright information
© The Author(s). 2018
Open AccessThis article is distributed under the terms of the Creative Commons Attribution 4.0 International License (http://creativecommons.org/licenses/by/4.0/), which permits unrestricted use, distribution, and reproduction in any medium, provided you give appropriate credit to the original author(s) and the source, provide a link to the Creative Commons license, and indicate if changes were made. The Creative Commons Public Domain Dedication waiver (http://creativecommons.org/publicdomain/zero/1.0/) applies to the data made available in this article, unless otherwise stated.