Willingness, concerns, incentives and acceptable remuneration regarding an involvement in teaching undergraduates - a cross-sectional questionnaire survey among German GPs
Part of the following topical collections:
Abstract
Background
Worldwide, many undergraduate general practice curricula include community-based courses at general practitioners' (GPs') offices. Usually the academic general practice departments collaborate with networks of affiliated teaching practices. To successfully master the challenge of network development and extension, more information is needed about GPs' willingness to be involved in different teaching formats, important influencing factors, incentives, barriers, and the need for financial compensation.
Methods
In this cross-sectional study a questionnaire survey was conducted among all GPs working in Leipzig and environs (German postal code area 04). In addition to descriptive statistics, group comparisons and logistic regression were performed to reveal differences between GPs with and without an interest in teaching.
Results
Response rate was 45.3% with 339 analyzable questionnaires. The average age was 52.0 years and 58.4% were women. Sixty-two participants stated that they were already involved in teaching undergraduates. Altogether 60.1% of all GPs and 53.5% among those who didn't teach yet were basically interested in being involved in undergraduate education. The interested GPs could imagine devoting on average 6.9 h per month to teaching activities. GPs interested in teaching were on average younger, were more actively involved in continuing education and professional associations, and more frequently had pre-existing teaching experiences. The willingness to teach differed substantially among teaching formats. GPs were more willing to teach at their own practices rather than at university venues and they preferred skills-oriented content. Comprehensive organization on the part of the university including long-term scheduling and available teaching materials was rated as most important to increase the attractiveness of teaching. Time restraints and decreased productivity were rated as the most important barriers. Interested GPs appreciated financial compensation, particularly for teaching at university venues, and demanded amounts of money corresponding to German GPs' hourly income.
Conclusions
The GPs' interest in undergraduate teaching is generally high indicating a substantial pool of potential preceptors. Recruitment strategies should consider the collaboration with institutions involved in residency and continuing education as well as with professional associations. Comprehensive organization by the responsible department should be promoted and time restraints and decreased productivity should be overtly addressed and financially compensated.
Keywords
Undergraduate medical education 
General practice 
Curriculum 
Teaching 
Preceptorship 
Preceptor recruitment 
Background
In Germany as in many other countries worldwide, general practice has become increasingly established as an academic discipline at medical schools during the last decades [1, 2, 3]. In many countries the extent of the general practice curriculum within undergraduate medical education has increased accordingly [3, 4, 5]. To ensure practice-oriented content and to provide primary care role models inspiring trainees for respective careers, most curricula include courses or clerkships that bring students in touch with GPs working office-based in the universities' catchment areas [5, 6, 7, 8]. For this reason, the German academic general practice departments usually collaborate with networks of GP teaching practices [9, 10]. These networks of specifically trained GPs have to be built up, developed, and maintained [7].
Recent changes in the "Regulation of the Licensing of Doctors" (Approbationsordnung ÄAppO) as well as current plans to reform the German undergraduate medical curriculum called "Masterplan Medizinstudium 2020" strengthen the role of general practice in undergraduate education in adaption to its central importance in health care [11, 12]. Additionally, many medical schools offer extra-curricular teaching formats for students interested in general practice [2]. This leads to a growing demand for GP teachers. For details regarding the basic structure of the German undergraduate medical curriculum please refer to Chenot [13].
To support the recruitment of additional office-based GP teachers, more knowledge about GPs' willingness to get involved in teaching undergraduates and the factors influencing it is needed [6, 14]. Little is known about differences in GPs' teaching interest depending on different teaching formats - at university venues as well as at their own practices. Furthermore, it is still necessary to extend the evidence on incentives, barriers, potential "teaching workforce resources" and differences between GPs with and without teaching interest [15, 16]. The present study aimed to disclose the general willingness to teach undergraduates among office-based GPs and how it varies between defined teaching formats. Further objectives were to explore potential associations between teaching interest and socio-demographic and job-related factors, to investigate German GPs' perceptions regarding incentives and barriers frequently mentioned in the international literature, as well as to reveal the GPs' perspective on what constitutes adequate financial compensation.
Methods
Sampling and design
The data of this cross-sectional study are based on a questionnaire survey among all physicians working as general practitioners in the German postal code area 04 according to a list provided by the Association of Statutory Health Insurance Physicians (Kassenärztliche Vereinigung) Saxony as of 12 January 2017. To display the complexity of our research questions the used questionnaire was comparably extensive. Hence, all practices were visited by a colleague and practicing GP (MW) to ensure acceptable response rates (one data collection wave). Visits took place between January 2017 and June 2017. If possible, questionnaires were handed over personally. Questionnaires were accompanied by a formal cover letter explaining the background of the study and the anonymized and statistically aggregated analysis of all data (not allowing personal identification). Participation in the study was voluntary and completion of the questionnaires took place after the visits. Completed questionnaires were sent back by fax or mail. The detailed sampling process can be seen in Fig. 
1
.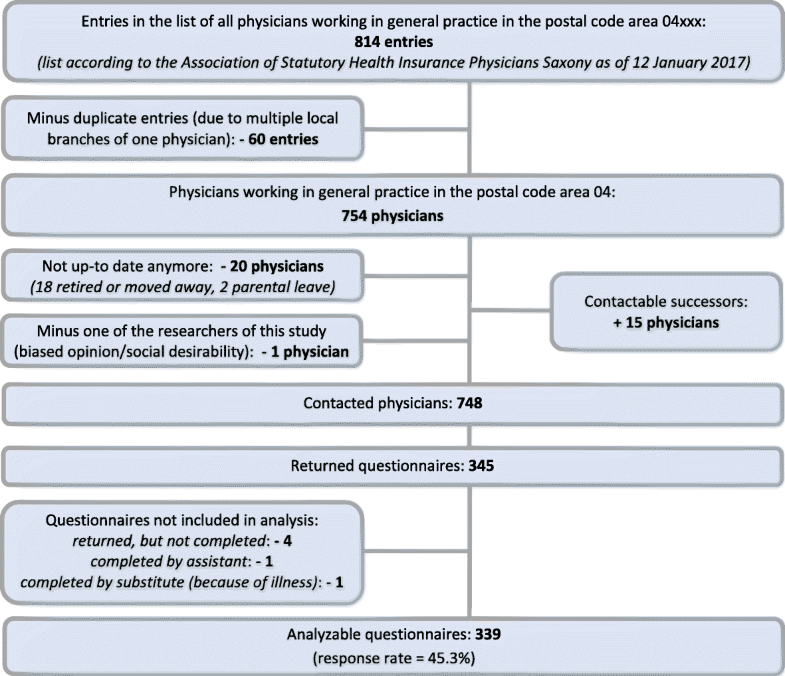 Non-response-analysis
To allow non-response analysis, all questionnaires were numbered. Response was registered by an independent person in an anonymized list of the contacted GPs. This list only contained questionnaire number, sex, academic degree, specialization, and if the questionnaire could be handed over personally.
Questionnaire
The questionnaire used in this study was self-developed and contained altogether 86 items addressing the following areas: socio-demographics, professional career, current job-related characteristics, continuing education activities, job satisfaction, interest in teaching undergraduates in general, willingness to be involved in specified teaching formats typically occurring within the German curriculum (including imaginable frequency per year and adequate remuneration), ratings regarding the perceived influence of different incentives on the attractiveness of teaching as well as possible barriers. Questionnaire content regarding potential incentives and barriers was motivated by the literature [16, 17, 18, 19]. The final version was the result of a multi-level revision process involving two research-active GPs and two social scientists. Prior to the survey, the questionnaire was pre-tested with a selection of general practitioners representing the target group to ensure general understandability. This led to minor revisions of wording and layout. An English translation of the final questionnaire is presented in Additional file 1.
Statistics
Data was analyzed using IBM SPSS Statistics 24 for Windows. Considering missing values for single items, frequencies were presented as %valid (nabsolute/nvalid). Continuous variables were presented as mean ± standard deviation (SD). For group comparisons regarding frequencies Chi-square test and Fisher's exact test were used as appropriate. Differences in central tendency were compared with the Mann-Whitney U test. Multivariable binary logistic regression (LR) was performed to reveal variables independently associated with a general interest to be involved in teaching undergraduates. Due to the lack of a pre-existing theoretical model we decided to perform stepwise forward LR model building. Given there was no content-related redundancy or too high correlation with another variable, all relevant variables with univariable group differences on a significance level of p <  0.20 as a screening criterion were entered. Statistical significance was assumed for p <  0.05.
Conclusions and implications for practice
Many German GPs are interested in undergraduate teaching, indicating a substantial and untapped pool of potential GP teachers. As most future GP teachers will be required to provide community-based teaching, the widespread preference to teach at one's own practice rather than at university is consistent with the needs. Younger GPs who are actively involved in continuing education and professional associations and have previous teaching experiences appear to be most accessible. Recruitment strategies should consider collaborating with the respective institutions and associations. Furthermore, it could be beneficial to implement more opportunities to teach and to acquire teaching skills into the GP residency curriculum. Providing and communicating a reliable and comprehensive organization of teaching by the responsible academic departments may particularly increase the attractiveness of becoming a GP teacher. Time restraints and decreased productivity are the most important barriers and must be overtly addressed. Considering long-term sustainability of teaching practice networks, adequate financial compensation is recommendable. The amounts of money presented in this study appear to be a realistic starting point for resource calculations in Germany. Our results are of interest for GP teachers, general practice departments, medical schools and policy makers.
Notes
Acknowledgements
The authors want to thank all participating GPs for taking the time to contribute to this study despite their demanding work.
Funding
There was no external funding for this study.
Availability of data and materials
The datasets used for the current study are available from the corresponding author on reasonable request.
Authors' contributions
TD contributed to conception and design of the study, data analysis and interpretation, and drafting the manuscript. MW collected all data and contributed to conception and design, data interpretation and drafting the manuscript. SL contributed to conception and design and critically revised the manuscript. AKG as well as KB contributed to data interpretation and critically revised the manuscript. TF initiated the study, contributed to conception, design and data interpretation, and critically revised the manuscript. All authors approved the final version of the article.
Ethics approval and consent to participate
According to the regulations of the ethics committee of the Leipzig Medical Faculty an explicit ethical approval is only necessary if epidemiological research includes personally identifiable information. This was not the case in this social research study based on anonymous questionnaires. All participants were informed about the study by a formal cover letter explaining the background of our research and the anonymized and statistically aggregated analysis of all data (not allowing personal identification). Participation in the study was completely voluntary. Completing and returning the questionnaire was interpreted as informed consent to take part in our study.
Consent for publication
Not applicable, as the manuscript does not contain any individual person's data.
Competing interests
The authors declare that they have no competing interests.
Publisher's Note
Springer Nature remains neutral with regard to jurisdictional claims in published maps and institutional affiliations.
Copyright information
© The Author(s). 2019
Open AccessThis article is distributed under the terms of the Creative Commons Attribution 4.0 International License (http://creativecommons.org/licenses/by/4.0/), which permits unrestricted use, distribution, and reproduction in any medium, provided you give appropriate credit to the original author(s) and the source, provide a link to the Creative Commons license, and indicate if changes were made. The Creative Commons Public Domain Dedication waiver (http://creativecommons.org/publicdomain/zero/1.0/) applies to the data made available in this article, unless otherwise stated.