Rationale, design, and characteristics of the multimedia family planning campaign for a small, happy, and prosperous family in Ethiopia (SHaPE)
Part of the following topical collections:
Abstract
Background
Ethiopia, the second most populous country in Africa, has a total fertility rate of 4.6, a decrease from 5.5 in 2000. However, only 35.3% of women in the reproductive age group use modern family planning (FP) methods, and the 22.3% of them who have an unmet need for family planning is among the highest rates in sub-Saharan African countries. The Small, Happy, and Prosperous family in Ethiopia (SHaPE) is one of the country's first comprehensive multimedia family planning campaigns. Its purpose is to increase FP-related knowledge, attitude, and practice of Ethiopians, particularly women of reproductive age.
Methods/Design
The SHaPE campaign has multiple components: (1) a nationwide representative survey, which serves as formative research to identify region-specific and culture-appropriate media, messages, and barriers and determinants of family planning; (2) a multimedia communication campaign intervention, including radio dramas and other interpersonal, community-level, and mass media channels; and (3) campaign evaluation, including pre-, process-, and post-evaluation research using both quantitative and qualitative methodologies. The main target population for SHaPE is reproductive age women and men in three regions: Amhara, Oromia, and Somali. These regions take up about 66.6% of the entire country and have distinct ethnicities, cultures, and languages.
Discussion
SHaPE contributes to existing family planning research and intervention because it is theory- and evidence-based, and it employs integrated marketing communications and entertainment-education approaches with key messages that are tailored to audiences within unique cultures. But even within a country, a nationwide campaign with uniform messages is neither possible nor desirable due to different cultures, norms, and languages across regions. Last, media campaigns in developing and underdeveloped countries require constant monitoring of political situations.
Keywords
Family planning 
Ethiopia 
Multimedia campaign 
Entertainment-education 
Evaluation 
Background
Despite global efforts to reduce maternal deaths, in 2015 two thirds of women (303,000) between the ages of 15 and 49 still died from causes related to pregnancy and childbirth, and about two thirds of the deaths (201000) occurred in Sub-Saharan Africa [1]. For reducing maternal death and other adverse health effects, family planning remains a highly cost-effective precautionary method [2]. Here, family planning (FP) refers to the ability of individuals and couples to anticipate and attain their desired number of children, as well as the spacing and timing of their births [3, 4]. Facilitation of family planning in countries with high birth rates could potentially avert 32% of all maternal deaths and nearly 10% of childhood deaths. In addition, family planning could contribute not only to women's education and empowerment but to long-term improvements in economic development and public health [5].
As of 2017, Ethiopia, located in the Horn of Africa, is the continent's second most populous country, with an estimated total population of over 100 million [6]. It has one of the fastest growing economies in the world [7]. However, it is also one of the world's poorest nations, with a per capita GDP of 511 USD [8], and 83.8% of the population lives in rural areas. In 2017, its Human Development Index -- a composite index of life expectancy, education, and per capita income indicators -- was ranked 174 out of 188 countries, and its literacy rate was 49% [9]. Total fertility rate has decreased from 5.5 children per woman in 2000 to 4.6 within the last sixteen years [10]. However, only 35.3% of women in the reproductive age group have used modern family planning methods, and the unmet need for family planning is 22.3%, among the highest rate in sub-Sharan African countries [10, 11]. This unmet need for family planning, defined as "the condition of wanting to avoid or postpone childbearing but not using any method of contraception" [12], can be met through a strong family planning program that addresses people's FP-related knowledge, beliefs, attitudes, and behaviors.
Due to its importance as a public health issue, family planning research in Ethiopia has been relatively well documented [11, 13, 14, 15, 16, 17, 18, 19, 20]. Studies have found that women's knowledge and habits of contraceptive use are generally low, and that family planning practice is determined by many socio-demographic factors such as women's social status, women's education, women's age at marriage, and gender norms [13, 15, 21, 22]. Knowledge, subjective norms, and interpersonal communication with spouses were found to be significantly related to women's willingness to use FP methods [11]. These findings imply the need for addressing multiple FP determinants at intrapersonal, interpersonal, and probably also community and cultural levels.
While previous research has attempted to identify determinants of FP, efforts to implement and assess intervention programs -- such as a national-level media campaign for improving knowledge, attitudes, and practices of family planning -- have been scarce. One intervention program provided FP services, and its evaluation research found that the intervention had positive impact on FP behaviors among both married women and their husbands [23]. Although there is still a vast knowledge gap regarding FP, recent statistics [10] show that the most common sources of family planning messages are community events (37%), followed by radio (34%). Taking these media environments into account, a multi-media campaign approach is required to fill in FP knowledge gaps and satisfy unmet FP needs.
Pre- and post-media campaign assessment survey
To assess the campaign effectiveness, pre- and post-campaign evaluation research was conducted using both quantitative and qualitative methods.
Quantitative assessment
A multilevel and multistage cluster sampling method was used to identify study participants, 2494 couples living in closely located households in Gott. Gott usually consisted of between 150 and 200 homogenous households, which are nested in sections called Kebeles, which themselves are nested in districts called Woredas. The calculated total sample was distributed among the three regions proportionally using the projected number of reproductive age women for the year 2017 in each study region (Table 
2
). The estimated size of the population from the study's Kebeles and Woredas was received from Woreda health offices. This sample was proportionally allocated, and three clusters (EAs) from each Kebele were selected. The study participants were proportionally allocated to urban and rural Kebeles. In the post-campaign study, the same clusters (EAs) selected in the base line were followed, and randomly selected households from the clusters were surveyed (see Fig. 
2
for schematic presentation of the sampling procedure). This is a repeated, cross-sectional, cluster-randomized design, which has been used to measure campaign effectiveness [
40
], particularly when a panel design is ideal for tracking individual changes in knowledge, attitudes, and behaviors. However, this design is not realistic at a large scale.
Table 2
The distribution of study couples by study region
| Region | Projected Population in 2017 | Women of reproductive health ages in 2017 | Percent | Study Couples |
| --- | --- | --- | --- | --- |
| Amhara | 21,134,988 | 4,966,722 | 33.9 | 845 |
| Oromia | 35,467,001 | 8,334,745 | 56.9 | 1419 |
| Somali | 5,748,998 | 1,351,015 | 9.2 | 229 |
| Total | 62,350,987 | 14,652,482 | 100 | 2494 |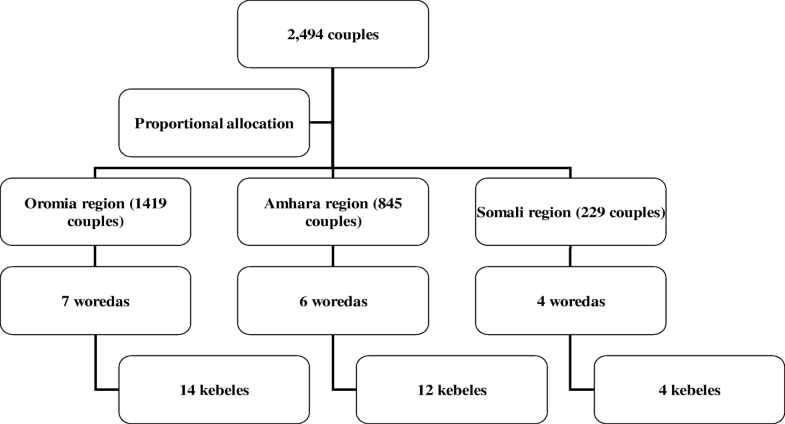 The face-to-face survey was conducted by trained interviewers from the respective regions. For the sake of gender sensitivity, two trained male and female interviewers visited each household to survey male and female participants respectively. If a person was not at home, appointments were made to administer the survey on a subsequent visit. Tablets in which an Open Data Kit (ODK) application was installed were for data collection to minimize errors by developing a data entry template with an internal consistency check. This procedure also helped minimize the data entry time.
The survey instrument comprised six components for both pre- and post-survey: (1) study identification (e.g., study region, name of village, date, time, and duration of the interview); (2) social-demographic and economic characteristics of the respondents (e.g., age, sex, ethnic group, religion, residence, household size); (3) access to media channels (radio/print/TV/Internet media use and frequency); (4) reproductive health questions (e.g., age of first pregnancy, number of children, breastfeeding, knowledge and use of family planning (FP) methods, sources of information about FP, interpersonal communication about FP, social support, social norms, attitudes); (5) gender and self-efficacy-related questions (e.g., Men should have a higher educational level than women. Only women are responsible for household chores); and (6) knowledge, subjective norms, and attitudes regarding FP. The campaign-related questions were included only for post-survey, which include awareness of SHaPE and campaign messages, exposure to campaign materials, recall of the messages, attitudes, and behavioral intention.
Qualitative assessment
A case study method and a key informant interview were conducted before and after the campaign. For the case study, interviews were conducted among a total of 24 cases/couples -- 8 in each region including modern family planning users and non-users. The cases in each region were a mix of women and men, including 4 current modern FP users and 4 non-users.
A total of 72 key informant interviews (24 per region) were conducted with the following composition specially arranged: two religious leaders from each study (one Muslim and one Christian), a family planning provider (professional health personnel), and a program leader. Either a trained health extension worker or a member of the Women's Development Army interviewed the case couples and key informants from each of the study districts.
The qualitative assessment tools included questions about the following topics: (1) modern FP methods and counseling services available in a particular health institution; (2) FP services available in the nearby health institutions, including short- or long-term methods depending on demand; (3) currently used FP methods; (4) reasons for not using FP methods; (5) male involvement in FP; (6) partners who support FP services or interventions, and types of support from the partners (only for health workers); (7) decision for doing FP; and (10) beliefs about and challenges for FP.
Discussion
The Small, Happy, and Prosperous Family in Ethiopia (SHaPE) is one of Ethiopia's first comprehensive multimedia campaigns focusing on family planning and covering the nation's major regions. It combines radio drama with other forms of interpersonal, community-level, and mass media communication. Its purpose is to enhance the FP-related knowledge, attitudes, and practices of Ethiopians, particularly women of reproductive age. It contributes to existing family planning research and intervention because it is theory- and evidence-based, and because it employs integrated marketing communications and entertainment-education approaches with key messages that have been tailored for culturally specific audiences. Alongside the media campaign, SHaPE also incorporates capacity building and advocacy to build a sustainable FP infrastructure for Ethiopia. However, it should be noted that, even within the same country, a nationwide campaign with uniform messages is neither possible nor desirable when there are different cultures, norms, and languages across regions. Also, media campaigns in developing and underdeveloped countries need to incorporate constant monitoring of political situations because political instability often hinders the ability to conduct a campaign in a timely and consistent manner. Nevertheless, carefully designed and implemented campaigns and evaluation research can provide lessons for future FP campaigns, not only in Ethiopia but in other developing and underdeveloped countries.
Notes
Acknowledgements
The authors would like to express our appreciation to Dr. Eshetu Girma and his research team in the School of Public Health at Addis Ababa University, Dr. Alemayehu Bayray and his research team in the School of Public Health at Mekelle University, and staffs at Nathane Communications for their providing us information that helped us detail in this manuscript research procedures and campaign activities.
Funding
Funding has been provided by Korea International Cooperation Agency (KOICA), "The National Campaign for Promoting Knowledge, Attitude and Behavior Change in Population and Reproductive Health in Ethiopia." This material is based upon work supported in part by the East Africa Department of KOICA under contract numbers P2014–00038-1, P2014–00038-2 and P2014–00038-3.
Availability of data and materials
The datasets used and/or analysed during the current study are available from the corresponding author on reasonable request.
Authors' contributions
HJP, HK, YC, WH, and YOY designed the study, established methods and questionnaires, and participated in the study's coordination. WK, HC, GB assisted designing and implementing the project, and analyzing the data. YHC participated in the daily coordination and execution of the study. YAD obtained funding and directed general oversight to the investigators. All authors read and approved the final manuscript.
Ethics approval and consent to participate
This study was approved by the institutional review board of the Addis Ababa University College of Health Sciences institutional review board, Ethiopia (032/17/SPH). All participants gave written informed consent to participate.
Consent for publication
Not applicable.
Competing interests
The authors declare that they have no competing interests.
Publisher's Note
Springer Nature remains neutral with regard to jurisdictional claims in published maps and institutional affiliations.
Copyright information
© The Author(s). 2018
Open AccessThis article is distributed under the terms of the Creative Commons Attribution 4.0 International License (http://creativecommons.org/licenses/by/4.0/), which permits unrestricted use, distribution, and reproduction in any medium, provided you give appropriate credit to the original author(s) and the source, provide a link to the Creative Commons license, and indicate if changes were made. The Creative Commons Public Domain Dedication waiver (http://creativecommons.org/publicdomain/zero/1.0/) applies to the data made available in this article, unless otherwise stated.