Technical advance in targeted NGS analysis enables identification of lung cancer risk-associated low frequency TP53, PIK3CA, and BRAF mutations in airway epithelial cells
Part of the following topical collections:
Abstract
Background
Standardized Nucleic Acid Quantification for SEQuencing (SNAQ-SEQ) is a novel method that utilizes synthetic DNA internal standards spiked into each sample prior to next generation sequencing (NGS) library preparation. This method was applied to analysis of normal appearing airway epithelial cells (AEC) obtained by bronchoscopy in an effort to define a somatic mutation field effect associated with lung cancer risk. There is a need for biomarkers that reliably detect those at highest lung cancer risk, thereby enabling more effective screening by annual low dose CT. The purpose of this study was to test the hypothesis that lung cancer risk is characterized by increased prevalence of low variant allele frequency (VAF) somatic mutations in lung cancer driver genes in AEC.
Methods
Synthetic DNA internal standards (IS) were prepared for 11 lung cancer driver genes and mixed with each AEC genomic (g) DNA specimen prior to competitive multiplex PCR amplicon NGS library preparation. A custom Perl script was developed to separate IS reads and respective specimen gDNA reads from each target into separate files for parallel variant frequency analysis. This approach identified nucleotide-specific sequencing error and enabled reliable detection of specimen mutations with VAF as low as 5 × 10− 4 (0.05%). This method was applied in a retrospective case-control study of AEC specimens collected by bronchoscopic brush biopsy from the normal airways of 19 subjects, including eleven lung cancer cases and eight non-cancer controls, and the association of lung cancer risk with AEC driver gene mutations was tested.
Results
TP53 mutations with 0.05–1.0% VAF were more prevalent (p < 0.05) and also enriched for tobacco smoke and age-associated mutation signatures in normal AEC from lung cancer cases compared to non-cancer controls matched for smoking and age. Further, PIK3CA and BRAF mutations in this VAF range were identified in AEC from cases but not controls.
Conclusions
Application of SNAQ-SEQ to measure mutations in the 0.05–1.0% VAF range enabled identification of an AEC somatic mutation field of injury associated with lung cancer risk. A biomarker comprising TP53, PIK3CA, and BRAF somatic mutations may better stratify individuals for optimal lung cancer screening and prevention outcomes.
Keywords
Biomarker 
Low-frequency variant detection 
Next generation sequencing 
Lung Cancer 
Abbreviations
AEC

Airway Epithelial Cells

CA-SMK

Cancer subjects, smokers

COSMIC

Catalog of Somatic Mutations in Cancer

FASMIC

Functional Annotation of Somatic Mutations in Cancer

FDA

Food and Drug Administration

HUGO

Human Genome Organization

IS

Internal Standard, synthetic DNA

ISM

Internal Standard Mixture

LCRT

Lung Cancer Risk Test

LDCT

Low Dose Computed Tomography

NC-NON

Non-cancer subjects, non-smokers

NC-SMK

Non-cancer subjects, smokers

NC-TOT

Non-cancer subjects, non-smokers + smokers (all non-cancer subjects)

NGS

Next Generation Sequencing

NT

Native Template, from targeted region of specimen DNA

PCR

Polymerase Chain Reaction

SNP

Single Nucleotide Polymorphism

TCGA

The Cancer Genome Atlas

VAF

Variant Allele Frequency
Background
Lung cancer is the leading cause of cancer-related death in men and women, and cigarette smoking is the most significant preventable risk factor [1]. Despite widespread smoking cessation initiatives, due to past and continued cigarette use, as well as the lack of effective treatment for advanced disease, lung cancer will continue to be the deadliest cancer for decades to come [2].
The primary strategies to reduce lung cancer death are prevention through reduction in exposure to tobacco products and screening of high-risk subjects by annual low-dose CT (LDCT) scan to diagnose lung cancer when it is in early stage and curable [3]. Annual LDCT screening significantly reduces lung cancer mortality [4]. However, there is large inter-individual variation in lung cancer risk among those currently recommended for screening according to demographic criteria [5]. Overall, lung cancer incidence is low (< 10%) among those who currently meet screening criteria [5, 6]. Thus, there is a need for an effective biomarker that will more accurately stratify individuals according to lung cancer risk, improve specificity, and thereby reduce cost and harms related to LDCT screening. One approach toward this goal is to characterize differences in the prevalence and characteristics of somatic cell genetic damage in histologically normal airway epithelium of lung cancer cases compared to controls matched for smoking and age [7, 8, 9]. This idea is supported by the presence of extensive morphologic and molecular changes in the airway epithelium of lung tissue from heavy smokers, including large chromosomal changes and point mutations, and higher prevalence of these changes in subjects with lung cancer than in non-cancer subjects matched for smoking and age [7, 10, 11].
Inter-individual variation in airway epithelial cell (AEC) somatic mutation prevalence may be due to variation in the relative contribution of a) random DNA replicative errors during stem cell division and subsequent tissue regeneration, b) environmental (e.g., smoking, radon, asbestos) factors that increase risk for replicative errors due to DNA damage, and c) hereditary germline DNA variants associated with sub-optimal protection of DNA from damage and/or damage repair [12, 13]. Thus, it is reasonable to hypothesize that prevalence of somatic mutations among certain genes in AEC will represent a summation biomarker for the interactive effects of stochastic replicative errors, hereditary risk variants, and cigarette smoke exposure on lung cancer risk.
Advances in next generation sequencing (NGS) technology markedly increase the ability to measure somatic mutations in AEC and other tissues. In a recent study, targeted NGS capable of measuring mutations with variant allele frequency (VAF) > 1.0% was used to assess driver gene somatic mutations in lung cancer tissue and adjacent matched normal tissue from a group of subjects [14]. A large number of mutations known to be drivers for lung cancer were identified in non-cancer lung tissues in close proximity to each cancer. As such, measurement of mutations with VAF > 1% may support development of biomarkers for early diagnosis and/or genetic characterization of a prevalent lung cancer. However, the clone prevalence diminished proportional to the distance from the cancer site, with very few mutants in the normal airway of the lung not affected by the cancer or in nasal epithelium. As such, this approach did not support development of a non-invasive test for future incidental lung cancer risk.
Untested so far is the hypothesis that lung cancer predisposition may be measured as increased prevalence and/or a characteristic spectrum of low variant frequency (VAF < 1.0%) mutations in AEC. Testing this approach presented a challenge due to limited sensitivity and reliability of current prevalent NGS analysis methods. Working together with the FDA-sponsored Sequencing Quality Control Consortium (SEQC), we identified actionable best practices for mutation detection in clinical applications using NGS technologies [15]. We then implemented these best practices while applying the novel Standardized Nucleic Acid Quantification SEQuencing (SNAQ-SEQ) method in a retrospective case-control study. According to SNAQ-SEQ, we mixed synthetic DNA internal standards (IS) into each AEC gDNA specimen prior to NGS library preparation. The IS enabled identification of nucleotide site-specific technical error and clear identification of low VAF mutation signal in samples relative to noise (technical artifacts arising from sequencing error). Thus, synthetic IS provided a reproducible measure of technical error in test samples [16] as is routinely done to ensure quality-control in other key molecular diagnostic testing methods, including liquid and gas chromatography and mass spectroscopy [17, 18] and the FDA-approved Roche COBAS® qPCR tests. We previously reported that position-specific and mutation-specific technical error observed in IS DNA is highly correlated with technical error in respective sample DNA measured in the same sequencing library [16]. As implemented here, SNAQ-SEQ was able to measure variants at VAF as low as 5 × 10− 4 (0.05%). We also demonstrated the value of including IS in targeted NGS for both RNA-Seq and mutation analysis [11, 19, 20].
In this study, target genes were chosen for analysis based on high prior likelihood of being mutated in lung cancer as reported by The Cancer Genome Atlas (TCGA) study, including some considered to be drivers of malignancy [21].
Results
Measurement of low frequency mutations in non-cancer airway epithelium
In this study of 11 driver gene target regions in AEC specimens from normal airways of 19 subjects, there were 129 called variants with VAF ranging from 5 × 10
− 4
(0.05%) to 4.6 × 10
− 3
(0.46%) (Additional file 
3
: Table S3). As described in the Methods section, a VAF minimum threshold of 0.05% was used to minimize risk of false discovery due to stochastic sampling. Among the 129 called variants, the relationship between sample mutation signal (Mutation VAF) and background technical error (noise) (IS VAF) for the respective variant at the same site is presented in Fig. 
1
. For each sample mutation VAF, there is displayed the IS VAF for 19 IS. These represent the VAF for the IS mixed with the sample that contained the mutation as well as the VAF for each of the IS mixed with the other 18 samples. These 19 independent IS replicate values represent the variation around the IS VAF (error) measurement within an experiment. As is evident, the inter-replicate variation in IS VAF values increases with decreasing IS VAF, consistent with effects of the Poisson distribution on stochastic sampling as previously reported [
16
] (Fig.
1
, Additional file
3
: Table S3). These effects of Poisson distribution presented challenges for statistical analysis of significance for observed sample mutations (Additional file
3
: Table S3) that we addressed through use of a non-parametric contingency table approach.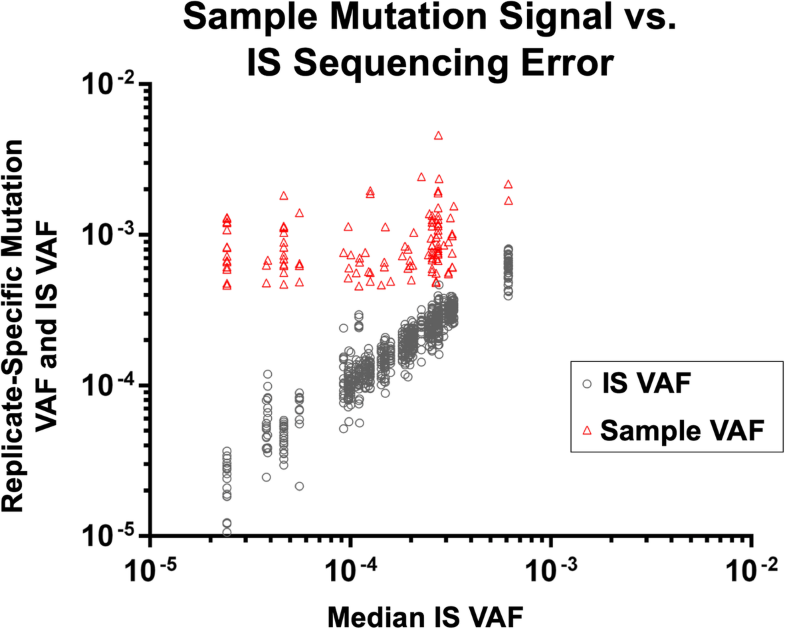 Characteristics of sequencing error in the targeted regions
As is evident from Fig. 1 and Additional file 3: Table S3, at sites within the targeted regions for which a sample variant was called the maximum technical error (Median IS VAF across replicates) observed was 0.06%. This error rate is lower than the median error rate observed for non-targeted sequencing on a comparable Illumina platform [28] [29].
Prevalence of low frequency mutations in AEC
Mutation prevalence was calculated as called mutations per nucleotide positions assessed for each target. The number of nucleotides assessed for each target varied somewhat based on region spanned by primers and number of dinucleotide sites blocked from analysis due to modification in IS to enable separation of IS reads from NT reads. Among all 19 subjects, the average mutation prevalence, across the summary of targeted DNA regions (760 bp) in each subject (mutations/bp/subject) was 8.9 × 10
− 3
. (Table 
2
). This AEC mutation prevalence value is much higher than reported for methods that only detect mutants with relatively high variant frequency (VAF > 1%) [
14
], or that are more sensitive but non-targeted [
30
]. However, it is consistent with our previous analysis of AEC using a highly sensitive PCR-based method [
31
,
32
].
Table 2
Target- and cohort-specific mutation prevalence
| Target | CA-SMK | NC-SMK | NC-NON | NC-TOT | Average (All Subjects) |
| --- | --- | --- | --- | --- | --- |
| BRAF_15 | 6.7 × 10− 3 | 0 | 0 | 0 | 3.9 × 10− 3 |
| EGFR_18 | 0 | 0 | 0 | 0 | 0 |
| EGFR_19 | 0 | 0 | 0 | 0 | 0 |
| EGFR_20 | 3.9 × 10−2 | 3.4 × 10− 2 | 4.5 × 10− 2 | 3.8 × 10− 2 | 3.8 × 10− 2 |
| EGFR_21 | 1.7 × 10− 3 | 0 | 0 | 0 | 9.9 × 10− 4 |
| ERBB2 | 1.1 × 10− 2 | 1.4 × 10− 2 | 1.4 × 10− 2 | 1.4 × 10− 2 | 1.2 × 10− 2 |
| KRAS_2 | 0 | 0 | 0 | 0 | 0 |
| PIK3CA_10 | 4.2 × 10− 3 | 0 | 0 | 0 | 2.4 × 10− 3 |
| TP53_5 | 2.2 × 10− 2 | 4.7 × 10− 3 | 0 | 2.9 × 10− 3 | 1.4 × 10− 2 |
| TP53_6 | 2.2 × 10− 2 | 0 | 3.1 × 10− 3 | 1.2 × 10− 3 | 1.3 × 10− 2 |
| TP53_7 | 1.3 × 10− 2 | 2.9 × 10− 3 | 0 | 1.8 × 10− 3 | 8.5 × 10− 3 |
| Average (All Targets) | 1.2 × 10− 2 | 4.7 × 10− 3 | 5.3 × 10− 3 | 4.9 × 10− 3 | 8.9 × 10− 3 |
Association of low frequency substitution mutations in TP53, PIK3CA, and BRAF with Lung Cancer
Lack of association of TP53 mutations with smoking history
Notably, among non-cancer subjects, smoking was not associated with higher TP53 mutation prevalence (Table 3), and this is consistent with our prior study [31]. Specifically, only half of NC-SMK subjects had even a single TP53 mutation with VAF > 0.05% and in each case, only one variant was observed. (Fig. 3, Table 4). Due to the small number of PIK3CA and BRAF mutations it was not possible to assess these for a statistically significant association with smoking.
Characteristics of low frequency AEC mutations not associated with Lung Cancer
In contrast to TP53, at non-TP53 targets the mutation prevalence was not significantly different in cancer compared to non-cancer subjects (Table
3
). Among the 11 targets measured, mutation count was highest in the EGFR_20 target region with a total of 43 mutations observed across all subjects (Table
4
). There was no difference in EGFR_20 mutation prevalence between cancer and non-cancer (3.9 × 10
− 2
vs 3.8 × 10
− 2
, respectively;
p
 = 0.72) (Fig. 
5
a, Table
3
), and no association between smoking and non-smoking (3.4 × 10
− 2
vs 4.5 × 10
− 2
respectively;
p
 = 0.74). ERBB2 mutations (
N
 = 17) displayed a similar spectrum to that of EGFR_20 with no age or tobacco signature mutation pattern and no difference among the cohorts. Notably, in contrast to the high fraction of C > T transitions among TP53 (29/61; 48%), only 1/43 (2.3%) EGFR_20 mutations, and 1 ERBB2 mutation was C > T (Fig.
4
b, Additional file 
4
: Table S4). Further, the majority of the EGFR_20 mutations were synonymous and not predicted to be pathogenic (Fig.
4
c).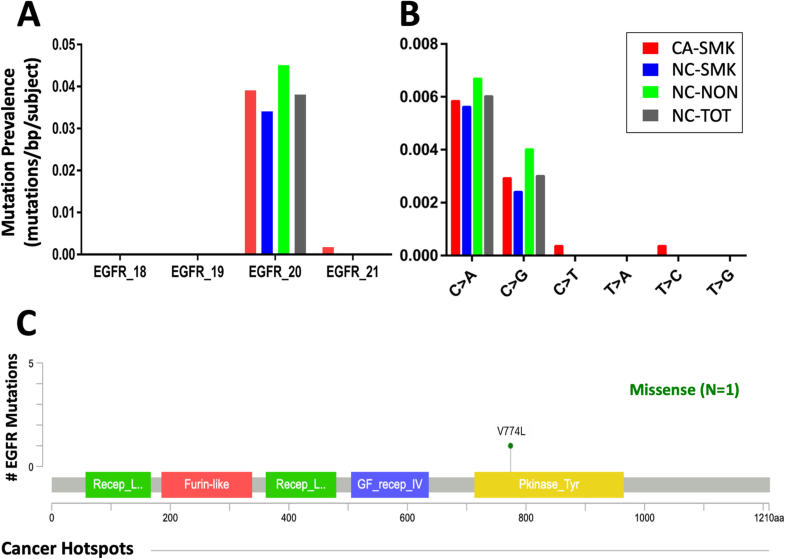 Conclusion
Based on evidence presented here, measurement of DNA variants in the 0.05–1.0% VAF range will enable more informative analysis of AEC somatic mutations associated with cancer risk. Among lung cancer subjects, TP53 mutations were more prevalent (p < 0.05) and significantly more enriched for tobacco smoke and age signatures compared to non-cancer subjects matched for smoking and age.
Notes
Acknowledgements
Not applicable.
Disclaimer
The views presented in this article do not necessarily reflect the current or future opinion or policy of the U.S. Food and Drug Administration. Any mention of commercial products is for clarification and not intended as an endorsement.
Authors' contributions
DJC, ELC, TMB, JCW: Collected and processed patient specimens. TMB: Confirmed histopathological characterization of lung cancer specimens. DJC: Prepared sequencing library and analyzed sequencing data. SAK, DJC: Performed statistical analyses. TM, LW, JX: Developed custom software for separating sequencing reads. All authors read and approved the final manuscript.
Funding
Significant portions of this work were funded by the University of Toledo Medical Center George Isaac Cancer Research Fund, U24 CA086368-17 EDRN sub-award 00009213, and R01 HL108016. The funders had no role in study design, data collection and analysis, decision to publish, or preparation of the manuscript.
Ethics approval and consent to participate
This study and the use of patient material in this study was conducted under protocols approved by the University of Toledo College of Medicine (UTCOM) Institutional Review Board, and all experiments were performed in accordance with the relevant guidelines and regulations. All subjects provided written informed consent in accordance to UTCOM Institutional Review Board protocols.
Consent for publication
Not applicable.
Competing interests
JCW has 5–10% equity interest in and serves as a consultant to Accugenomics, Inc. Technology relevant to this manuscript was developed and patented by JCW, TMB, and ELC and is licensed to Accugenomics. TM is the Chief Scientific Officer for Accugenomics, Inc. These relationships do not alter our adherence to all policies on sharing data and materials.
Copyright information
© The Author(s). 2019
Open AccessThis article is distributed under the terms of the Creative Commons Attribution 4.0 International License (http://creativecommons.org/licenses/by/4.0/), which permits unrestricted use, distribution, and reproduction in any medium, provided you give appropriate credit to the original author(s) and the source, provide a link to the Creative Commons license, and indicate if changes were made. The Creative Commons Public Domain Dedication waiver (http://creativecommons.org/publicdomain/zero/1.0/) applies to the data made available in this article, unless otherwise stated.