Adverse events in prehospital emergency care: a trigger tool study
Part of the following topical collections:
Abstract
Background
Prehospital emergency care has developed rapidly during the past decades. The care is given in a complex context which makes prehospital care a potential high-risk activity when it comes to patient safety. Patient safety in the prehospital setting has been only sparsely investigated. The aims of the present study were 1) To investigate the incidence of adverse events (AEs) in prehospital care and 2) To investigate the factors contributing to AEs in prehospital care.
Methods
We used a retrospective study design where 30 randomly selected prehospital medical records were screened for AEs each month in three prehospital organizations in Sweden during a period of one year. A total of 1080 prehospital medical records were included. The record review was based on the use of 11 screening criteria.
Results
The reviewers identified 46 AEs in 46 of 1080 (4.3%) prehospital medical records. Of the 46 AEs, 43 were classified as potential for harm (AE1) (4.0, 95% CI = 2.9–5.4) and three as harm identified (AE2) (0.3, 95% CI = 0.1–0.9). However, among patients with a life-threatening condition (priority 1), the risk of AE was higher (16.5%). The most common factors contributing to AEs were deviations from standard of care and missing, incomplete, or unclear documentation. The most common cause of AEs was the result of action(s) or inaction(s) by the emergency medical service (EMS) crew.
Conclusions
There were 4.3 AEs per 100 ambulance missions in Swedish prehospital care. The majority of AEs originated from deviations from standard of care and incomplete documentation. There was an increase in the risk of AE among patients who the EMS team assessed as having a life-threatening condition. Most AEs were possible to avoid.
Keywords
Emergency medical service 
Adverse events 
Patient safety 
Trigger tool 
Prehospital 
Abbreviations
AEs

Adverse events

CI

95% Confidence interval

ED

Emergency Department

EMS

Emergency Medical Service

EMT

Emergency Medical Technicians

IQR

InterQuartile Range

IRR

Inter-Rater Rating

OR

unadjusted Odds Ratio

RN

Registered Nurses
Background
Patient safety among those who require care within a hospital environment has attracted a great deal of attention following the Institute of Medicines' report, To err is human, in 2000 [1]. Even though the incidence of adverse events in hospital settings is relatively well known [2], hospital patient safety research struggles to find methods for identifying adverse events and prioritizing effective patient safety interventions [3, 4].
The patient safety in the prehospital setting is even less well documented. A report from the National Patient Safety Foundation [5] pointed at the slow progress in patient safety research and the lack of research outside the hospital setting. Thus the knowledge gap is huge.
A number of factors highlight the urgent need for further exploring how the assessment and care that is offered by health care providers before arrival in hospital influence patient safety among those who call for Emergency Medical Service (EMS) (see Additional file 1: Table S1 for examples). This is partly explained by the fact that during the past decades, with differences between organizations, prehospital care has been transformed from a transport organization to an integrated part of the health-care system [6]. The rapid transition of prehospital care poses great challenges for the involved organizations in terms of education, equipment, methods and decision support. In addition to advanced care for critically ill or injured patients [7], the EMS clinicians make decisions on the level of care for other patients; to stay at home with self-care advice [8], to be transported to primary care [9], to be transported to the nearest emergency department (ED) or to bypassing the ED to be transported directly to a specialist assessment or treatment within the hospital [10]. Examples of the latter group are patients who suffer from stroke and myocardial infarction. A limited recognition of these diseases in the prehospital setting may delay the time to reperfusion and thereby increase the risk of extensive damage to the brain or the myocardium.
Prehospital care is a potentially high-risk activity. The EMS clinicians assess patients of all ages with medical conditions of all kinds and sometimes with a limited capability to communicate. Care is given in sometimes difficult environments, 24 h a day and generally far from medical support [11, 12]. The complex context poses many barriers to effective research [13]. The prehospital organizations also have problems identifying, reporting and disclosing adverse events [14, 15].
Based on this background, the goal of the present study was to make a contribution to prehospital patient safety research with the following aims:
1)

To investigate the incidence of adverse events in prehospital care.

 

2)

To investigate the factors contributing to adverse events in prehospital care.

 
Results
During the study period, the prehospital organizations had 159,085 ambulance missions. Of them, 107,968 were primary missions that included patient contact and patient assessments. Of the primary missions, 78% of the patients were transported to a health-care facility and the rest (22%) stayed on the scene with self-care advice or were referred to primary care. During the sampling process, 1664 prehospital medical records were collected. Of them, 584 (35%) medical records were excluded because of exclusion criteria (Fig. 
1
). The reviewers gathered complete data from 1080 prehospital medical records and, for those transported to hospital, the associated hospital medical records. Among the included patients, 49% were women. The patients' mean age was 64 years (SD = 22). The mean of the total prehospital time (from dispatch to hand-over) was 57 min (SD = 25), the mean time from dispatch to first patient contact was 16 min (SD = 9) and the mean on-scene time was 24 min (SD = 17). The inter-rater reliability analysis between the reviewers showed к = 0.74 (good agreement).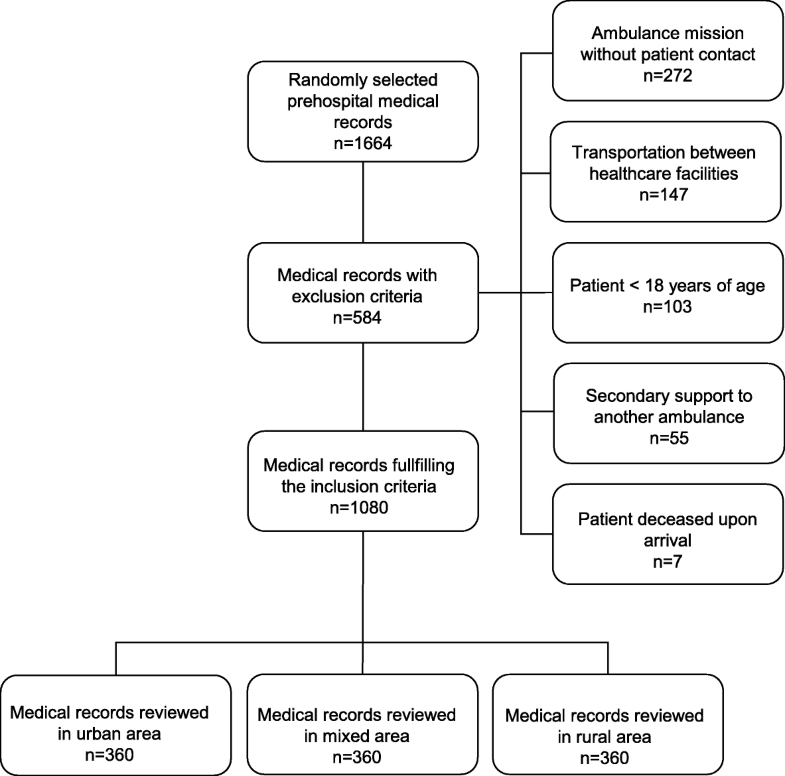 Discussion
In comparison to hospital trigger tool studies, the present study revealed lower frequencies of adverse events (4.3%). The latest Swedish review of hospital patient safety reported an adverse event rate of 14% [26]. Several factors might contribute to the finding that prehospital care appears to have a lower risk rate. The prehospital care phase is much shorter in terms of time and there is one clinician who can give the patient their full attention during this period. In hospital care, the care event can last for weeks with many handovers with the risk of communication errors, potentially dangerous surgical interventions and medication treatments and the risk of hospital-related infections. The patients in prehospital care have varied levels of care needs. It has been estimated that 16 to 52% of EMS missions are unnecessary [27]. This contextual difference might contribute to the marked difference from the previously reported adverse event prevalence. In connection with the developing process of a prehospital trigger tool, Howard et al. [28] found an adverse event rate of 0.6/100 patient encounters among a sample of 159 prehospital medical records from an ambulance organization in Qatar. The sample only included low-risk/high-frequency cases. Meckler et al. [29] included 378 prehospital records in a chart review of the most severely ill or injured paediatric patients. They found unintended injuries, near misses, suboptimal actions, errors, or management complications in 70% of the charts in that population. In an agreement test where EMS medical director physicians reviewed 250 prehospital medical records from a convenience sample, Patterson et al. [24] found adverse events in 48% of the records.
These studies are difficult to compare with the present study. The main reason is the study sample. The former studies used directed sampling with paediatric patients, patients with severe conditions or low-risk patients. The main conclusion from these previous studies is that adverse events appeared to be more common among patients with severe conditions. This is confirmed by a study which reviewed reports from an anonymous prehospital reporting system. In the system, 82% of the reports describe incidents in patients with life-threatening or potentially life-threatening situations [30]. Moreover, in the present study, patients classified as priority level 1 (life threatening) by the EMS clinicians had a higher risk of adverse events compared with lower priority levels.
Conclusions
There were 4.3 adverse events per 100 ambulance missions in Swedish prehospital care. The majority of adverse events originated from deviations from standard of care and incomplete documentation. There was an increase in the risk of adverse event among patients who the EMS team assessed as having a life-threatening condition (priority 1). Most adverse events were possible to avoid.
Notes
Acknowledgements
We would like to acknowledge the participating ambulance organizations which have kindly helped us with access to medical record databases.
Funding
This work was funded by the Health and Medical Care Committee of the Regional Executive Board, Region Västra Götaland, Sweden. The funding body took no active part in the study and had no influence over design, data collection, analysis and interpretation or writing the manuscript.
Availability of data and materials
The datasets generated and analysed during the current study are not publicly available but are available from the corresponding author on reasonable request.
Authors' contributions
MH, JH and LN planned the study and developed the research design. AS, CA, CM, MM and ES planned, created the software/database and carried out the data collection. MH wrote the first draft. All authors actively contributed to the final version of the manuscript. All authors read and approved the final version.
Ethics approval and consent to participate
The study was approved by the Regional Ethics Committee, Gothenburg, Sweden (Dnr: 047–15).
Consent for publication
Not applicable.
Competing interests
The authors declare that they have no competing interests.
Publisher's Note
Springer Nature remains neutral with regard to jurisdictional claims in published maps and institutional affiliations.
Copyright information
© The Author(s). 2019
Open AccessThis article is distributed under the terms of the Creative Commons Attribution 4.0 International License (http://creativecommons.org/licenses/by/4.0/), which permits unrestricted use, distribution, and reproduction in any medium, provided you give appropriate credit to the original author(s) and the source, provide a link to the Creative Commons license, and indicate if changes were made. The Creative Commons Public Domain Dedication waiver (http://creativecommons.org/publicdomain/zero/1.0/) applies to the data made available in this article, unless otherwise stated.