Gene regulatory network and abundant genetic variation play critical roles in heading stage of polyploidy wheat
Part of the following topical collections:
Abstract
Background
The extensive adaptability of polyploidy wheat is attributed to its complex genome, and accurately controlling heading stage is a prime target in wheat breeding process. Wheat heading stage is an essential growth and development processes since it starts at a crucial point in the transition from vegetative phase to reproductive phase.
Main body
Heading stage is mainly decided by vernalization, photoperiod, hormone (like gibberellic acid, GA), and earliness per se (Eps). As a polyploidy species, common wheat possesses the abundant genetic variation, such as allelic variation, copy number variation etc., which have a strong effect on regulation of wheat growth and development. Therefore, understanding genetic manipulation of heading stage is pivotal for controlling the heading stage in wheat. In this review, we summarized the recent advances in the genetic regulatory mechanisms and abundant variation in genetic diversity controlling heading stage in wheat, as well as the interaction mechanism of different signals and the contribution of different genetic variation. We first summarized the genes involved in vernalization, photoperoid and other signals cross-talk with each other to control wheat heading stage, then the abundant genetic variation related to signal components associated with wheat heading stage was also elaborated in detail.
Conclusion
Our knowledge of the regulatory network of wheat heading can be used to adjust the duration of the growth phase for the purpose of acclimatizing to different geographical environments.
Keywords
Polyploidy wheat 
Heading stage 
Vernalization 
Photoperiod 
Gene regulatory network 
Genetic variation 
Abbreviations
AP1

APETALA1

CNV

Copy number variation

CO2

CONSTANS 2

ELF3

Early Flowering 3

Eps

Earliness per se

FT

Flowering time

GA

Gibberellic acid

HAP

HEME ACTIVATOR PROTEIN

HAP2

Hemeactivator Protein 2

Hapl_I

HaplotypeI

LD

Long day

MLTE

Mariner-like transposable element

NF-Y

NUCLEAR FACTOR-Y

PHYC

Phytochrome C

Ppd-1

Photoperiod

Ppd-A1

Photoperoid-A1

Ppd-B1

Photoperoid-B1

Ppd-D1

Photoperoid-D1

PRR

Pseudo-response regulator

SAM

Shoot apical meristem

SD

Short day

SOC1

Suppressor of overexpression of CO1

SVP

SHORT VEGETATIVE PHASE

TaGI

T. aestivum Gigantea

TaGRP2

T. aestivum glycine-rich RNA binding protein 2

TaHD1

T. aestivum Heading date 1

TaVRT-1

Wheat vegetative to reproductive transition-1

TaVRT-2

Wheat vegetative to reproductive transition-2

TOC1

Timing Of Cab Expression1

UTR

Untranslated region

VER2

vernalization-related 2

Vrn1

Vernalization 1

Vrn2

Vernalization 2

Vrn3

Vernalization 3

WAP1

Wheat APETALA1

WPCL1

Wheat LUX Arrhythmo (LUX)/Phytoclock 1
Background
Wheat (Triticum aestivum L.) is widely cultivated across the globe, where it has adapted to different environments as a result of its natural diversity and complex genome. Bread wheat is a polyploid species with an AABBDD genome, and genome A, B, and D respectively originated from T. urartu, Aegilops speltoides, and Ae. Tauschii [1, 2, 3]. Various cultivars of wheat possess different growth characteristics to endure external stress and adapt to different climatic conditions and geographical environments through regulating their heading stage [4].
Heading occurs in the transition of wheat from the vegetative stage to the reproductive stage. As one of the most important agronomic traits of wheat, the heading days of each cultivar were calculated from the sowing date to the date of more than half of the plants has been heading [5]. The duration of the heading stage determines the flowering time of wheat, which subsequently impacts wheat yield. Vernalization, photoperiod, and exogenous hormones constitute exogenous factors that influence heading stage, while endogenous hormone and narrow-sense earliness per se (Eps) as an endogenous factor influences the duration of the wheat heading stage [6, 7, 8, 9, 10, 11, 12].
Conclusions
Based on the current research in wheat, four major pathways exist that regulate wheat heading-flowering time. Vernalization and photoperiod pathways integrate environmental signals to determine the transition from the vegetative phase to the reproductive phase, while Eps and GA pathways act as internal stimuli independently of the environmental signals. GA and Eps perform throughout wheat growth and development, while vernalization occurs during the transition from the vegetative phase to the reproductive phase during winter, and directly influences spikelet initiation. In addition to vernalization, photoperiod plays a leading role to control flowering begins from spikelet initiation and determines floret initiation and spikelet development, as indicated in Fig. 1.
A better understanding of the genetic regulatory mechanism of wheat heading stage assisted breeding. In the case of vernalization,
Vrn1
,
Vrn2,
and
Vrn3
generate a positive feedback loop and were assisted by
TaGRP2
,
VER2
,
TaVRT2,
and
TaFDL2,
constituting a vernalization regulatory network initiating wheat heading stage and flowering. Then, the photoperiodic pathway cross-talks with the vernalization pathway via
Ppd1
,
TaPHYC
,
TaHD1
,
WPCL1
and
TaGI
.
WSOC
and
LHY
also regulate wheat heading stage and flowering time independently via the GA pathway. A schematic summary of the wheat heading stage regulatory network is depicted in Fig.
2
. These genes encode members of multitudinous transcription factors, for instance, MADS-box families, some MYB transcription factors, types of Myc and zinc finger families, RNA-binding proteins, and other protein families, and can directly or indirectly interact with each other, thereby supporting the entire wheat heading stage and flowering regulatory network. In spite of lots of researches about heading-flowering based on
Arabidopsis
constructing a relatively prefect network,
Arabidopsis
cannot fully reflect wheat and its relative. Some other components may also exist that participate in the pathway, and the identified genes in the wheat heading-flowering time regulation network are still unclear. Therefore, there are lots of tasks on unknown gene cloning by rapidly growing modern biotechnology, such as high-throughput sequencing, multi-omics profiling, mutant screening and association mapping to offer new exciting insights into future researches. For instance, the VRN2 protein interacts with CO2 (CONSTANTS2) in vitro and can competitively bind with members of the NUCLEAR FACTOR-Y (NF-Y) transcription factor family, but the detailed integration and competitive process of these interactions remains unclear. And if any other hormones participate in the wheat heading stage regulation pathway? The genetic regulation mechanism of hormone and
Eps
is not clear in wheat maybe because of the masking by strong influence of vernalization and photoperoid,
Eps
will be important for fine-tuning some of these traits and understanding their basis is the next major step.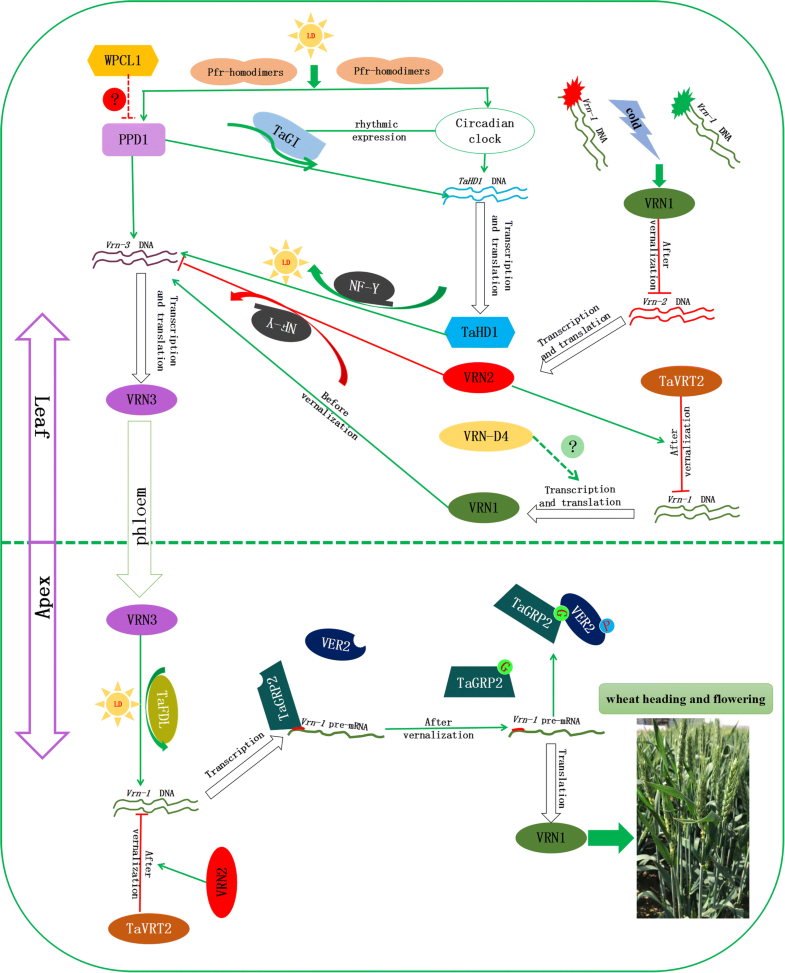 Our knowledge of the regulatory network of wheat heading-flowering can be applied to targeted breeding or other means, including adjusting the duration of the growth phase for the purpose of acclimatizing to different geographical environments.
Notes
Acknowledgements
The authors are grateful to Prof. Liuling Yan from Oklahoma State University and Prof. Guiliang Tang from Michigan Technological University, for providing suggestions to improve this manuscript.
Funding
This project was funded by the National Key Research and Development Program (2016YFD0101802), Henan Major Science and Technology Projects (181100110200) and Henan Science and Technology Innovation Outstanding Youth Funding (174100510001) of China.
Availability of data and materials
All data generated or analyzed during this study are included in this published article (supplementary information files).
Authors' contributions
FC designed the paper. CS and FC wrote the paper. LZ, XZ, GL and YP participated in writing on the influence of vernalization and photoperiod alleles with heading and flowering dates in this paper and gave critical reviews. All authors read and approved the final manuscript.
Ethics approval and consent to participate
Not applicable.
Consent for publication
Not applicable.
Competing interests
The authors declare that they have no competing interests.
Publisher's Note
Springer Nature remains neutral with regard to jurisdictional claims in published maps and institutional affiliations.
Copyright information
© The Author(s). 2019
Open AccessThis article is distributed under the terms of the Creative Commons Attribution 4.0 International License (http://creativecommons.org/licenses/by/4.0/), which permits unrestricted use, distribution, and reproduction in any medium, provided you give appropriate credit to the original author(s) and the source, provide a link to the Creative Commons license, and indicate if changes were made. The Creative Commons Public Domain Dedication waiver (http://creativecommons.org/publicdomain/zero/1.0/) applies to the data made available in this article, unless otherwise stated.