An SVM-based method for assessment of transcription factor-DNA complex models
Abstract
Background
Atomic details of protein-DNA complexes can provide insightful information for better understanding of the function and binding specificity of DNA binding proteins. In addition to experimental methods for solving protein-DNA complex structures, protein-DNA docking can be used to predict native or near-native complex models. A docking program typically generates a large number of complex conformations and predicts the complex model(s) based on interaction energies between protein and DNA. However, the prediction accuracy is hampered by current approaches to model assessment, especially when docking simulations fail to produce any near-native models.
Results
We present here a Support Vector Machine (SVM)-based approach for quality assessment of the predicted transcription factor (TF)-DNA complex models. Besides a knowledge-based protein-DNA interaction potential DDNA3, we applied several structural features that have been shown to play important roles in binding specificity between transcription factors and DNA molecules to quality assessment of complex models. To address the issue of unbalanced positive and negative cases in the training dataset, we applied hard-negative mining, an iterative training process that selects an initial training dataset by combining all of the positive cases and a random sample from the negative cases. Results show that the SVM model greatly improves prediction accuracy (84.2%) over two knowledge-based protein-DNA interaction potentials, orientation potential (60.8%) and DDNA3 (68.4%). The improvement is achieved through reducing the number of false positive predictions, especially for the hard docking cases, in which a docking algorithm fails to produce any near-native complex models.
Conclusions
A learning-based SVM scoring model with structural features for specific protein-DNA binding and an atomic-level protein-DNA interaction potential DDNA3 significantly improves prediction accuracy of complex models by successfully identifying cases without near-native structural models.
Keywords
Transcription factor 
Rigid docking 
Knowledge-based potential 
Support vector machine 
Protein-DNA binding 
Abbreviations
FN

False negative

FP

False positive

HB

Hydrogen bond

MCC

Matthews correlation coefficient

MD

Molecular dynamics

NC

Native contact

NRBC

Number of residue-base contact

PDB

Protein Data Bank

RMSD

Root mean square deviation

SVM

Support vector machine

TF

Transcription factor

TN

True negative

TP

True positive
Background
Protein-DNA interactions play crucial roles in many cellular processes, including specific binding between transcription factors (TFs) and their DNA binding sequences in transcriptional regulation. A deeper understanding of protein-DNA interactions and their roles in TF-DNA binding specificity, gene regulatory networks and structure-based drug design requires accurate TF-DNA complex structures. However, despite technical advances in experimental structure determination, only a very small percentage (~ 3%) of structures in the Protein Data Bank (PDB) are protein-DNA complexes [1, 2, 3]. The main technical barriers in experimental structure determination, such as the difficulty in crystallizing complexes and size limitations, are not expected to be overcome anytime in the foreseeable future [4, 5]. Computational docking between protein and DNA, on the other hand, has been considered as a cost-efficient alternative to the experimental methods for filling the void in the complex structure landscape. More importantly, success in docking technology development has great potentials in structure-based, computer-aided drug design as transcription factors represent one of the prime drug targets since mutations and aberrant TF-DNA interactions are implicated in many diseases [6, 7].
Protein-DNA docking algorithms can be broadly classified into two groups, rigid docking and flexible docking [8, 9]. Rigid docking algorithms sample the relative positions between protein and DNA while keeping the conformations of both protein and DNA molecules unchanged. Flexible docking algorithms, on the other hand, also consider the conformational changes of protein and DNA when sampling different positions between protein and DNA. While the rigid docking methods are relatively simple, they are very valuable in testing the accuracy of energy functions for binding affinity and can serve as a starting point for flexible docking predictions. A number of protein-DNA docking algorithms have been developed in the past two decades [2, 10, 11, 12, 13, 14]. These methods generally use knowledge-based or physics-based interaction potentials, or a combination of both, to guide the docking process and select complex models. The accuracy of a docking algorithm is usually reported as the percent of cases in which the algorithm makes a good prediction in terms of root mean square deviation (RMSD), either DNA backbone RMSD or interface RMSD (iRMSD), or fraction of native contacts (NC%) between the predicted complex model and the native structure [2, 10, 15, 16].
We have previously developed two residue-level, knowledge-based TF-DNA interaction potentials for evaluation of TF-DNA binding affinity as well as for protein-DNA docking simulations [13, 16, 17, 18, 19]. The first one is a multi-body potential, which uses DNA tri-nucleotides, called triplets, as an interaction unit of DNA to quantitate the interactions between TF and DNA molecules. This multi-body potential considers the environment of protein-DNA interactions and can capture the essential physical interactions between protein and DNA as it shows specific strong hydrogen-bond contributions at short distances as well as van der Waals repulsion and dispersion attraction [17]. The second is an orientation-dependent interaction potential that introduces an angle term to better capture the hydrogen bond interactions between protein and DNA [16]. The multi-body and orientation potentials were applied to a dataset of 38 TF-DNA complexes using a Monte Carlo-based rigid-docking algorithm [8, 16]. The docking method makes predictions by selecting a TF-DNA complex conformation with the lowest energy in each case. Docking with the orientation potential resulted in a prediction accuracy of 55% (21/38 of TF-DNA complexes) with a cutoff of 3 Å RMSD. Among the 38 test cases, five of the them with near-native structures (RMSDnat, pred ≤ 3 Å) were not correctly predicted, resulting in 13% (5/38) false negative (FN) predictions. The docking program also failed to produce any near-native TF-DNA complex conformations in 32% (12/38) of the cases. Nevertheless, the docked conformation with the lowest interaction energy was predicted as a complex model in each of the 12 cases, resulting in a high number of false positive (FP) predictions. Even though DDNA3, a knowledge-based atomic-level protein-DNA interaction potential, performed better in identifying near-native protein-DNA conformations, it could not identify the cases with no near-native models [20].
Quality assessment in protein-DNA docking predictions has important implications in biological and medical applications. Docking algorithms have generally relied on interaction energy for model selection, which always predict at least one model, right or wrong [2, 10, 16, 21]. While false negative predictions may result in missed opportunities, false positive predictions represent a much bigger problem due to the enormous costs associated with drug development and tests [22, 23]. To make the docking methods more valuable and applicable to solving biological problems, a reliable confidence measure of the predicted complex models is clearly needed. Molecular dynamics (MD) simulations have been applied to filter out false positive predictions, however MD simulations are computationally expensive, especially for a large number of cases [15, 24]. Here we present a learning-based method by applying a support vector machine (SVM)-based model to evaluate the quality of TF-DNA complex models. The main features used for SVM training and testing are based on our recent study that investigates structural factors for specific protein-DNA interactions [25]. These features include protein-DNA contact area (pdca), the number of protein-DNA base hydrogen bonds (pbhb), and the number of bidentate hydrogen bonds (bidentate HB) between protein sidechains and DNA bases [25]. The SVM model generates a score that indicates the probability of a predicted TF-DNA complex being a native or near-native structure. Results on the testing set of 38 TF-DNA complexes show that the SVM model greatly improves prediction accuracy, from 60.8% (orientation potential) and 68.4% (DDNA3) to 84.2% (SVM). It significantly reduces the number of false positive predictions by correctly recognizing the cases that fail to generate any near-native TF-DNA complex conformations.
Discussion
When a protein-DNA docking simulation generates near-native models, the knowledge-based potentials have shown success in identifying these close to native structures. However, for cases that no near-native complex conformations are produced, methods using interaction-based potentials will fail and result in false positive predictions. In this study, we developed an SVM-based model for assessing the quality of TF-DNA complex models using three structural features and DDNA3 and demonstrated that this SVM model can correctly recognize the cases without good docking solutions and reduce the number of false positive prediction significantly.
We found comparable performances in terms of MCCs and prediction accuracy between the linear and non-linear (RBF) kernels. The method is robust as there are very small MCC variations (Fig. 1) or lack of MCC variations (Fig. 5) among 30 independent SVM models, suggesting that the hard-negative mining technique can eliminate compositional bias in the training set. The SVM model and scoring scheme significantly improved the prediction accuracy over both the orientation and DDNA3 protein-DNA interaction potentials (Fig. 1). Most importantly, our SVM based scoring function, unlike the energy-based approaches, helps us correctly identify the true negatives where docking algorithms fail to produce near-native complex conformations. This is of paramount importance in applying predicted complex models in drug design as it can dramatically save time and costs if we know there are no near-native models generated from any docking program.
While the SVM scoring model predicted much better for easy targets (~ 90% accuracy) than the hard targets in the 38 benchmark test set, we found that it failed badly for the case
2 ac0
, classified as an easy target in the rigid docking benchmark (Additional File
1
) [
8
].
2 ac0
is an X-ray crystal structure of p53 in complex with their target DNA sequence. Unlike other structures in the testing dataset,
2 ac0
is a tetramer (dimer of dimers) [
20
]. A number of docked models have good SVM scores even though they are far from the native structure (Fig. 
6
a). Since three structural features,
pdca
,
pbhb
, and
bidentate
hydrogen bond correlate with the size of the protein-DNA interface, we hypothesized that the extremely large contact surface between p53 and DNA and the number of hydrogen bonds may be the cause of the failed prediction. To test this idea, we separated a dimer p53 from the docked complexes and redid the SVM scoring. The SVM score correctly picked up one of the near-native conformations (Fig.
6
b). Therefore, caution should be exercised when predicting TF-DNA complexes with vary large interaction surface using the SVM model.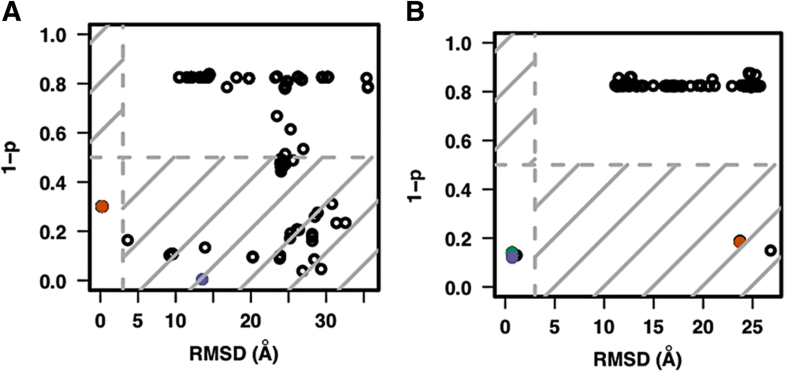 Although the SVM model was developed with TF-DNA complex models derived from a rigid docking algorithm, the model can be applied to assess any TF-DNA complex models, either from rigid docking or flexible docking because the basic idea behind this approach relies on interactions between protein and DNA. While flexible docking is a much harder problem, our method could still be applied as a post-filter to reduce the number of false positives. In addition, depending on the need, new SVM scoring models can be trained using smaller or larger RMSD values than the one (3 Å) used in this study or using a different metric. We can envision a fully developed, efficient and accurate pipeline for TF-DNA docking predictions where the SVM model developed in this study will serve as a confidence measure for the predicted conformations or clusters of conformations.
Conclusions
A combination of structural features that are important for specific protein-DNA interaction and a powerful learning-based SVM method can help assess the quality of complex models from docking simulations. The key contribution of the SVM model lies in its ability to dramatically lower the number of false positive predictions, which has great implications in structure-based design studies.
Notes
Acknowledgements
The authors would like to thank Dr. Richard Souvenir for his help with the SVM training techniques.
Funding
This work was supported by the National Institutes of Health [R15GM110618 to J.G]; and National Science Foundation [DBI1356459 to J.G and DBI1356065 to S.A]. Publication costs are funded by the grant DBI1356459 to J.G.
Availability of data and materials
The datasets used in this study are publicly available from Protein Data Bank as cited in the paper.
Authors' contributions
JTG conceived the study and designed the experiment. RIC and SS carried out the experiment and performed data analysis. SS, RIC and JTG wrote the manuscript. JTG and SA reviewed and revised the manuscript. All authors read and approved the final manuscript.
Ethics approval and consent to participate
Not applicable.
Consent for publication
Not applicable.
Competing interests
The authors declare that they have no competing interests.
Publisher's Note
Springer Nature remains neutral with regard to jurisdictional claims in published maps and institutional affiliations.
Copyright information
© The Author(s). 2018
Open AccessThis article is distributed under the terms of the Creative Commons Attribution 4.0 International License (http://creativecommons.org/licenses/by/4.0/), which permits unrestricted use, distribution, and reproduction in any medium, provided you give appropriate credit to the original author(s) and the source, provide a link to the Creative Commons license, and indicate if changes were made. The Creative Commons Public Domain Dedication waiver (http://creativecommons.org/publicdomain/zero/1.0/) applies to the data made available in this article, unless otherwise stated.