Food-related exposure to systemic pesticides and pesticides from transgenic plants: evaluation of aquatic test strategies
Abstract
The aquatic Environmental Risk Assessment (ERA) for pesticides relies on standardized experimental protocols focusing on exposure via the water phase or the sediment. Systemic pesticides (e.g., neonicotinoids) or pesticides produced in transgenic plants (e.g., Bt proteins) can be introduced into aquatic ecosystems as part of plant residues. Consequently, they may be taken up by organisms as part of their diet. Here, we analyzed (i) whether standardized aquatic ecotoxicological test guidelines consider an exposure route via food and (ii) whether these tests can be easily modified to take this exposure route into account. From the 156 existing test guidelines, only those for fish and amphibians partly consider a potential route of uptake via food. From the remaining invertebrate guidelines, those focussing on chronic endpoints may be most suitable to cover this exposure path. We suggest assessing the food-related effects of systemic pesticides in a dose-dependent manner using standardized guidelines or methods developed from peer-reviewed literature. For transgenic plants, spiking uncontaminated leaf material with increasing concentrations of the test substances would allow to test for dose responses. After adaption to oral uptake, standard test guidelines currently available for the ERA appear, in principle, suitable for testing effects of systemic pesticides and transgenic plants.
Keywords
Risk assessment 
Aquatic ecosystems 
Genetically modified organisms 
GMO 
RNAi 
Bt protein 
Ecotoxicity 
Abbreviations
ERA

Environmental Risk Assessment

Bt

Bacillus thuringiensis

PNEC

predicted no-effect concentration

RNAi

ribonucleic acid interference

Cry

proteins crystal proteins

VIP

vasoactive intestinal peptide

OECD

Organization for Economic Co-operation and Development

EU

European Communities

ISO

International Organization for Standardization

ASTM

American Society of Testing and Materials

MAFF

Ministry of Agriculture, Forestry and Fisheries

EC

Environment Canada

OCSPP

Office of Chemical Safety and Pollution Prevention

EPA

Environmental Protection Agency

EFSA

European Food Safety Authority
Background
The current aquatic Environmental Risk Assessment (ERA) for pesticides involves a tiered approach of acute and chronic exposure scenarios under well-controlled laboratory, semi-field or field conditions [1]. On this basis, a predicted no-effect concentration (PNEC) is derived by dividing the concentration of the product (i.e., its active ingredient) causing a defined effect in the respective environmental medium by a so-called assessment factor. The latter usually decreases with increasing biological complexity of the experimental design assuming that more complex systems do more likely represent the actual situation in the field reducing uncertainty [sensu 2].
In the course of this process, environmental risk assessors rely amongst others on standardized experimental protocols—especially during the first tier. These protocols have been developed to assess potential adverse effects caused by an exposure via the water phase [e.g., 3] or the sediment [e.g., 4]. The use of systemic pesticides or transgenic plants in agriculture, however, expands the relevant exposure pathways for some species that need to be considered during ERA. These exposure pathways relate to the presence of toxicants in the plant's tissues. Systemic insecticides are absorbed via cuticula or root system and distributed in the plant [5]. In transgenic plants, insecticidal proteins such as Cry or Vip proteins that originating from Bacillus thuringiensis (thus, often summarized as Bt proteins in the following) [6] or RNAi, which silence vital genes in the target organism, can be translated from the modified genes  [7, 8, 9, 10]. These options are the most relevant genetically modified organism applications for pest control. Both systemic pesticides and insecticidal proteins or RNAi from transgenic plants are designed to cause damage in target organisms after ingestion as some pests such as the larval stages of stem borers cannot be exposed to pesticides by direct spraying. For the risk assessment, the presence of these toxicants in the plant tissue implies that they can be introduced into aquatic ecosystems [11, 12, 13, 14, 15] and may subsequently leach into the water phase [12, 13, 16] or be taken up by detritivores as part of their diet [11, 16, 17]. Despite the fact that negative effects in aquatic invertebrates such as stone-, crane-, or caddisflies, and amphipods from the consumption of plant material have been described for both systemic insecticides [16, 17, 18, 19] and Bt plants [11], the uptake of these toxicants with the diet seems not properly covered in standardized experimental protocols currently available and used in regulatory risk assessment.
The present study provides in a first step a detailed evaluation of pathways relevant to assess effects on aquatic life caused by systemic pesticides and Bt protein or RNAi from transgenic plants. In a second step, the suitability of current standardized experimental protocols to address these pathways is analyzed, experimental adaptation that may be needed is discussed, and suggestions for the development of target orientated experimental designs are provided.
Identification of relevant exposure pathways
Pesticides considered as systemic can be taken up by the crop plant and are distributed within this plant (see Fig. 
1
; [
5
]). Besides spraying or drenching on agricultural fields, which leads to an exposure pattern in aquatic ecosystems dominated by spray drift and surface run-off [
20
], seed treatment is another prevailing type of application [
21
]. This means that the seeds are coated with pesticides prior to planting and from there, the pesticides are released into the soil where they are taken up by plant roots [
22
] and distributed within the plant during growth [cf.
23
]. However, not the entire amount of pesticides associated with the seeds is taken up by the crop plant and parts of it may remain in the soil and, although subject to degradation [
24
], may accumulate over time [
25
]. From soils treated with pesticide via this pathway, non-target plants from adjacent (non-agricultural) ecosystems may also take up these pesticides [
21
]. As pollen from target plants may carry a pesticide load [
26
], deposition of pollen may be another exposure path for systemic insecticides. Following the harvest or abscission [
21
], plant residues, and leaf litter [
16
], which may contain measurable concentrations of the systemic pesticides [
27
], can be transferred into freshwater ecosystems via wind or surface run-off. Leaching of the pesticides retained in the plant biomass may expose and affect organisms feeding on the suspended or deposited pollen and leaf material (detritus) [
16
,
17
]. Since the sowing of seeds coated with systemic pesticides is not considered as a pesticide application procedure, regulating measures such as obligatory distances from surface waters do not apply and surface waters may be directly exposed to seed-coating toxicants during sowing. Together pollen, plant residues and coated seed represent—in addition to exposure to the pure toxin in the water phase—additional exposure paths, which should be considered in the ERA.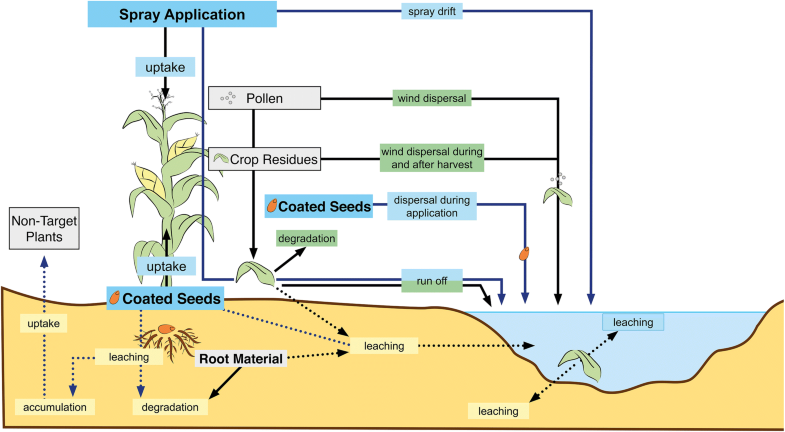 With the exception of seed coating and spray drift, exposure pathways of systemic insecticides and Bt proteins from GM crops are largely similar [see 11, 12, 14]. Figure 1 provides an overview of exposure pathways of aquatic systems to systemic insecticides and insecticidal Bt proteins from GM crops.
Those pathways are, however, not explicitly considered in the testing regimes of either the ERA of pesticides [cf. 28] or transgenic plants [14, 29]. Since test methods to evaluate effects from Bt plants on non-target organisms are derived from pesticide testing [30], it is sensible to evaluate the currently employed test guidelines for their general suitability to cover the exposure pathway of toxicants via plant material.
Toxic mode of action
The mode of toxic action of chemical pesticides is described in detail, for instance in Stenersen [31], which is, however, not necessarily determined by the pesticides systemic or non-systemic nature. The major difference between systemic and non-systemic substances is the potential of systemic pesticides to be taken up by and distributed within the treated plants [5]. This might lead to the overlooked exposure pathway for non-target species via the food [13].
Similar to systemic insecticides, Cry or Vip proteins are present within the plant tissues and designed to express toxicity after being ingested by the target organism. Compared to systemic pesticides, Bt proteins or RNAi approaches for pest control are supposed to be more specific and have a tighter spectrum of insecticidal activity. This specificity can be influenced by a number of processes such as the proteolytically transformation of Cry proteins to toxins in the insect gut and binding to receptors (such as aminopeptidases, involved in cell adhesion and digestion) in the midgut [32]. Although the specificity of Bt proteins is challenged [33, 34] and the molecular mechanisms of the modes of action of Bt proteins are not fully understood [35, 36], differences in the activity spectrum of systemic insecticides, Bt proteins and even more so for RNAi constructs are obvious. Despite the joint potential to expose non-target species via their food, systemic pesticides and Bt proteins may require a different testing strategy to adequately reflect their respective characteristics. For systemic pesticides, for instance, it may be sufficient to understand the consequence of the food-related exposure path relative to the classical water phase exposure of sensitive aquatic species.
For the identification of potentially sensitive species, research and regulation can rely on published data though the overwhelming majority of publications only deal with waterborne exposure [see as an example 17]. For Bt proteins in contrast, studies identifying sensitive aquatic species are very limited [14].
Standardized test guidelines
To date, standardized test guidelines have not been developed specifically for systemic pesticides or transgenic plants [37]. To evaluate, therefore, the existing standardized test guidelines for their current and potential ability to cover the exposure paths via food, the respective documents used during the ERA of pesticides were compiled. The present study exclusively focuses on test protocols for freshwater organisms including amphibians.
In detail, approved guidelines—or those being in the progress for standardization—published by the Organization for Economic Co-operation and Development (OECD), the Official Journal of the European Communities (EU), the International Organization for Standardization (ISO), the American Society of Testing and Materials (ASTM), the Ministry of Agriculture, Forestry and Fisheries (MAFF) and the Environmental Protection Series published by Environment Canada (EC) provided the basis for the present evaluation. In addition, guidelines published by Office of Chemical Safety and Pollution Prevention (OCSPP) within the United States Environmental Protection Agency (EPA) were taken into account. For each of the 156 test guidelines considered (see Additional file
1
: Table S1), the taxon of the test species as well as the test design, including the assessed endpoints, the study duration and the experimental conditions were abstracted (Table 
1
). On this basis, the suitability of the guidelines to cover the exposure path via the food was evaluated. Where possible, we suggest amendments to or alterations in the guideline that allow integrations of food intake as an exposure path.
Table 1
Test guidelines for pesticides separated by systematic groups of test organisms with information on the number of test guidelines available for laboratory, microcosm and field experiments, the range of study durations, and the test item application
Systematic group

Number of guidelines

Study duration

Application

Laboratory

Microcosms

Field

Algae, cyanobacteria and macrophytes

24

2

1

24 h–14 days

Dissolved in water or spiked in sediment

Bacteria and microorganisms

15

0

0

0.5 h–3 h

Dissolved in water

Rotifers

4

2

0

24 h–63 days

Dissolved in water

Crustaceans

44

3

0

 
 

 Daphniidae

31

3

0

24 h–42 days

Dissolved in water

 Gammaridae

5

0

0

48 h–8 days

Dissolved in water

 Dogielinotidae

9

2

0

96 h–56 days

Dissolved in water or spiked in sediment

 Cyprididae

1

2

0

6 days–63 days

Dissolved in water or spiked in sediment

 Ostracoda

1

2

0

6 days–56 days

Dissolved in water or spiked in sediment

 Decapoda (Cambridae sp., Astacidae sp. or Parastacidae sp.)

6

1

0

 

Dissolved in water

 Atyidae

1

0

0

1 h–96 h

Dissolved in water

 Thamnocephalidae

1

0

0

1 h–24 h

Dissolved in water

Insects

17

1

0

48 h–65 days

Dissolved in water or spiked in sediment

 Diptera

15

0

0

48 h–65 days

Dissolved in water or spiked in sediment

 Ephemeroptera

9

1

0

48 h–28 days

Dissolved in water or spiked in sediment

 Plecoptera

3

0

0

24 h–8 days

Dissolved in water

 Trichoptera

1

0

0

At least 21 days

Dissolved in water and/or in the diet

Sediment-dwelling

6

0

0

96 h–28 days

Spiked in sediment

Molluscs

5

1

1

24 h–30 days

Dissolved in water

Fish

54

1

0

24 h–120 days or full life cycle

Dissolved in water or spiked in food

Amphibians

7

0

0

48 h–30 days

Dissolved in water or spiked sediment

Others

4

3

1

 
 
Analyses of standardized test guidelines
Improvement of test guidelines for testing systemic pesticides
As detailed above, the mode of toxic action of systemic pesticides is not expected to be substantially different from their non-systemic counterparts. However, the importance of the exposure pathway via the ingestion of contaminated food needs to be related to the exposure via the surrounding medium, namely water. Ideally, this should be realized using dose–response relationships allowing also for a direct inclusion in the ERA of these substances.
In a first step, plant material that contains increasing concentrations of these systemic pesticides should be generated. One feasible approach is to spike potted trees (or other plants such as maize or rapeseed) with different concentrations of a systemic pesticide either via soil or stem injection, while the application rates may be related to the recommendations of the respective producer [13]. Later during the year, more precisely at the time of abscission, the leaf material can be collected directly from the trees and stored either frozen or air-dried until being used for ecotoxicological experiments. The concentrations of the systemic pesticides within the leaf material—or other plant tissue such as pollen—need to be verified via chemical analysis, likely involving accelerated solvent extraction and liquid chromatography tandem mass spectrometry techniques [13]. In a second step, the acute and chronic toxicity of these plant residues can be estimated using the standard methods considering the amendments for the respective test organisms described above and in Table 2. From the evaluation of existing guidelines, however, it is apparent that only few test species can be classified as leaf-shredding invertebrates. Since shredders are the functional group which will be directly exposed to systemic pesticides contained in the plant material, we suggest expanding the list of test organisms with additional shredder species from insect taxa including trichopterans and plecopterans. These taxa are in the case of neonicotinoids also considerably more sensitive compared to standard crustacean test organism [71 but see 19]. The inclusion of insects as a further group appears also sensible since the enzyme activity, gut pH and other parameters may be deviating among representatives from different subphyla or classes [72], which may influence the digestion of the leaves, the release of the pesticide from the leaf material and ultimately their effects in the exposed organisms. Although, this physiological diversity in the group of insects complicates standard toxicity testing, their consideration during test development could inform about the magnitude of differences in sensitivity among subphyla or classes ultimately informing risk assessment.
The actual experimental design to test the effects of systemic pesticides depends also on the purpose of the study. If a dose–response relationship is to be established, the assessment of multiple concentrations is required and calls for rather short exposure durations to allow sufficient replication. Kreutzweiser et al. [16] indicates that at the recommended application rates of systemic pesticides, relatively low concentrations of the pesticide in the plant tissues can be anticipated. As a result, sublethal rather than lethal effects may be expected [19]. To account for sublethal effects, other experimental designs may be applied: Quantification of feeding rates of leaf-shredding invertebrates on standardized and uncontaminated leaf material has been done in various studies [58, 60]. Replacing the uncontaminated leaf material with leaves from trees treated with different concentrations of systemic pesticides would allow for the estimation of the potential effects associated with the introduction of such leaves into aquatic ecosystems. However, systemic pesticides might leach from the leaf material into the surrounding medium generating a situation in which the test species is exposed to the test substance both via the water phase and its food [17, 19].
To disentangle the relative importance of both exposure pathways, a 2 × 2 factorial approach as proposed by Englert et al. [17] may be employed: The experimental design is composed of five treatments during one of which the test species receive leaves from an uncontaminated tree grown under the same conditions as those subjected to a treatment with systemic pesticides. In the second treatment, the test species will also receive leaves from the control trees but in the same replicate, an equivalent amount of leave material from a treated tree will be provided but inaccessible for the test species. This ensures the quantification of the effects caused by the leached pesticide. In a third treatment, the test species will be offered exclusively leaf material from a treated tree, while a continuous water exchange (flow through) will ensure that water phase concentrations, remain at negligible levels and thus enabling the quantification of effects caused via the ingested food exclusively. As this treatment likely deviates from the others with regard to the development of water quality parameters over time, a respective control treatment (fourth treatment) needs to be established relative to which the effects can be expressed. The fifth treatment, in which the test organism receives leaves from a treated tree and the medium will not be exchanged, ensures the exposure of test organisms to the systemic pesticide via both the water phase and food.
Improvement of test guidelines for testing Bt plant material
The estimation of potential environmental effects of Bt proteins has various experimental challenges that need to be solved during their ERA. One very important challenge is—in contrast to the testing of systemic insecticides—the establishment of a dose–response relationship. This appears difficult with any transgenic plant material such as tissues from Bt plants for several reasons: To date, the expression of Bt proteins in transgenic crops is in most cases governed by a constitutive promotor and Bt proteins are expressed in most, if not all, plant tissues. However, expression levels are usually tissue specific and vary with the growth stage [73, 74]. Although tissue specific concentrations are assumed to be rather constant at a given growth stage, the use of different genetic backgrounds and other factors [75, 76] can cause considerable variations in expression levels. Driven by the variation in Bt protein expression, GM plant parts that have an equal nutritious value and constant Bt protein concentrations can hardly be generated. At the same time, the maximum test concentration of Bt proteins within tissue is limited to the naturally expressed levels. Practically, worst-case assumptions including common safety factors similar to tests of chemical pesticides are difficult, if not impossible. Moreover, in Bt plants, the genetic modification may induce changes in the plant that go beyond the expression of genes initiating the production of Bt proteins. These changes may, for instance, influence the general nutritious quality for the organisms such as shredders in the aquatic ecosystem [77]. Current EFSA guidelines for genetically modified organism [78] advise to use a near-isogenic line that should be similar to the genetically modified plant. Although this addresses the issue of a similar nutritious quality, the difficulty to establish dose–response relationships remains.
During sensitivity testing of terrestrial non-target organisms microbially produced Bt proteins, instead of Bt plant material are frequently used [79]. A similar procedure may be applied during aquatic ecotoxicology testing by spiking GM plant material with increasing Bt toxin levels of microbial origin. This procedure would allow for a dose response testing of the Bt toxin considering also the changes in the crop metabolism induced by the genetic modification. At the same time, this procedure requires the availability of a non-GM isoline. Food quality and the fact that not all Bt plants (e.g. maize) may allow aquatic organism to perform a full life cycle are critical in this respect. To address this challenge, we suggest spiking conditioned leaf material of a tree species such as black alder—a highly nutritious food source—with increasing and known concentrations of the Bt proteins of microbial origin during the testing of aquatic shredders [see e.g., 60, 80]. The Enzyme-Linked Immunosorbent Assay (ELISA) technique can be used to measure the concentrations of Bt proteins in plant tissues. Subsequently, the material can, in principal, be tested as detailed for the systemic pesticides, namely by offering the spiked material to leaf-shredding invertebrates and monitor their response. The approach, however, does not allow testing the GM plant as a whole [79] and the toxins of microbial origin may not be (toxicologically) identical to those produced by a GM plant. Further uncertainties remain as to whether the toxicant availability is comparable between spiking and regular GM plant treatment in which the toxins are contained within cells and not on the plant material surface. Nonetheless, the illustrated procedure would allow for an establishment of a dose–response relationship for an individual Bt protein or a defined mixture. Moreover, risk assessment procedures of genetically modified organisms in Europe [78] are based on a case-by-case approach calling for test organisms representative for the receiving environment. As Hilbeck et al. [81] provided a decision support system containing criteria for the selection of potential test species for aquatic GM testing, this will not be addressed in further detail in this document.
Although the experimental design suggested in the following still needs some verification and adjustments, it is recommended to offer the spiked leaf material of interest, e.g., to a caddisfly species for at least 6 weeks (ideally longer) under continuous aeration in a climate-controlled room ideally using a temperature gradient simulating the field situation. The caddisfly larvae may be kept in groups of around five individuals in glass vessels containing the preferred substrate of the selected test species, while each treatment should be replicated at least ten times ensuring an appropriate statistical power. At weekly intervals, the test item, namely the food of the test species, can be renewed, the feeding rate of the species determined [see 82] and the test medium, which may either be a standardized medium as, for instance, described in Borgmann [83] or stream water (the site where the organisms have been collected from), may be renewed. At the same time, the survival and the growth of the caddisfly larvae can be monitored. The latter will be determined by measuring the width of the head from a digital image, an endpoint correlating well with the biomass of the species [11] and providing a measure of the larval instar. At the termination of the experiments, the individuals may be analyzed for the energy reserves, which provides insights into the physiological implications caused by the ingestion of food containing Bt proteins. This endpoint was successfully established as a measure for stress caused by chronic exposures and allows inferences on the population development in the long run [e.g. 60]. Another option, which one could pursue is to assess the time until insect emergence, which is a sensitive endpoint [84] and indicative for implication in the subsidy of terrestrial ecosystems by aquatic resources [land–water coupling, 85]. Also, in the emerged adults, energy reserves can be determined which may allow for insights into potential effects in the reproductive output, and thus population development [sensu 86].
Conclusion
Differences in the exposure route, namely the uptake of the active ingredient as part of the food matrix, scientifically justify that the risk assessment of both systemic insecticides and transgenic insect resistant plants should include this path of exposure in their ERA prior to authorisation of the respective products. Significant challenges remain, which include the need to update or adjust the currently available test guidelines to provide a meaningful basis for ERA. Moreover, only few test species represent the functional group of shredders which are supposedly regularly exposed to potentially contaminated plant residues under field conditions. Thus, particularly for the ERA of Bt proteins from transgenic crops, further research is required to optimize test strategies and methods which would allow to assess the dose–responses relationships.
Notes
Acknowledgements
We highly appreciate the feedback of three anonymous reviewers and the handling editor for their helpful comments improving the quality and clarity of this work.
Authors' contributions
MB, RS and MO conceived the study, RB performed the guideline analyses, RB prepared the first version of the manuscript with contribution of MB, MO provided insights on the risk assessment background, all authors critically reviewed the document and agreed on the submitted version. All authors read and approved the final manuscript.
Funding
Funds for this project have been partially provided by the Federal Ministry for Environment, Nature Conservation and Nuclear Safety (BMU) (R&D project FKZ 3512 89 0100).
Ethics approval and consent to participate
Not applicable.
Consent for publication
Not applicable.
Competing interests
One author is managing director of a consultancy, while the authors do not see any competing interest arising from this or any other relationship.
Copyright information
© The Author(s) 2019
Open AccessThis article is distributed under the terms of the Creative Commons Attribution 4.0 International License (http://creativecommons.org/licenses/by/4.0/), which permits unrestricted use, distribution, and reproduction in any medium, provided you give appropriate credit to the original author(s) and the source, provide a link to the Creative Commons license, and indicate if changes were made.