Short-chain perfluoroalkyl acids: environmental concerns and a regulatory strategy under REACH
Part of the following topical collections:
Abstract
Background
Short-chain PFASs (per- and polyfluoroalkyl substances) are widely used as alternatives to long-chain PFASs. Long-chain PFASs become gradually regulated under REACH (EC No. 1907/2006) and other international regulations, due to having persistent, bioaccumulative and toxic properties and/or being toxic for reproduction. The increasingly used short-chain PFASs are assumed to have a lower bioaccumulation potential. Nonetheless, they have other properties of concern and are already widely distributed in the environment, also in remote regions. The REACH Regulation does not directly address these emerging properties of concern, complicating the implementation of regulatory measures. Therefore, this study illustrates these environmental concerns and provides a strategy for a regulation of short-chain PFASs within REACH.
Results
Short-chain PFASs have a high mobility in soil and water, and final degradation products are extremely persistent. This results in a fast distribution to water resources, and consequently, also to a contamination of drinking water resources. Once emitted, short-chain PFASs remain in the environment. A lack of appropriate water treatment technologies results in everlasting background concentrations in the environment, and thus, organisms are permanently and poorly reversibly exposed. Considering such permanent exposure, it is very difficult to estimate long-term adverse effects in organisms. Short-chain PFASs enrich in edible parts of plants and the accumulation in food chains is unknown. Regarding these concerns and uncertainties, especially with respect to the precautionary principle, short-chain PFASs are of equivalent concern to PBT substances. Therefore, they should be identified as substances of very high concern (SVHC) under REACH. The SVHC identification should be followed by a restriction under REACH, which is the most efficient way to minimize the environmental and human exposure of short-chain PFASs in the European Union.
Conclusion
Due to an increasing use of short-chain PFASs, an effective regulation is urgently needed. The concerns of short-chain PFASs do not match the "classical" concerns as defined under REACH, but are not of minor concern. Therefore, it is of advantage to clearly define the concerns of short-chain PFASs. This might facilitate the following restriction process under REACH.
Keywords
REACH 
SVHC 
PFASs 
Candidate list 
Restriction 
Regulation 
Per- and polyfluoroalkyl substances 
PFAAs 
Abbreviations
CMR

carcinogenic, mutagenic or toxic for reproduction

EEA

European Economic Area

KOA

octanol–air partition coefficient

KOC

organic carbon–water partition coefficient

KOW

octanol–water partition coefficient

PBT

persistent, bioaccumulative and toxic

PFAA

perfluoroalkyl acid

PFASs

per- and polyfluoroalkyl substances

PFBA

perfluorobutanoic acid

PFBS

perfluorobutane sulfonic acid

PFHxA

perfluorohexanoic acid

PFOA

perfluorooctanoic

PFOS

perfluorooctane sulfonic acid

pKa

acid dissociation constant

POP

persistent organic pollutant

REACH

European Chemicals Regulation, EC No. 1907/2006, Registration, Evaluation and Authorization of Chemicals

SVHC

substance of very high concern

vPvB

very persistent and very bioaccumulative
Background
Some representatives of per- and polyfluoroalkyl substances (PFASs) are highly stable organic compounds, due to the C–F bond being one of the strongest in organic chemistry [1]. Compared to hydrocarbons, PFASs have enhanced technical properties, such as a higher surface activity and better dielectric properties, and possess at the same time a higher thermal stability, an increased chemical resistance and a physiological inertness [2]. Due to these properties, PFASs are well suited for manifold applications and have been used extensively in various industrial and consumer applications since the 1950s, e.g., impregnation of textiles, paper, hard metal plating, in paints, the production of fluoropolymers, etc. [3, 4]. During the production and life cycle of the products, a certain fraction of PFASs is inevitably emitted into the environment (e.g., [5]). Many commonly used PFASs can degrade under environmentally relevant conditions to perfluoroalkyl acids (PFAAs), regarded as final degradation products (e.g., [6]). Besides the direct emission of PFAAs, e.g., from production and life cycle of certain fluoropolymers, indirect emissions via degradation of the precursor substances are of high relevance regarding the global emissions [7]. Also, side-chain fluorinated polymers, in particular the group of side-chain fluorotelomer-based polymers, were shown to be degraded to PFAAs under environmental conditions in the range of decades to centuries [8] and are therefore considered to be precursors. As highly persistent final degradation products of many other PFASs, PFAAs are a relevant group regarding environmental and human exposure, even though being a small substance group within the whole PFASs group, consisting of at least 3000 substances [9].
The concern of possible risks of PFAAs to the environment and human health was broadly unrecognized until the turn of the millennium, when two groups of PFAAs, long-chain perfluoroalkyl carboxylic acids and long-chain perfluoroalkane sulfonic acids, have been shown to be ubiquitously present in biota and humans (e.g., [10, 11]). Since becoming aware of the ubiquitous distribution and the hazardous properties (see [12]) of long-chain PFASs (i.e., long-chain PFAAs and their precursors), voluntary measures of manufacturers and regulatory action have been taken place to reduce the emissions. Perfluorooctane sulfonic acid (PFOS), its salts and perfluorooctane sulfonyl fluoride (PFOSF) are listed as persistent organic pollutant (POP) under the Stockholm Convention and perfluorooctanoic acid (PFOA) and related precursors are proposed as POP. Under the European Chemicals Regulation (REACH EC No. 1907/2006), several long-chain perfluoroalkyl carboxylic acids (C8–C14) and the long-chain perfluorohexane sulfonic acid are identified as substances of very high concern (SVHC) and included in the REACH candidate list. In the EU restriction, proposals for the perfluoroalkyl carboxylic acids on the candidate list are in progress, but only implemented for PFOA its salts and related substances up to the present. In summary, global measures to ban long-chain PFAAs of concern are ongoing and need to be continued.
With the regulation of long-chain PFASs and due to voluntary measures, non-regulated PFASs have been more extensively used as alternatives. Information of these replacements are not easily accessible, however, it is known that short-chain PFASs (i.e., short-chain PFAAs and respective precursors, see Fig. 
1
for terminology) are important and broadly used alternatives [
13
]. Due to historical emissions mainly as unintended by-products during the manufacturing of long chain PFASs in the past, short-chain PFASs are already present in environmental compartments [
7
,
14
]. The replacement of long-chain PFASs with short-chain PFASs and in general other PFASs is highly criticized [
15
,
16
,
17
], as short-chain PFASs have also relevant properties of concern.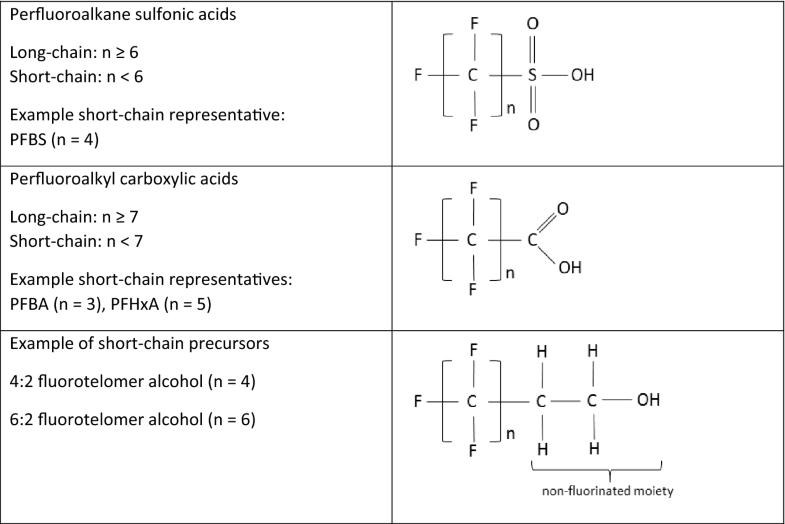 Long- and short-chain PFAAs were originally distinguished, since short-chain PFAAs are assumed to have a lower bioaccumulation potential and improved environmental properties compared to long-chain PFAAs [3, 18]. However, short-chain PFAAs are as persistent as long-chain PFAAs have different, but not less alarming properties of concern, and are already widely distributed in the environment [e.g., 19, 20, 21, 22, 23, 24, 25, 26, 27]. The awareness of these concerns needs to be raised to obtain a fast regulation of short-chain PFASs. Therefore, this study (i) summarizes and highlights the concerns of short-chain PFAAs, (ii) investigates the need for a regulation and (iii) provides a strategy for how a regulation could be implemented in REACH.
Conclusion
Short-chain PFASs are increasingly used and are considered to have properties of very high concern according to Article 57(f) of the REACH Regulation: They are of equivalent level of concern to PBT or vPvB substances. The outlined concerns related to short-chain PFASs, the already existing pollution, i.e., locally restricted very high pollutions (e.g., Rastatt and Uppsala) and global pollutions due to historical emissions, and very likely further increasing concentrations in the environment and biota illustrate that a fast regulation is mandatory. In accordance with the regulation of long-chain PFASs, the most effective way constitutes an SVHC identification of the short-chain PFAAs followed by a restriction, allowing also the regulation of precursors. The SVHC identification is not a prerequisite but will be advantageous, as the concerns attributed to short-chain PFASs do not comply with the "classical" concerns considered in the REACH Regulation and need to be clearly defined. In addition to a regulation by authorities, voluntary measures by industry could contribute substantially in reducing the emissions of short-chain PFASs.
Methods
A literature review was conducted to obtain available information on short-chain PFASs. The concerns of short-chain PFASs and its equivalent level of concern with regard to the REACH Regulation were discussed and the concern was specified at a workshop in Berlin, organized by the German Environment Agency (UBA) in October 2016. Regulatory experts and scientists from different EEA Member States, the European Commission, the European Chemicals Agency, USA and Australia participated.
Notes
Authors' contributions
SB, ÉF, CS, LV and ABE contributed in equal parts to this publication. This paper does not necessarily reflect the opinion or the policies if the German Federal Environment Agency. All authors read and approved the final manuscript.
Acknowledgements
The authors thank the participants of the workshop for authorities on short-chain PFASs in October 2016 hosted by the German Environment Agency for their valuable input in assessing the concerns of short-chain PFASs. We appreciate Christoph Schulte for his support and valuable ideas and Frauke Stock for valuable comments on earlier versions of this manuscript. Furthermore, we thank Chiara Rippe for drawing the pictures in Fig. 
2
.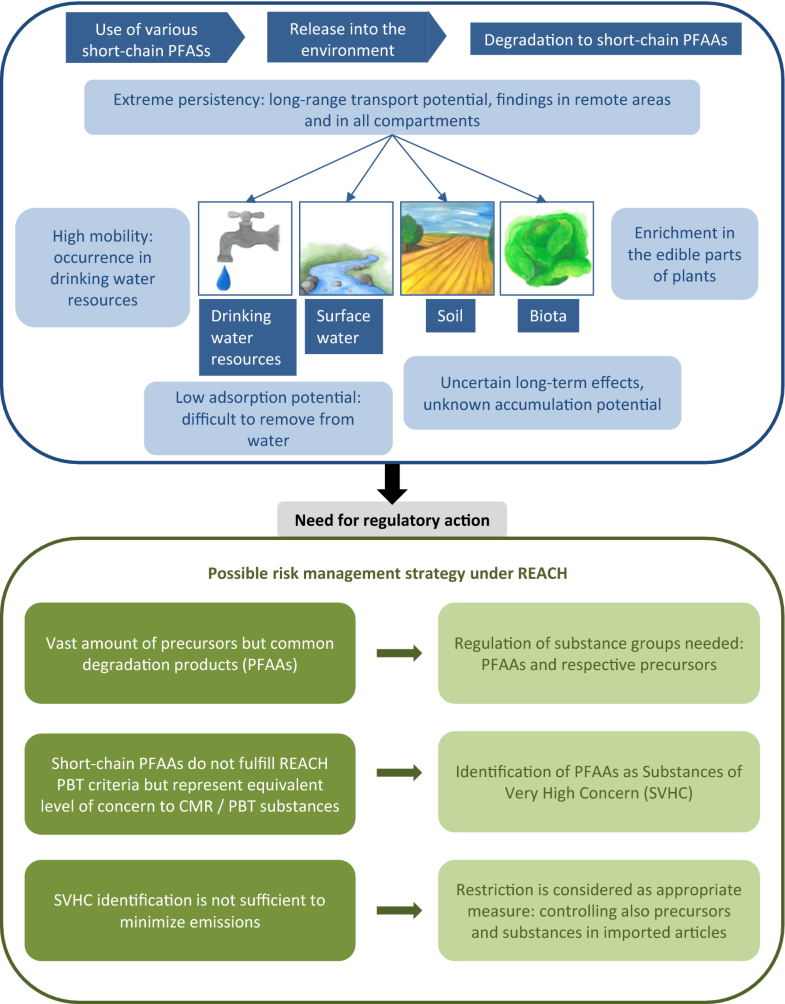 Competing interests
The authors declare that they have no competing interests.
Availability of data and materials
All relevant data are available in the references cited.
Consent for publication
Not applicable.
Ethics approval and consent to participate
Not applicable.
Publisher's Note
Springer Nature remains neutral with regard to jurisdictional claims in published maps and institutional affiliations.
Copyright information
© The Author(s) 2018
Open AccessThis article is distributed under the terms of the Creative Commons Attribution 4.0 International License (http://creativecommons.org/licenses/by/4.0/), which permits unrestricted use, distribution, and reproduction in any medium, provided you give appropriate credit to the original author(s) and the source, provide a link to the Creative Commons license, and indicate if changes were made.