High mobility Ge pMOSFETs with amorphous Si passivation: impact of surface orientation
Abstract
We report the amorphous Si passivation of Ge pMOSFETs fabricated on (001)-, (011)-, and (111)-orientated surfaces for advanced CMOS and thin film transistor applications. Amorphous Si passivation of Ge is carried out by magnetron sputtering at room temperature. With the fixed thickness of Si tSi, (001)-oriented Ge pMOSFETs achieve the higher on-state current ION and effective hole mobility μeff compared to the devices on other orientations. At an inversion charge density Qinv of 3.5 × 1012 cm−2, Ge(001) transistors with 0.9 nm tSi demonstrate a peak μeff of 278 cm2/V × s, which is 2.97 times higher than the Si universal mobility. With the decreasing of tSi, ION of Ge transistors increases due to the reduction of capacitive effective thickness, but subthreshold swing and leakage floor characteristics are degraded attributed to the increasing of midgap Dit.
Keywords
Germanium 
MOSFET 
Amorphous Si passivation 
Mobility 
Surface orientation 
Abbreviations
ALD

Atomic layer deposition

BF2+

Boron fluoride ion

CET

Capacitive effective thickness

Ge

Germanium

GeOx

Germanium oxide

HF

Hydrofluoric acid

HfO2

Hafnium dioxide

HRTEM

High-resolution transmission electron microscope

IL

Interfacial layer

MOSFETs

Metal-oxide-semiconductor field-effect transistors

Ni

Nickel

Si

Silicon

SS

Subthreshold swing

TaN

Tantalum nitride

TDMAHf

Tetrakis (dimethylamido) hafnium
Background
Germanium (Ge) has been attracting tremendous research interests for advanced CMOS and thin film transistor applications due to its higher hole mobility and lower thermal budget processing compared to Si [1, 2, 3, 4, 5, 6]. To achieve the high channel mobility, the surface passivation process leading to a high interface quality is required before gate stack formation. Several surface passivation techniques have been developed to deliver the carrier mobility benefits in Ge metal-oxide-semiconductor field-effect transistors (MOSFETs) [1, 2, 7, 8, 9, 10]. Among these techniques, a silicon (Si) cap passivated on Ge has been the hotspot in recent years, due to its advantages of effective suppressing of interface states and good thermal stability and reliability [11]. Formation of Si passivation cap has been widely studied using chemical vapor deposition (CVD) with precursors of SiH4 [1], Si2H6 [4], Si3H8 [12], and E-beam evaporation [13]. Although CVD method could provide the more uniform passivation layer over physical vapor deposition (PVD), its passivation rate has the strong correlation in channel surface orientation and the process temperature. PVD technique could provide the improved passivation rate even at room temperature, which has the advantages of low thermal budget and low cost, making it more suitable for the thin film transistors and back-end-of-line 3D integration applications. In this letter, we fabricated high mobility Ge pMOSFETs on (001)-, (011)-, and (111)-oriented surfaces utilizing amorphous Si passivation by magnetron sputtering. Significantly improved effective hole mobility μeff is achieved in Ge transistors compared to the Si universal mobility. Impacts of surface orientation and thickness of amorphous Si tSi on the boosting effect of amorphous Si passivation on μeff are studied.
Methods
Figure 
1
a shows the key process steps for fabricating Ge pMOSFETs on (001)-, (011)-, and (111)-oriented surfaces. After pre-gate cleaning in diluted HF (1:50) solution, ultrathin amorphous Si passivation layer was deposited on n-Ge substrates by magnetron sputtering at a target power of 50 W. Three passivation durations of 60 s, 80 s, and 100 s were used corresponding to the deposition of 0.5, 0.7, and 0.9 nm
t
si
, respectively. After that, a 5-nm thick HfO
2
gate dielectric was deposited at 250 °C by atomic layer deposition using TDMAHf and H
2
O as precursors of Hf and O, respectively. A 50-nm TaN gate electrode was deposited by reactive sputtering. Next, the gate electrode was patterned and etched, which was followed by BF
2
+
implantation into source/drain (S/D) regions at 30 KeV with a dose of 1 × 10
15
 cm
− 2
. Non-self-aligned S/D metals of 15-nm nickel were formed by lift-off process. Finally, rapid thermal annealing at 400 °C was carried out for dopant activation and S/D metallization. Figure 
1
b shows the cross-sectional schematic of the Ge pMOSFET with Si/SiO
2
interfacial layer (IL). Figure 
1
c shows top-view microscope image of a fabricated Ge pMOSFET.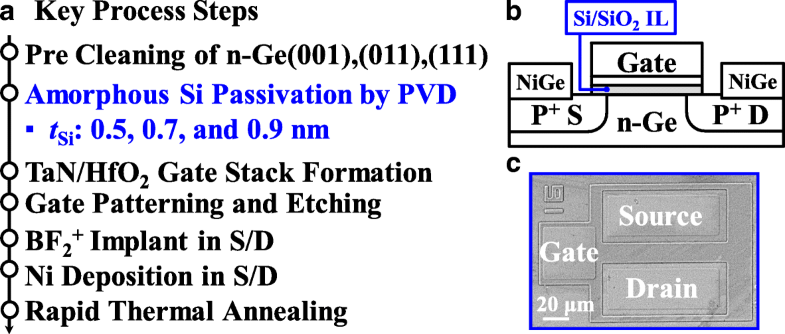 Figure 
2
a, b shows the transmission electron microscope (TEM) images of the high-κ/metal gate stack with SiO
2
/Si interfacial layer (IL) on Ge(001) channel with
t
Si
of 0.5 and 0.9 nm, respectively. Insets show the high-resolution TEM (HRTEM) images of the samples. For the device with a
t
Si
of 0.5 nm, amorphous Si layer was completely oxidized, while for the device with 0.9 nm
t
Si
, about two Si monolayers remained after the subsequent annealing steps.

Conclusions
Ge pMOSFET passivated by amorphous Si are demonstrated on (001)-, (011)-, and (111)-oriented substrate. With a tSi of 0.9 nm, the improved ION and SS characteristics are obtained in (001)-oriented Ge pMOSFETs in comparison with the devices on (011) and (111) orientations, due to the higher μeff and lower midgap Dit. Ge(001) pMOSFETs with 0.9 nm tSi achieve a peak mobility of 278 cm2/V s at a Qinv of 3.5 × 1012 cm−2, which is 2.97 times higher than the Si universal mobility. It is demonstrated that ION of the devices is improved with the decreasing of tSi due to the reduction of CET. But Ge pMOSFETs with thicker tSi exhibit the superior subthreshold swing and leakage floor, owing to that midgap Dit can be reduced by increasing tSi.
Notes
Acknowledgements
Not applicable.
Funding
The authors acknowledge support from the National Natural Science Foundation of China under Grant No. 61534004, 61604112, and 61622405.
Availability of data and materials
The datasets supporting the conclusions of this article are included within the article.
Authors' contributions
HL carried out the experiments and drafted the manuscript. GQH and YL supported the study and helped to revise the manuscript. XST and JCY helped to carry out the measurements. YH provided constructive advice in the drafting. All the authors read and approved the final manuscript.
Competing interests
The authors declare that they have no competing interests.
Publisher's Note
Springer Nature remains neutral with regard to jurisdictional claims in published maps and institutional affiliations.
Copyright information
© The Author(s). 2019
Open AccessThis article is distributed under the terms of the Creative Commons Attribution 4.0 International License (http://creativecommons.org/licenses/by/4.0/), which permits unrestricted use, distribution, and reproduction in any medium, provided you give appropriate credit to the original author(s) and the source, provide a link to the Creative Commons license, and indicate if changes were made.