Abstract
We revisit the classical problem of electromagnetic wave refraction from a lossless dielectric to a lossy conductor, where both media are considered to be non-magnetic, linear, isotropic and homogeneous. We derive the Fresnel coefficients of the system and the Poynting vectors at the interface, in order to compute the reflectance and transmittance of the system. We use a particular parametrisation of the referred Fresnel coefficients so as to make a connection with the ones obtained for refraction by an interface between two lossless media. This analysis allows the discussion of an actual application, namely the Fresnel polarisation of infra-red radiation by elemental bismuth, based on the concept of pseudo Brewster's angle.
Graphical abstract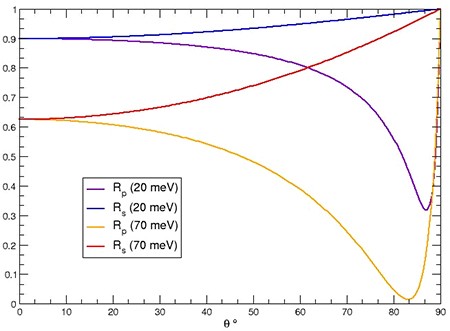 This is a preview of subscription content, log in to check access.
Access options
Buy single article
Instant access to the full article PDF.
US$ 39.95
Price includes VAT for USA
Subscribe to journal
Immediate online access to all issues from 2019. Subscription will auto renew annually.
US$ 199
This is the net price. Taxes to be calculated in checkout.
References
1.

D.J. Griffiths,Introduction to Electrodynamics (Prentice Hall, New Jersey, 1999)

2.

J.D. Jackson,Classical Electrodynamics, 3rd edn. (John Wiley & Sons, New York, 1999)

3.

M. Born, E. Wolf,Principles of Optics (Pergamon Press, Oxford, 1980)

4.

M.A. Dupertuis, M. Proctor, B. Acklin, J. Opt. Soc. Am. A 11, 1159 (1994)

5.

F. Frezza, N. Tedeschi, J. Opt. Soc. Am. A 29, 2281 (2012)

6.

J. Vitela, Am. J. Phys. 72, 393 (2004)

7.

S. Kim, K. Vedam, J. Opt. Soc. Am. A 3, 1772 (1986)

8.

F. Canning, Corrected Fresnel coefficients for lossy materials, inAPSURSI 2011 : 2011 IEEE International Symposium on Antennas and Propagation and USNC/URSI National Radio Science Meeting (2011), pp. 2123–2126

9.

J. Shen, H. Yu, J. Lu, Chin. Opt. Lett. 8, 111 (2010)

10.

Y. Zang, J. Chen, S. He, Opt. Mater. 46, 276 (2015)

11.

K. Oughstun, C. Palombini, Radio Sci. 53, 1382 (2018)

12.

R. Churchill, T. Philbin, Phys. Rev. B 94, 235422 (2016)

13.

H. Weber, J. Mod. Opt. 61, 1219 (2014)

14.

W.H. Lin, C.J. Wu, S.J. Chang, Prog. Electromagn. Res. 107, 253 (2010)

15.

D.J. Dummer, S.G. Kaplan, L.M. Hanssen, A.S. Pine, Y. Zong, Appl. Opt. 37, 1194 (1998)

16.

L. Ren, C. Pint, T. Arikawa, K. Takeya, I. Kawayama, M. Tonouchi, R. Hauge, J. Kono, Nano Lett. 12, 787 (2012)

17.

H. Huang, Y. Fan, B.I. Wu, J. Kong, Prog. Electromagn. Res. 85, 367 (2008)

18.

A.E. Costley, K.H. Hursey, G.F. Neill, J.M. Ward, J. Opt. Soc. Am. 67, 979 (1977)

19.

T. Kondo, T. Nagashima, M. Hangyo, Jpn. J. Appl. Phys. 42, L373 (2003)

20.

G. Novak, R.J. Pernic, J.L. Sundwall, Appl. Opt. 28, 3425 (1989)

21.

I. Yamada, K. Takano, M. Hangyo, M. Saito, W. Watanabe, Opt. Lett. 34, 274 (2009)

22.

J. Toudert, R. Serna, I. Camps, J. Wojcik, P. Mascher, E. Rebollar, T.A. Ezquerra, J. Phys. Chem. C 121, 3511 (2017)

23.

H. Chen,Theory of Electromagnetic Waves: a coordinate free approach (McGraw-Hill, New York, 1983)

24.

R. Espinosa-Luna, E. Camps, D. Cardona, E.D. la Rosa, Appl. Opt. 51, 8549 (2012)

25.

P.A.D. Gonçalves, N.M.R. Peres,An Introduction to Graphene Plasmonics (World Scientific, Singapore, 2016)

26.

N. Ashcroft, D. Mermin,Solid State Physics (Cengage Learning, Bostob, 1976)

27.

M. van Exter, D. Grischkowsky, Phys. Rev. B 41, 12140 (1999)
Additional information
Publisher's Note
The EPJ Publishers remain neutral with regard to jurisdictional claims in published maps and institutional affiliations.
About this article
Cite this article
Alexandre, B.S.C., Martins, L.C., Santos, J.E. et al. Fresnel polarisation of infra-red radiation by elemental bismuth. Eur. Phys. J. B 93, 119 (2020). https://doi.org/10.1140/epjb/e2020-10090-9
Received:

Revised:

Published:
Keywords
Mesoscopic and Nanoscale Systems