Abstract
In this paper, nonlinear differential equation for a longitudinal fin (LF) heat transfer with thermal conductivity and heat generation that depends on temperature is solved numerically by employing Runge–Kutta technique of fourth-order (RK4) featuring shooting technique and analytically via a new modified analytical technique called Duan–Rach method. The physical model of the heat transfer was utilized to examine the influences of the thermogeometric parameters, heat transfer rate and variable thermal conductivity on the temperature profile and efficiency of LF. The obtained outcomes show that the temperature profile of fin, heat transfer and the efficiency of the fin are considerably impacted by the fin factor of thermogeometric. The analytical outcomes by a new efficient algorithm are compared with the numerical computations of the RK4 featuring shooting techniques and various available literature outcomes to achieve the precision of the proposed technique. Obtained results show obviously the fidelity of the suggested approach.
Graphic abstract
Flow model of longitudinal fin and the effect of thermogeometric parameter on dimensionless temperature distribution.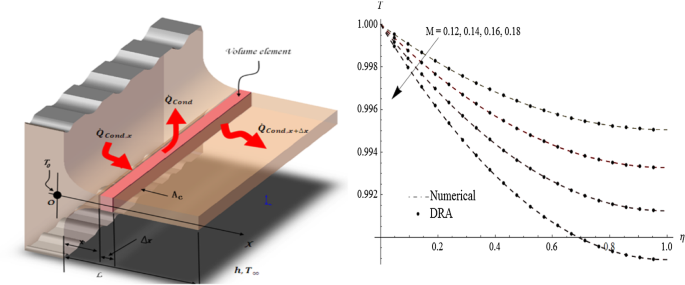 This is a preview of subscription content, log in to check access.
Access options
Buy single article
Instant access to the full article PDF.
US$ 39.95
Price includes VAT for USA
Subscribe to journal
Immediate online access to all issues from 2019. Subscription will auto renew annually.
US$ 99
This is the net price. Taxes to be calculated in checkout.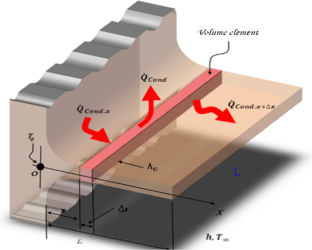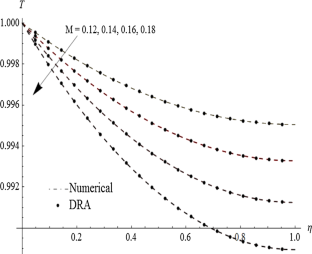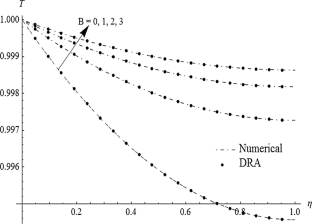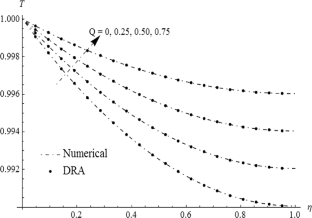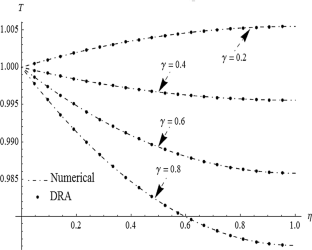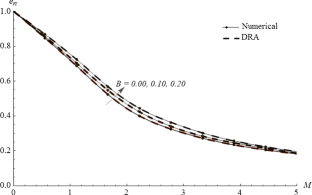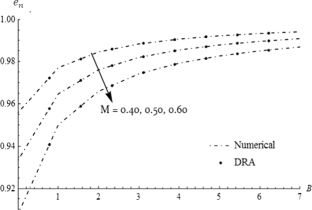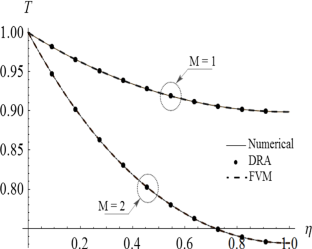 Abbreviations
DE's:

Differential equations

LF:

Longitudinal fin

RK4:

Runge–Kutta method of fourth order

DRA:

Duan–Rach method

ADM:

Adomian decomposition method

VIM:

Variation iteration method

HAM:

Homotopy analysis method

OLM:

Optimal linearization method

MDM:

Modified decomposition method

DTM:

Differential transformation method

FVM:

Finite volume method

CFD:

Computation fluids dynamics
References
1.

C. Arslanturk, A decomposition method for fin efficiency of convective straight fins with temperature-dependent thermal conductivity. Int. Commun. Heat Mass Transf. 32, 831–841 (2005)

2.

S.B. Coşkun, M.T. Atay, Fin efficiency analysis of convective straight fins with temperature dependent thermal conductivity using variational iteration method. Appl. Therm. Eng. 28, 2345–2352 (2008)

3.

D.B. Kulkarni, M.M. Joglekar, Residue minimization technique to analyze the efficiency of convective straight fins having temperature-dependent thermal conductivity. Appl. Math. Comput. 215, 2184–2191 (2009)

4.

G. Domairry, M. Fazeli, Homotopy analysis method to determine the fin efficiency of convective straight fins with temperature-dependent thermal conductivity. Commun. Nonlinear Sci. Numer. Simul. 14, 489–499 (2009)

5.

B. Kundu, A. Miyara, An analytical method for determination of the performance of a fin assembly under dehumidifying conditions: a comparative study. Int. J. Refrig 32, 369–380 (2009)

6.

R. Das, A simplex search method for a conductive–convective fin with variable conductivity. Int. J. Heat Mass Transf. 54, 5001–5009 (2011)

7.

A. Aziz, M.N. Bouaziz, A least squares method for a longitudinal fin with temperature dependent internal heat generation and thermal conductivity. Energy Convers. Manage. 52(8–9), 2876–2882 (2011)

8.

A. Aziz, M.N. Bouaziz, Simple and accurate solution for convective-radiative fin with temperature dependent thermal conductivity using double optimal linearization. Energy Convers. Manage. 51, 2776–2782 (2010)

9.

J.-S. Duan, Z. Wang, S.-Z. Fu, T. Chaolu, Parametrized temperature distribution and efficiency of convective straight fins with temperature-dependent thermal conductivity by a new modified decomposition method. Int. J. Heat Mass Transf. 59, 137–143 (2013)

10.

S. Poozesh, S. Nabi, M. Saber, S. Dinarvand, B. Fani, The efficiency of convective-radiative fin with temperature-dependent thermal conductivity by the differential transformation method. Res. J. Appl. Sci. Eng. Technol. 6(8), 1354–1359 (2013)

11.

D.D. Gangi, A.S. Dogonchi, Analytical investigation of convective heat transfer of a longitudinal-fin with temperature-dependent thermal conductivity, heat transfer coefficient and heat generation. Int. J. Phys. Sci. 9(21), 466–474 (2014)

12.

G. Sevilgen, A numerical analysis of a convective straight fin with temperature-dependent thermal conductivity. Therm. Sci. 21(2), 939–952 (2017)

13.

I. Tabet, M. Kezzar, K. Touafeka, N. Bellel, S. Gheriebc, A. Khelifa, M. Adouanea, Adomian decomposition method and Padé approximation to determine fin efficiency of convective straight fins in solar air collector. Int. J. Math. Model. Comput. 5(4), 335–346 (2015)

14.

M.G. Sobamowo, Analysis of convective longitudinal-fin with temperature-dependent thermal conductivity and internal heat generation. Alex. Eng. J. 56(1), 1–11 (2017)

15.

F.M. Hady, F.S. Ibrahim, S.M. Abdel-Gaied, M.R. Eid, Influence of yield stress on free convective boundary-layer flow of a non-Newtonian nanofluid past a vertical plate in a porous medium. Mech. Sci. Technol. 25(8), 2043–2050 (2011)

16.

F.M. Hady, F.S. Ibrahim, S.M. Abdel-Gaied, M.R. Eid, Boundary-layer non-Newtonian flow over a vertical plate in a porous medium saturated with a nanofluid. Appl. Math. Mech. Eng. Ed. 32(12), 1577–1586 (2011)

17.

F.M. Hady, F.S. Ibrahim, S.M. Abdel-Gaied, M.R. Eid, Radiation effect on viscous flow of a nanofluid and heat transfer over a non-linearly stretching sheet. Nanoscale Res. Lett. 7, 229–242 (2012)

18.

F.M. Hady, M.R. Eid, M.A. Ahmed, A nanofluid Flow in a non-linear stretching surface saturated in a porous medium with yield stress effect. Appl. Math. Inf. Sci. Lett. 2(2), 43–51 (2014)

19.

M.R. Eid, Chemical reaction effect on MHD boundary-layer flow of two-phase nanofluid model over an exponentially stretching sheet with a heat generation. J. Mol. Liq. 220, 718–725 (2016)

20.

M.R. Eid, Time-dependent flow of water-NPs over a stretching sheet in a saturated porous medium in the stagnation-point region in the presence of chemical reaction. J. Nanofluids 6(3), 550–557 (2017)

21.

M.R. Eid, S.R. Mishra, Exothermically reacting of non-Newtonian fluid flow over a permeable non-linear stretching vertical surface with heat and mass fluxes. Comput. Therm. Sci. 9(4), 283–296 (2017)

22.

M.R. Eid, K.L. Mahny, Unsteady MHD heat and mass transfer of a non-Newtonian nanofluid flow of a two-phase model over a permeable stretching wall with heat generation/absorption. Adv. Powder Technol. 28(11), 3063–3073 (2017)

23.

M.R. Eid, A. Alsaedi, T. Muhammad, T. Hayat, Comprehensive analysis of heat transfer of gold-blood nanofluid (Sisko-model) with thermal radiation. Results Phys. 7, 4388–4393 (2017)

24.

M.R. Eid, K.L. Mahny, Flow and heat transfer in a porous medium saturated with a Sisko nanofluid over a non-linearly stretching sheet with heat generation/absorption. Heat Transfer-Asian Res. 47, 54–71 (2018)

25.

M.R. Eid, K.L. Mahny, T. Muhammad, M. Sheikholeslami, Numerical treatment for Carreau nanofluid flow over a porous nonlinear stretching surface. Results Phys. 8, 1185–1193 (2018)

26.

A. Wakif, Z. Boulahia, F. Ali, M.R. Eid, R. Sehaqui, Numerical analysis of the unsteady natural convection MHD Couette nanofluid flow in the presence of thermal radiation using single and two-phase nanofluid models for Cu–water nanofluids. Int. J. Appl. Comput. Math. 4, 81 (2018)

27.

M.R. Eid, O.D. Makinde, Solar radiation effect on a magneto nanofluid flow in a porous medium with chemically reactive species. Int. J. Chem. React. Eng. 16(9), 20170212 (2018)

28.

T. Muhammad, D. Lu, B. Mahanthesh, M.R. Eid, M. Ramzan, A. Dar, Significance of Darcy–Forchheimer porous medium in nanofluid through carbon nanotubes. Commun. Theor. Phys. 70, 361–366 (2018)

29.

A.F. Al-Hossainy, M.R. Eid, M.S. Zoromba, Structural, DFT, optical dispersion characteristics of novel [DPPA-Zn-MR (Cl)(H2O)] nanostructured thin films. Mater. Chem. Phys. 232, 180–192 (2019)

30.

A.F. Al-Hossainy, M.R. Eid, MSh Zoromba, SQLM for external yield stress effect on 3D MHD nanofluid flow in a porous medium. Phys. Scr. 94, 105208 (2019)

31.

M.S. Zoromba, M. Bassyouni, M. Abdel-Aziz, A.F. Al-Hossainy, N. Salah, A. Al-Ghamdi, M.R. Eid, Structure and photoluminescence characteristics of mixed nickel–chromium oxides nanostructures. Appl. Phys. A 125(9), 642 (2019)

32.

M. Kezzar, N. Boumaiza, I. Tabet, N. Nafir, Combined effects of ferromagnetic particles and magnetic field on mixed convection in the Falkner–Skan system using DRA. Int. J. Numer. Meth. Heat Fluid Flow 29(2), 814–832 (2019)

33.

S. Lahmar, M. Kezzar, M.R. Eid, M.R. Sari, Heat transfer of squeezing unsteady nanofluid flow under the effects of an inclined magnetic field and variable thermal conductivity. Phys. A Stat. Mech. Appl. 540, 123138 (2019)

34.

M.R. Eid, K. Mahny, A. Dar, T. Muhammad, Numerical study for Carreau nanofluid flow over a convectively heated nonlinear stretching surface with chemically reactive species. Phys. A Stat. Mech. Appl. 540, 123063 (2019)

35.

M. Waqas, S. Jabeen, T. Hayat, M.I. Khan, A. Alsaedi, Modeling and analysis for magnetic dipole impact in nonlinear thermally radiating Carreau nanofluid flow subject to heat generation. Magn. Magn. Mater. 485, 197–204 (2019)

36.

M. Waqas, S.A. Shehzad, T. Hayat, M.I. Khan, A. Alsaedi, Simulation of magnetohydrodynamics and radiative heat transport in convectively heated stratified flow of Jeffrey nanofluid. Phys. Chem. Solids 133, 45–51 (2019)

37.

M. Waqas, Simulation of revised nanofluid model in the stagnation region of cross fluid by expanding-contracting cylinder. Int. J. Numer. Meth. Heat Fluid Flow 9(5), 1183–1191 (2019)

38.

M. Waqas, M.I. Khan, T. Hayat, M.M. Gulzar, A. Alsaedi, Transportation of radiative energy in viscoelastic nanofluid considering buoyancy forces and convective conditions. Chaos Solit. Fract. 130, 109415 (2020)

39.

A.S. Dogonchi, D. Ganji, Investigation of heat transfer for cooling turbine disks with a non-Newtonian fluid flow using DRA. Case Stud. Therm. Eng. 6, 40–51 (2015)

40.

A. Dogonchi, K. Divsalar, D. Ganji, Flow and heat transfer of MHD nanofluid between parallel plates in the presence of thermal radiation. Comput. Methods Appl. Mech. Eng. 310, 58–76 (2016)

41.

A.J. Chamkha, A. Dogonchi, D. Ganji, Magneto-hydrodynamic flow and heat transfer of a hybrid nanofluid in a rotating system among two surfaces in the presence of thermal radiation and Joule heating. AIP Adv. 9(2), 025103 (2019)

42.

S. Liu, H. Peng, Z. Hu, X. Ling, J. Huang, Solidification performance of a latent heat storage unit with innovative longitudinal triangular fins. Int. J. Heat Mass Transfer 138, 667–676 (2019)

43.

B. Kurşun, Thermal performance assessment of internal longitudinal fins with sinusoidal lateral surfaces in parabolic trough receiver tubes. Renew. Energy 140, 816–827 (2019)

44.

B. Gireesha, G. Sowmya, M.I. Khan, H.F. Öztop, Flow of hybrid nanofluid across a permeable longitudinal moving fin along with thermal radiation and natural convection. Comp. Methods Prog. Biomed. 185, 105166 (2019)

45.

M. Sobamowo, Finite element analysis of transient thermal performance of a convective-radiative cooling fin: effects of fin tip conditions and magnetic field. Res. Eng. Struct. Mater. 5(1), 43 (2019)

46.

O.O. Onyejekwe, Simplified integral calculations for radial fin with temperature-dependent thermal conductivity. Appl. Math. Phys. 7(3), 513–526 (2019)

47.

G.M. Sobamowo, B.Y. Ogunmola, G. Nzebuka, Finite volume method for analysis of convective longitudinal fin with temperature-dependent thermal conductivity and internal heat generation. Def. Diffus. Forum 374, 106–120 (2017)
About this article
Cite this article
Kezzar, M., Tabet, I. & Eid, M.R. A new analytical solution of longitudinal fin with variable heat generation and thermal conductivity using DRA. Eur. Phys. J. Plus 135, 120 (2020). https://doi.org/10.1140/epjp/s13360-020-00206-0
Received:

Accepted:

Published: