Abstract
A sigmoidal grading profile is proposed for the efficient study of the influence of material parameters and effective mass mismatch on the properties of graded heterojunctions. For the interest of accessing bound and scattering states, we have shown the exact solvability of the model on the entire real line. Focussing on transport across a compositionally graded heterojunction, we have discussed the effect of interface width and effective mass mismatch on the transmission probability.
This is a preview of subscription content, log in to check access.
Access options
Buy single article
Instant access to the full article PDF.
US$ 39.95
Price includes VAT for USA
Subscribe to journal
Immediate online access to all issues from 2019. Subscription will auto renew annually.
US$ 99
This is the net price. Taxes to be calculated in checkout.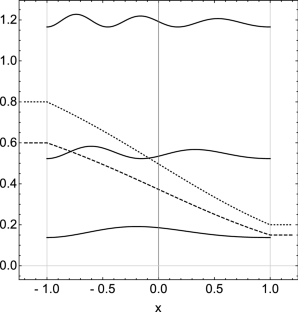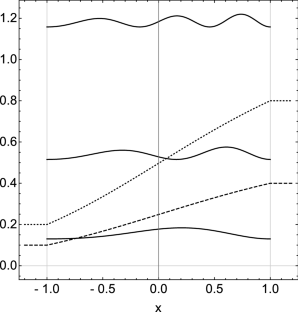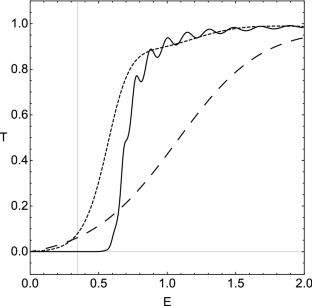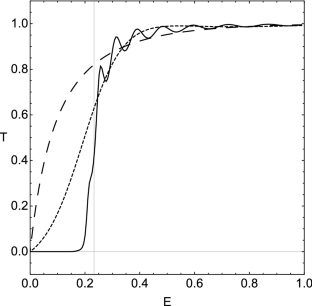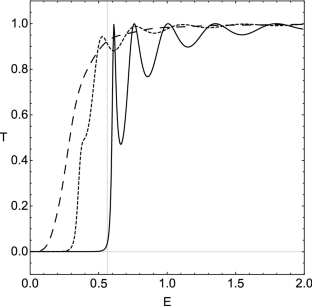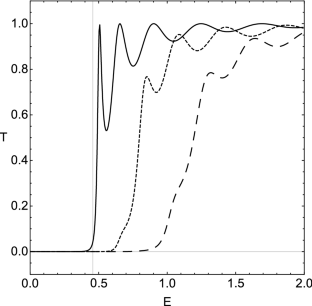 References
1.

O. von Roos, Phys. Rev. B 27, 7547 (1981)

2.

G. Lévai, O. Özer, J. Math. Phys. 51, 092103 (2010)

3.

M. Tchoffo, M. Vubangsi, L.C. Fai, Phys. Sci. Int. J. 10, 1370–1382 (2014)

4.

M. Vubangsi, M. Tchoffo, L.C. Fai, Phys. Scr. 89, 025101 (2014)

5.

M. Jafarpour, B. Ashtari, Adv. Stud. Theor. Phys. 5, 131–142 (2011)

6.

A.R. Plastino, A. Rigo, M. Casas, F. Garcias, A. Plastino, Phys. Rev. A 60, 4318 (1999)

7.

A. De Souza Dutra, M. Hott, C.A.S. Almeida, Eur. Phys. Lett. 62, 8 (2003)

8.

B. Bagchi, A. Banerjee, C. Quesne, V.M. Tkachuk, J. Phys. A 35, L527 (2005)

9.

F. Cooper, A. Khare, U. Sukhatme, Phys. Rep. 251, 267 (1995)

10.

A.D. Alhaidari, Phys. Rev. A 66, 042109 (2002)

11.

B. Roy, P. Roy, J. Phys. A 35, 3961 (2002)

12.

A.D. Alhaidari, Int. J. Theor. Phys. 42, 2999 (2003)

13.

B. Bagchi, P. Gorain, C. Quesne, R. Roychoudhury, Mod. Phys. Lett. A 19, 2765 (2004)

14.

C. Quesne, V.M. Tkachuk, J. Phys. A Math. Gen. 37, 4267 (2004)

15.

S.K. Moayedi, A.F. Jalbout, M. Solimannejad, J. Mol. Struct.: THEOCHEM 663, 15–18 (2003)

16.

L. Dekar, L. Chetouani, T.F. Hammann, Phys. Rev. A 59, 107 (1999)

17.

N. Moiseyev, R. Lefebvre, Phys. Rev. A 64, 052711 (2001)

18.

A.D. Alhaidari, H. Bahlouli, A. Al-Hasan, M.S. Abdelmonem, Phys. Rev. A 75, 062711 (2007)

19.

X. Lü, L. Schrottke, E. Luna, H.T. Grahn, Appl. Phys. Lett. 104, 232106 (2014)

20.

A. Sinha, Eur. Phys. Lett. 96, 20008 (2011)

21.

R. Koc, M. Koca, J. Phys. A Math. Gen. 36, 8105 (2003)

22.

Z. Ikonic, V. Milanovic, D. Tjapkin, S. Pajevic, Phys. Rev. B 37, 3097 (1988)

23.

J.R. Villa-Angulo, R. Villa-Angulo, K. Solorio-ferrales, S.E. Ahumada-Valdez, C. Villa-angulo, J. Nanophotonics 8, 083096 (2014)

24.

M. Vubangsi, L.S. Yonya Tchapda, M. Tchoffo, L.C. Fai, J. Phys. Commun. 2, 015011 (2018)

25.

Wolfram Research Inc., Mathematica, Version11.3. Champaign, IL (2018)
About this article
Cite this article
Tchoffo, M., Yonya Tchapda, L.S., Vubangsi, M. et al. Transport properties at a sigmoidal graded heterojunction. Eur. Phys. J. Plus 135, 128 (2020). https://doi.org/10.1140/epjp/s13360-020-00191-4
Received:

Accepted:

Published: