Abstract
The projected shell model is employed to interpret multi-quasiparticle energy bands in odd-mass neutron-deficient 117–121Cs isotopes. The experimentally known energy bands and their configurations are reproduced well by employing this approach. The analysis of theoretical results predicts the low-lying spin states to arise from the single quasiparticle band albeit the high-spin states are seen to arise from the superposition of three quasiparticle bands. In addition, the experimentally known signature partner bands and band head energies are also predicted in these isotopes which can serve as a clue for planning new experiments.
This is a preview of subscription content, log in to check access.
Access options
Buy single article
Instant unlimited access to the full article PDF.
US$ 39.95
Price includes VAT for USA
Subscribe to journal
Immediate online access to all issues from 2019. Subscription will auto renew annually.
US$ 99
This is the net price. Taxes to be calculated in checkout.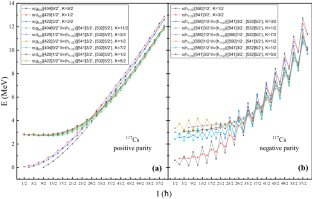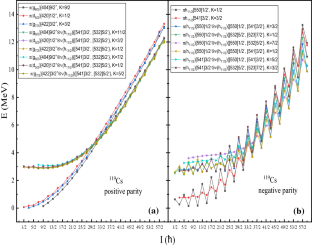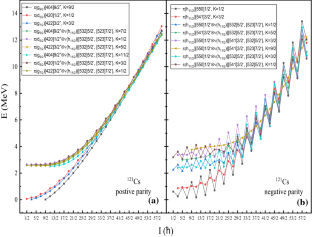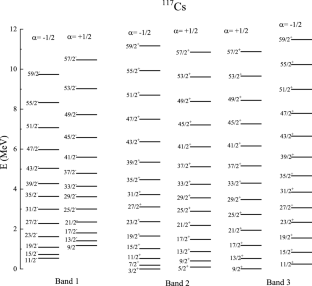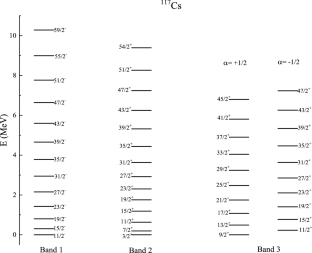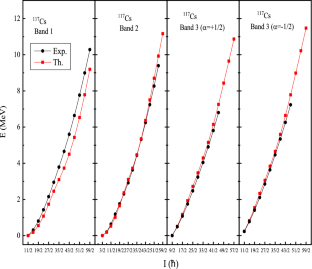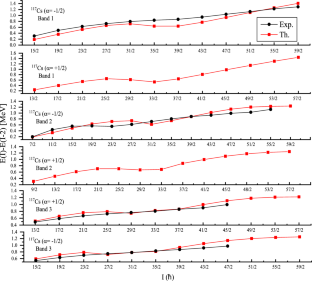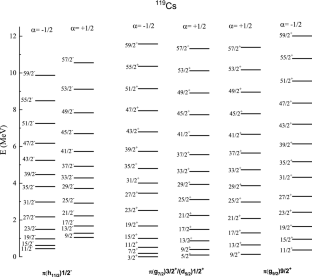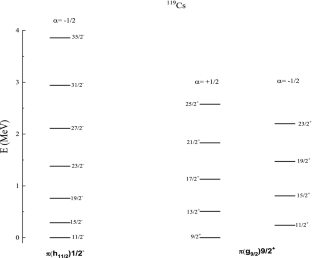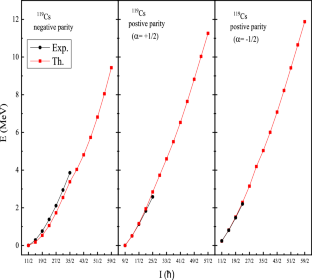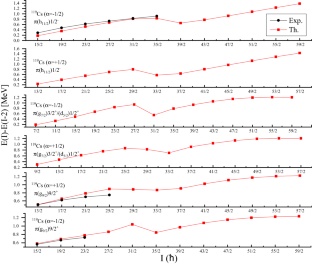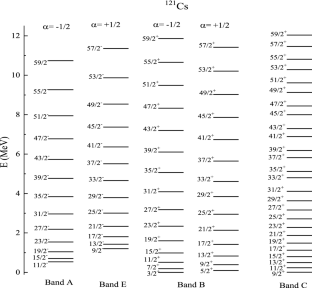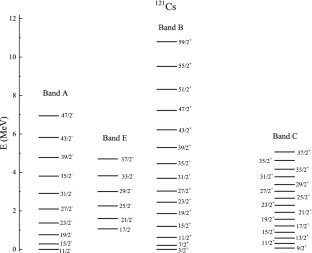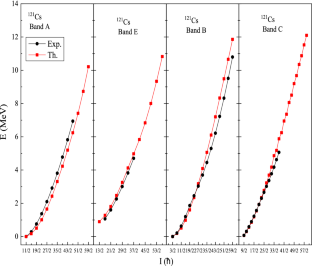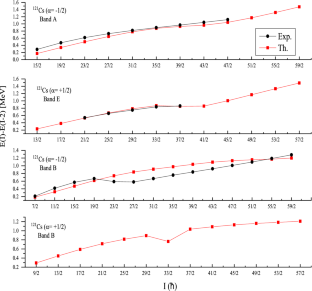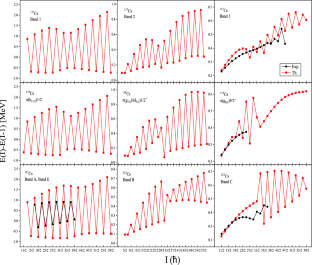 References
1.

F. Liden et al., Nucl. Phys. A 550, 365 (1992)

2.

J.R. Hughes, D.B. Fossan, D.R. LaFose, Y. Liang, P. Vaska, M.P. Waring, J.Y. Zhang, Phys. Rev. C 45, 2177 (1992)

3.

J.R. Hughes, D.B. Fossan, D.R. LaFosse, Y. Liang, P. Vaska, M.P. Waring, Phys. Rev. C 44, 2390 (1991)

4.

Y. Liang, R. Ma, E.S. Paul, N. Xu, D.B. Fossan, R. Wyss, Phys. Rev. C 42, 890 (1990)

5.

L. Hildingsson, W. Klamra, T. Lindblad, F. Liden, Y. Liang, R. Ma, E.S. Paul, N. Xu, D.B. Fossan, J. Gascon, Z. Phys. A 340, 29 (1991)

6.

J.F. Smith et al., Phys. Rev. C 63, 024319 (2001)

7.

X. Sun et al., Phys. Rev. C 51, 2803 (1995)

8.

U. Garg, T.P. Sjoreen, D.B. Fossan, Phys. Rev. C 19, 217 (1979)

9.

C.B. Moon, T. Komatsubara, K. Furuno, J. Korean Phys. Soc. 38, 8 (2001)

10.

S. Ohya, Nucl. Data Sheets 111, 1619 (2010)

11.

K. Hara, Y. Sun, Nucl. Phys. A 537, 77 (1992)

12.

A. Ibáñez-Sandoval, V. Velázquez, A. Galindo-Uribarri, P.O. Hess, Y. Sun, Phys. Rev. C 83, 034308 (2011)

13.

Y. Sun, M. Guidry, Phys. Rev. C 52, R2844 (1995)

14.

Y. Sun, J.Y. Zhang, M. Guidry, Phys. Rev. Lett. 78, 2321 (1997)

15.

Y. Sun, J.Y. Zhang, M. Guidry, C.L. Wu, Phys. Rev. Lett. 83, 686 (1999)

16.

V. Velázquez, J. Hirsch, Y. Sun, M. Guidry, Nucl. Phys. A 653, 335 (1999)

17.

V. Velázquez, J. Hirsch, Y. Sun, Nucl. Phys. A 686, 129 (2001)

18.

R. Palit, J.A. Sheikh, Y. Sun, H.C. Jain, Phys. Rev. C 67, 014321 (2003)

19.

R. Devi, B.D. Sehgal, S.K. Khosa, J.A. Sheikh, Phys. Rev. C 72, 064304 (2005)

20.

B.D. Sehgal, R. Devi, S.K. Khosa, J. Phys. G 32, 1211 (2006)

21.

R. Kumar, R. Devi, S.K. Khosa, Phys. Scr. 80, 045201 (2009)

22.

R. Devi, B.D. Sehgal, S.K. Khosa, Pramana-J. Phys. 67, 467 (2006)

23.

S. Verma, P.A. Dar, R. Devi, Phys. Rev. C 77, 024308 (2008)

24.

Y.C. Yang, Y. Sun, S.J. Zhu, M. Guidry, C.L. Wu, J. Phys. G 37, 085110 (2010)

25.

F. Al-Kudair, G.L. Long, Y. Sun, Phys. Rev. C 79, 034320 (2009)

26.

Y. Sun, Y.C. Yang, H.L. Liu, K. Kaneko, M. Hasegawa, T. Mizusaki, Phys. Rev. C 80, 05430 (2009)

27.

Y. Sun, Phys. Scr. 91, 043005 (2016)

28.

K. Hara, Y. Sun, Int. J. Mod. Phys. E 4, 637 (1995)

29.

S.G. Nilsson, C.F. Tsang, A. Sobiczewski, Z. Szymanski, S. Wycech, Ch. Gustafson, I.L. Lamm, P. Moller, B. Nilsson, Nucl. Phys. A 131, 1 (1969)

30.

P. Ring, P. Schuck, The Nuclear theory Many Body Problem (Springer, New York, 1980)

31.

K. Hara, Y. Sun, Nucl. Phys. A 529, 445 (1991)

32.

P. Möller, J.R. Nix, W.D. Myers, W.J. Swiatecki, At. Data Nucl. Data Tables 59, 185 (1995)

33.

Y. Sun, D.H. Feng, S.X. Wen, Phys. Rev. C 50, 2351 (1994)
About this article
Cite this article
Kumar, R., Sharma, S. & Devi, R. Study of multi-quasiparticle energy bands in neutron-deficient 117,119,121Cs. Eur. Phys. J. Plus 135, 62 (2020) doi:10.1140/epjp/s13360-020-00103-6
Received:

Accepted:

Published: