Abstract
Exactly solvable models are interesting for science and education, since they help in scientific search and in understanding of phenomena. Some exact solutions for simple quantum–mechanical models are considered. The models include two barriers, combinations of barrier pairs, three barriers, three wells, etc. The model of two barriers can predict some interesting phenomena in the one-dimensional case. Clearing of wave and quantum–mechanical barriers (including reflection-free passage) is an important problem of physics. The rigorous equations for the transmission and reflection coefficients are derived. Barriers in substances are combined into associations, where the bond within each association is stronger than bonds between associations. Some properties of disordered media (the transparency of glasses, the conductivity of alloys or melts, the brittleness, or ductility, etc.) can be qualitatively understood from this viewpoint. The same material can exhibit various properties: transparent and opaque, metallic and non-metallic, ordered and disordered, and so on. Such transitions can occur under pressure. A model of the three-well potential can be applied to the phenomena under consideration. Some remarks on 3-D cases are made.
This is a preview of subscription content, log in to check access.
Access options
Buy single article
Instant unlimited access to the full article PDF.
US$ 39.95
Price includes VAT for USA
Subscribe to journal
Immediate online access to all issues from 2019. Subscription will auto renew annually.
US$ 99
This is the net price. Taxes to be calculated in checkout.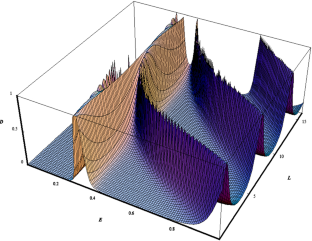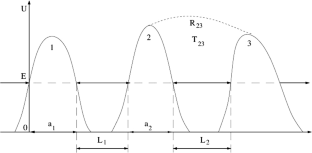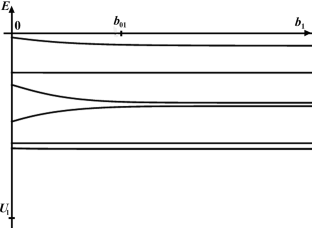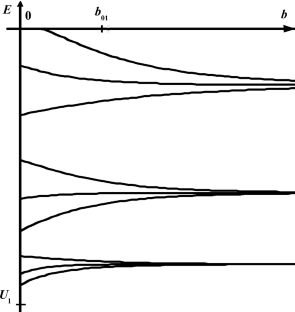 References
1.

O. Madelung, The theory of solids (Nauka, Moscow, 1980)

2.

J.A. Iz'umov, V.N. Syromiatnikov, Fase transitions and crystal symmetry (Nauka, Moscow, 1984)

3.

L.M. Minkevitch, J. Priclad. Mech. Tech. Phys. 41, 1064–1069 (2000)

4.

A. Holden, Basis for Modern Solid State Physics (Nauka, Moscow, 1971)

5.

M.I. Kaganov, I.M. Lifshitz, Quasiparticles (Nauka, Moscow, 1989)

6.

C. Shubin, R. Vakilian, T. Wolff, Geom. Funct. Anal. GAFA 8, 932–964 (1998)

7.

B. Simon, Ann. Phys. 159, 157–183 (1985)

8.

P.W. Bridgman, Rev. Mod. Phys. 18, 1–93 (1946)

9.

M.J. Peters, L.E. McNeil, J.P. Lu, D. Kahn, Phys. Rev. B 61, 5939–5944 (2000)

10.

A. Zunger, K. Kim, V. Ozolins, Phys. Stat. Solidi B 223, 369–378 (2001)

11.

A. Jayaraman, Sci. Am. 250(4), 54–62 (1984)

12.

E. Zanotto, Am. J. Phys. 66, 392–395 (1998)

13.

R.O. Zaitsev, E.V. Kuz'min, S.G. Ovchinnikov, Physics – Uspekhi 29, 322–342 (1986)

14.

A.A. Likal'ter, Physics – Uspekhi 35(7), 591–605 (1992)

15.

S.N. Artekha, S.S. Moiseev, Technical Phys. 38, 265–271 (1993)

16.

I.M. Lifshits, S.A. Gredeskul, L.A. Pastur, Introduction to the Theory of Disordered Systems (Wiley, New York, 1988)

17.

S. de Bievre, F. Germinet, J. Stat. Phys. 98, 1135–1147 (2000)

18.

F.M. Izrailev, T. Kottos, A. Politi, S. Ruffo, G.P. Tsironiset, Europhys. Lett. 34, 441–446 (1996)

19.

C. Wolverton, A. Zunger, Phys. Rev. Lett. 75, 3162–3165 (1995)

20.

B.V. Smirnov, Physics of fractal agregates (Nauka, Moscow, 1991)

21.

W.A. de Heer, W.D. Knight, M.Y. Chou, M.L. Cohen, Solid State Phys. 40, 93–181 (1987)

22.

M. Brack, Rev. Mod. Phys. 65, 677–732 (1993)

23.

J.M. Ziman, Models of disorder (Cambridge University Press, London, 1979)

24.

J.S. Blakemore, Solid State physics (Cambridge University Press, London, 1985)

25.

P. Markos, C.M. Soukoulis, Wave propagation (Princeton University Press, Princeton, 2008)

26.

V. Jelic, F. Marsiglio, Eur. J. Phys. 33, 1651–1666 (2012)

27.

A.P. Drozdov, M.I. Eremets, I.A. Troyan, V. Ksenofontov, S.I. Shylin, Nature 525, 73–76 (2015)

28.

L.D. Landau, E.M. Lifshitz, Quantum mechanics: non-relativistic theory, vol. 3 (Pergamon Press, Oxford, 1977)

29.

Ch. Kittel, Introduction to Solid State Physics (John Wiley & Sons Inc, New York, 1956)

30.

A.B. Shvartsburg, N.S. Erokhin, Phys. Usp. 54, 1171–1175 (2011)

31.

S.N. Artekha, A.V. Belyan, Int. J. Theor. Phys. 57, 388–405 (2018)
About this article
Cite this article
Artekha, S.N., Artekha, N.S. Rigorous relations for barrier transmittance and some physical corollaries. Eur. Phys. J. Plus 135, 56 (2020). https://doi.org/10.1140/epjp/s13360-019-00068-1
Received:

Accepted:

Published: