Abstract
Here characteristic of magnetohydrodynamic flow of viscous liquids due to curved stretchable surface is discussed. Behavior of energy equation is explored in the presence of heat generation, viscous dissipation and Joule heating. Physical behavior of entropy optimization rate is the key focus of this investigation. Cubic autocatalysis chemical reactions (homogeneous and heterogeneous reactions) are also accounted. The basic flow equations are obtained due to the implementation of curvilinear coordinates. Nonlinear partial differential expressions are reduced to ordinary differential system using adequate transformation. The obtained nonlinear system is then solved by Newton built-in shooting technique. Impacts of various physical parameters on entropy optimization, Bejan number, velocity, concentration and temperature are graphically examined. Numerical outcomes of gradients of velocity and temperature are discussed through tables via different physical variables. Entropy optimization rate has increasing effect for both Brinkman and Hartmann numbers, while opposite effect hold for Bejan number. Magnitudes of temperature and velocity boost up for higher estimation of curvature parameter and opposite effect is observed for concentration.
This is a preview of subscription content, log in to check access.
Access options
Buy single article
Instant access to the full article PDF.
US$ 39.95
Price includes VAT for USA
Subscribe to journal
Immediate online access to all issues from 2019. Subscription will auto renew annually.
US$ 99
This is the net price. Taxes to be calculated in checkout.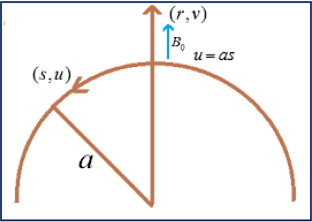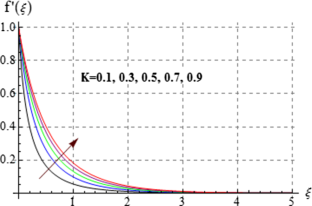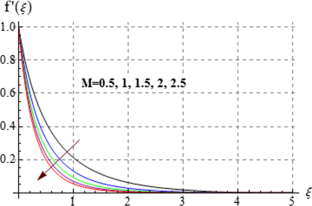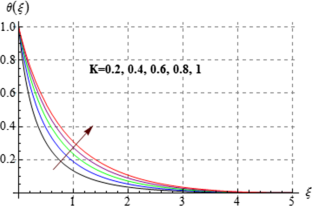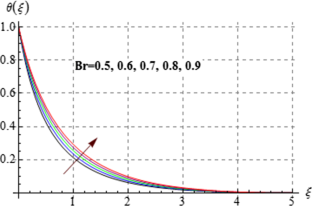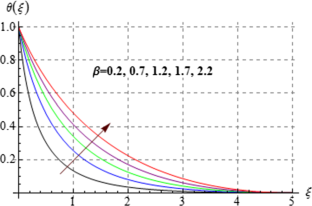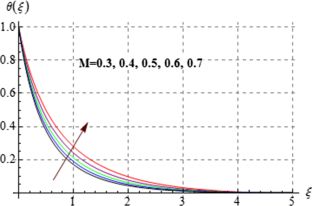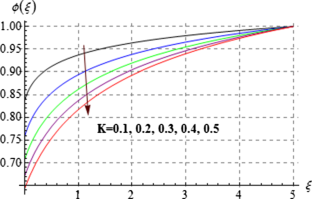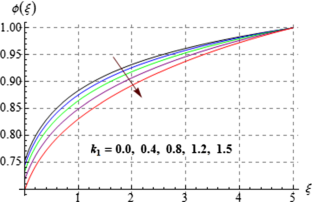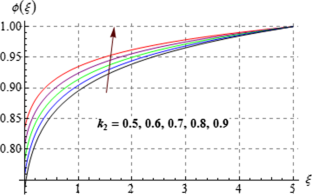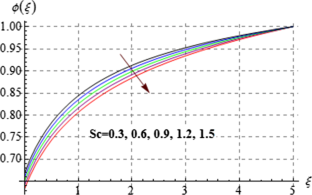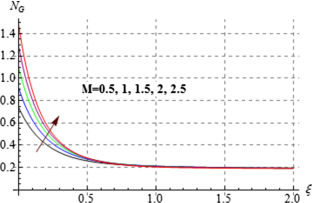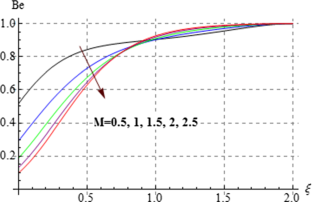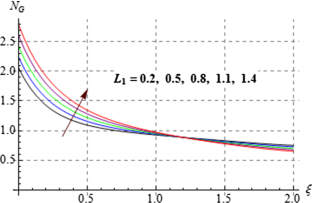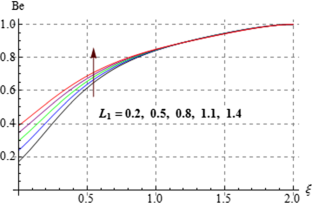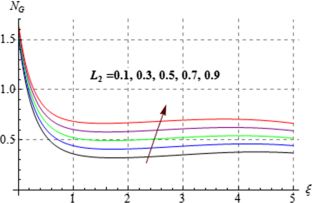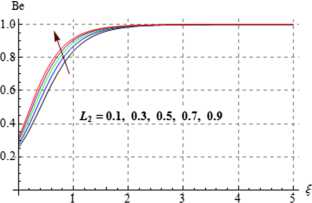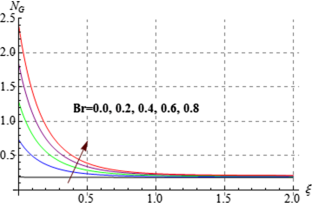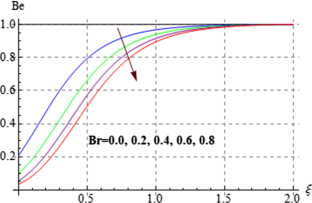 References
1.

L.J. Crane, Flow past a stretching plate. J. Appl. Math. Phys. (ZAMP) 21, 645–647 (1970)

2.

M.M. Rashidi, B. Rostami, N. Freidoonimehr, S. Abbasbandy, Free convective heat and mass transfer for MHD fluid flow over a permeable vertical stretching sheet in the presence of the radiation and buoyancy effects. Ain Shams Eng. J. 3, 901–912 (2014)

3.

I. Swain, S.R. Mishra, H.B. Pattanayak, Flow over exponentially stretching sheet through porous medium with heat source/sink. J. Eng. 2015, 452592 (2015)

4.

M.R. Eid, K.L. Mahny, T. Muhammad, M. Sheikholeslami, Numerical treatment for Carreau nanofluid flow over a porous nonlinear stretching surface. Results Phys. 8, 1185–1193 (2018)

5.

M. Sheikholeslami, M.T. Mustafa, D.D. Ganji, Effect of Lorentz forces on forced-convection nanofluid flow over a stretched surface. Particuology 26, 108–113 (2016)

6.

M. Imtiaz, T. Hayat, A. Alsaedi, A. Hobiny, Homogeneous-heterogeneous reactions in MHD flow due to an unsteady curved stretching surface. J. Mol. Liq. 221, 245–253 (2016)

7.

T. Hayat, R.S. Saif, R. Ellahi, T. Muhammad, B. Ahmad, Numerical study of boundary-layer flow due to a nonlinear curved stretching sheet with convective heat and mass conditions. Results Phys. 7, 2601–2606 (2017)

8.

T. Hayat, M. Waqas, M.I. Khan, A. Alsaedi, Impacts of constructive and destructive chemical reactions in magnetohydrodynamic (MHD) flow of Jeffrey liquid due to nonlinear radially stretched surface. J. Mol. Liq. 225, 302–310 (2017)

9.

T. Hayat, M. Rashid, M. Imtiaz, A. Alsaedi, MHD convective flow due to a curved surface with thermal radiation and chemical reaction. J. Mol. Liq. 225, 482–489 (2017)

10.

Z. Abbas, M. Naveed, M. Sajid, Hydromagnetic slip flow of nanofluid over a curved stretching surface with heat generation and thermal radiation. J. Mol. Liq. 215, 756–762 (2016)

11.

T. Hayat, M.I. Khan, M. Farooq, A. Alsaedi, M. Waqas, T. Yasmeen, Impact of Cattaneo-Christov heat flux model in flow of variable thermal conductivity fluid over a variable thicked surface. Int. J. Heat Mass Transf. 99, 702–710 (2016)

12.

K.M. Sanni, S. Asghar, M. Jalil, N.F. Okechi, Flow of viscous fluid along a nonlinearly stretching curved surface. Results Phys. 7, 1–4 (2017)

13.

N.B. Khan, Z. Ibrahim, M.I. Khan, T. Hayat, M.F. Javed, VIV study of an elastically mounted cylinder having low mass-damping ratio using RANS model. Int. J. Heat Mass Transf. 121, 309–314 (2018)

14.

N.C. Roşca, I. Pop, Unsteady boundary layer flow over a permeable curved stretching/shrinking surface. Euro J. Mech. B/Fluid. 51, 61–67 (2015)

15.

T. Hayat, F. Shah, M.I. Khan, M.I. Khan, A. Alsaedi, Entropy analysis for comparative study of effective Prandtl number and without effective Prandtl number via γAl2O3-H2O and γAl2O3-C2H6O2 nanoparticles. J. Mol. Liq. 266, 814–823 (2018)

16.

M. Khan, A. Shahid, M.Y. Malik, T. Salahuddin, Thermal and concentration diffusion in Jeffery nanofluid flow over an inclined stretching sheet: a generalized Fourier'sand Fick's perspective. J. Mol. Liq. 251, 7–14 (2018)

17.

M.I. Khan, T. Hayat, M. Waqas, A. Alsaedi, Outcome for chemically reactive aspect in flow of tangent hyperbolic material. J. Mol. Liq. 230, 143–151 (2017)

18.

T. Hayat, M. Waqas, M.I. Khan, A. Alsaedi, S.A. Shehzad, Magnetohydrodynamic flow of Burgers fluid with heat source and power law heat flux. Chin J. Phys. 55, 318–330 (2017)

19.

M.I. Khan, T. Hayat, M. Waqas, M.I. Khan, A. Alsaedi, Entropy generation minimization (EGM) in nonlinear mixed convective flow of nanomaterial with Joule heating and slip condition. J. Mol. Liq. 256, 108–120 (2018)

20.

M. Khan, T. Salahuddin, A. Tanveer, M. Y. Malik and A. Hussain, Change in internal energy of thermal diffusion stagnation point Maxwell nanofluid flow along with solarradiation and thermal conductivity, Chin. J. Chem. Eng., In press, (2019)

21.

M. Waqas, A mathematical and computational framework for heat transfer analysis of ferromagnetic non-Newtonian liquid subjected to heterogeneous and homogeneous reactions. J. Magn. Magn. Mater. 493, 165 (2020)

22.

M. Waqas, Simulation of revised nanofluid model in the stagnation region of cross fluid by expanding-contracting cylinder. Int. J. Numer. Methods Heat Fluid Flow (2019). https://doi.org/10.1108/HFF-12-2018-0797

23.

M. Khan, T. Salahuddin, M.Y. Malik, An immediate change in viscosity of Carreau nanofluid due to double stratified medium: application of Fourier's and Fick's laws. J. Braz. Soc. Mech. Sci. Eng. 40, 457 (2018)

24.

M. Khan, T. Salahuddin, M.Y. Malik, F.O. Mallawi, Change in viscosity of Williamson nanofluid flow due to thermal and solutal stratification. Int. J. Heat Mass Transf. 126, 941–948 (2018)

25.

M.I. Khan, M. Waqas, T. Hayat, A. Alsaedi, A comparative study of Casson fluid with homogeneous-heterogeneous reactions. J. Colloid Interface Sci. 498, 85–90 (2017)

26.

A.K. Alzahrani, Darcy-Forchheimer 3D flow of carbon nanotubes with homogeneous and heterogeneous reactions. Phys. Lett. A. 382, 2787–2793 (2018)

27.

T. Hayat, M.I. Khan, M. Farooq, T. Yasmeen, A. Alsaedi, Stagnation point flow with Cattaneo-Christov heat flux and homogeneous-heterogeneous reactions. J. Mol. Liq. 220, 49–55 (2016)

28.

M.I. Khan, M. Waqas, T. Hayat, M.I. Khan, A. Alsaedi, Numerical simulation of nonlinear thermal radiation and homogeneous-heterogeneous reactions in convective flow by a variable thicked surface. J. Mol. Liq. 246, 259–267 (2017)

29.

K. Kameswaran, S. Shaw, P. Sibanda, P.V.S.N. Murthy, Homogeneous heterogeneous reactions in a nanofluid flow due to a porous stretching sheet. Int. J. Heat Mass Transf. 57, 465–472 (2013)

30.

S. Qayyum, M.I. Khan, T. Hayat, A. Alsaedi, A framework for nonlinear thermal radiation and homogeneous-heterogeneous reactions flow based on silver-water and copper-water nanoparticles: a numerical model for probable error. Results Phys. 7, 1907–1914 (2017)

31.

W.A. Khan, A.S. Alshomrani, M. Khan, Assessment on characteristics of heterogeneous-homogenous processes in three-dimensional flow of Burgers fluid. Result. Phys. 6, 772–779 (2016)

32.

M.I. Khan, S. Sumaira, T. Hayat, M. Waqas, M.I. Khan, A. Alsaedi, Entropy generation minimization and binary chemical reaction with Arrhenius activation energy in MHD radiative flow of nanomaterial. J. Mol. Liq. 259, 274–283 (2018)

33.

A. Tanveer, M. Khan, T. Salahuddin, M.Y. Malik, Numerical simulation of electroosmosis regulated peristaltic transport of Bingham nanofluid. Comput. Method. Prog. Biomed. 180, 105005 (2019)

34.

T. Hayat, Z. Hussain, M. Farooq, A. Alsaedi, Effects of homogeneous and heterogeneous reactions and melting heat in the viscoelastic fluid flow. J. Mol. Liq. 215, 749–755 (2016)

35.

M.I. Khan, S. Qayyum, T. Hayat, M.I. Khan, A. Alsaedi, T.A. Khan, Entropy generation in radiative motion of tangent hyperbolic nanofluid in presence of activation energy and nonlinear mixed convection. Phys. Lett. A 382, 2017–2026 (2019)

36.

M. Waqas, M.I. Khan, T. Hayat, A. Alsaedi, M.I. Khan, Nonlinear thermal radiation in flow induced by a slendering surface accounting thermophoresis and Brownian diffusion. Euro. Phys. J. Plus 132, 280 (2017)

37.

M.I. Khan, T. Hayat, M.I. Khan, M. Waqas, A. Alsaedi, Numerical simulation of hydromagnetic mixed convective radiative slip flow with variable fluid properties: a mathematical model for entropy generation. J. Phys. Chemis. Solid. 125, 153–164 (2019)

38.

A. Bejan, A study of entropy generation in fundamental convective heat transfer. J. Heat Trans. 101, 718–725 (1979)

39.

S.M. Seyyedi, A.S. Dogonchi, M.H. Tilehnoee, Z. Asghar, M. Waqas, D.D. Ganji, A computational framework for natural convective hydromagnetic flow via inclined cavity: an analysis subjected to entropy generation. J. Mol. Liq. 287, 110863 (2019)

40.

T. Hayat, S.A. Khan, M.I. Khan, A. Alsaedi, Theoretical investigation of Ree-Eyring nanofluid flow with entropy optimization and Arrhenius activation energy between two rotating disks. Comp. Method. Prog. Biomed. 177, 57–68 (2019)

41.

M.I. Khan, A. Alsaedi, T. Hayat, N.B. Khan, Modeling and computational analysis of hybrid class nanomaterials subject to entropy generation. Comp. Method. Prog. Biomed. 179, 104973 (2019)

42.

Z. Li, M. Sheikholeslami, M. Jafaryar, A. Shafee, A.J. Chamkha, Investigation of nanofluid entropy generation in a heat exchanger with helical twisted tapes. J. Mol. Liq. 266, 797–805 (2018)

43.

M.I. Khan, A. Alsaedi, S. Qayyum, T. Hayat, M.I. Khan, Entropy generation optimization in flow of Prandtl-Eyring nanofluid with binary chemical reaction and Arrhenius activation energy. Colloid. Surfac. A. 570, 117–126 (2019)

44.

M.I. Khan, A. Kumar, T. Hayat, M. Waqas, R. Singh, Entropy generation in flow of Carreau nanofluid with homogeneous-heterogeneous reactions. J. Mol. Liq. 278, 677–687 (2019)

45.

A.O. Ajibade, B.K. Jha, A. Omame, Entropy generation under the effect of suction/injection. App. Math. Model 35, 4630–4646 (2011)

46.

T. Hayat, S.A. Khan, M.I. Khan, A. Alsaedi, Entropy optimization for flow of second-grade nanomaterial. Appl. Nanosci. (2019). https://doi.org/10.1007/s13204-019-01001-9

47.

M.I. Khan, S.A. Khan, T. Hayat, M.F. Javed, A. Alsaedi, Entropy generation in radiative flow of Ree-Eyring fluid due to due rotating disks. Int. J. Num. Meth. Heat Fluid Flow 29, 2057–2079 (2019)

48.

S. Khatamia, N. Rahbar, An analytical study of entropy generation in rectangular natural convective porous fins. Ther. Sci. Eng. Prog. 11, 142–149 (2019)

49.

M.I. Khan, S. Ullah, T. Hayat, M.I. Khan, A. Alsaedi, Entropy generation minimization (EGM) for convection nanomaterial flow with nonlinear radiative heat flux. J. Mol. Liq. 260, 279–291 (2018)

50.

A.E. Fizik, E. Lakzian, A. Hashemian, Entropy generation analysis of wet-steam flow with variation of expansion rate using NURBS-based meshing technique. Int. J. Heat Mass Trans. 139, 399–411 (2019)

51.

T. Hayat, S.A. Khan, M.I. Khan, A. Alsaedi, Optimizing the theoretical analysis of entropy generation in the flow of second grade nanofluid. Phys. Scr. 94, 085001 (2019)

52.

T. Hayat, S. Qayyum, M.I. Khan, A. Alsaedi, Current progresses about probable error and statistical declaration for radiative two phase flow using Ag-H2O and Cu-H2O nanomaterials. Int. J. Hydrogen Energy 42, 29107–29120 (2017)

53.

R. Kumar, R. Kumar, M. Sheikholeslami, A.J. Chamkha, Irreversibility analysis of the three dimensional flow of carbon nanotubes due to nonlinear thermal radiation and quartic chemical reactions. J. Mol. Liq. 274, 379–392 (2019)

54.

M.I. Khan, T. Hayat, A. Alsaedi, S. Qayyum, M. Tamoor, Entropy optimization and quartic autocatalysis in MHD chemically reactive stagnation point flow of Sisko nanomaterial. Int. J. Heat Mass Transf. 127, 829–837 (2018)

55.

M. Rashid, M.I. Khan, T. Hayat, M.I. Khan, A. Alsaedi, Entropy generation in flow of ferromagnetic liquid with nonlinear radiation and slip condition. J. Mol. Liq. 276, 441–452 (2019)

56.

S. Qayyum, T. Hayat, M.I. Khan, M.I. Khan, A. Alsaedi, Optimization of entropy generation and dissipative nonlinear radiative Von Karman's swirling flow with Soret and Dufour effects. J. Mol. Liq. 262, 261–274 (2018)

57.

T. Hayat, S. Farooq, B. Ahmad, A. Alsaedi, Effectiveness of entropy generation and energy transfer on peristaltic flow of Jeffrey material with Darcy resistance. Int. J. Heat Mass Trans. 106, 244–252 (2017)

58.

M. Khan, A. Hussain, M.Y. Malik, T. Salahuddin, S. Aly, Numerical analysis of Carreau fluid flow for generalized Fourier's and Fick's laws. Appl. Numer. Math. 144, 100–117 (2019)
About this article
Cite this article
Ijaz Khan, M., Khan, S.A., Hayat, T. et al. Entropy generation analysis in MHD flow of viscous fluid by a curved stretching surface with cubic autocatalysis chemical reaction. Eur. Phys. J. Plus 135, 249 (2020). https://doi.org/10.1140/epjp/s13360-019-00030-1
Received:

Accepted:

Published: