Abstract
Spherically static black hole solution in vacuum GR and dRGT massive gravity with identical radius of event horizons are compared. First, we analyze the differences between the two theories in terms of some basic thermodynamics properties such as the Hawking temperature and the specific heat capacity. Then, for a more detailed comparison we construct thin-shell wormholes in both theories and study their different aspects, namely the amount of the exotic matter and the linear dynamic stability.
This is a preview of subscription content, log in to check access.
Access options
Buy single article
Instant access to the full article PDF.
US$ 39.95
Price includes VAT for USA
Subscribe to journal
Immediate online access to all issues from 2019. Subscription will auto renew annually.
US$ 99
This is the net price. Taxes to be calculated in checkout.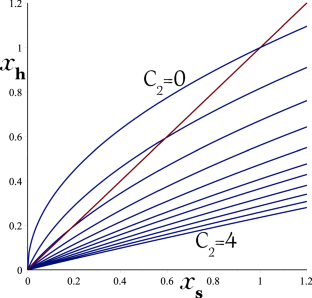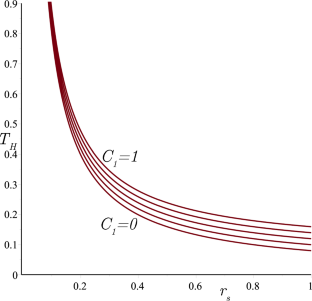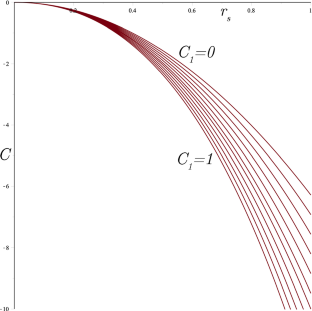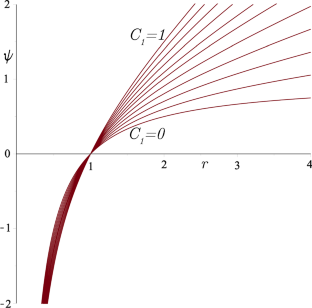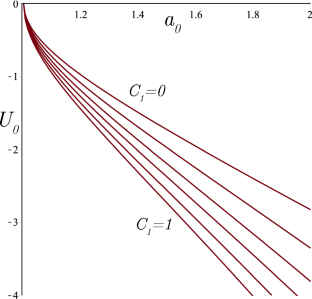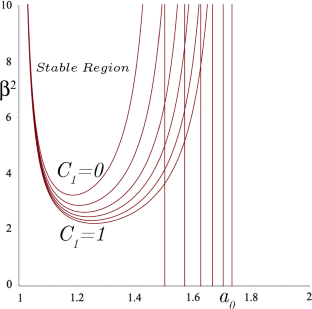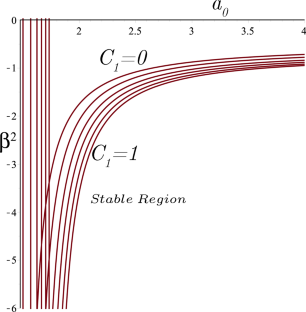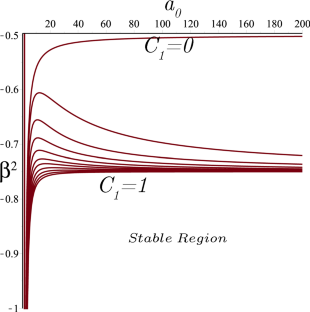 References
1.

K. Schwarzschild, Sitzungsberichte der Deutschen Akademie der Wissencshaftenzu Berlin. Klasse fur Mathematik, Physik, und Technik 1916, 189 (1916)

2.

K.S. Virbhadra, G.F.R. Ellis, Phys. Rev. D 62, 084003 (2000)

3.

K.V. Kuchar, Phys. Rev. D 50, 3961 (1994)

4.

R.A. Konoplya, Phys. Rev. D 68, 024018 (2003)

5.

A. Ishibashi, H. Kodama, Prog. Theor. Phys. 110, 901 (2003)

6.

H.P. Nollert, Phys. Rev. D 47, 5253 (1993)

7.

R. Bousso, S.W. Hawking, Phys. Rev. D 57, 2436 (1998)

8.

J. Louko, S. Makela, Phys. Rev. D 54, 4982 (1996)

9.

S. Nojiri, S.D. Odintsov, Phys. Rep. 505, 59 (2011)

10.

S. Capozziello, M. De Laurentis, Phys. Rep. 509, 167 (2011)

11.

S. Nojiri, S.D. Odintsov, V.K. Oikonomou, Phys. Rep. 692, 1 (2017)

12.

T. Clifton, P.G. Ferreira, A. Padilla, C. Skordis, Phys. Rep. 513, 1 (2012)

13.

Y.F. Cai, S. Capozziello, M. De Laurentis, E.N. Saridakis, Rep. Prog. Phys. 79, 106901 (2016)

14.

S. Bahamonde, C.G. Bohmer, M. Wright, Phys. Rev. D 92, 104042 (2015)

15.

N. Bartolo, M. Pietroni, Phys. Rev. D 61, 023518 (1999)

16.

R. Mandal, C. Sarkarb, A.K. Sanyal, JHEP 05, 078 (2018)

17.

T. Damour. arXiv:gr-qc/9606079

18.

T. Damour, K. Nordtvedt, Phys. Rev. D 48, 3436 (1993)

19.

T. Damour, A.M. Polyakov, Nucl. Phys. B 423, 532 (1994)

20.

D.I. Santiago, D. Kalligas, R.V. Wagoner, Phys. Rev. D 58, 124005 (1998)

21.

B. Rose, Int. J. Phys. 31, 1283 (1992)

22.

R. Svarc, J. Podolsky, V. Pravda, A. Pravdova, Phys. Rev. Lett. 121, 231104 (2018)

23.

W.-H. Huang, Class. Quantum Gravity 35, 195004 (2018)

24.

E. Alvarez, J. Anero, S. Gonzalez-Martin, R. Santos-Garcia, Eur. Phys. J. C 78, 794 (2018)

25.

D.G. Boulware, S. Deser, Phys. Rev. Lett. 55, 2656 (1985)

26.

D. Lovelock, The Einstein tensor and its generalizations. J. Math. Phys. 12, 498 (1971)

27.

T.P. Sotiriou, V. Faraoni, Rev. Mod. Phys. 82, 451 (2010)

28.

H.A. Buchdahl, Mon. Not. R. Astron. Soc. 150, 1 (1970)

29.

W. Hu, I. Sawicki, Phys. Rev. D 76, 064004 (2007)

30.

S. Nojiri, S.D. Odintsov, Phys. Rev. D 74, 086005 (2006)

31.

T. Multamaki, I. Vilja, Phys. Rev. D 74, 064022 (2006)

32.

T. Harko, F.S.N. Lobo, S. Nojiri, S.D. Odintsov, Phys. Rev. D 84, 024020 (2011)

33.

P. Rastall, Phys. Rev. D 6, 3357 (1972)

34.

E.A. Bergshoe, O. Hohm, P.K. Townsend, Phys. Rev. Lett. 102, 201301 (2009)

35.

H. Ahmedov, A.N. Aliev, Phys. Rev. Lett. 106, 021301 (2011)

36.

Y. Liu, Y.-W. Sun, JHEP 04, 106 (2009)

37.

C. de Rham, G. Gabadadze, D. Pirtskhalava, A.J. Tolley, I. Yavin, J. High Energy Phys. 06, 028 (2011)

38.

C. de Rham, Living Rev. Relativ. 17, 7 (2014)

39.

K. Hinterbichler, Rev. Mod. Phys. 84, 671 (2012)

40.

C. de Rham, C. R. Phys. 13, 666 (2012)

41.

C. de Rham, G. Dvali, S. Hofmann, J. Khoury, O. Pujolas, M. Redi, A.J. Tolley, Phys. Rev. Lett. 100, 251603 (2008)

42.

C. de Rham, M. Fasiello, A.J. Tolley, Phys. Lett. B 733, 46 (2014)

43.

C. de Rham, G. Gabadadze, A.J. Tolley, Phys. Lett. B 711, 190 (2012)

44.

A. Rosen, JHEP 07, 009 (2011)

45.

L. Alberte, A.H. Chamseddine, V. Mukhanov, JHEP 12, 023 (2010)

46.

C. de Rham, G. Gabadadze, Generalization of the Fierz–Pauli action. Phys. Rev. D 82, 044020 (2010)

47.

C. de Rham, G. Gabadadze, A.J. Tolley, Phys. Rev. Lett. 106, 231101 (2011)

48.

K. Hinterbichler, Theoretical aspects of massive gravity. Rev. Mod. Phys. 84, 671 (2012)

49.

S.F. Hassan, R.A. Rosen, Phys. Rev. Lett. 108, 041101 (2012)

50.

S.F. Hassan, R.A. Rosen, J. High Energy Phys. 1204, 123 (2012)

51.

K. Koyama, G. Niz, G. Tasinato, Phys. Rev. Lett. 107, 131101 (2011)

52.

D. Vegh. arXiv:1301.0537

53.

T.M. Nieuwenhuizen, Phys. Rev. D 84, 024038 (2011)

54.

R.G. Cai, Y.P. Hu, Q.Y. Pan, Y.L. Zhang, Phys. Rev. D 91, 024032 (2015)

55.

C.H. Nam, Eur. Phys. J. C 78, 1016 (2018)

56.

G. Tasinato, K. Koyama, G. Niz, Class. Quantum Gravity 30, 184002 (2013)

57.

A. Adams, D.A. Roberts, O. Saremi, Phys. Rev. D 91, 046003 (2015)

58.

S.G. Ghosh, L. Tannukij, P. Wongjun, Eur. Phys. J. C 76, 119 (2016)

59.

M. Sadeghi, Eur. Phys. J. C 78, 875 (2018)

60.

M. Visser, Phys. Rev. D 39, 3182 (1989)

61.

M. Visser, Nucl. Phys. B 328, 203 (1989)

62.

M.S. Morris, K.S. Thorne, Am. J. Phys. 56, 395 (1988)

63.

M.S. Morris, K.S. Thorne, U. Yurtsever, Phys. Rev. Lett. 61, 1446 (1988)

64.

M. Visser, Lorentzian Wormholes–from Einstein to Hawking (American Institute of Physics, New York, 1995)

65.

E. Poisson, M. Visser, Phys. Rev. D 52, 7318 (1995)

66.

F.S.N. Lobo, P. Crawford, Class. Quantum Gravity 21, 391 (2004)

67.

E.F. Eiroa, C. Simeone, Phys. Rev. D 70, 044008 (2004)

68.

E.F. Eiroa, C. Simeone, Phys. Rev. D 81, 084022 (2010)

69.

F.S.N. Lobo, P. Crawford, Class. Quantum Gravity 22, 4869 (2005)

70.

N.M. Garcia, F.S.N. Lobo, M. Visser, Phys. Rev. D 86, 044026 (2012)

71.

E.F. Eiroa, C. Simeone, Phys. Rev. D 71, 127501 (2005)

72.

C. Bejarano, E.F. Eiroa, Phys. Rev. D 84, 064043 (2011)

73.

F. Rahaman, M. Kalam, S. Chakraborty, Gen. Relativ. Gravit. 38, 1687 (2006)

74.

E.F. Eiroa, M.G. Richarte, C. Simeone, Phys. Lett. A 373, 1 (2008)

75.

E.F. Eiroa, C. Simeone, Phys. Rev. D 82, 084039 (2010)

76.

X. Yue, S. Gao, Phys. Lett. A 375, 2193 (2011)

77.

M. Thibeault, C. Simeone, E.F. Eiroa, Gen. Relativ. Gravit. 38, 1593 (2006)

78.

S.H. Mazharimousavi, M. Halilsoy, Z. Amirabi, Phys. Rev. D 81, 104002 (2010)

79.

S.H. Mazharimousavi, M. Halilsoy, Z. Amirabi, Class. Quantum Gravity 28, 025004 (2011)

80.

Z. Amirabi, M. Halilsoy, S. Habib Mazharimousavi, Phys. Rev. D 88, 124023 (2013)

81.

M.H. Dehghani, Z. Dayyani, Phys. Rev. D 79, 064010 (2009)

82.

M.H. Dehghani, M.R. Mehdizadeh, Phys. Rev. D 85, 024024 (2012)

83.

M.G. Richarte, C. Simeone, Phys. Rev. D 80, 104033 (2009)

84.

S.H. Mazharimousavi, M. Halilsoy, Z. Amirabi, Phys. Lett. A 375, 3649 (2011)

85.

E.F. Eiroa, G.F. Aguirre, Eur. Phys. J. C 72, 2240 (2012)

86.

M. Sharif, M. Azam, Phys. Lett. A 378, 2737 (2014)

87.

F. Rahaman, P.K.F. Kuh ttig, M. Kalam, A.A. Usmani, S. Ray, Class. Quantum Gravity 28, 155021 (2011)

88.

A. Kehagias, K. Sfetsos, Phys. Lett. B 678, 123 (2009)

89.

A. Banerjee, Int. J. Theor. Phys. 52, 2943 (2013)

90.

S.H. Hendi, B. Eslam Panah, S. Panahiyan, M. Momennia, Eur. Phys. J. C 78, 432 (2018)

91.

S.H. Hendi, B. Eslam Panah, S. Panahiyan, Fortschr. Phys. 66, 1800005 (2018)

92.

S.H. Hendi, B. Eslam Panah, S. Panahiyan, H. Liu, X.-H. Meng, Phys. Lett. B 781, 40 (2018)

93.

W.-D. Guo, S.-W. Wei, Y.-Y. Li, Y.-X. Liu, Eur. Phys. J. C 77, 904 (2017)

94.

S.H. Hendi, R.B. Mann, S. Panahiyan, B. Eslam Panah, Phys. Rev. D 95, 021501(R) (2017)

95.

D.-C. Zou, R. Yue, M. Zhang, Eur. Phys. J. C 77, 256 (2017)

96.

Y.-P. Hu, X.-M. Wu, H. Zhang, Phys. Rev. D 95, 084002 (2017)

97.

S.H. Hendi, G.-Q. Li, J.-X. Mo, S. Panahiyan, B. Eslam Panah, Eur. Phys. J. C 76, 571 (2016)

98.

P. Prasia, V.C. Kuriakose, Gen. Relativ. Gravit. 48, 89 (2016)

99.

S.H. Hendi, B. Eslam Panah, S. Panahiyan, JHEP 05, 029 (2016)

100.

T.Q. Do, Phys. Rev. D 93, 104003 (2016)

101.

S.H. Hendi, B. Eslam Panah, S. Panahiyan, Class. Quantum Gravity 33, 235007 (2016)

102.

S.H. Hendi, B. Eslam Panah, S. Panahiyan, JHEP 11, 157 (2015)

103.

S.H. Hendi, S. Panahiyan, B. Eslam Panah, JHEP 01, 129 (2016)

104.

J. Xu, L.-M. Cao, Y.-P. Hu, Phys. Rev. D 91, 124033 (2015)

105.

D.G. Boulware, S. Deser, Phys. Rev. D 6, 3368 (1972)

106.

M. Barriola, A. Vilenkin, Phys. Rev. Lett. 63, 341 (1989)

107.

Q. Huang, J. Chen, Y. Wang, Int. J. Theor. Phys. 54(2), 459 (2015)

108.

T. Tamaki, N. Sakai, Phys. Rev. D 69, 044018 (2004)

109.

W.A. Hiscock, Phys. Rev. D 31, 3288 (1985)

110.

P.D. Mannheim, D. Kazanas, Astrophys. J. 342, 635P (1989)

111.

D. Mannheim, Prog. Part. Nucl. Phys. 56, 340 (2006)

112.

D. Grumiller, Phys. Rev. Lett. 105, 211303 (2010)

113.

D. Grumiller, W. Kummer, D.V. Vassilevich, Phys. Rep. 369, 327 (2002)

114.

L. Tannukij, P. Wongjun, S.G. Ghosh, Eur. Phys. J. C 77, 846 (2017)

115.

P. Boonserm, T. Ngampitipan, P. Wongjun, Eur. Phys. J. C 79, 330 (2019)

116.

W.S. Hawking, Nature 248, 30 (1974)

117.

J. Bekenstein, Lett. Nuov. Cimento 4, 737 (1972)

118.

J. Bekenstein, Phys. Rev. D 7, 2333 (1973)

119.

J. Bekenstein, Phys. Rev. D 9, 3292 (1974)

120.

W. Israel, Thin shells in general relativity. II Nuovo Cim. 66, 1 (1966)
About this article
Cite this article
Amirabi, Z. 3+1-Dimensional GR versus dRGT massive gravity: a thin-shell wormholes comparison. Eur. Phys. J. Plus 135, 9 (2020). https://doi.org/10.1140/epjp/s13360-019-00023-0
Received:

Accepted:

Published: