Abstract.
Complex fluids such as emulsions, colloidal gels, polymer or surfactant solutions are all characterized by the existence of a "microstructure" which may couple to an external flow on time scales that are easily probed in experiments. Such a coupling between flow and microstructure usually leads to instabilities under relatively weak shear flows that correspond to vanishingly small Reynolds numbers. Wormlike micellar surfactant solutions appear as model systems to study two examples of such instabilities, namely shear banding and elastic instabilities. Focusing on a semidilute sample we show that two-dimensional ultrafast ultrasonic imaging allows for a thorough investigation of unstable shear-banded micellar flows. In steady state, radial and azimuthal velocity components are recovered and unveil the original structure of the vortical flow within an elastically unstable high shear rate band. Furthermore thanks to an unprecedented frame rate of up to 20000fps, transients and fast dynamics can be resolved, which paves the way for a better understanding of elastic turbulence.
Graphical abstract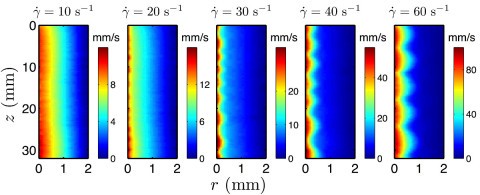 This is a preview of subscription content, log in to check access.
Access options
Buy single article
Instant unlimited access to the full article PDF.
US$ 39.95
Price includes VAT for USA
Subscribe to journal
Immediate online access to all issues from 2019. Subscription will auto renew annually.
US$ 199
This is the net price. Taxes to be calculated in checkout.
References
1

R.G. Larson, The Structure and Rheology of Complex Fluids (Oxford University Press, 1999)

2

E.R. Weeks, Soft jammed materials, in Statistical Physics of Complex Fluids, edited by S. Maruyama, M. Tokuyama (Tohoku University Press, Sendai, Japan, 2007) pp. 243--255

3

D.R. Foss, J.F. Brady, J. Fluid Mech. 407, 167 (2000)

4

B.J. Maranzano, N.J. Wagner, J. Chem. Phys. 117, 10291 (2002)

5

A. Fall, A. Lemaitre, F. Bertrand, D. Bonn, G. Ovarlez, Phys. Rev. Lett. 105, 268303 (2010)

6

C.W. Macosko, Rheology: Principles, Measurements, and Applications (Wiley-VCH, 1994)

7

G. Taylor, Phil. Trans. R. Soc. Lond. A 223, 289 (1923)

8

R. Larson, Rheologica Acta 31, 213 (1992)

9

A. Morozov, W. van Saarloos, Phys. Rep. 447, 112 (2007)

10

K. Weissenberg, S.M. Freeman, Principles of Rheological Measurement, in Proceedings of the General Conference of the British Rheologists' Club (1946)

11

R.I. Tanner, J. Polym. Sci. A2 8, 2067 (1970)

12

R.G. Larson, E.S.G. Shaqfeh, S.J. Muller, J. Fluid Mech. 218, 573 (1990)

13

A. Groisman, V. Steinberg, New J. Phys. 6, 29 (2004)

14

M.M. Denn, Annu. Rev. Fluid Mech. 33, 265 (2001)

15

G.V. Vinogradov, Rheol. Acta 12, 357 (1973)

16

J.F. Berret, Rheology of wormlike micelles: equilibrium properties and shear banding transition, in Molecular Gels: Materials With Self-Assembled Fibrillar Networks, edited by P. Terech, R.G. Weiss (Elsevier, 2006) p. 667, E-print cond-mat/0406681

17

M. Cates, S. Fielding, Adv. Phys. 55, 799 (2006)

18

S. Lerouge, J.F. Berret, Adv. Polym. Sci. 230, 1 (2010)

19

J. Yang, Curr. Opin. Colloid Interface Sci. 7, 276 (2002)

20

S. Ezrahi, E. Tuval, A. Aserin, Adv. Colloid Interface Sci. 128-130, 77 (2006)

21

J.P. Rothstein, Rheol. Rev. 6, 1 (2008)

22

H. Rehage, H. Hoffmann, Rheol. Acta 21, 561 (1982)

23

Y. Hu, P. Boltenhagen, D.J. Pine, J. Rheol. 42, 1185 (1998)

24

P. Boltenhagen, Y. Hu, E.F. Matthys, D.J. Pine, Europhys. Lett. 38, 389 (1997)

25

J.F. Berret, S. Lerouge, J.P. Decruppe, Langmuir 18, 7279 (2002)

26

P. Boltenhagen, Y. Hu, E.F. Matthys, D.J. Pine, Phys. Rev. Lett. 79, 2359 (1997)

27

Y. Hu, P. Boltenhagen, E. Matthys, D.J. Pine, J. Rheol. 42, 1209 (1998)

28

S.J. Muller, Korea-Aust. Rheol. J. 20, 117 (2008)

29

A.V. Shenoy, Colloid Polym. Sci. 262, 319 (1984)

30

C.S. Dutcher, S.J. Muller, J. Rheol. 57, 791 (2013)

31

D. Samanta, Y. Dubief, M. Holzner, C. Schäfer, A.N. Morozov, C. Wagner, B. Hof, Proc. Natl. Acad. Sci. U.S.A. 110, 10557 (2013)

32

K. Hyun, M. Wilhelm, C.O. Klein, K.S. Cho, J.G. Nam, K.H. Ahn, S.J. Lee, R.H. Ewoldt, G.H. McKinley, Prog. Polym. Sci. 36, 1697 (2011)

33

J.K. Dhont, N.J. Wagner, Phys. Rev. E 63, 021406 (2001)

34

P. Ballesta, M.P. Lettinga, S. Manneville, J. Rheol. 51, 1047 (2007)

35

S. Kim, J. Mewis, C. Clasen, J. Vermant, Rheol. Acta 52, 727 (2013)

36

M. Vasudevan, E. Buse, D. Lu, H. Krishna, R. Kalyanaraman, A.Q. Shen, B. Khomami, R. Sureshkumar, Nat. Mater. 9, 436 (2010)

37

J.J. Cardiel, A.C. Dohnalkova, N. Dubash, Y. Zhao, P. Cheung, A.Q. Shen, Proc. Natl. Acad. Sci. U.S.A. 110, E1653 (2013)

38

V. Herle, P. Fischer, E.J. Windhab, Langmuir 21, 9051 (2005)

39

V. Herle, J. Kohlbrecher, B. Pfister, P. Fischer, E.J. Windhab, Phys. Rev. Lett. 99, 158302 (2007)

40

V. Herle, S. Manneville, P. Fischer, Eur. Phys. J. E 26, 3 (2008)

41

E.K. Wheeler, P. Fischer, G.G. Fuller, J. Non-Newtonian Fluid Mech. 75, 193 (1998)

42

V. Lutz-Bueno, J. Kohlbrecher, P. Fischer, Rheol. Acta 52, 297 (2013)

43

M.A. Fardin, T.J. Ober, C. Gay, G. Grégoire, G.H. McKinley, S. Lerouge, Soft Matter 8, 910 (2012)

44

A. Spenley, M.E. Cates, T.C.B. McLeish, Phys. Rev. Lett. 71, 939 (1993)

45

P.D. Olmsted, Rheol. Acta 47, 283 (2008)

46

C. Grand, J. Arrault, M.E. Cates, J. Phys. II 7, 1071 (1997)

47

J.F. Berret, Langmuir 13, 2227 (1997)

48

S. Manneville, Rheol. Acta 47, 301 (2008)

49

M.M. Britton, P.T. Callaghan, Phys. Rev. Lett. 78, 4930 (1997)

50

J.B. Salmon, A. Colin, S. Manneville, F. Molino, Phys. Rev. Lett. 90, 228303 (2003)

51

J.B. Salmon, S. Manneville, A. Colin, Phys. Rev. E 68, 051503 (2003)

52

S. Manneville, A. Colin, G. Waton, F. Schosseler, Phys. Rev. E 75, 061502 (2007)

53

J. Sprakel, E. Spruijt, M.A. Cohen Stuart, N.A.M. Besseling, M.P. Lettinga, J. van der Gucht, Soft Matter 4, 1696 (2008)

54

L. Bécu, S. Manneville, A. Colin, Phys. Rev. Lett. 93, 018301 (2004)

55

L. Bécu, D. Anache, S. Manneville, A. Colin, Phys. Rev. E 76, 011503 (2007)

56

M.R. López-González, W.M. Holmes, P.T. Callaghan, P. Photinos, Phys. Rev. Lett. 93, 268302 (2004)

57

S. Manneville, J.B. Salmon, A. Colin, Eur. Phys. J. E 13, 197 (2004)

58

M.A. Fardin, B. Lasne, O. Cardoso, G. Grégoire, M. Argentina, J.P. Decruppe, S. Lerouge, Phys. Rev. Lett. 103, 028302 (2009)

59

M. Fardin, T. Ober, C. Gay, G. Grégoire, G. McKinley, S. Lerouge, Europhys. Lett. 96, 44004 (2011)

60

M.A. Fardin, T.J. Ober, V. Grenard, T. Divoux, S. Manneville, G.H. McKinley, S. Lerouge, Soft Matter 8, 10072 (2012)

61

P. Pakdel, G.H. McKinley, Phys. Rev. Lett. 77, 2459 (1996)

62

M.A. Fardin, S. Lerouge, Eur. Phys. J. E 35, 9767 (2012)

63

P. Ballesta, S. Manneville, Phys. Rev. E 71, 026308 (2005)

64

P. Ballesta, S. Manneville, Europhys. Lett. 76, 429 (2006)

65

P. Ballesta, S. Manneville, J. Non-Newtonian Fluid Mech. 147, 23 (2007)

66

T. Epstein, R.D. Deegan, Phys. Rev. E 81, 066310 (2010)

67

F. Boulogne, L. Pauchard, F. Giorgiutti-Dauphiné, S. Lerouge, M.A. Fardin, Soft Matter 9, 7787 (2013)

68

M.E. Helgeson, M.D. Reichert, Y.T. Hu, N.J. Wagner, Soft Matter 5, 3858 (2009)

69

M.E. Helgeson, P.A. Vasquez, E.W. Kaler, N.J. Wagner, J. Rheol. 53, 727 (2009)

70

G. Schmidt, S. Müller, P. Lindner, C. Schmidt, W. Richtering, J. Phys. Chem. B 102, 507 (1998)

71

G. Montalvo, M. Valiente, E. Rodenas, Langmuir 12, 5202 (1996)

72

P.C.F. Møller, S. Rodts, M.A.J. Michels, D. Bonn, Phys. Rev. E 77, 041507 (2008)

73

P. Coussot, J.S. Raynaud, F. Bertrand, P. Moucheront, J.P. Guilbaud, H.T. Huynh, S. Jarny, D. Lesueur, Phys. Rev. Lett. 88, 218301 (2002)

74

A. Ragouilliaux, G. Ovarlez, N. Shahidzadeh-Bonn, B. Herzhaft, T. Palermo, P. Coussot, Phys. Rev. E 76, 051408 (2007)

75

P.C.F. Møller, A. Fall, V. Chikkadi, D. Derks, D. Bonn, Phil. Trans. R. Soc. London, Ser. A 367, 5139 (2009)

76

P. Coussot, G. Ovarlez, Eur. Phys. J. E 33, 183 (2010)

77

P. Schall, M. van Hecke, Annu. Rev. Fluid Mech. 42, 67 (2010)

78

S. Manneville, L. Bécu, A. Colin, Eur. Phys. J. AP 28, 361 (2004)

79

T. Gallot, C. Perge, V. Grenard, M.A. Fardin, N. Taberlet, S. Manneville, Rev. Sci. Instrum. 84, 045107 (2013)

80

S. Lerouge, M. Argentina, J.P. Decruppe, Phys. Rev. Lett. 96, 088301 (2006)

81

M.A. Fardin, S. Lerouge, M. Argentina, G. Grégoire, O. Cardoso, Soft Matter 4, 1808 (2008)

82

M.P. Lettinga, S. Manneville, Phys. Rev. Lett. 103, 248302 (2009)

83

M.A. Fardin, T. Divoux, M.A. Guedeau-Boudeville, I. Buchet-Maulien, J. Browaeys, G.H. McKinley, S. Manneville, S. Lerouge, Soft Matter 8, 2535 (2012)

84

R. Tagg, Nonlinear Sci. Today 4, 1 (1994)

85

A. Groisman, V. Steinberg, Phys. Rev. Lett. 78, 1460 (1997)

86

S.M. Fielding, Phys. Rev. Lett. 104, 198303 (2010)

87

A. Nicolas, A. Morozov, Phys. Rev. Lett. 108, 088302 (2012)

88

Y.T. Hu, A. Lips, J. Rheol. 49, 1001 (2005)

89

G. Taylor, Proc. R. Soc. London, Ser. A 157, 546 (1936)

90

M.A. Fardin, D. Lopez, J. Croso, G. Grégoire, O. Cardoso, G.H. McKinley, S. Lerouge, Phys. Rev. Lett. 104, 178303 (2010)
Electronic supplementary material
About this article
Cite this article
Perge, C., Fardin, M. & Manneville, S. Surfactant micelles: Model systems for flow instabilities of complex fluids. Eur. Phys. J. E 37, 23 (2014) doi:10.1140/epje/i2014-14023-4
Received:

Revised:

Accepted:

Published:
Keywords
Topical issue: Irreversible Dynamics: A topical issue dedicated to Paul Manneville