Abstract
The search for reliable sources of incoherent and coherent extreme ultraviolet (XUV) radiation in different spectral ranges is an important task in laser physics. Here we report on the incoherent emission of XUV radiation in the region of 6 nm from boron plasma. The optimization of target ablation allowed the generation of XUV emission mainly originated from a single B IV transition (λ = 6.03 nm). We also demonstrate the generation of the 806 nm radiation harmonics up to the 55th order (λ = 14.6 nm) and of tunable near infrared radiation (1280–1400 nm) up to the 35th order (λ=38 nm), during the propagation of femtosecond pulses through boron plasma. The incoherent and coherent emissions from this target were compared and analyzed considering the influence of ionic transitions on the B IV emission and harmonic efficiency. We present different schemes of laser-plasma interaction (two-color pump of B plasma, generation of tunable harmonics in XUV range, formation of structured extended plasma, ablation of boron nanoparticles, laser-induced breakdown spectroscopy, overheating of boron targets, quasi-phase matching of plasma harmonics, etc.) during the ablation of boron-containing targets.
Graphical abstract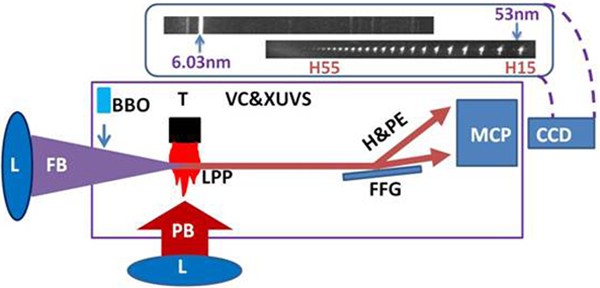 This is a preview of subscription content, log in to check access.
Access options
Buy single article
Instant access to the full article PDF.
US$ 39.95
Price includes VAT for USA
Subscribe to journal
Immediate online access to all issues from 2019. Subscription will auto renew annually.
US$ 199
This is the net price. Taxes to be calculated in checkout.
References
1.

R.A. Ganeev, H. Singhal, P.A. Naik, U. Chakravarty, V. Arora, J.A. Chakera, R.A. Khan, M. Raghuramaiah, S.R. Kumbhare, R.P. Kushwaha, P.D. Gupta, Appl. Phys. B 87, 243 (2007)

2.

T. Ozaki, L.B. Elouga Bom, R. Ganeev, J.-C. Kieffer, M. Suzuki, H. Kuroda, Laser Part. Beams 25, 321 (2007)

3.

R.A. Ganeev, M. Suzuki, M. Baba, H. Kuroda, Phys. Rev. A 76, 023805 (2007)

4.

L.B. Elouga Bom, F. Bouzid, F. Vidal, J.C. Kieffer, T. Ozaki, J. Phys. B: At. Mol. Opt. Phys. 41, 215401 (2008)

5.

H. Singhal, V. Arora, B.S. Rao, P.A. Naik, U. Chakravarty, R.A. Khan, P.D. Gupta, Phys. Rev. A 79, 023807 (2009)

6.

I.A. Kulagin, T. Usmanov, Opt. Lett. 34, 2616 (2009)

7.

D. Cricchio, P.P. Corso, E. Fiordilino, G. Orlando, F. Persico, J. Phys. B 42, 085404 (2009)

8.

V. Strelkov, Phys. Rev. Lett. 104, 123901 (2010)

9.

D.B. Milošević, Phys. Rev. A 81, 023802 (2010)

10.

M.V. Frolov, N.L. Manakov, A.F. Starace, Phys. Rev. A 82, 023424 (2010)

11.

L.B. Elouga Bom, Y. Pertot, V.R. Bhardwaj, T. Ozaki, Opt. Express 19, 3077 (2011)

12.

R.A. Ganeev, P.A. Naik, H. Singhal, J.A. Chakera, M. Kumar, M.P. Joshi, A.K. Srivastava, P.D. Gupta, Phys. Rev. A 83, 013820 (2011)

13.

Y. Pertot, L.B. Elouga Bom, V.R. Bhardwaj, T. Ozaki, Appl. Phys. Lett. 98, 101104 (2011)

14.

L.B. Elouga Bom, Y. Pertot, V.R. Bhardwaj, T. Ozaki, Opt. Express 19, 3677 (2011)

15.

M. Tudorovskaya, M. Lein, Phys. Rev. A 84, 013430 (2011)

16.

Y. Pertot, S. Chen, S.D. Khan, L.B. Elouga Bom, T. Ozaki, Z. Chang, J. Phys. B: At. Mol. Opt. Phys. 45, 074017 (2012)

17.

R.A. Ganeev, V.V. Strelkov, C. Hutchison, A. Zar, D. Kilbane, M.A. Khokhlova, J.P. Marangos, Phys. Rev. A 85, 023832 (2012)

18.

S. Haessler, L.B. Elouga Bom, O. Gobert, J.F. Hergott, F. Lepetit, M. Perdrix, B. Carré, T. Ozaki, P. Salières, J. Phys. B: At. Mol. Opt. Phys. 45, 074012 (2012)

19.

S. Haessler, V. Strelkov, L.B. Elouga Bom, M. Khokhlova, O. Gobert, J.F. Hergott, F. Lepetit, M. Perdrix, T. Ozaki, P. Salières, New J. Phys. 15, 013051 (2013)

20.

M. Kumar, H. Singhal, J.A. Chakera, P.A. Naik, R.A. Khan, P.D. Gupta, J. Appl. Phys. 114, 033112 (2013)

21.

H. Singhal, P.A. Naik, M. Kumar, J.A. Chakera, P.D. Gupta, J. Appl. Phys. 115, 033104 (2014)

22.

N. Rosenthal, G. Marcus, Phys. Rev. Lett. 115, 133901 (2015)

23.

M.A. Fareed, N. Thiré, S. Mondal, B.E. Schmidt, F. Légaré, T. Ozaki, Appl. Phys. Lett. 108, 124104 (2016)

24.

M.A. Fareed, S. Mondal, Y. Pertot, T. Ozaki, J. Phys. B: At. Mol. Opt. Phys. 49, 035604 (2016)

25.

M.A. Fareed, V.V. Strelkov, N. Thiré, S. Mondal, B.E. Schmidt, F. Légaré, T. Ozaki, Nat. Commun. 8, 16061 (2017)

26.

M. Wöstmann, L. Splitthoff, H. Zacharias, Opt. Express 26, 14524 (2018)

27.

Z. Abdelrahman, M.A. Khohlova, D.J. Walke, T. Witting, A. Zair, V.V. Strelkov, J.P. Marangos, J.W.G. Tisch, Opt. Express 26, 15745 (2018)

28.

M.A. Fareed, V.V. Strelkov, M. Singh, N. Thiré, S. Mondal, B.E. Schmidt, F. Légaré, T. Ozaki, Phys. Rev. Lett. 121, 023201 (2018)

29.

I.S. Wahyutama, T. Sato, K.L. Ishikawa, Phys. Rev. A 99, 063420 (2019)

30.

M. Kumar, H. Singhal, J.A. Chakera, J. Appl. Phys. 125, 155902 (2019)

31.

M. Oujja, A. Bentez-Canete, M. Sanz, I. Lopez-Quintas, M. Martn, R. de Nalda, M. Castillejo, Appl. Surf. Sci. 336, 53 (2015)

32.

S.A. Akhmanov, I.M. Bayanov, S.V. Gaponov, V.M. Gordienko, M.S. Dzhidzhoev, V.V. Ivanov, S.V. Krayushkin, S.A. Magnitsky, V.T. Platonenko, Y.Y. Platonov, Y.V. Ponomarev, A.B. Savel'ev, N.N. Salastchenko, E.V. Slobodchikov, A.P. Tarasevich, Bull. Russ. Acad. Sci. Phys. 56, 1372 (1992)

33.

M.S. Dzhidzhoev, V.M. Gordienko, V.V. Kolchin, S.A. Magnitsky, V.T. Platonenko, A.B. Savel'ev, A.P. Tarasevitch, J. Opt. Soc. Am. B 13, 193 (1996)

34.

G. Arai, H. Hara, T. Hatano, T. Ejima, W. Jiang, H. Ohashi, S. Namba, A. Sunahara, A. Sasaki, M. Nishikino, G. O'Sullivan, T. Higashiguchi, Opt. Express 26, 27748 (2018)

35.

J. Osterholz, F. Brandl, T. Fischer, D. Hemmers, M. Cerchez, G. Pretzler, O. Willi, S.J. Rose, Phys. Rev. Lett. 96, 085002 (2006)

36.

H. Kondo, T. Tomie, H. Shimizu, Appl. Phys. Lett. 72, 2668 (1998)

37.

R. Ganeev, M. Suzuki, M. Baba, H. Kuroda, T. Ozaki, Opt. Lett. 30, 768 (2005)

38.

Y. Akiyama, K. Midorikawa, Y. Matsunawa, Y. Nagata, M. Obara, H. Tashiro, K. Toyoda, Phys. Rev. Lett. 69, 2176 (1992)

39.

W. Theobald, C. Wülker, F.R. Schäfer, B.N. Chichkov, Opt. Commun. 120, 177 (1995)

40.

H.M. Milchberg, S.J. Mcnaught, E. Parra, Phys. Rev. E 64, 056402 (2001)

41.

V.P. Krainov, M.B. Smirnov, Phys. Rep. 370, 237 (2002)

42.

M. Kumar, R. Singh, U. Verma, Laser Part. Beams 32, 9 (2014)

43.

R.A. Ganeev, M. Baba, M. Suzuki, H. Kuroda, J. Appl. Phys. 99, 103303 (2006)

44.

R.A. Ganeev, M. Suzuki, M. Baba, H. Kuroda, Eur. Phys. J. D 37, 255 (2006)

45.

A.M. Rubenchik, M.D. Feit, M.D. Perry, J.T. Larsen, Appl. Surf. Sci. 129, 193 (1998)

46.

L.B. Elouga Bom, J.C. Kieffer, R.A. Ganeev, M. Suzuki, H. Kuroda, T. Ozaki, Phys. Rev. A 75, 033804 (2007)

47.

R.A. Ganeev, C. Hutchison, T. Witting, F. Frank, W.A. Okell, A. Zar, S. Weber, P.V. Redkin, D.Y. Lei, T. Roschuk, S.A. Maier, I. López-Quintás, M. Martn, M. Castillejo, J.W.G. Tisch, J.P. Marangos, J. Phys. B: At. Mol. Opt. Phys. 45, 165402 (2012)

48.

J. Roth, F. Géahler, H.R. Trebin, Int. J. Mod. Phys. C 11 317 (2000)

49.

M. Wöstmann, P.V. Redkin, J. Zheng, H. Witte, R.A. Ganeev, H. Zacharias, Appl. Phys. B 120, 17 (2015)

50.

R.A. Ganeev, J. Zheng, M. Wöstmann, H. Witte, P.V. Redkin, H. Zacharias, Eur. Phys. J. D 68, 325 (2014)

51.

R.A. Ganeev, M. Suzuki, H. Kuroda, Phys. Rev. A 89, 033821 (2014)

52.

R.A. Ganeev, V. Tosa, K. Kovács, M. Suzuki, S. Yoneya, H. Kuroda, Phys. Rev. A 91, 043823 (2015)

53.

V.V. Strelkov, R.A. Ganeev, Opt. Express 25, 21068 (2017)

54.

M. Wöstmann, L. Splitthoff, H. Zacharias, Opt. Express 26, 14524 (2018)

55.

J. Seres, V.S. Yakovlev, E. Seres, C.H. Streli, P. Wobrauschek, C.H. Spielmann, F. Krausz, Nat. Phys. 3, 878 (2007)

56.

A. Pirri, C. Corsi, M. Bellini, Phys. Rev. A 78, 011801 (2008)

57.

V. Tosa, V.S. Yakovlev, F. Krausz, New J. Phys. 10, 025016 (2008)

58.

T. Fok, Ł. Wegrzyński, M. Kozlova, J. Nejdl, P.W. Wachulak, R. Jarocki, A. Bartnik, H. Fiedorovicz, Photonics Lett. Pol. 6, 14 (2014)

59.

M. Negro, C. Vozzi, K. Kovacs, C. Altucci, R. Velotta, F. Frassetto, L. Poletto, P. Villoresi, S. De Silvestri, V. Tosa, Laser Phys. Lett. 8, 875 (2011)

60.

E. Takahashi, P. Lan, O.D. Mücke, Y. Nabekawa, K. Midorikawa, Nat. Commun. 4, 2691 (2013)

61.

M. Oujja, I. Lopez Quintas, A. Bentez Cañete, R. de Nalda, M. Castillejo, Appl. Surf. Sci. 392, 572 (2017)

62.

M. Oujja, J.G. Izquierdo, L. Banares, R. de Nalda, M. Castillejo, Phys. Chem. Chem. Phys. 20, 16956 (2018)

63.

R.A. Ganeev, T. Witting, C. Hutchison, F. Frank, P.V. Redkin, W.A. Okell, D.Y. Lei, T. Roschuk, S.A. Maier, J.P. Marangos, J.W.G. Tisch, Phys. Rev. A 85, 015807 (2012)

64.

R.A. Ganeev, Phys. Usp. 58, 772 (2013)
About this article
Cite this article
Iqbal, M., Ganeev, R.A., Boltaev, G.S. et al. Incoherent and coherent extreme ultraviolet emission from boron plasma. Eur. Phys. J. D 74, 28 (2020). https://doi.org/10.1140/epjd/e2020-100545-4
Received:

Revised:

Published:
Keywords
Optical Phenomena and Photonics