Abstract
We present analytical formulas for the vacuum-polarization Uehling potential in the case where the finite size of the nucleus is modeled by a Fermi charge distribution. Using a Sommerfeld-type development, the potential is expressed in terms of multiple derivatives of a particular integral. The latter and its derivatives can be evaluated exactly in terms of Bickley-Naylor functions, whose connection to the Uehling potential was already pointed out in the pure Coulomb case, and of usual Bessel functions of the second kind. The cusp and asymptotic expressions for the Uehling potential with a Fermi charge distribution are also provided. Analytical results for the higher-order-contribution Källén-Sabry potential are given.
Graphical abstract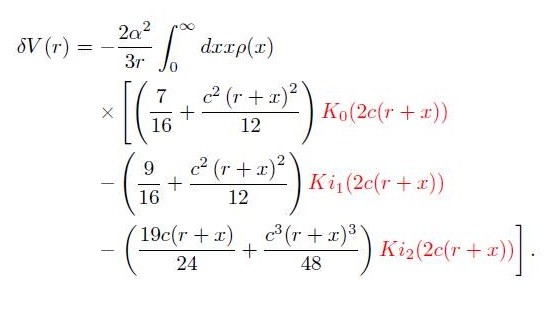 This is a preview of subscription content, log in to check access.
Access options
Buy single article
Instant access to the full article PDF.
US$ 39.95
Price includes VAT for USA
Subscribe to journal
Immediate online access to all issues from 2019. Subscription will auto renew annually.
US$ 199
This is the net price. Taxes to be calculated in checkout.
References
1.

A.I. Akhiezer, V.B. Beresteskii, Quantum electrodynamics (Nauka Science, Moscow, 1981) in Russian; Interscience, New York, 1965

2.

W. Greiner, J. Reinhardt, Quantum electrodynamics, 4th edn. (Springer Verlag, Berlin, 2010)

3.

E.A. Uehling, Phys. Rev. 48, 55 (1935)

4.

E.H. Wichmann, N.H. Kroll, Phys. Rev. 101, 843 (1956)

5.

P. Pyykkö, M. Tokman, L.N. Labzowsky, Phys. Rev. A 57, R689 (1998)

6.

P. Pyykkö, L.-B. Zhao, J. Phys. B: At. Mol. Opt. Phys. 36, 1469 (2003)

7.

M. Abramowitz, I.A. Stegun, Handbook of mathematical functions (Dover, New York, 1972)

8.

I. Mező, An alternative form for the Uehling potential, http://sites.google.com/site/istvanmezo81/others

9.

V.B. Berestetskii, E.M. Lifshitz, L.P. Pitaevskii, in Quantum electrodynamics (Pergamon Press, Oxford, 1982), Vol. 4

10.

K.-N.Huang, Phys. Rev. A14, 1311 (1976)

11.

L.W. Fullerton, G.A. Rinker Jr., Phys. Rev. A 13, 1283 (1976)

12.

S. Klarsfeld, Phys. Lett. 66B, 86 (1977)

13.

W. Pauli, M.E. Rose, Phys. Rev. 49, 462 (1936)

14.

W.G. Bickley, Philos. Mag. 20, 322 (1935)

15.

W.G. Bickley, J. Naylor, Philos. Mag. 20, 343 (1935)

16.

J.M. Blair, C.A. Edwards, J.H. Johnson, Math. Comput. 32, 876 (1978)

17.

A.M. Frolov, D.M. Wardlaw, Eur. Phys. J. B 85, 348 (2012)

18.

A.M. Frolov, Can. J. Phys. 92, 1094 (2014)

19.

V. Hnizdo, Comput. Phys. Commun. 83, 95 (1994)

20.

A.M. Frolov, arXiv:1210.6737v8 (2013)

21.

J.S.M. Ginges, J.C. Berengut, J. Phys. B: At. Mol. Opt. Phys. 49, 095001 (2016)

22.

R.D. Woods, D.S. Saxon, Phys. Rev. 95, 577 (1954)

23.

W.R. Johnson, Note on the Uehling potential, http://www3.nd.edu/johnson/Publications/uehling.pdf

24.

B. Fricke, W. Greiner, J.T. Waber, Theor. Chim. Acta 21, 235 (1971)

25.

D. Andrae, Phys. Rep. 336, 413 (2000)

26.

G.D. Mahan, Many particle physics (Plenum, New York, 1981)

27.

S. Goedecker, Phys. Rev. B 48, 17573 (1993)

28.

M. Grypeos, C. Koutroulos, V. Lukyanov, A. Shebeko, J. Phys. G: Nucl. Part. Phys. 24, 1913 (1998)

29.

N.W. Ashcroft, N.D. Mermin, Solid state physics (Saunders, Philadelphia, 1976)

30.

R.J. McKee, Phys. Rev. 180, 1139 (1969)

31.

R. Glauber, W. Rarita, P. Schwed, Phys. Rev. 120, 609 (1960)

32.

F. Roesel, D. Trautman, R.D. Viollier, Nucl. Phys. A292, 523 (1977)

33.

Y.L. Luke, Integrals of Bessel functions (McGraw-Hill Book Co. Inc., New York, 1962)

34.

R. Hem Prabha, R.D.S. Yadav, Ann. Nucl. Energy 23, 1021 (1996)

35.

T.H. Schucan, Nucl. Phys. 61, 417 (1965)

36.

G. Källén, A. Sabry, Det Kongelige Danske Videnskabernes Selskab Matematisk-Fysiske Meddelelser 29, 3 (1955)

37.

S.M. Schneider, W. Greiner, G. Soff, J. Phys. B: At. Mol. Opt. Phys. 26, L529 (1993)

38.

P. Indelicato, Phys. Rev. A 87, 022501 (2013)

39.

J. Blomqvist, Nucl. Phys. B 48, 95 (1972)
About this article
Cite this article
Pain, J. On the vacuum-polarization Uehling potential for a Fermi charge distribution. Eur. Phys. J. D 72, 61 (2018). https://doi.org/10.1140/epjd/e2018-80457-8
Received:

Revised:

Published:
Keywords