Abstract
We study numerically transport and thermoelectric properties of electrons placed in a two-dimensional (2D) periodic potential. Our results show that the transition from sliding to pinned phase takes place at a certain critical amplitude of lattice potential being similar to the Aubry transition for the one-dimensional Frenkel-Kontorova model. We show that the 2D Aubry pinned phase is characterized by high values of Seebeck coefficient S ≈ 12. At the same time we find that the value of Seebeck coefficient is significantly influenced by the geometry of periodic potential. We discuss possibilities to test the properties of 2D Aubry phase with electrons on a surface of liquid helium.
Graphical abstract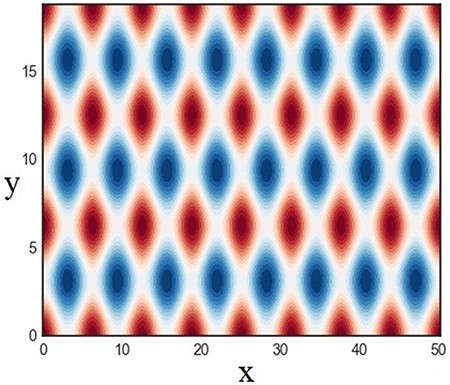 This is a preview of subscription content, log in to check access.
Access options
Buy single article
Instant access to the full article PDF.
US$ 39.95
Price includes VAT for USA
Subscribe to journal
Immediate online access to all issues from 2019. Subscription will auto renew annually.
US$ 199
This is the net price. Taxes to be calculated in checkout.
References
1.

E. Wigner, Phys. Rev. 46, 1002 (1934)

2.

Y. Monarkha, K. Kono,Two-Dimensional Coulomb liquids and solids (Springer-Verlag, Berlin, 2004)

3.

J.S. Meyer, K.A. Matveev, J. Phys. C.: Condens. Matter 21, 023203 (2009)

4.

I. Garcia-Mata, O.V. Zhirov, D.L. Shepelyansky, Eur. Phys. J. D 41, 325 (2007)

5.

O.M. Braun, Yu.S. Kivshar,The Frenkel-Kontorova Model: Concepts, Methods, Applications (Springer-Verlag, Berlin, 2004)

6.

B.V. Chirikov, Phys. Rep. 52, 263 (1979)

7.

A.J. Lichtenberg, M.A. Lieberman,Regular and chaotic dynamics (Springer, Berlin, 1992)

8.

J.D. Meiss, Rev. Mod. Phys. 64, 795 (1992)

9.

B. Chirikov, D. Shepelyansky, Scholarpedia 3, 3550 (2008)

10.

S. Aubry, Physica D 7, 240 (1983)

11.

O.V. Zhirov, D.L. Shepelyansky, Europhys. Lett. 103, 68008 (2013)

12.

O.V. Zhirov, J. Lages, D.L. Shepelyansky, Eur. Phys. J. D 73, 149 (2019)

13.

A.F. Ioffe,Semiconductor thermoelements, and thermoelectric cooling (Infosearch, Ltd, 1957)

14.

A.F. Ioffe, L.S. Stil'bans, Rep. Prog. Phys. 22, 167 (1959)

15.

A. Majumdar, Science 303, 777 (2004)

16.

H.J. Goldsmid,Introduction to thermoelectricity (Springer, Berlin, 2009)

17.

N. Li, J. Ren, L. Wang, G. Zhang, P. Hanggi, B. Li, Rev. Mod. Phys. 84, 1045 (2012)

18.

B.G. Levi, Phys. Today 67, 14 (2014)

19.

J. He, T.M. Tritt, Science 357, eaak9997 (2017)

20.

J.P. Heremans, M.S. Dresselhaus, L.E. Bell, D.T. Morelli, Nat. Nanotechnol. 8, 471 (2013)

21.

D.G.-Rees, S.-S. Yeh, B.-C. Lee, K. Kono, J.-J. Lin, Phys. Rev. B 96, 205438 (2017)

22.

J.-Y. Lin, A.V. Smorodin, A.O. Badrutdinov, D. Konstantinov, J. Low Temp. Phys. 195, 289 (2019)

23.

T. Pruttivarasin, M. Ramm, I. Talukdar, A. Kreuter, H. Haffner, New J. Phys. 13, 075012 (2011)

24.

A. Bylinskii, D. Gangloff, V. Vuletic, Science 348, 1115 (2015)

25.

A. Bylinskii, D. Gangloff, I. Countis, V. Vuletic, Nat. Mater. 11, 717 (2016)

26.

J. Kiethe, R. Nigmatullin, D. Kalincev, T. Schmirander, T.E. Mehlstaubler, Nat. Commun. 8, 15364 (2017)

27.

T. Laupretre, R.B. Linnet, I.D. Leroux, H. Landa, A. Dantan, M. Drewsen, Phys. Rev. A 99, 031401(R) (2019)

28.

T. Brazda, A. Silva, N. Manini, A. Vanossi, R. Guerra, E. Tosatti, C. Bechinger, Phys. Rev. X 8, 011050 (2018)

29.

M.Y. Zakharov, D. Demidov, D.L. Shepelyansky, Phys. Rev. B 99, 155416 (2019)

30.

S. Lepri, R. Livi, A. Politi, Phys. Rep. 377, 1 (2003)

31.

K. Ahnert, M. Mulansky, Odeint – solving ordinary differential equations in C++, inIP Conf. Proc. (2011), Vol. 1389, p. 1586

32.

D. Demidov, K. Ahnert, K. Rupp, P. Gottschling, SIAM J.Sci. Comput. 35, C453 (2013)

33.

D. Demidov, VEXCL, https://github.com/ddemidov/vexcl, Accessed Oct ober (2019)

34.

K. Ahnert, D. Demidov, M. Mulansky, Solving ordinarydifferential equations on GPUs, inNumerical Computations with GPUs, edited by V. Kindratenko (Springer, Berlin, 2014), pp. 125–157

35.

Olympe, CALMIP https://www.calmip.univ-toulouse.fr/spip.php?article582, Accessed Oct (2019)

36.

Yu.P. Monarkham, V.B. Shikin, Sov. Phys. JETP 41, 710 (1976)

37.

J. Tempere, S.N. Klimin, I.E. Silvera, J.T. Devreese, Eur. Phys. J. B 32, 329 (2003)

38.

K. Moskovtsev, M.I. Dykman, J. Low Temp. Phys. 195, 266 (2019)

39.

Y. Machida, X. Lin, W. Kang, K. Izawa, K. Behnia, Phys. Rev. Lett. 116, 087003 (2016)

40.

V. Narayan, M. Pepper, J. Griffiths, H. Beere, F. Sfigakis, G. Jones, D. Ritchie, A. Ghosh, Phys. Rev. B 86, 125406 (2012)

41.

Q. Du, M. Abeykoon, Y. Liu, G. Kotliar, C. Petrovic, Phys. Rev. Lett. 123, 076602 (2019)

42.

N.R. Beysengulov, D.G. Rees, D.G., D.A. Tayurskii, K. Kono, JETP Lett. 104, 323 (2016)

43.

A. Benassi, A. Vanossi, E. Tosatti, Nat. Commun. 2, 236 (2011)
About this article
Cite this article
Zakharov, M.Y., Demidov, D. & Shepelyansky, D.L. Thermoelectric properties of Wigner crystal in two-dimensional periodic potential. Eur. Phys. J. B 93, 31 (2020). https://doi.org/10.1140/epjb/e2020-100525-8
Received:

Revised:

Published:
Keywords
Statistical and Nonlinear Physics