Abstract
We present a method that generalises the standard mean field theory of correlated lattice bosons to include amplitude and phase fluctuations of the U(1) field that induces onsite particle number mixing. We solve the resulting problem, initially, by using a classical approximation for the particle number mixing field and a Monte Carlo treatment of the resulting bosonic model. In two dimensions we obtain Tc scales that dramatically improve on mean field theory and are within about 20% of quantum Monte Carlo estimates at density n = 1. The ground state, however, is still mean field, with an overestimate of the critical interaction, Uc, for the superfluid to Mott transition. Further including gaussian quantum fluctuations strikingly improves the Uc and the overall thermal phase diagram. The approach has a computational cost that is linear in system size, readily generalises to multispecies bosons, disorder, and the presence of traps, and yields real frequency response functions.
Graphical abstract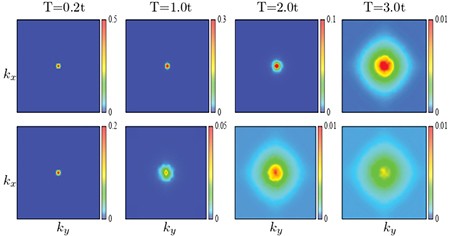 This is a preview of subscription content, log in to check access.
Access options
Buy single article
Instant access to the full article PDF.
US$ 39.95
Price includes VAT for USA
Subscribe to journal
Immediate online access to all issues from 2019. Subscription will auto renew annually.
US$ 199
This is the net price. Taxes to be calculated in checkout.
References
1.

M. Greiner, O. Mandel, T. Esslinger, T.W. Hänsch, I. Bloch, Nature (London) 415, 39 (2002)

2.

D. Clèment, N. Fabbri, L. Fallani, C. Fort, M. Inguscio, Phys. Rev. Lett. 102, 155301 (2009)

3.

P.T. Ernst, S. Götze, J.S. Krauser, K. Pyka, D. Lühmann, D. Pfannkuche, K. Sengstock, Nat. Phys. 6, 56 (2010)

4.

U. Bissbort, S. Götze, Y. Li, J. Heinze, J.S. Krauser, M. Weinberg, C. Becker, K. Sengstock, W. Hofstetter, Phys. Rev. Lett. 106, 205303 (2011)

5.

I. Bloch, Nat. Phys. 1, 23 (2005)

6.

I. Bloch, J. Dalibard, W. Zwerger, Rev. Mod. Phys. 80, 885 (2008)

7.

B. Capogrosso-Sansone, S.G. Söyler, N. Prokofév, B. Svistunov, Phys. Rev. A 77, 015602 (2008)

8.

B. Capogrosso-Sansone, N.V. Prokofév, B.V. Svistunov, Phys. Rev. B 75, 134302 (2007)

9.

K. Sheshadri, H.R. Krishnamurthy, R. Pandit, T.V. Ramakrishnan, Europhys. Lett. 22, 257 (1993)

10.

M.P.A. Fisher, P.B. Weichman, G. Grinstein, D.S. Fisher, Phys. Rev. B 40, 546 (1989)

11.

N. Elstner, H. Monien, Phys. Rev. B 59, 12184 (1999)

12.

J.K. Freericks, H. Monien, Europhys. Lett. 26, 545 (1994)

13.

F.E.A. dos Santos, A. Pelster, Phys. Rev. A 79, 013614 (2009)

14.

A. Dutta, C. Trefzger, K. Sengupta, Phys. Rev. B 86, 085140 (2012)

15.

D.-S. Lühmann, Phys. Rev. A 87, 043619 (2013)

16.

M. Knap, E. Arrigoni, W. von der Linden, Phys. Rev. B 81, 235122 (2010)

17.

M. Knap, E. Arrigoni, W. von der Linden, Phys. Rev. B 83, 134507 (2011)

18.

D.B.M. Dickerscheid, D. van Oosten, P.J.H. Denteneer, H.T.C. Stoof, Phys. Rev. A 68, 043623 (2003)

19.

X. Lu, J. Li, Y. Yu, Phys. Rev. A 73, 043607 (2006)

20.

A.S. Sajna, T.P. Polak, R. Micnas, P. Rożek, Phys. Rev. A 92, 013602 (2015)

21.

K. Byczuk, D. Vollhardt, Phys. Rev. B 77, 235106 (2008)

22.

W.-J. Hu, N.-H. Tong, Phys. Rev. B 80, 245110 (2009)

23.

P. Anders, E. Gull, L. Pollet, M. Troyer, P. Werner, Phys. Rev. Lett. 105, 096402 (2010)

24.

B. Lauritzen, J.W. Negele, Phys. Rev. C 44, 729

25.

B. Lauritzen, G. Bertsch, Phys. Rev. C 39, 2412

26.

H. Attias, Y. Alhassid, Nucl. Phys. A 625, 565 (1997)

27.

A.P. Kampf, G.T. Zimanyi, Phys. Rev. B 47, 279 (1993)

28.

D. van Oosten, P. van der Straten, H.T.C. Stoof, Phys. Rev. A 63, 053601 (2001)

29.

K. Sengupta, N. Dupuis, Phys. Rev. A 71, 033629 (2005)

30.

S. Wessel, F. Alet, M. Troyer, G. George Batrouni, Phys. Rev. A 70, 053615 (2004)

31.

D. Malpetti, T. Roscilde, Phys. Rev. Lett. 119, 040602 (2017)

32.

N.V. Prokof'ev, B.V. Svistunov, I. Tupitsyn, Sov. Phys. JETP 87, 310 (1998)

33.

L. Pollet, K.V. Houcke, S.M.A. Rombouts, J. Comput. Phys. 225, 2249 (2007)
About this article
Cite this article
Joshi, A., Majumdar, P. A classical fluctuation theory of the superfluid, Mott, and normal phases of correlated bosons. Eur. Phys. J. B 93, 33 (2020). https://doi.org/10.1140/epjb/e2020-100330-5
Received:

Revised:

Published:
Keywords
Solid State and Materials