Abstract
The conditions of fabrication of bismuth films with thickness from 5 to 30 μm by a melt spinning method were studied. The microstructure of the fabricated films in the cross section was analyzed using SEM. The Bi films with thickness more than 5 μm consisted of crystallites with sizes up to 30 μm and had a layered structure with crystal twins. The films with thickness of ~5 μm contained no crystallites, however, after annealing at 150–200°C for 1 h, there appeared bismuth nanocrystals with sizes from 10 to 100 nm. Annealing at higher temperatures promoted an increase in the size of nanocrystals and formation of crystallites of pyramidal shape with sizes up to 500 nm.
This is a preview of subscription content, log in to check access.
Access options
Buy single article
Instant access to the full article PDF.
US$ 39.95
Price includes VAT for USA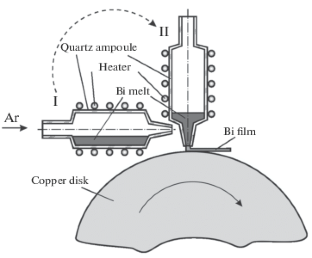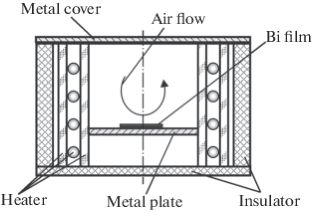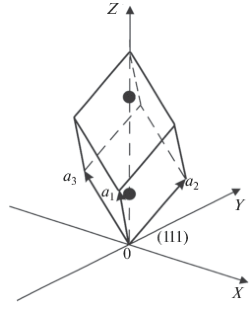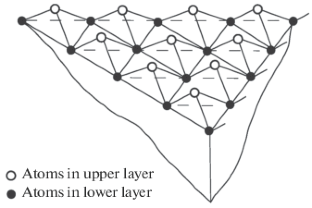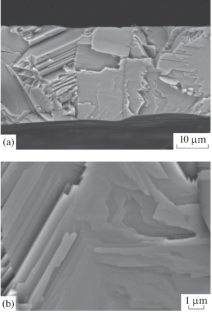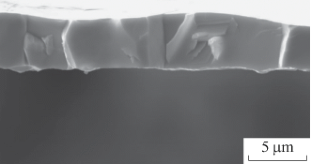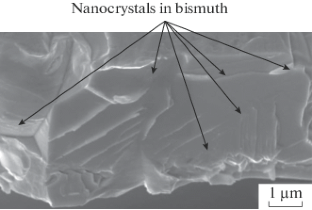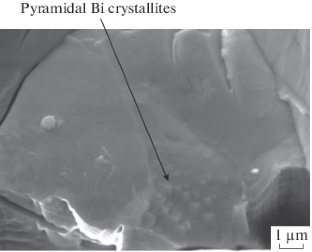 REFERENCES
1

Saikawa, K., Effective Hamiltonian describing the electronic states of bismuth-type crystals, J. Phys. Soc. Jpn., 1970, vol. 29, no. 3, pp. 562–569.

2

Schubnikov, L.V. and de Haas, W.J., A new phenomenon in the change of resistance in a magnetic field of single crystals of bismuth, Nature, 1930, vol. 126, no. 3179, p. 500.

3

Obreimow, I.W. and Schubnikow, L.W., Eine Methode zur Herstellung einkristalliger Metalle, Z. Phys., 1924, vol. 25, no. 1, pp. 31–36.

4

Kapitza, P., The study of the specific resistance of bismuth crystals and its change in strong magnetic fields and some allied problems, Proc. R. Soc. A, 1928, vol. 119, pp. 358–443.

5

Kuznetsov, V.D., Kristally i kristallizatsiya (Crystals and Crystallization), Moscow: Gostekhizdat, 1954.

6

Brown, D.M. and Heumaun, F.R., Growth of bismuth antimony single-crystal alloys, J. Appl. Phys., 1964, vol. 35, pp. 1947–1951.

7

Zemskov, V.S., Belaya, A.D., Beluy, Yu.S., and Kozhemyakin, G.N., Growth and investigation of thermoelectric properties of Bi–Sb alloy single crystals, J. Cryst. Growth, 2000, vol. 212, pp. 161–166.

8

Yang, F.Y., Liu, R., Chien, C.L., and Searson, P.C., Large magnetoresistance and finite-size effects in electrodeposited single-crystal Bi thin films, Phys. Rev. Lett., 1999, vol. 82, pp. 3328–3331.

9

Semiconductors and Semimetals. Spintronics, Dietl, T., Awschalom, D.D., Kaminska, M., and Ohno, H., Eds., Amsterdam: Elsevier, 2008, vol. 82.

10

Demidov, E.V., Grabov, V.M., Komarov, V.A., Kablukova, N.S., and Krushelnitskii, A.N., Topological insulator state in thin bismuth films subjected to plane tensile strain, Phys. Solid State, 2018, vol. 60, no. 3, pp. 457–460.

11

Heremans, J., Thrush, C.M., Lin, Y.M., Cronin, S., Zhang, Z., Dresselhaus, M.S., and Mansfield, J.F., Bismuth nanowire arrays: synthesis and galvanomagnetic properties, Phys. Rev. B, 2000, vol. 61, pp. 2921–2930.

12

Meglei, I.D., Kantser, V., Dantu, M., Rusu, A., and Donu, S., High magnetoresistance in inhomogeneous bismuth microwires, Mold. J. Phys. Sci., 2008, vol. 7, no. 1, pp. 61–63.

13

Ning, W., Kong, F., Hi, C., Graf, D., Du, H., Han, Y., Yang, J., Yang, K., Tian, M., and Zhang, Y., Evidence of topological two-dimensional metallic surface states in thin bismuth nanoribbons, ACS Nano, 2014, vol. 8, no. 7, art. ID 7506-12.

14

Noskova, N.I., Ponomareva, E.G., Glazer, A.A.Г., Lukshina, V.A., and Potapov, A.P., Effect of preliminary deformation and low temperature annealing on the size of Fe73.5Cu1Nb3Si13.5B9 nanocrystals obtained by crystallization of an amorphous ribbon, Fiz. Met. Metalloved., 1993, vol. 76, no. 5, pp. 171–173.

15

Kozhemyakin, G.N., Shapovalov, V.A., Nikitenko, Yu.A., Ivanov, O.N., Kolesnikov, D.A., and Maradudina, O.N., Influence of annealing on nanocrystal formation in Ni amorphous alloy, Cryst. Rep., 2009, vol. 54, pp. 1242–1244.

16

Inoue, A., Preparation and novel properties of nanocrystalline and nanoquasicrystalline alloys, Nanostruct. Mater., 1995, vol. 6, pp. 53–64.

17

Kovneristyi, Yu.K., Ob"emno-amorfiziruyushchiesya metallicheskie splavy (Volume Amorphizing Metal Alloys), Moscow: Nauka, 1999.

18

Zemskov, V.S., Belaya, A.D., and Kozhemyakin, G.N., The effect of uncontrollable impurities on thermoelectric properties of Bi-9 at. % Sb alloys, Izv. Akad. Nauk SSSR, Met., 1984, no. 5, pp. 194–195.

19

Ast, C.R. and Höchst, H., Fermi surface of Bi(111) measured by photoemission spectroscopy, Phys. Rev. Lett., 2001, vol. 87, no. 17, art. ID 177602.
About this article
Cite this article
Kozhemyakin, G.N., Kovalev, S.Y. & Soklakova, O.N. Fabrication of Bismuth Films by a Melt Spinning Method and the Influence of Annealing on Their Microstructure. Inorg. Mater. Appl. Res. 11, 727–730 (2020). https://doi.org/10.1134/S2075113320030259
Received:

Revised:

Accepted:

Published:

Issue Date:
Keywords:
bismuth

melt spinning method

films

crystallites

annealing

nanocrystals