Abstract
The process of deposition of allotropic modifications of carbon from the gas phase (5 vol % methane) with the use of microwave plasma on W wire 20 μm thick has been studied. The microwave power was changed in the range from 3 to 5 kW. The investigations of the structure of coatings, as well as the results of Raman spectroscopy, made it possible to establish that a microwave power of 3 kW results in the deposition of a diamond film with a crystallite size from 1 to 5 μm, microwave power of 4 kW causes the deposition of diamond-like carbon, and an increase in power up to 5 kW leads to the deposition of multigraphene film.
This is a preview of subscription content, log in to check access.
Access options
Buy single article
Instant access to the full article PDF.
US$ 39.95
Price includes VAT for USA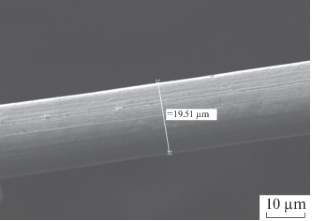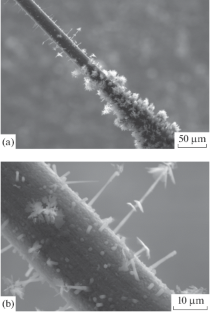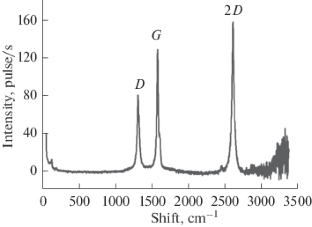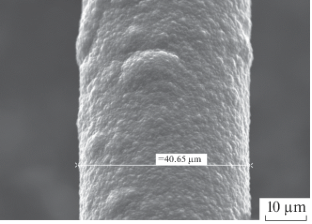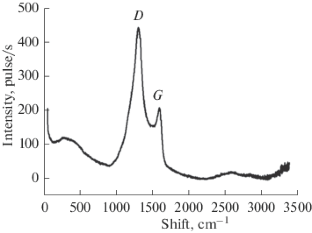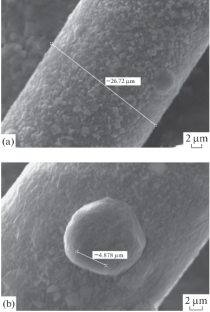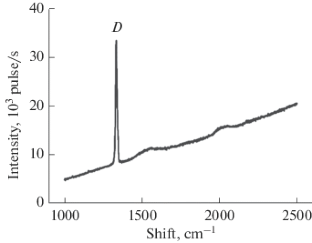 REFERENCES
1

Ma, X., Shi, L., He, X., et al., Graphitization resistance determines super hardness of lonsdaleite, nanotwinned and nanopolycrystalline diamond, Carbon, 2018, vol. 133, pp. 69–76.

2

Rani, R., Sankaran, K.J., Panda, K., et al., Tribofilm formation in ultrananocrystalline diamond film, Diamond Relat. Mater., 2017, vol. 78, pp. 12–23.

3

Bing, D., Jiwen, Z., Ralchenko, V., et al., Thermal conductivity of free-standing CVD diamond films by growing on both nuclear and growth sides, Diamond Relat. Mater., 2017, vol. 76, pp. 9–13.

4

Balandin, A.A., Ghosh, S., Bao, W., et al., Extremely high thermal conductivity of graphene: Experimental study, Nano Lett., 2008, vol. 8, no. 3, pp. 902–907.

5

Chen, G., Yang, W., Xin, L., Wang, P., et al., Mechanical properties of Al matrix composite reinforced with diamond particles with W coatings prepared by the magnetron sputtering method, J. Alloys Compd., 2018, vol. 735, pp. 777–786.

6

Li, M., Zhang, L., Pengyu, Z., et al., A new design of composites for thermal management: Aluminium reinforced with continuous CVD diamond coated W spiral wires, Mater. Des., 2016, vol. 101, pp. 109–116.

7

Bushuev, E.V., Yurov, V.Yu., Bolshakov, A.P., et al., Express in situ measurement of epitaxial CVD diamond film growth kinetics, Diamond Relat. Mater., 2017, vol. 72, pp. 61–70.

8

Maltsev, P.P., Redkin, S.V., Glinskiy, I.A., et al., Heatsink diamond nanostructures for microwave semiconductor electronics, Nanotechnol. Russ., 2016, vol. 11, nos. 7–8, pp. 480–490.

9

Elo, K., Mooste, M., Kozlova, J., Marandi, M., Sammelselg, V., and Kaido, T., Surface and electrochemical characterization of CVD grown graphene sheets, Electrochem. Commun., 2013, vol. 35, pp. 26–29.

10

François, S., Khaled, H., Bonnin, X., and Alix, G., Microwave engineering of plasma-assisted CVD reactors for diamond deposition, J. Phys.: Condens. Matter, 2009, vol. 21, no. 36, pp. 1–16.

11

Bulatov, M.F., Bulatova, A.N., Yu, J., and Khan, J., Evaluation of structural perfection of CVD-graphene by Raman spectrometry method, Materialy II Mezhdunarodnoi nauchno-prakticheskoi konferentsii "Perspektivnye razrabotki nauki i tekhniki–2011," Przemysl, Pol'sha, 7–15 noyabrya 2011 (Proc. II Int. Conf. "Advanced Developments of Science and Engineering–2011," Przemysl, Poland, November 7–15, 2011), Przemysl: Nauka i Studia, 2011. http://www.rusnauka.com/ 28_PRNT_2011/Phisica/2_94471.doc.htm.

12

Karabutov, A.V., Konov, V.I., Ralchenko, V.G., et al., Comparison of field electron emission from DLC films produced by four different deposition techniques, Diamond Relat. Mater., 1998, vol. 7, pp. 802–806.

13

Wu, H., Huang, H., Jiang, F., and Xu, X., Mechanical wear of different crystallographic orientations for single abrasive diamond scratching on Ta12W, Int. J. Refract. Met. Hard Mater., 2016, vol. 54, pp. 260–269.
Funding
The study was supported by the Foundation for the Promotion of Innovation under the agreement of April 24, 2018, no. 12697GU/2017 (UMNIK program).
About this article
Cite this article
Eremin, S.A., Anikin, V.N., Kuznetsov, D.V. et al. Growth of Allotropic Modifications of Carbon on a Thin Tungsten Wire from Vapor Phase with the Use of Microwave Plasma. Inorg. Mater. Appl. Res. 11, 568–571 (2020). https://doi.org/10.1134/S2075113320030120
Received:

Revised:

Accepted:

Published:

Issue Date:
Keywords:
diamond film

microwave

tungsten

composite