Abstract
Invasive Alien Species are non-native plant species that displace native species and pose adverse effects to environment, ecosystem, economy and human health by diminishing the growth of native plants and also possess higher stress tolerance. In our present study four invasive alien species, namely Lantana camara, Parthenium hysterophorous, Ricinus communis and Ageratum conyzoides, were studied from different locations. Plants growing under natural environmental conditions were sampled at random in the vicinity of Jalandhar. In order to gain insight into biochemical basis of invasiveness of the plants, samples were subjected to osmo-protectant proline and glycine betaine studies. Indices of oxidative stress like malondialdehyde (MDA) were also studied. Increase in proline and glycine betaine, osmo-protectant solutes was observed under adverse conditions. On the basis of obtained results, it could be concluded that studied plants viz.= namely P. hysterophorus, L. camara, R. communis and A. conyzoides have the potential to cope with abiotic stress like high temperature, which could be the cause of the invasiveness and vast adaptability of the plant.
This is a preview of subscription content, log in to check access.
Access options
Buy single article
Instant access to the full article PDF.
US$ 39.95
Price includes VAT for USA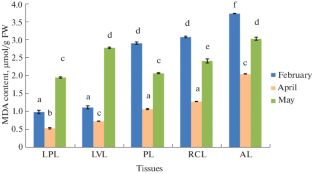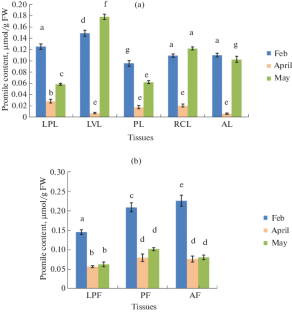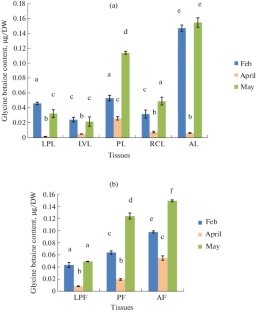 REFERENCES
1

Ali, M.B., Haln, E.J., and Paek, K.Y., Effects of light intensities on antioxidant enzymes and malondialdehyde content during short term acclimatization on micropropagated Phalaenopsis plantlet,Environ. Exp. Bot., 2005, vol. 54, pp. 109–120.

2

Alpert, P., Bone, E., and Holzapfel, C., Invasiveness, invasibilty and the role of environmental stress in the spread of non-native plants, Perspect. Plant Ecol. Evol. Syst., 2000, vol. 3, pp. 52–66.

3

Bajji, M., Lutts, S., and Linet, J.M., Physiological changes after exposure to and recovery from polyethylene glycol-induced water deficit in callus cultures issued from durum wheat (Triticum durum Desf.) cultivars differing in drought resistance, J. Plant Physiol., 2000, vol. 156, pp. 75–83.

4

Baker, H.G., The evolution of weeds, Annu. Rev. Ecol. Syst., 1974, vol. 5, pp. 1–24.

5

Dhami, K., The terrestrial alien invasives of family Asteraceae in Punjab (India) and their ecology, IJARIIT, 2018, vol. 4, pp. 282–285.

6

Filippou, P., Bouchagier, P., Skotti, E., and Fotopoulos, V., Proline and reactive oxygen/nitrogen species metabolism is involved in the tolerant response of the invasive plant species Ailanthus altissima to drought and salinity, Environ. Exp. Bot., 2014, vol. 97, pp. 1–10.

7

Grieve, C.M. and Grattan, S.R., Rapid assay for determination of water soluble quaternary ammonium compounds, Plant Soil, 1983, vol. 70, pp. 303–307.

8

Hierro, J. and Callaway, R., Allelopathy and exotic plant invasion, Plant Soil, 2003, vol. 256, pp. 29–39.

9

Kamboj, A. and Saluja, A.K., Ageratum conyzoides L.: a review on its phytochemical and pharmacological profile, Ind. J. Green Pharmacy, 2008, vol. 3, pp. 59–68.

10

Kaur, M., Aggarwal, N.K., Kumar, V., and Dhiman, R., Effects and management of Parthenium hysterophorus: a weed of global significance, Int. Sch. Res. Notices, 2014, vol. 14, pp. 1–12.

11

Khan, M., Yu, X., Kikuchi, A., Asahina, M., and Watanabe, K., Genetic engineering of glycine betaine biosynthesis to enhance abiotic stress tolerance in plants, Plant Biotechnol., 2009, vol. 26, pp. 125–134.

12

Kohli, R.K., Batish, D.R., Singh, H.P., and Dogra, K.S., Status, invasiveness and environmental threats of three tropical American invasive weeds (Parthenium hysterophorus L., Ageratum conyzoides L., Lantana camara L.) in India, Biol. Invasions, 2006, vol. 8, pp. 1501–1510.

13

Kumar, V., Singh, S., Singh, A., Dixit, A.K., Shrivastava, B., Kondalkar, S.A., Singh, R.P., Subhose, V., and Prakash, O., Detremination of phytochemical, antioxidant, antimicrobial and protein binding qualities of hydroethanolic extract of Celastrus paniculatus,J. Appl. Biol. Biotechnol., 2018, vol. 6, pp. 11–17.

14

Lu, P., Sang, W.G., and Ma, K.P., Different responses of the activities of antioxidant enzymes to thermal stresses between two invasive Eupatorium species in China, J. Integr. Plant Biol., 2008, vol. 50, no. 4, pp. 393.

15

Marrat, S.K., Rehman, F., Khan, E.A., Baloch, M.S., Sadiq, M., Ulla, I., Javaria, S., and Shaheen, S., Ricinus communis: ethnomedicinal uses and pharmacological activities, Pak. J. Pharm. Sci., 2014, vol. 30, pp. 1815–1827.

16

Mittler, S., Oxidative stress, antioxidants and stress tolerance, Trends Plant Sci., 2002, vol. 7, pp. 405–410.

17

Murmu, K., Murmu, S., Kundu, C.K., and Bera, P.S., Exogenous proline and glycine betaine plants under stress tolerance, Int. J. Curr. Microbiol. Appl. Sci., 2017, vol. 6, pp. 901–913.

18

Radyukina, N.L., Shashukova, A.V., Mapelli, S., and Soshinkova, T.N., Effect of common sage plant treatment with polyamines on the contents of proline and free and conjugated polyamines under oxidative stress, Russ. J. Plant Physiol., 2011, vol. 58, pp. 776–782.

19

Rakhra, G. and Sharma, A.D., Drought-induced oxidative stress and activities of boiling soluble antioxidants in seedlings of drought tolerant and susceptible cultivars of Triticum aestivum,Res. Rev. Biotechnol. Biosci., 2015, vol. 2, pp. 42–45.

20

Shabbir, A. and Bajwa, R., Distribution of parthenium weeds (Parthenium hysterophorus L.) an alien invasive weed species threatening the biodiversity of Islamabad, Weed Biol. Manag., 2006, vol. 6, pp. 84–95.

21

Sharma, A.D., Rakhra, G., Nanda, J.S., and Singh, D., Kinetics of proline accumulation in response to various stress regimes followed by recovery in different cultivars of wheat, Res. Rev. Biotechnol. Biosci., 2016, vol. 1, pp. 30–34.

22

Thippeswamy, M., Chandraobulreddy, P., Sinilal, B., Kumar, S.M., and Sudhakar, C., Proline accumulation and the expression of pyrroline–5-carboxylate synthetase in two safflower cultivars, Biol. Plant., 2010, vol. 54, pp. 386–390.
ACKNOWLEDGMENTS
A.D. Sharma would like to thank DST, Govt. of India for providing financial assistance for the present study.
About this article
Cite this article
Arun Dev Sharma, Shivani Osmo-Protectant Solute Studies Revealed Their Involvement in Stress Adaptation in Invasive Alien Species Lantana camara L. (Verbenaceae), Parthenium hysterophorous L. (Asteraceae), Ricinus communis L. (Euphorbiaceae) and Ageratum conyzoides L. (Asteraceae) under Abiotic Stress Like Conditions. Russ J Biol Invasions 11, 182–189 (2020). https://doi.org/10.1134/S2075111720020101
Received:

Revised:

Accepted:

Published:

Issue Date:
Keywords:
glycine betaine

invasive plants

membrane peroxidation

osmolytes

proline