Abstract
Using the previously developed rabbit model of perioperative dry eye syndrome (PDES) and quantitative mass spectrometric technique it is shown that the development of corneal erosion under conditions of general anesthesia is associated with changes in the content of inflammatory metabolites, namely, derivatives of linoleic (LA), alpha-linolenic (ALA), and arachidonic (AA) acids in tear fluid. The increase in the content of the metabolites of LA and ALA is found to be the most significant, while the content of AA derivatives (with the exception of 12-HETE) remains almost unchanged, indicating the key roles of the LA and ALA cascades in the inflammatory response in PDES. The increase in the concentration of oxylipins that can be formed by nonenzymatic oxidation of LA (9-KODE) or its processing by cytochromes (12,13-EpOME) under oxidative conditions indicates a significant contribution of oxidative stress to the development of PDES. The majority of metabolites of LA (13-HODE and 9-HODE), ALA (9-HOTrE and 13-HOTrE) and AA (12-HETE), the tear content of which was changed in PDES, are generated by the enzymes of lipoxygenase family. By contrast, the concentration of cyclooxygenase products does not exhibit any significant fluctuations. These data suggest a low therapeutic potential of cyclooxygenase inhibitors (such as nonsteroidal anti-inflammatory drugs) and a high therapeutic potential of antioxidants and lipoxygenase inhibitors in PDES, which should be taken into account upon developing a complex therapy for this disease.
This is a preview of subscription content, log in to check access.
Access options
Buy single article
Instant access to the full article PDF.
US$ 39.95
Price includes VAT for USA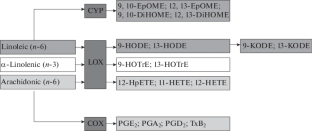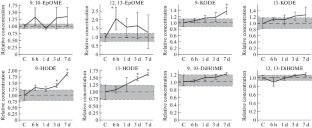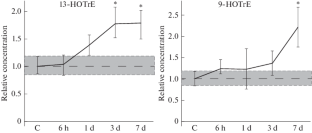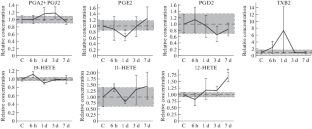 REFERENCES
1

The definition and classification of dry eye disease: Report of the Definition and Classification Subcommittee of the International Dry Eye Workshop. 2007. Ocul. Surf.5, 75–92.

2

Fiscella R.G. 2011. Understanding dry eye disease: A managed care perspective. Am. J. Manag. Care.17Suppl. 16, S432–S439.

3

Zernii E.Y., Gancharova O.S., Baksheeva V.E., Golovastova M.O., Kabanova E.I., Savchenko M.S., Tiulina V.V., Sotnikova L.F., Zamyatnin A.A., Jr., Philippov P.P., Senin II. 2017. Mitochondria-targeted antioxidant SkQ1 prevents anesthesia-induced dry eye syndrome. Oxid. Med. Cell. Longev.2017, 9281519.

4

Zernii E.Y., Baksheeva V.E., Yani E.V., Philippov P.P., Senin II. 2019. Therapeutic proteins for treatment of corneal epithelial defects. Curr. Med. Chem.26, 517–545.

5

Zernii E.Y., Golovastova M.O., Baksheeva V.E., Kabanova E.I., Ishutina I.E., Gancharova O.S., Gusev A.E., Savchenko M.S., Loboda A.P., Sotnikova L.F., Zamyatnin A.A., Jr., Philippov P.P., Senin II. 2016. Alterations in tear biochemistry associated with postanesthetic chronic dry eye syndrome. Biochemistry (Mosc.).81, 1549–1557.

6

Lai C.T., Yao W.C., Lin S.Y., Liu H.Y., Chang H.W., Hu F.R., Chen W.L. 2015. Changes of ocular surface and the inflammatory response in a rabbit model of short-term exposure keratopathy. Plos One.10 (9), e0137186.

7

Baksheeva V.E., Gancharova O.S., Tiulina V.V., Iomdina E.N., Zamyatnin A.A., Jr., Philippov P.P., Zernii E.Y., Senin II. 2018. Iatrogenic damage of eye tissues: Current problems and possible solutions. Biochemistry (Mosc.).83, 1563–1574.

8

Malafa M.M., Coleman J.E., Bowman R.W., Rohrich R.J. 2016. Perioperative corneal abrasion: Updated guidelines for prevention and management. Plastic Reconstructive Surgery.137, 790e–798e.

9

Batra Y.K., Bali I.M. 1977. Corneal abrasions during general anesthesia. Anesth. Analg.56, 363–365.

10

Messmer E.M. 2015. The pathophysiology, diagnosis, and treatment of dry eye disease. Deutsches Arzteblatt Internat.112, (5) 71–81.

11

Skalicky S.E., Petsoglou C., Gurbaxani A., Fraser C.L., McCluskey P. 2013. New agents for treating dry eye syndrome. Curr. Allergy Asthma Repts.13, 322–328.

12

Zernii E.Y., Gancharova O.S., Ishutina I.E., Baksheeva V.E., Golovastova M.O., Kabanova E.I., Savchenko M.S., Serebryakova M.V., Sotnikova L.F., Zamyatnin A. A., Jr., Philippov P. P., Senin, II. 2016. Mechanisms of perioperative corneal abrasions: Alterations in tear film proteome. Biochemistry (Moscow),Suppl. Series B: Biomed. Chem.11, 186–193.

13

Gabbs M., Leng S., Devassy J.G., Monirujjaman M., Aukema H.M. 2015. Advances in our understanding of oxylipins derived from dietary PUFAs. Adv. Nutr.6, 513–540.

14

Sergeeva M. G., Varfolomeeva A. T. 2006. Kaskad arakhidonovoy kisloti (The cascade of arachidonic acid). Moscow: Public Education.

15

Chistyakov D.V., Azbukina N.V., Goryainov S.V., Chistyakov V.V., Gancharova O.S., Tyulina V.V., Baksheeva V.E., Iomdina E.N., Filippov P.P., Sergeeva M.G., Senin I.I., Zerniy E.Yu. 2019. Inflammatory metabolites of arachidonic acid in tear fluid in ultraviolet radiation induced damage of the cornea. Biomed. Khimiya (Rus.). 65 (1), 33–40.

16

Ambaw Y.A., Chao C., Ji S., Raida M., Torta F., Wenk M.R., Tong L. 2018. Tear eicosanoids in healthy people and ocular surface disease. Sci. Rep.8, 11296.

17

Dennis E.A., Norris P.C. 2015. Eicosanoid storm in infection and inflammation. Nat. Rev. Immunol.15, 511–523.

18

Craig J.P., Nichols K.K., Akpek E.K., Caffery B., Dua H.S., Joo C.K., Liu Z.G., Nelson J.D., Nichols J.J., Tsubota K., Stapleton F. 2017. TFOS DEWS II definition and classification report. Ocular Surface.15, 276–283.

19

Shim J., Park C., Lee H.S., Park M.S., Lim H.T., Chauhan S., Dana R., Lee H., Lee H.K. 2012. Change in prostaglandin expression levels and synthesizing activities in dry eye disease. Ophthalmology.119, 2211–2219.

20

Mieyal P.A., Dunn M.W., Schwartzman M.L. 2001. Detection of endogenous 12-hydroxyeicosatrienoic acid in human tear film. Investigative Ophthalmol. Visual Sci.42, 328–332.

21

Chistyakov D.V., Azbukina N.V., Astakhova A.A., Goriainov S.V., Chistyakov V.V., Sergeeva M.G. 2018. Sex-mediated differences in LPS induced alterations of TNFalpha, IL-10 expression, and prostaglandin synthesis in primary astrocytes. Int. J. Mol. Sci.19 (9), E2793. https://doi.org/10.3390/ijms19092793

22

Chistyakov D.V., Grabeklis S., Goriainov S.V., Chistyakov V.V., Sergeeva M.G., Reiser G. 2018. Astrocytes synthesize primary and cyclopentenone prostaglandins that are negative regulators of their proliferation. Biochem. Biophys. Res. Commun.500, 204–210.

23

Andoh T., Sakai K., Urashima M., Kitazawa K., Honma A., Kuraishi Y. 2012. Involvement of leukotriene B4 in itching in a mouse model of ocular allergy. Exp. Eye Res.98, 97–103.
ACKNOWLEDGMENTS
The work was supported by the Russian Science Foundation (project no. 16-15-00255). The mass-spectroscopic method of the detection of metabolites in the rabbit tear was developed with the support of the Program 5-100 of the Peoples' Friendship University of Russia.
Ethics declarations
The authors state that they have no conflict of interest.
Experiments were conducted in accordance with the recommendations of the 8th edition of the Guide for the Care and Use of Laboratory Animals of the National Research Council and Statement for the Use of Animals in Ophthalmic and Visual Research of the Association for Research in Vision and Ophthalmology (ARVO). Experimental protocols were approved by the Bioethics committee of the Belozersky Research Institute of Physical and Chemical Biology of the Moscow Lomonosov State University.
About this article
Cite this article
Chistyakov, D.V., Azbukina, N.V., Astakhova, A.A. et al. Alterations in Tear Content of Inflammatory Oxylipines Associated with Perioperative Dry Eye Syndrome. Biochem. Moscow Suppl. Ser. A 14, 134–139 (2020). https://doi.org/10.1134/S1990747819060047
Received:

Revised:

Accepted:

Published:

Issue Date:
Keywords:
corneal erosion

general anesthesia

dry eye syndrome

tear fluid

oxylipins

inflammation

oxidative stress