Abstract
The enantiospecific synthesis of 3-acetoxy-trans-β-lactams via the Staudinger [2+2] cycloaddition reaction of polyaromatic imines with bicyclic (+)-car-3-ene was investigated. The sterically hindered polyaromatic substituent at the N1 position in the imines plays a significant role, directing the cycloaddition reaction to stereoselective formation of trans-(3R,4R)-N-azetidin-2-ones. The results as described herein are highly unprecedented, since the synthesis of a single optically active trans-β-lactam, starting from a chiral ketene, has never been reported previously.
This is a preview of subscription content, log in to check access.
Access options
Buy single article
Instant access to the full article PDF.
US$ 39.95
Price includes VAT for USA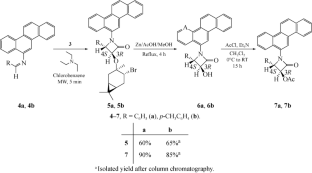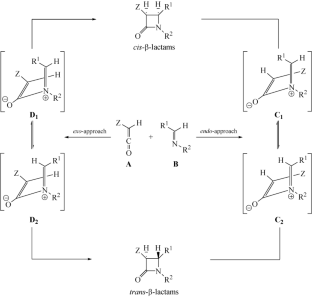 ACKNOWLEDGMENTS
BKB gratefully acknowledges the funding support from the USA NIH, USA NCI, and USA Kleberg Foundation. RNY acknowledges the support of VBS Purvanchal University during the preparation of this manuscript.
Ethics declarations
The authors declare no conflict of interest.
About this article
Cite this article
Shaikh, A.L., Yadav, R.N. & Banik, B.K. Microwave-Induced Enantiospecific Synthesis of trans-(3R,4R)-3-Acetoxy-4-aryl-1-(chrysen-6-yl)azetidin-2-ones via the Staudinger Cycloaddition Reaction of (+)-Car-3-ene with Polyaromatic Imines. Russ J Org Chem 56, 910–915 (2020). https://doi.org/10.1134/S1070428020050267
Received:

Revised:

Accepted:

Published:

Issue Date:
Keywords:
enantioselective synthesis

ketenes

polyaromatic imines

cycloaddition reaction