Abstract
Regressive development is widespread in peatlands of the northern hemisphere; a new type of peatlands—regressive bogs—should be introduced in addition to the traditional peatland types, such as eutrophic, mesotrophic, and oligotrophic peatlands. Diagnostic features and classification of soils typical of regressive bogs have already been discussed in relevant scientific literature. However, there are virtually no data on the microbiological analysis of soils of the aforementioned bog types. The aim of this study is to identify structural and functional organization of the microbial communities in soils of a regressive noncryogenic bog (sampling area in Tver oblast of the West Dvina Forest-Bog Station of the Institute of Forest Science, Russian Academy of Sciences). Numerous black bare peat spots without sphagnum mats, from 0.05 to 1 m2 in area demonstrate a high degree of regressive process at the studied bog. Data on the number and biomass of microorganisms were obtained by direct method of fluorescence microscopy. The taxonomic composition of bacterial and fungal communities was determined by plate method, while direct microscopy was used for algal communities. The CO2 and CH4 emissions were analyzed using chamber method. It was found that the total microbial biomass in the soils under regressive spots is higher than in the soils without any features of regressive process; the regressive peat mat had its own biomass reaching 50% of the total biomass in the active layer. Algae predominate in the biomass of regressive peat mats. Bacteria and fungi constitute 13–26% of the total biomass of regressive peat mats. Regressive mats are characterized by a high number of algae and bacteria. It should be noted that all algae genera found in the regressive peat mats represent the species characteristic of oligotrophic peatlands. Fungi of regressive peat mats were represented by mycelium and spores. During the wet period, the length of fungal mycelium rapidly increased by one–two orders of magnitude and reached 2–4 km/g. The domination of Penicillium miczynskii and Umbelopsis vinacea species, which typically predominate in eutrophic peatlands, can be considered a specific feature of the micromycetal complex of the regressive peat mat. Regressive peat mats are characterized by higher rates of plant residues mineralization because of the accumulation of nitrogen. This leads to an increase in the carbon dioxide emission, on the one hand, and to an inhibition of methanogenesis, on the other hand.
This is a preview of subscription content, log in to check access.
Access options
Buy single article
Instant access to the full article PDF.
US$ 39.95
Price includes VAT for USA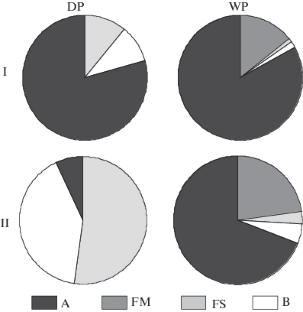 REFERENCES
1

O. V. Anisimova, "Desmids of sphagnum bogs of Moscow oblast: species diversity and ecological conditions," Tr. Inst. Biol. Vnutr. Vod., Ross. Akad. Nauk, No. 79 (82), 10–18 (2017).

2

V. K. Bakhnov, Biogeochemical Aspects of Bog-Formation Process (Nauka, Novosibirsk, 1986) [in Russian].

3

A. G. Blagodatnova, "The structure of groups of soil algae as possible indicator of the state of oligotrophic bog," in Proceedings of the International Forum on the Problems of Science, Engineering, and Education (Academy of Earth Sciences, Moscow, 2009), pp. 78–80.

4

A. G. Blagodatnova, "Trends of changing of algal groups in a series of trophic reduction of bog ecosystems (Plesetsk district, Arkhangelsk oblast)," Din. Okruzh. Sredy Global'nye Izmeneneniya Klimata 7 (1), 5–17 (2016).

5

M. S. Boch and V. V. Mazing, Mire Ecosystems in the Soviet Union (Nauka, Leningrad, 1979) [in Russian].

6

E. M. Bradis, "Vegetation cover of mires as an indicator of their type by nutrition conditions," in General Principles of the Study of Wetland Biogeocenoses (Nauka, Leningrad, 1972), pp. 29–38.

7

S. E. Vomperskii, A. A. Sirin, and A. I. Glukhov, Runoff Formation and Regime during Hydroforest Reclamayion (Nauka, Moscow, 1988) [in Russian].

8

M. M. Gollerbakh and E. A. Shtina, Soil Algae (Nauka, Leningrad, 1969) [in Russian].

9

A. V. Golovchenko and E. M. Volkova, "Microbial biomass and its structure in karst peats of Tula oblast," Eurasian Soil Sci. 52, 333–338 (2019).

10

A. V. Golovchenko, E. Yu. Tikhonova, and D. G. Zvyagintsev, "Abundance, biomass, structure, and activity of the microbial complexes of minerotrophic and ombrotrophic peatlands," Microbiology (Moscow) 76, 630–637 (2007).

11

T. G. Dobrovol'skaya, A. V. Golovchenko, O. S. Kukharenko, A. V. Yakushev, T. A. Semenova, and L. A. Inisheva, "The structure of the microbial communities in low-moor and high-moor peat bogs of Tomsk oblast," Eurasian Soil Sci. 45, 273–281 (2012).

12

T. G. Dobrovolskaya, A. V. Golovchenko, L. V. Lysak, and G. M. Zenova, Physical Chemistry and Biology of Peat. Evaluation of Abundance and Diversity of Bacterial and Actinobacteria Complexes of Peat Soils (Tomsk State Pedagogical Univ., Tomsk, 2010) [in Russian].

13

E. K. Kosinskaya, "Zygnematophyceae (1). Mesotaeniales and Gonatozygales algae," in Flora of Spore Plants of the Soviet Union (Academy of Sciences of the USSR, Moscow, 1952), Vol. 2, Part 1.

14

I. K. Kravchenko and A. A. Sirin, "Activity and metabolic regulation of methane production in deep peat profiles of boreal bogs," Microbiology (Moscow) 76, 791–798 (2007).

15

O. L. Liss, L. I. Abramova, N. A. Avetov, et al., Mire Systems of Western Siberia and Their Nature-Protective Role (Grif i K, Tula, 2001) [in Russian].

16

V. D. Lopatin, "On the principal ecological features of bogs," Russ. J. Ecol. 28, 371–374 (1997).

17

V. D. Lopatin, "New definition of bogs," Ekologiya, No. 1, 70–72 (1986).

18

N. A. Manucharova, A. N. Vlasenko, T. P. Tourova, A. N. Panteleeva, A. L. Stepanov, and G. M. Zenova, "Thermophilic chitinolytic microorganisms of brown semidesert soil," Microbiology (Moscow) 77, 610–615 (2008).

19

A. E. Magurran, Ecological Diversity and Its Measurement (Springer-Verlag, New York, 1988; Mir, Moscow, 1992).

20

Practical Manual on Soil Biochemistry and Microbiology (Moscow State Univ., Moscow, 1991) [in Russian].

21

A. A. Nitsenko, Brief Course of Paludology (Vysshaya Shkola, Moscow, 1967) [in Russian].

22

E. A. Shishkonakova, N. A. Avetov, and T. Yu. Tolpysheva, "Peat soils of regressive bogs of Western Siberia: biological diagnostics and systematics," Byull. Pochv. Inst. im. V.V. Dokuchaeva, No. 84, 61–74 (2016).

23

U. Behrendt, A. Ulrich, and P. Schumann, "Chryseobacterium gregarium sp. nov., isolated from decaying plant material," Int. J. Syst. Evol. Microbiol. 58, 1069–1074 (2008).

24

L. R. Belyea and J. Lancaster, "Inferring landscape dynamics of bog pools from scaling relationship and spatial patterns," J. Ecol. 90, 223–234 (2002).

25

P. F. M. Coesel and K. J. Meesters, Desmids of the Lowlands Mesotaeniaceae and Desmidaceae of the European Lowlands (KNNV, Zeist, 2007).

26

K. H. Domsch, W. Gams, and T. Anderson, Compendium of Soil Fungi (IHW-Verlag, Eching, 1993), Vol. 1.

27

M. B. Ellis, Dematiaceous Hyphomycetes (Commonwealth Mycological Institute, Kew, 1971).

28

D. R. Foster and S. C. Fritz, "Mire development, pool formation and landscape processes on patterned fens in Dalarna, central Sweden," J. Ecol. 75, 409–437 (2002).

29

W. von Gams, Cephalosporium-artige Schimmelpilze (Hyphomycetes) (Fischer-Verlag, Stuttgart, 1971).

30

M. D. Guiry and G. M. Guiry, AlgaeBase, National University of Ireland, Galway, 2019. http://www. al-gaebase.org

31

G. S. de Hoog, "The genera Beauveria, Isaria, Tritirachium and Acrodontium gen. nov.," Stud. Mycol. 1, 1–41 (1972).

32

D. M. John, "Phylum Chlorophyta. Orders Chaetophorales, Microsporales, Ulotrichales," in The Freshwater Algal Flora of the British Isles: An Identification Guide to Freshwater and Terrestrial Algae, Ed. by D. M. John, B. A. Whitton, and A. J. Brook (Cambridge University Press, Cambridge, 2011), pp. 524–554.

33

P. M. Kirk, P. F. Cannon, D. W. Minter, J. A. Stalpers, et al., Ainsworth & Bisby's Dictionary of the Fungi (CAB International, 2008).

34

S. W. Kwon, J. S. Kim, I. C. Park, S. H. Yoon, D. H. Park, C. K. Lim, and S. J. Go, "Pseudomonas koreensis sp. nov., Pseudomonas umsongensis sp. nov. and Pseudomonas jinjuensis sp. nov., novel species from farm soils in Korea," Int. J. Syst. Evol. Microbiol. 53, 21–27 (2003).

35

H. Lange-Bertalot, G. Hofmann, M. Werum, and M. Cantonati, Freshwater Benthic Diatoms of Central Europe: Over 800 Common Species Used in Ecological Assessment (Koeltz Botanical Books, Schmitten-Oberreifenberg, 2017).

36

J. I. Pitt, The Genus Penicillium and its teleomorphic states Eupenicillium and Talaromyces (Academic, London, 1979).

37

A. Wolf, A. Fritze, M. Hagemann, and G. Berg, "Stenotrophomonas rhizophila sp. nov., a novel plant-associated bacterium with antifungal properties," Int. J. Syst. Evol. Microbiol. 52, 1937–1944 (2002).
Funding
The work by A.V. Golovchenko and A.L. Stepanov was supported by the Russian Foundation for Basic Research, project no. 19-29-05197, and the work by O.V. Anisimova was performed according to state assignment no. AAAA-A16-116021660063-6.
Ethics declarations
The authors declare that they have no conflict of interest.
Additional information
Translated by I. Bel'chenko
About this article
Cite this article
Golovchenko, A.V., Semenova, T.A., Anisimova, O.V. et al. The Structure of Microbial Communities in Soils of Noncryogenic Regressive Bog. Eurasian Soil Sc. 53, 668–674 (2020). https://doi.org/10.1134/S1064229320050063
Received:

Revised:

Accepted:

Published:

Issue Date:
Keywords:
Dystric Fibric Histosols

regressive bogs

algae

bacteria

fungi

biomass

taxonomic structure

carbon dioxide emission

methane emission