Abstract
A technique for growing thin graphite films on a dielectric substrate by annealing the Al2O3(0001)/Ni(111)/ta-C structure has been optimized. This technique is based on catalytic decomposition of hydrocarbons on the surface of a single-crystal catalyst metal film on a dielectric substrate and subsequent diffusion and crystallization of carbon between the metal film and the substrate. A thin graphite film with a low density of crystal-structure defects is obtained on the dielectric substrate after chemical etching of the metal film.
This is a preview of subscription content, log in to check access.
Access options
Buy single article
Instant access to the full article PDF.
US$ 39.95
Price includes VAT for USA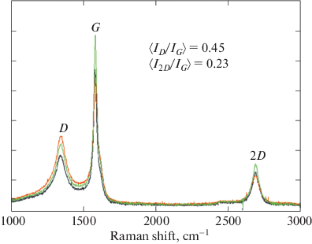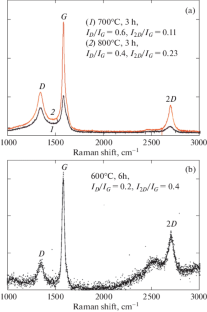 Funding
This study was performed within the framework of a state contract and supported in part by the Russian Foundation for Basic Research, projects nos. 18-38-00884 and 19-07-00432.
Ethics declarations
The authors declare that they have no conflict of interest.
About this article
Cite this article
Sorokin, I.A., Kolodko, D.V., Luzanov, V.A. et al. Growth of Thin Graphite Films on a Dielectric Substrate using Heteroepitaxial Synthesis. Tech. Phys. Lett. 46, 497–500 (2020). https://doi.org/10.1134/S1063785020050260
Received:

Revised:

Accepted:

Published:

Issue Date:
Keywords:
graphene

heteroepitaxy

catalyst metal

synthesis

nickel

dielectric substrate.