Abstract
A theoretical model of photoacoustic response signal formation from laser-irradiated metal membranes is proposed with allowance for the excitation of defect states. Theoretical results obtained for 197-μm-thick aluminum membranes in a frequency range from 20 Hz to 7 kHz are compared to experimental data for membranes excited by laser radiation at a 660-nm wavelength. The proposed theoretical model provides quite adequate coincidence with experiment for membrane oscillations under the assumption of a purely surface character of laser radiation absorption.
This is a preview of subscription content, log in to check access.
Access options
Buy single article
Instant access to the full article PDF.
US$ 39.95
Price includes VAT for USA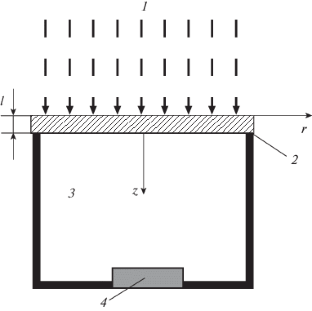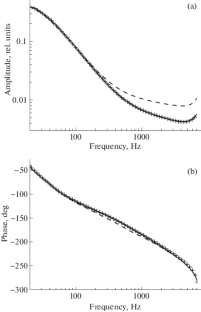 REFERENCES
1

P. Sievila, N. Chekurov, J. Raittila, and I. Tittonen, Sens. Actuators, A 190, 90 (2013). https://doi.org/10.1016/j.sna.2012.11.020

2

R. A. Coutu, Jr., I. R. Medvedev, and D. T. Petkie, Sensors 16, 251 (2016). https://doi.org/10.3390/s16020251

3

Z. Zelinger, P. Jandai, J. Suchanek, M. Dostal, P. Kubat, V. Nevrly, P. Bitala, and S. Civis, J. Sens. Sens. Syst. 4, 103 (2015). https://doi.org/10.5194/jsss-4-103-2015

4

G. Rousset, F. Lepoutre, and J. Bertrand, J. Appl. Phys. 54, 2383 (1983). https://doi.org/10.1063/1.332352

5

D. D. Markushev, J. Ordonez-Miranda, M. D. Rabasovic, S. Galovich, D. M. Todorovich, and S. E. Bialkovski, J. Appl. Phys. 117, 245309 (2015). https://doi.org/10.1063/1.4922718

6

N. F. Morozov, K. L. Muratikov, B. N. Semenov, D. A. Indeitsev, and D. S. Vavilov, Dokl. Phys. 64, 169 (2019).

7

A. L. Glazov and K. L. Muratikov, Tech. Phys. Lett. 45, 902 (2019).

8

A. L. Glazov, N. F. Morozov, and K. L. Muratikov, Tech. Phys. Lett. 46 (2020).

9

A. M. Kosevich, Physical Mechanics of Real Crystals (Nauk. Dumka, Kiev, 1981) [in Russian].
Ethics declarations
The authors declare that they have no conflict of interest.
About this article
Cite this article
Glazov, A.L., Muratikov, K.L. Acoustic Oscillations of Aluminum Membranes Laser-Excited by a Thermoelastic Mechanism. Tech. Phys. Lett. 46, 477–479 (2020). https://doi.org/10.1134/S1063785020050223
Received:

Revised:

Accepted:

Published:

Issue Date:
Keywords:
photoacoustics

membranes

thermoelastic oscillations

metals.