Abstract
Elementary processes involved in low-pressure metalorganic compound hydride epitaxial growth of (Al, Ga, In)As heterostructures on misoriented GaAs(001) substrates have been studied using atomic force microscopy. It has been found that GaAs and AlGaAs epitaxial layers grow by a step–layered mechanism with the formation of microsteps. Pseudomorphic InGaAs/GaAs(001) layers also grow by this mechanism with the formation of macrosteps. However, if the thickness of the InxGa1 –xAs/GaAs(001) pseudomorphic layer exceeds some critical value that depends on molar fraction x of InAs entering into the solid solution, growth defects in the form of 3D islands are observed on the surface of the InGaAs layer with their density increasing with thickness of the InGaAs layer. Three-dimensional InGaAs islands grow owing to elastic stress relaxation in the InGaAs/GaAs(001) pseudomorphic layer by the Stranski–Krastanov mechanism.
This is a preview of subscription content, log in to check access.
Access options
Buy single article
Instant access to the full article PDF.
US$ 39.95
Price includes VAT for USA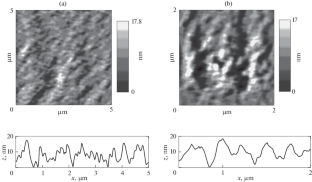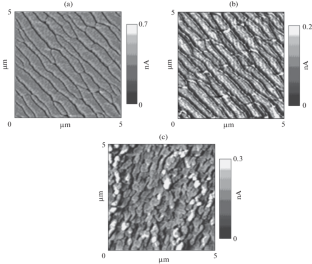 REFERENCES
1

G. B. Stringfellow, Organometallic Vapor-Phase Epitaxy: Theory and Practice (Academic, Boston, 1999).

2

M. A. Herman and W. Richter, Epitaxy-Physical Principles and Technical Implementation (Springer, Berlin, 2004).

3

S. Irvine, P. Capper, S. Kasap, and A. Willoughby, Metalorganic Vapor Phase Epitaxy (MOVPE): Growth, Materials Properties and Applications (Wiley, Hoboken, 2019).

4

F. Ali, HEMTs and HBTs: Devices, Fabrication, and Circuits (Artech House, Norwood, 1991).

5

Pseudomorphic HEMT Technology and Applications, Ed. by R. L. Ross, S. P. Svensson, and P. Lugli (Springer, Berlin, 1996).

6

E. Kapon, Semiconductor Lasers (Academic, Boston, 1999).

7

F. J. Giessibl, Rev. Mod. Phys. 75, 949 (2003).

8

P. B. Boldyrevskii, D. O. Filatov, I. A. Kazantseva, D. S. Smotrin, and M. V. Revin, Inorg. Mater. 52, 985 (2016).

9

P. B. Boldyrevskii, D. O. Filatov, I. A. Kazantseva, M. V. Revin, D. S. Smotrin, and P. A. Yunin, Tech. Phys. 63, 211 (2018).

10

S. N. Magonov, Surface Analysis with STM and AFM. Experimental and Theotetical Aspects of Image Analysis (Wiley-VCH, Weinheim, 1996).

11

K. Hata, H. Shigekawa, T. Ueda, M. Akiyama, and T. Okano, Jpn. J. Appl. Phys. B 39, 4404 (2000).

12

Self-Assembled InGaAs/GaAs Quantum Dots, Ed. by M. Sugawara (Academic, Boston, 2011).
ACKNOWLEDGMENTS
AFM examinations were conducted in the Common Use Center Physics of Solid-State Nanostructures at the Lobachevsky State University (Nizhny Novgorod, Russia).
Ethics declarations
The authors claim that there is no conflict of interest.
Additional information
Translated by V. Isaakyan
About this article
Cite this article
Boldyrevskii, P.B., Filatov, D.O., Filatov, A.D. et al. Atomic Force Microscopy Examination of Elementary Processes in Metalorganic Compound Hydride Epitaxy of GaAs-Based Nanoheterostructures. Tech. Phys. 65, 791–794 (2020). https://doi.org/10.1134/S1063784220050035
Received:

Revised:

Accepted:

Published:

Issue Date: