Abstract
The complex of modern physical methods for studying authigenic carbonate crusts in the Miocene bryozoan bioherms of the Kazantip Cape (Kerch Peninsula) has made it possible to reveal fossil biofilms and glycocalyx for the first time. These finds indicate that methanotrophic carbonate-precipitated bacteria during their activity strengthened brittle bryozoan skeletons. The presence of cavities in bioherms incrusted with goethite crusts, the presence of bitumen, pyrite, strontianite, barite, kutnagorite in the composition of carbonate crusts, and traces of the vital activity of methanotrophic bacteria are associated with the significant influence of near-bottom local gas–fluid seeps. This situation was determined by the occurrence of a discharge zone of rising gas–fluid flows in the Kazantip Cape area as a result of activation of mud volcanism, typical of the Neogene–Holocene interval of the Kerch–Taman Region.
This is a preview of subscription content, log in to check access.
Access options
Buy single article
Instant access to the full article PDF.
US$ 39.95
Price includes VAT for USA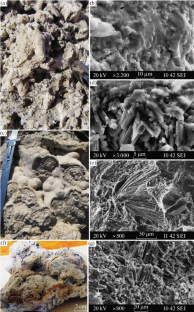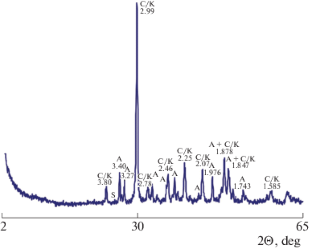 REFERENCES
1

A. A. Klyukin, Tr. Nikitsk. Bot. Sada 126, 133–148 (2006).

2

V. G. Kulichenko, Geol. Zh. 32, 121–126 (1972).

3

Yu. V. Vernigorova, L. A. Fikolina, and N. N. Obsharskaya, Geol. Zh., No. 3, 74–94 (2012).

4

H. Zhang, Y. Li, X. Wang, et al., Geochem. Trans. 16, 1–10 (2015). https://doi.org/10.1186/s12932-015-0026-0

5

A. Yu. Lein, Lithol. Miner. Resour. 39 (1), 1–31 (2004).

6

F. Pirajno, Hydrothermal Processes and Mineral Systems (Springer Sci.+Business Media, 2009).

7

O. M. Dara, A. Yu. Lein, N. V. Kozina, et al., Dokl. Earth Sci. 465 (5), 1257–1262 (2015).

8

E. F. Shnyukov, V. A. Kutnii, N. A. Maslakov, et al., Geol. Polezn. Iskop. Mirovogo Okeana, No. 2, 69–81 (2006).

9

A. Yu. Lein and M. V. Ivanov, Biogeochemical Cycle of Methane in the Ocean (Nauka, Moscow, 2009) [in Russian].

10

E. Flugel, Microfacies of Carbonate Rocks: Analysis, Interpretation and Application (Springer, Berlin, 2013).

11

A. N. Derkachev, N. A. Nikolaeva, B. V. Baranov, et al., Oceanology 55 (3), 390–400 (2015).

12

A. A. Klyukin, Tr. Nikitsk. Bot. Sada 126, 133–148 (2006).

13

E. F. Shnyukov, Yu. V. Sobolevskii, G. I. Gnatenko, et al., Mud Volcanoes in the Kerch-Taman Area. Atlas (Naukova Dumka, Kiev, 1986) [in Russian].
ACKNOWLEDGMENTS
We are grateful to the Kazantip State Reserve for support and assistance during our research.
Additional information
Translated by D. Voroshchuk
About this article
Cite this article
Antoshkina, A.I., Leonova, L.V. & Simakova, Y.S. The Development of Miocene Biohermal Bryozoan Limestones of Kazantip Cape (Crimea): A New Insight. Dokl. Earth Sc. 491, 195–198 (2020). https://doi.org/10.1134/S1028334X20040029
Received:

Revised:

Accepted:

Published:

Issue Date:
Keywords:
methanotrophic bacteria

glycocalyx

carbonate crusts

bacterial-induced cement

bryozoans

bioherms

Miocene

Kazantip Cape

Crimea