Abstract
LA-ICP-MS U–Pb dating of detrital zircons reveals two levels of accumulation of Proterozoic quartzites in the Kyrgyz North Tianshan. The quartzites of the Makbal Formation in the core of the Makbal anticlinorium have a maximum depositional age of 1.7 Ga and characterize the oldest stage of accumulation of quartzites in the western Central Asian Orogenic Belt. Quartzites of the Ovva Formation in the northeastern limb of the Makbal anticlinorium and Djeldysu Formation in the Burkhan anticlinorium have maximum depositional ages of ca. 1.0 Ga. Distributions of detrital zircon ages in these two formations are identical and indistinguishable from detrital zircon age distributions in the Neoproterozoic quartzites of the North Kazakhstan. The latter three quartzitic units have common provenance and, apparently, represent the same stratigraphic level. Distinctly different distributions of detrital zircon ages indicate that Precambrian microcontinents of the Kokchetav-North Tianshan zone represented independent continental massif with respect to Precambrian crustal blocks of the Middle Tianshan and Tarim Craton.
This is a preview of subscription content, log in to check access.
Access options
Buy single article
Instant access to the full article PDF.
US$ 39.95
Price includes VAT for USA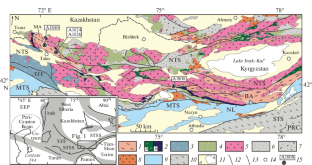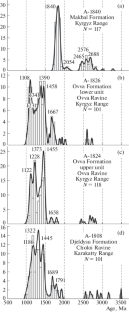 REFERENCES
1

K. E. Degtyarev, A. S. Yakubchuk, A. A. Tretyakov, et al., Gondwana Res. 47, 44–75 (2017).

2

A. B. Bakirov, M. D. Ges', R. D. Dzhenchuraeva, et al., Geodynamics and Mineralization of Tien Shan (Kyrgyzstan) (Ilim, Bishkek, 2014) [in Russian].

3

D. V. Alexeiev, A. Kröner, V. P. Kovach, et al., Gondwana Res. 66, 93–115 (2019).

4

Stratified and Intrusive Formations of Kirghizia, Ed. by K. O. Osmonbetov (Ilim, Frunze, 1982), Vol. 1 [in Russian].

5

V. L. Klishevich and S. A. Semiletkin, Byull. Mosk. O-va Ispyt. Prir., Otd. Geol. 70 (2), 59–74 (1995).

6

G. Gehrels, Detrital zircon U–Pb geochronology: current methods and new opportunities, in Tectonics of Sedimentary Basins: Recent Advances, Ed. by C. Busby and A. Azor (Blackwell Publ., 2012), Ch. 2, pp. 47–62.

7

K. E. Degtyarev, A. V. Ryazantsev, A. A. Tretyakov, et al., Geotectonics 47 (6), 377–417 (2013).

8

Y. Rojas-Agramonte, A. Kröner, D. V. Alexeiev, et al., Gondwana Res. 26 (3-4), 957–974 (2014).

9

V. Kovach, K. Degtyarev, A. Tretyakov, et al., Gondwana Res. 47, 28–43 (2017).

10

A. K. Khudoley, D. V. Alexeiev, S. A. DuFrane, et al., Dokl. Earth. Sci. 479 (2), 316–320 (2018).
Funding
The study was supported by RFBR grants 17-05-00267 and 20-05-00252.
About this article
Cite this article
Alexeiev, D.V., Khudoley, A.K. & DuFrane, S.A. Paleoproterozoic and Neoproterozoic Quartzites of the Kyrgyz North Tianshan: Age Determination according to the Results of Detrital Zircon Dating. Dokl. Earth Sc. 491, 191–194 (2020). https://doi.org/10.1134/S1028334X20040017
Received:

Revised:

Accepted:

Published:

Issue Date:
Keywords:
detrital zircons

dating

quartzite

Proterozoic

Tianshan