Abstract
Issues are discussed related to Russia's political and economic objective to become one of the five major economies of the world. It is shown that the continuation of the existing trends in GDP should permit Russia to rise in the coming years from the sixth position to the fifth among the world nations in terms of GDP yet remain in this position only until the end of the 2020s. The authors believe that in the forecast period until 2024, an average annual growth rate of 3% in labor productivity is quite likely. This growth rate suggests better structural ratios for investment and productivity trends and a slightly higher rate of accumulation than at the beginning of the forecast period.
This is a preview of subscription content, log in to check access.
Access options
Buy single article
Instant access to the full article PDF.
US$ 39.95
Price includes VAT for USA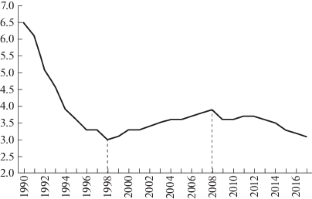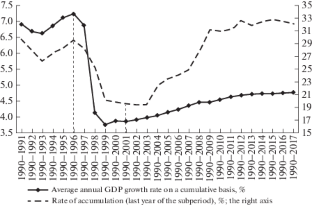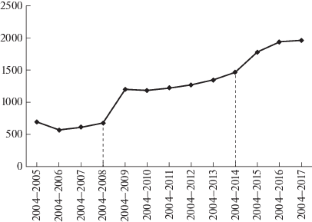 Notes
1.

It should be noted that the resulting estimates largely depend on the chosen units of measurement; thus, one should clearly see the strengths and weaknesses of each of them. A conventional approach is that a comparative GDP estimate should take into account the purchasing power parity (PPP) [14].

2.

In relation to GDP growth, a similar indicator or its inverse is often used in the literature to calculate the so-called absolute efficiency of capital investments.

3.

For more details on E1,T, see, e.g., [3].

4.

When calculating this indicator, double normalization enables one to neutralize the economies of scale.

5.

The World Bank Information Database provides labor productivity data (GDP at 2010 prices) with reference to the International Labor Organization (ILO) since 1991.

6.

The comparability of conditions includes another requirement, namely, that the labor productivity in the baseline year and in the last year of the period hit the historical maxima. Unfortunately, in some cases this requirement is not observed. Since the deviations of the actual values from the historical maximum are relatively small, this fact has virtually no effect on the conclusions.

7.

According to the World Bank, its value in 2001–2017 was 2.2% in the world and 3.6% in Indonesia (in constant 2011 dollars at PPP).
REFERENCES
1

http://kremlin.ru/acts/bank/41449.

2

S. Yu. Glaz'ev, Central Bank and state banks should lend to the economy. https://glazev.ru/articles/165-interv-ju/59150-tsb-i-gosbanki-dolzhny-kreditovat-jekonomiku.

3

B. L. Lavrovskii, "Investment opportunities to accelerate labor productivity dynamics," Herald Russ. Acad. Sci. 88 (3), 220–229 (2018).

4

V. I. Lenin, Complete collection of works, Vol. 39. http://www.uaio.ru/vil/39.htm.

5

XXII Congress of the Communist Party of the Soviet Union, October 17–31, 1961: Verbatim report. http://istmat.info/files/uploads/52747/22_sezd._chast_3._1962_g.pdf.

6

April 1985 Plenary Meeting of the Central Committee of the Communist Party of the Soviet Union. https://ria.ru/spravka/20100423/225974123.html.

7

The USSR National Economy over 70 Years (Finansy i Statistika, Moscow, 1987) [in Russian].

8

V. V. Putin, Russia at the turn of the millennium. http://www.ng.ru/politics/1999-12-30/4_millenium.html.

9

International Labor Organization. http://www.ilo.org/ilostat/.

10

Speech by First Vice Premier–Minister of Finance Anton Siluanov at the Primakov Readings 2019. https://m.minfin.ru/ru/press-center/?id_4=36668&area_id=4&page_id=2207&popup=Y.

11

https://www.rbc.ru/economics/30/08/2017/59a6b0959a79470df9346274.

12

http://publication.pravo.gov.ru/Document/View/0001201805070038.

13

http://kremlin.ru/events/president/news/56957.

14

http://www.gks.ru/bgd/free/meta_2010/IssWWW.exe/Stg/d1996/i000380r.htm.

15

World Bank. https://data.worldbank.org/products/wdi.

16

http://www.static.government.ru/media/files/p7nn2CS0pVhvQ98OOwAt2dzCIAietQih.pdf.

17

Federal Statistics Service. http://www.gks.ru/.
Funding
This work was supported by the Ministry of Science and Higher Education of the Russian Federation, project no. 26.2024.2017/4.6.
Additional information
Translated by A. Kobkova
Boris Leonidovich Lavrovskii, Dr. Sci. (Econ.), is a leading scientific researcher of the Institute of Economics and Industrial Engineering, Siberian Branch, Russian Academy of Sciences, and a professor at Novosibirsk State Technical University. Ekaterina Alekseevna Goryushkina, Cand. Sci. (Econ.), is a scientific researcher at the Institute of Economics and Industrial Engineering, Siberian Branch, Russian Academy of Sciences, and a docent of Novosibirsk State Technical University.
About this article
Cite this article
Lavrovskii, B.L., Goryushkina, E.A. Trends in Labor Productivity and Investment: Empirical Observations. Her. Russ. Acad. Sci. 90, 266–272 (2020). https://doi.org/10.1134/S1019331620010086
Received:

Revised:

Accepted:

Published:

Issue Date:
Keywords:
Russia

GDP

fixed assets

production apparatus

labor productivity

investment

innovation.