Abstract
The new bryozoan species Filites vulgaris Udodov, F.regularis Mesentseva, F.bakharevi Mesentseva, and F. fragilis Udodov are described from the Akarachkino Quarry in vicinity of Gurievsk (Salair), from a series of alternating argillaceous-carbonate shale and detrital, slightly argillaceous limestones of Emsian age (serotinus zone). In this series there are reticulate colonies of fenestellids in rock-forming abundance (over 20 species belonging to 12 genera). The bryozoan burial is autochthonous, hence, entire colonies and rather large fragments of colonies, including members of the genus Filites, have been preserved.
This is a preview of subscription content, log in to check access.
Access options
Buy single article
Instant access to the full article PDF.
US$ 39.95
Price includes VAT for USA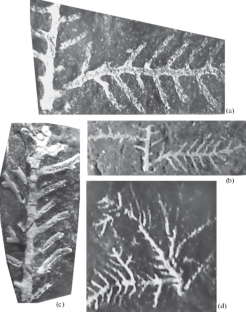 REFERENCES
1

Ernst, A. and Königshof, P. Bryozoan fauna and microfacies from a Middle Devonian reef complex (Western Sahara, Morocco, Abh. Senckenberg Ges. Naturforsch., 2010, vol. 568, pp. 1–91.

2

Krasnopeeva, P.S., New Bryozoan Species and New Records of Genera in the Middle Devonian of Rudnyi Altai, Materialy po geologii Zapadnoi Sibiri. Tomsk: Izd. Tomsk. Univ., 1962, no. 63, pp. 123–127.

3

McKinney, F.K. and Kříž, J., Lower Devonian Fenestrata (Bryozoa) of the Prague Basin, Barrandian Area, Bohemia, Czechoslovakia, Fieldiana. Geol., New Series, 1986, no. 15, pp. 1–190.

4

Morozova, I.P., Bryozoans of the order Fenestellida (Morphology, System, Historical Development), Tr. Paleontol. Inst. Ross. Akad. Nauk, 2001, vol. 277, pp. 1–176.

5

Nekhorosheva, L.V. and Mesentseva, O.P., Lower-Middle Devonian fenestellids (Bryozoans) of South Tien-Shan and Adjacent Regions of Central Asia, Novosti Paleontol.Stratigr.,Prilozh. Zhurn. Geol. Geofiz., 2011, vol. 52, no. 15, pp. 201–225.

6

Stratotipicheskie razrezy nizhnego i srednego devona Salaira. Telengitskii nadgorizont: karbonatnye fatsii (Stratotype Sections of the Lower and Middle Devonian of Sailar. Telengitian Regional Substage: Carbonate facies), Elkin, E.A. and Kanygin, A.V., Eds., Novosibirsk: Inst. Geol. Geofiz, Sib. Otd. Akad. Nauk SSSR, 1987.

7

Yolkin, E.A., Bakharev, N.K., Izokh, N.G., Gratsianova, R.T., Kipriyanova, T.P., and Obut, O.T., Devonian sequences of Salair, Rudny and Gorny Altai: Field Excursion Guidebook. International Conference. Novosibirsk: Publ. House of Sib. Branch. Ross. Akad. Nauk, "Geo" Branch, 2005, p. 82.
Additional information
Translated by S. Nikolaeva
About this article
Cite this article
Mesentseva, O.P., Udodov, Y.V. New Species of the Genus Filites Počta in Barrande (Bryozoa) from the Emsian (Lower Devonian) of Salair. Paleontol. J. 54, 255–262 (2020). https://doi.org/10.1134/S0031030120030090
Received:

Revised:

Accepted:

Published:

Issue Date:
Keywords:
bryozoans

Fenestellida

Filites

Devonian

Emsian Stage

Salair