Abstract—
The rhynchonellid Dogdoa talyndzhensis Baranov, sp. nov. (subfamily Dogdoinae) and the atrypid Vagrania naanchanensis Baranov, sp. nov. (subfamily Vagraninae) are described from the Lower Devonian deposits of Northeast Eurasia. Trails with preserved thin striae and concentric growth lines were found for the first time in the species Vagrania kolymensis (Nalivkin, 1936). The subfamily Punctspinatrypinae Baranov, subfam. nov. includes two genera: Punctspinatrypa Rzhonsnitskaya, and Mishninia Baranov, gen. nov with the reference species М. nodosa Baranov, sp. nov.
This is a preview of subscription content, log in to check access.
Access options
Buy single article
Instant access to the full article PDF.
US$ 39.95
Price includes VAT for USA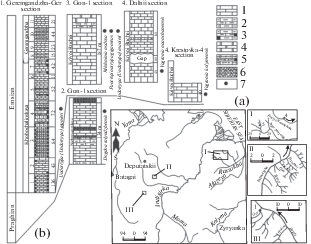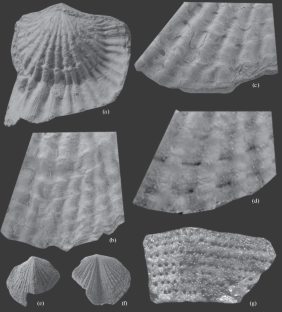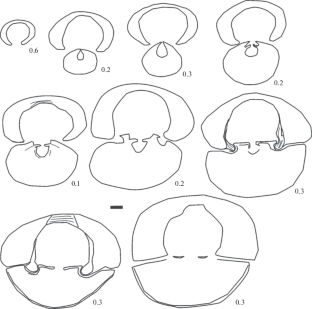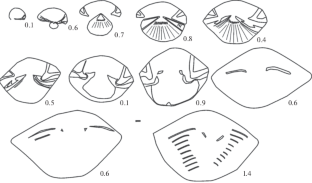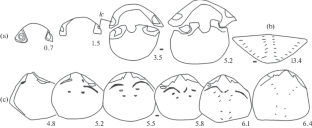 REFERENCES
1

Al'khovik, T.S. and Baranov, V.V., Stratigrafiya nizhnego devona Vostochnoi Yakutii (Cevero-Vostok Rossii) (The Lower Devonian Stratigraphy of Eastern Yakutia (Northeastern Russia)), Yakutsk: Yakut. Fil. Izd. SO RAN, 2001.

2

Alekseeva, R.E., Brakhiopody i stratigrafiya nizhnego devona Severo-Vostoka SSSR (Brachiopods and Biostratigraphy of the Lower Devonian of the Northeastern USSR), Moscow: Nauka, 1967.

3

Alekseeva, R.E., A new subfamily Vagraninae (Atrypida, Brachiopoda), Paleontol. Zh., 1995, no. 3, pp. 49–60.

4

Alekseeva, R.E., Gratsianova, R.T., Yolkin, E.A., and Kul'kov, N.P., Stratigrafiya i brakhiopody nizhnego devona Severo-Vostochnogo Salaira (Stratigraphy and Brachiopods of the Lower Devonian of Northeastern Salair), Moscow: Nauka, 1970.

5

Alekseeva, R.E., Sidjachenko, A.I., Baranov, V.V., Afanasjeva, G.A., Grunt, T.A., Komarov, V.N., Lazarev, S.S., and Manankov, I.N., Atlas devonskikh brakhiopod Severo-Vostoka Rossii (Atlas of the Devonian Brachiopods of Northeastern Russia), Moscow: Nauka, 1996.

6

Baranov, V.V., New Devonian rhynchonellids and atrypids from the Eastern Yakutia, Paleontol. Zh., 1982, no. 2, pp. 41–50.

7

Baranov, V.V., New atrypids (Brachiopoda) from the Emsian (Lower Devonian) of Northeast Eurasia, Paleontol. J., 2015, vol. 49, no. 5, pp. 464–473.

8

Baranov, V.V., New atrypids (Brachiopoda) from the Lower Devonian of Northeast Russia, Paleontol. J., 2018, vol. 52, no. 3, pp. 255–264.

9

Copper, P., Devonian atrypids from western and northern Canada, Geol. Assoc. Can. Spec. Pap., 1978, no. 18, pp. 289–331.

10

Johnson, J.G., A new species of Vagrania (Devonian, Brachiopoda) from Nevada, J. Paleontol., 1968, vol. 42, no. 5, pp. 1200–1204.

11

Khodalevich, A.N., Lower Devonian and Eifelian brachiopods from the Sverdlovsk Region, in Trudy Sverdlovsk. Gorn. Inst. Vyp. 18, Moscow: Gosgeolizdat, 1951.

12

Nalivkin, D.V., Middle Paleozoic fauna from the upper reaches of rivers of Kolyma and Khandyga, in Materialy po izucheniyu Okhotsko-Kolymskogo kraya. Ser. Geol. Geomorfol. Vyp. 4 (Materials on Stratigraphy of the Okhotsk–Kolyma Krai. Geol. Geomorph. Ser. Vol. 4), Moscow: ONTI NKTP SSSR, 1936, pp. 3–28.

13

Nikolaev, A.A. and Rzhonsnitskaya, M.A., Devonian of Northeastern USSR, in Proc. Int. Symp. of the Devonian System, Calgary, 1967, pp. 483–502.

14

Rzhonsnitskaya, M.A., The Devonian biostratigraphy of the Kuznetsk basin margins. Vol. 2. Description of brachiopods. Pt. 1. Pentamerida and Atrypida, in Tr. VSEGEI. Nov. ser. T. 244 (Trans. All-Russ. Res. Geol. Inst. New Ser. Vol. 244), Leningrad: Nedra, 1975.
Additional information
Translated by D. Voroshchuk
About this article
Cite this article
Baranov, V.V. New Rhynchonellids and Atrypids (Brachiopoda) from the Lower Devonian Deposits of Northeast Eurasia. Paleontol. J. 54, 263–272 (2020). https://doi.org/10.1134/S003103012003003X
Received:

Revised:

Accepted:

Published:

Issue Date:
Key words:
brachiopods

rhynchonellids

atrypids

Lower Devonian

Northeast Eurasia