Abstract
A physical and mathematical formulation of the problem of the quasi-stationary ablation of carbon material is given, and the course of all of the main accompanying physical and chemical processes is taken into account. A typical example of the distribution of the parameters of the ablation of the mass of carbon material over the surface of a blunt cone is considered.
This is a preview of subscription content, log in to check access.
Access options
Buy single article
Instant access to the full article PDF.
US$ 39.95
Price includes VAT for USA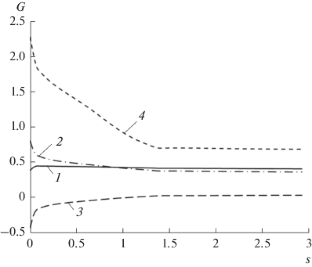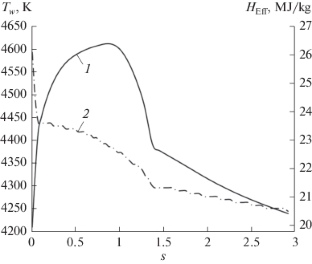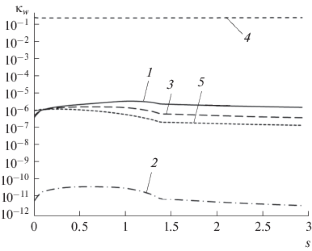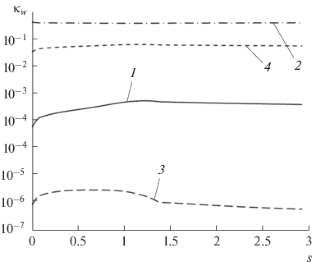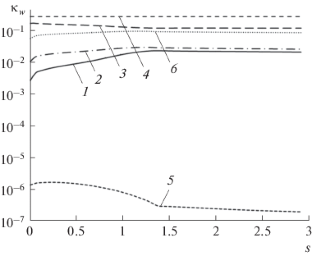 REFERENCES
1

Polezhaev, Yu.V. and Yurevich, F.B., Teplovaya zashchita (Thermal Protection), Moscow: Energiya, 1976.

2

Pchelkin, Yu.D., Kosmonavt. Raketostroenie, 2014, no. 2, p. 19.

3

Moore, J.A. and Zlotnik, M., ARS J., 1961, vol. 31, no. 10, p. 1388

4

Rosner, D.E. and Allendor, H.D., AIAA J., 1968, vol. 6, no. 4, p. 650.

5

Vlasov, V.I. and Zalogin, G.N., Kosmonavt. Raketostroenie, 2015, no. 2, p. 84.

6

Gorskii, V.V., Teoreticheskie osnovy rascheta ablyatsionnoi teplovoi zashchity (Theoretical Basis for Calculating Ablative Heat Shield), Moscow: Nauchnyi Mir, 2015.

7

Polezhaev, Yu.V., Sublimation, in Fizicheskii entsiklopedicheskii slovar (Physical Encyclopedic Dictionary), Moscow: Sov. Entsiklopediya, 1956, vol. 5, p. 101.

8

Anfimov, N.A., Izv. Akad. Nauk SSSR, Mekh. Mashinostr., 1964, no. 5, p. 3.

9

Gerasimov, D.N. and Yurin, E.I., High Temp., 2015, vol. 53, no. 4, p. 502.

10

Gerasimov, D.N. and Yurin, E.I., High Temp., 2014, vol. 52, no. 3, p. 366.

11

Gorskii, V.V. and Resh, V.G., in Proc. 29th Congress of the Int. Council of the Aeronautical Sciences, St. Petersburg, 2014, p. 8.

12

Gordeev, A.N., Zalogin, G.N., and Kolesnikov, A.F., Fiz.-Khim. Kinet. Gaz. Din., 2010, vol. 9. http:// chemphys.edu.ru/issues/2010-9/articles/126/.
About this article
Cite this article
Gorskii, V.V. Calculation-Theoretical Model of the Ablation of the Mass of Carbon Heat-Shielding Materials in Oxidating Gas Flows. High Temp 58, 232–237 (2020). https://doi.org/10.1134/S0018151X2002008X
Received:

Revised:

Accepted:

Published:

Issue Date: