Abstract
Monocytes and muscles demonstrate functionally contrasting behavior under conditions of zinc deficiency with relation to zinc storage system (muscle retain zinc in contrast to monocytes). We aimed to understand the effects of zinc status and HIV-1 Tat mediated inflammation on expression of zinc transporters in these types of cells. Expression of zinc transporters [ZnTs, ZIPs, and metallothionein (MT)] was quantified by qRT-PCR in RD, THP-1 cells separately and in co-cultured THP-1–RD cells. ZnT1 protein expression levels were confirmed by Western blot. Significant increase of MT and ZnT1 mRNA in response to zinc supplementation and decrease during zinc deficiency indicates significance of the genes encoding transporters in maintaining zinc homeostasis in these tissues. In the RD cells ZIP10 exhibited inverse relation to zinc status whereas no correlation was found in the THP-1 cells. Tat-induced inflammation resulted in the significant elevation of MT, IL6, ZIP7, ZIP8, ZIP9 transcripts in the co-cultured RD cells, whereas THP-1 cells demonstrated increased IL-1β levels and reduced levels of ZIP7 and ZIP14. Zinc status and HIV-1Tat induced inflammation appear to influence differential expression of MT, ZnTs, and ZIPs in the muscle and monocyte cells.
Access options
Buy single article
Instant access to the full article PDF.
US$ 39.95
Tax calculation will be finalised during checkout.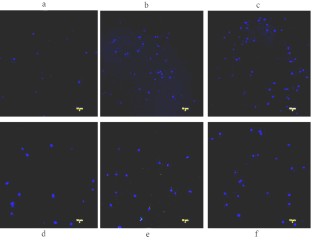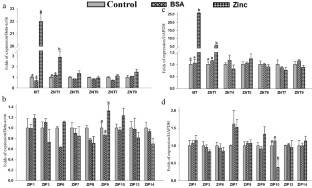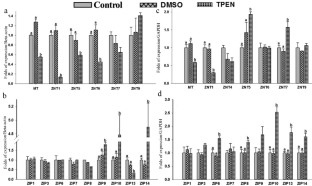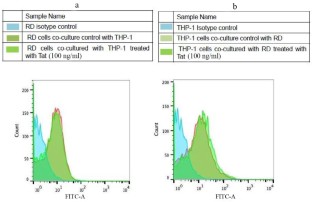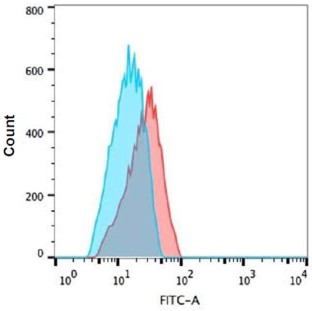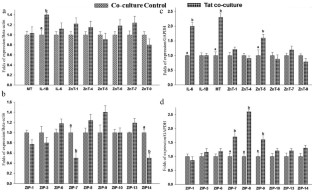 Abbreviations
DMEM:

Dulbecco's modified eagle medium

FBS:

fetal bovine serum

gp120:

glycoprotein120

HIV:

Human Immunodeficiency Virus

IL:

interleukin

MT:

metallothionein

MTF:

metal transcription factor

MHC:

major histocompatibility complex

Tat:

trans-activator of transcription (Tat)

TNF:

tumour necrosis factor-α

RD:

rhabdomyosarcoma cells

TPEN:

N,N,N′,N′TetraKis (2-pyridylmethyl) ethylene diamine

ZIPs:

Zrt- and Irt-like protein

ZnTs:

zinc transporters
References
1

Kambe, T., Tsuji, T., Hashimoto, A., and Itsumura, N. (2015) The physiological, biochemical, and molecular roles of zinc transporters in zinc homeostasis and metabolism, Physiol. Rev., 95, 749-784.

2

Jackson, M. (1989) Physiology of Zinc: General Aspects, Zinc in Human Biology, pp. 1-14.

3

Beck, F. W., Kaplan, J., Fine, N., Handschu, W., and Prasad, A. S. (1997) Decreased expression of CD73 (ecto-5′-nucleotidase) in the CD8+ subset is associated with zinc deficiency in human patients, J. Lab. Clin. Med., 130, 147-156.

4

Prasad, A. S. (2008) Zinc in human health: effect of zinc on immune cells, Mol. Med., 14, 353-357.

5

Giacconi, R., Malavolta, M., Costarelli, L., Busco, F., Galeazzi, R., et al. (2012) Comparison of intracellular zinc signals in nonadherent lymphocytes from young-adult and elderly donors: role of zinc transporters (Zip family) and proinflammatory cytokines, J. Nutr. Biochem., 23, 1256-1263.

6

Mao, X., Kim, B. E., Wang, F., Eide, D. J., and Petris, M. J. (2007) A histidine-rich cluster mediates the ubiquitination and degradation of the human zinc transporter, hZIP4, and protects against zinc cytotoxicity, J. Biol. Chem., 282, 6992-7000.

7

Weaver, B. P., and Andrews, G. K. (2012) Regulation of zinc-responsive Slc39a5 (Zip5) translation is mediated by conserved elements in the 3′-untranslated region, Biometals, 25, 319-335.

8

Mocchegiani, E., Giacconi, R., Cipriano, C., and Malavolta, M. (2009) NK and NKT cells in aging and longevity: role of zinc and metallothioneins, J. Clin. Immunol., 29, 416-425.

9

Nishida, K., Hasegawa, A., Nakae, S., Oboki, K., Saito, H., et al. (2009) Zinc transporter Znt5/Slc30a5 is required for the mast cell-mediated delayed-type allergic reaction but not the immediate-type reaction, J. Exp. Med., 206, 1351-1364.

10

Liu, M.-J., Bao, S., Gálvez-Peralta, M., Pyle, C. J., Rudawsky, A. C., et al. (2013) The zinc transporter SLC39A8 is a negative feedback regulator of NF-κB through zinc-mediated inhibition of IKK, Cell Rep., 3, 386.

11

Taniguchi, M., Fukunaka, A., Hagihara, M., Watanabe, K., Kamino, S., Kambe, T., Enomoto, S., and Hiromura, M. (2013) Essential role of the zinc transporter ZIP9/SLC39A9 in regulating the activations of Akt and Erk in B-cell receptor signaling pathway in DT40 cells, PLoS One, 8, e58022.

12

Haraguchi, Y., Sakurai, H., Hussain, S., Anner, B. M., and Hoshino, H. (1999) Inhibition of HIV-1 infection by zinc group metal compounds, Antiviral Res., 43, 123-133.

13

Mocchegiani, E., and Muzzioli, M. (2000) Therapeutic application of zinc in human immunodeficiency virus against opportunistic infections, J. Nutr., 130, 1424S-1431S.

14

Bobat, R., Coovadia, H., Stephen, C., Naidoo, K. L., McKerrow, N., Black, R. E., and Moss, W. J. (2005) Safety and efficacy of zinc supplementation for children with HIV-1 infection in South Africa: a randomised double-blind placebo-controlled trial, Lancet, 366, 1862-1867.

15

Baum, M. K., Lai, S., Sales, S., Page, J. B., and Campa, A. (2010) Randomized, controlled clinical trial of zinc supplementation to prevent immunological failure in HIV-infected adults, Clin. Infect. Dis., 50, 1653-1660.

16

Tang, A. M., Graham, N. M., Kirby, A. J., McCall, L. D., Willett, W. C., and Saah, A. J. (1993) dietary micronutrient intake and risk of progression to Acquired Immunodeficiency Syndrome (AIDS) in Human Immunodeficiency Virus Type 1 (HlV-1)-infected homosexual men, Am. J. Epidemiol., 138, 937-951.

17

Lee, S. P., and Han, M. K. (1996) Zinc stimulates Mg2+-dependent 3′-processing activity of human immunodeficiency virus type 1 integrase in vitro, Biochemistry, 35, 3837-3844.

18

Rice, W. G., Schaeffer, C. A., Harten, B., Villinger, F., South, T. L., et al. (1993) Inhibition of HIV-1 infectivity by zinc-ejecting aromatic C-nitroso compounds, Nature, 361, 473-475.

19

Reid, W., Sadowska, M., Denaro, F., Rao, S., Foulke, J., et al. (2001) An HIV-1 transgenic rat that develops HIV-related pathology and immunologic dysfunction, Proc. Natl. Acad. Sci. USA, 98, 9271-9276.

20

Reid, W., Abdelwahab, S., Sadowska, M., Huso, D., Neal, A., et al. (2004) HIV-1 transgenic rats develop T cell abnormalities, Virology, 321, 111-119.

21

Purvis, S. F., Jacobberger, J. W., Sramkoski, R. M., Patki, A. H., and Lederman, M. M. (1995) HIV type 1 Tat protein induces apoptosis and death in Jurkat cells, AIDS Res. Hum. Retroviruses, 11, 443-450.

22

Bettaccini, A. A., Baj, A., Accolla, R. S., Basolo, F., and Toniolo, A. Q. (2005) Proliferative activity of extracellular HIV-1 Tat protein in human epithelial cells: expression profile of pathogenetically relevant genes, BMC Microbiol., 5, 20.

23

Frankel, A. D., Bredt, D. S., and Pabo, C. O. (1988) Tat protein from human immunodeficiency virus forms a metal-linked dimer, Science, 240, 70-73.

24

Canani, R. B., Ruotolo, S., Buccigrossi, V., Passariello, A., Porcaro, F., Siani, M. C., and Guarino, A. (2007) Zinc fights diarrhoea in HIV-1-infected children: in-vitro evidence to link clinical data and pathophysiological mechanism, AIDS, 21, 108-110.

25

Li, J. C., Yim, H. C., and Lau, A. S. (2010) Role of HIV-1 Tat in AIDS pathogenesis: its effects on cytokine dysregulation and contributions to the pathogenesis of opportunistic infection, AIDS, 24, 1609-1623.

26

Matsui, M., Warburton, R. J., Cogswell, P. C., Baldwin, A. S., Jr., and Frelinger, J. A. (1996) Effects of HIV-1 Tat on expression of HLA class I molecules, J. Acquir. Immune Defic. Syndr. Hum. Retrovirol., 11, 233-240.

27

Gherardi, R. K. (1994) Skeletal muscle involvement in HIV-infected patients, Neuropathol. Appl. Neurobiol., 20, 232-237.

28

Illa, I., Nath, A., and Dalakas, M. (1991) Immunocytochemical and virological characteristics of HIV-associated inflammatory myopathies: similarities with seronegative polymyositis, Ann. Neurol., 29, 474-481.

29

Belec, L., Meillet, D., Hernvann, A., Gresenguet, G., and Gherardi, R. (1994) Differential elevation of circulating interleukin-1 beta, tumor necrosis factor alpha, and interleukin-6 in AIDS associated cachectic states, Clin. Diagn. Lab. Immunol., 1, 117-120.

30

Llovera, M., Garcia-Martinez, C., Agell, N., Lopez-Soriano, F. J., Authier, F. J., Gherardi, R. K., and Argiles, J. M. (1998) Ubiquitin and proteasome gene expression is increased in skeletal muscle of slim AIDS patients, Int. J. Mol. Med., 2, 69-73.

31

Gonzalez-Cadavid, N. F., Taylor, W. E., Yarasheski, K., Sinha-Hikim, I., Ma, K., et al. (1998) Organization of the human myostatin gene and expression in healthy men and HIV-infected men with muscle wasting, Proc. Natl. Acad. Sci. USA, 95, 14938-14943.

32

Tibaduiza, E. C., and Bobilya, D. J. (1996) Zinc transport across an endothelium includes vesicular cotransport with albumin, J. Cell. Physiol., 167, 539-547.

33

Sreenivasulu, K., Raghu, P., and Nair, K. M. (2010) Polyphenol-rich beverages enhance zinc uptake and metallothionein expression in Caco-2 cells, J. Food Sci., 75, H123-H128.

34

Coyle, P., Zalewski, P. D., Philcox, J. C., Forbes, I. J., Ward, A. D., et al. (1994) Measurement of zinc in hepatocytes by using a fluorescent probe, zinquin: relationship to metallothionein and intracellular zinc, Biochem. J., 303, 781-786.

35

Chen, L., Frister, A., Wang, S., Ludwig, A., Behr, H., et al. (2009) Interaction of vascular smooth muscle cells and monocytes by soluble factors synergistically enhances interleukin-6 and MCP-1 production, Am. J. Physiol. Heart Circ. Physiol., 296, H987-H996.

36

Alluri, K., Nair, K. P., Kotturu, S. K., and Ghosh, S. (2020) Transcriptional regulation of zinc transporters in human osteogenic sarcoma (Saos-2) cells to zinc supplementation and zinc depletion, Biol. Trace Elem. Res., 194, 360-367.

37

Davis, S. R., and Cousins, R. J. (2000) Metallothionein expression in animals: a physiological perspective on function, J. Nutr., 130, 1085-1088.

38

Alluri, K., Nair, K. P., and Ghosh, S. (2019) Differential expression of zinc transporters in functionally contrasting tissues involved in zinc homeostasis, Nucleosides Nucleotides Nucleic Acids, 18, 1-5.

39

Cao, J., Bobo, J. A., Liuzzi, J. P., and Cousins, R. J. (2001) Effects of intracellular zinc depletion on metallothionein and ZIP2 transporter expression and apoptosis, J. Leukoc. Biol., 70, 559-566.

40

Andrews, G. K. (2000) Regulation of metallothionein gene expression by oxidative stress and metal ions, Biochem. Pharmacol., 59, 95-104.

41

Langmade, S. J., Ravindra, R., Daniels, P. J., and Andrews, G. K. (2000) The transcription factor MTF-1 mediates metal regulation of the mouse ZnT1 gene, J. Biol. Chem., 275, 34803-34809.

42

Cousins, R. J., Blanchard, R. K., Popp, M. P., Liu, L., Cao, J., et al. (2003) A global view of the selectivity of zinc deprivation and excess on genes expressed in human THP-1 mononuclear cells, Proc. Natl. Acad. Sci. USA, 100, 6952-6957.

43

Overbeck, S., Uciechowski, P., Ackland, M. L., Ford, D., and Rink, L. (2008) Intracellular zinc homeostasis in leukocyte subsets is regulated by different expression of zinc exporters ZnT-1 to ZnT-9, J. Leuk. Biol., 83, 368-380.

44

Liuzzi, J. P., Blanchard, R. K., and Cousins, R. J. (2001) Differential regulation of zinc transporter 1, 2, and 4 mRNA expression by dietary zinc in rats, J. Nut., 131, 46-52.

45

Palmiter, R. D., and Findley, S. D. (1995) Cloning and functional characterization of a mammalian zinc transporter that confers resistance to zinc, EMBO J., 14, 639-649.

46

Hara, T., Takeda, T. A., Takagishi, T., Fukue, K., Kambe, T., and Fukada, T. (2017) Physiological roles of zinc transporters: molecular and genetic importance in zinc homeostasis, J. Physiol. Sci., 67, 283-301.

47

Lichten, L. A., Ryu, M.-S., Guo, L., Embury, J., and Cousins, R. J. (2011) MTF-1-mediated repression of the zinc transporter Zip10 is alleviated by zinc restriction, PLoS One, 6, e21526.

48

Ryu, M.-S., Lichten, L. A., Liuzzi, J. P., and Cousins, R. J. (2008) Zinc transporters ZnT1 (Slc30a1), Zip8 (Slc39a8), and Zip10 (Slc39a10) in mouse red blood cells are differentially regulated during erythroid development and by dietary zinc deficiency, J. Nut., 138, 2076-2083.

49

Hamon, R., Homan, C. C., Tran, H. B., Mukaro, V. R., Lester, S. E., et al. (2014) Zinc and zinc transporters in macrophages and their roles in efferocytosis in COPD, PLoS One, 9, e110056.

50

Chen, P., Mayne, M., Power, C., and Nath, A. (1997) The Tat protein of HIV-1 induces Tumor Necrosis Factor-α production implications for HIV-1-associated neurological diseases, J. Biol. Chem., 272, 22385-22388.

51

Nath, A., Conant, K., Chen, P., Scott, C., and Major, E. O. (1999) Transient exposure to HIV-1 Tat protein results in cytokine production in macrophages and astrocytes A hit and run phenomenon, J. Biol. Chem., 274, 17098-17102.

52

Hojyo, S., and Fukada, T. J. (2016) Roles of zinc signaling in the immune system, Immunol Res., 2016, 6762343, https://doi.org/10.1155/2016/6762343.

53

Lang, C. J., Murgia, C., Leong, M., Tan, L.-W., Perozzi, G., et al. (2006) Anti-inflammatory effects of zinc and alterations in zinc transporter mRNA in mouse models of allergic inflammation, Am. J. Physiol. Lung Cell. Mol. Physiol., 292, L577-L584.

54

Liuzzi, J. P., Lichten, L. A., Rivera, S., Blanchard, R. K., Aydemir, T. B., et al. (2005) Interleukin-6 regulates the zinc transporter Zip14 in liver and contributes to the hypozincemia of the acute-phase response, Proc. Natl. Acad. Sci. USA, 102, 6843-6848.

55

Lichten, L. A., Liuzzi, J. P., and Cousins, R. J. (2009) Interleukin-1β contributes via nitric oxide to the upregulation and functional activity of the zinc transporter Zip14 (Slc39a14) in murine hepatocytes, Am. J. Physiol. Gastroint. Liver Physiol., 296, G860-G867.

56

Kitamura, H., Morikawa, H., Kamon, H., Iguchi, M., Hojyo, S., et al. (2006) Toll-like receptor-mediated regulation of zinc homeostasis influences dendritic cell function, Nat. Immunol., 7, 971-977.

57

Li, C. J., Friedman, D. J., Wang, C., Metelev, V., and Pardee, A. B. (1995) Induction of apoptosis in uninfected lymphocytes by HIV-1 Tat protein, Science, 268, 429-431.

58

Chen, D., Wang, M., Zhou, S., and Zhou, Q. (2002) HIV-1 Tat targets microtubules to induce apoptosis, a process promoted by the pro-apoptotic Bcl-2 relative Bim, EMBO J., 21, 6801-6810.

59

Joshi, P. C., and Guidot, D. M. (2011) HIV-1 transgene expression in rats induces differential expression of tumor necrosis factor alpha and zinc transporters in the liver and the lung, AIDS Res. Ther., 8, 36.
Acknowledgements
We acknowledge CSIR-New Delhi, India, for financial assistance to Mr. Kiran Alluri for JRF and SRF (09/484/(0050)/2012-EMR-1). Authors gratefully acknowledge the support of Dr. B. Dinesh Kumar, Scientist G & Head-DTRC for extending the facility and chemicals/reagents from ICMR-Taskforce Project Ref. No. HIV/62/47/2016-ECD-II.
Funding
This research was financially supported by the Indian Council of Medical Research (intramural grants to KMN and grant to SG (5/9/1137/2014-NUT).
Ethics declarations
The authors declare no conflicts of interest in financial or any other sphere. This article does not contain any studies involving human participants or animals performed by any of the authors.
Electronic supplementary material
About this article
Cite this article
Alluri, K., Yathapu, S.R., Babu Kondapalli, N. et al. Levels of Zinc Transporters mRNA Depending on Zinc Status and HIV-1 Tat Induced Inflammation in Muscle (Rhabdomyosarcoma) and Monocyte (THP-1) Cell Lines. Biochemistry Moscow 86, 168–178 (2021). https://doi.org/10.1134/S000629792102005X
Received:

Revised:

Accepted:

Published:

Issue Date:
Keywords
zinc transporters

ZIPs

ZnTs

co-culture

HIV-1Tat

THP-1

RD