Abstract
According to the Plan of Complex Scientific Research of the World Ocean for 2017–2022, the V.I. Il'ichev Pacific Oceanological Institute, Far Eastern Branch, Russian Academy of Sciences, continues to study the northern part of the Sea of Japan and the Tatar Strait, carrying out a three-year plan of expeditionary research of this region. The expedition aboard the R/V Akademik Oparin (cruise no. 55) spanned from October 2 to 19, 2018. Geophysical and gas-geological study of the water area in the central and southern parts of the Tatar Strait was continued. On the rookery of Tyuleny Island, in the Sea of Okhotsk, information on sea lions and larghas were recorded, three individuals of northern fur seal were tagged with satellite trackers to study their migration routes. CTD observations of the upper layer (down to 600 m) were made on transects across mesoscale eddies in the northern part of the Sea of Japan. Expeditionary research was supported by the Council of the Earth's Hydorsphere of the Ministry of Science and Higher Education of the Russian Federation.
This is a preview of subscription content, log in to check access.
Access options
Buy single article
Instant access to the full article PDF.
US$ 39.95
Price includes VAT for USA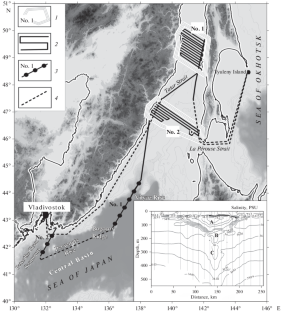 Funding
Expeditionary works were supported by the Ministry of Education and Science of Russia; partially by the state task of POI FEB RAS: topic nos. 0271-2019-0002 (AAAA-A17-117030110032-3), 0271-2019-0003 (AAAA-A17-117030110042-2), 0271-2019-0004 (AAAA-A17-117030110038-5), 0271-2019-0005 (AAAA-A17-117030110033-0), 0271-2019-0006 (AAAA-A17-117030110035-4), 0271-2019-0011 (AAAA-A17-117030110037-8); by the Priority Program of FEB RAS "Far East" (grant no. 18-1-010) and by the grants of the RFBR, nos. 18-05-00153, 20-55-12010, and 20-55-50005.
About this article
Cite this article
Valitov, M.G., Lee, N.S., Sergeev, A.F. et al. Integrated Expeditionary Research in the Sea of Japan and the Sea of Okhotsk on Cruise No. 55 of the R/V Akademik Oparin. Oceanology 60, 145–147 (2020). https://doi.org/10.1134/S0001437020010245
Received:

Revised:

Accepted:

Published:

Issue Date:
Keywords:
Sea of Japan

Tatar Strait

geological and geophysical studies

gas geochemistry

hydrology

Okhotsk Sea