Abstract
Gallium nitride (GaN) seed sub 100 nm layers deposited from triethyl gallium and ammonia on sapphire substrates in different modes during atomic-layer epitaxy (ALE) have been studied via scanning electron microscopy (SEM) and spectral ellipsometry. The seed layers are island films with different degrees of substrate surface coating, which consist of GaN crystallites having different sizes and average thicknesses from 10 to 40 nm. A program for processing SEM images has been developed, which allows us to quantitatively estimate areas of particles, inclusions, and phases present in films and on the substrate surface. The technique of processing the results of spectral ellipsometric measurements of island films composed of GaN crystallites on sapphire substrates using the Maxwell–Garnett model reveals the same tendency in the area of substrates coated with the films as the processing of SEM images. The developed program and technique made it possible to determine the optimal mode (among six implemented) of ALE of GaN seed layers on sapphire substrates for preparation of high-quality HEMT structures. They can also be efficiently used for studying any island films, layers with inclusions of physical and chemical phases, and systems of colloidal particles used for formation of microelectronic structures.
This is a preview of subscription content, log in to check access.
Access options
Buy single article
Instant unlimited access to the full article PDF.
US$ 39.95
Price includes VAT for USA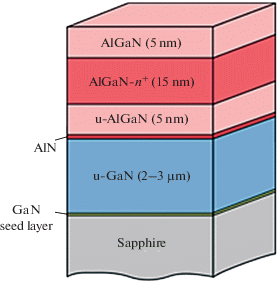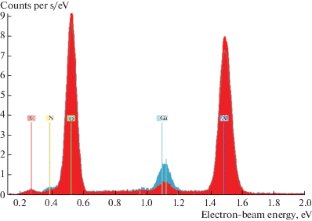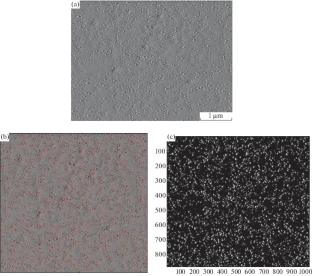 REFERENCES
1

V. Danilin, T. Zhukova, Yu. Kuznetsov, et al., "GaN transistors meanwhile are the most hard nutlet," Elektron.: Nauka, Tekhnol., Biznes, No. 4, 20 (2005).

2

Yu. Fedorov, "Wide-gap heterostructures (Al, Ga, In) N and devices based on them for the millimeter wavelength range," Elektron.: Nauka, Tekhnol., Biznes, No. 2, 93 (2011).

3

R. Quay, Gallium Nitride Electronics, Vol. 96 of Springer Ser. Mater. Sci. (Springer, Berlin, Heidelberg, 2008).

4

A. Turkin, "Gallium nitride as one of the promising materials in modern optoelectronics," Kompon. Tekhnol., No. 5, 6 (2011).

5

Gallium, Indium and Aluminum Nitrides—Structures and Devices, Proceedings of the 3rd All-Russia Conference, June 7–9,2004, Moscow (SPbGPU, St. Petersburg, 2004), p. 181 [in Russian].

6

P. Mal'tsev and I. Shakhnovich, "Microwave technology—the foundation of the electronics of the future: trends and markets," Elektron.: Nauka, Tekhnol., Biznes, No. 8, 72 (2015).

7

Strategic Research Program for the Technological Platform "Microwave Technologies", Moscow, 2017. http://new.isvch.ru/tp/doc_tp/.

8

T. Harafuji and J. Kawamura, "Molecular dynamic simulation for evaluating melting point of wurtzite-type GaN crystal," Appl. Phys. 96, 2501 (2004). https://doi.org/10.1063/1.1772878

9

V. V. Voronenkov, M. V. Virko, V. S. Kogotkov, et al., "On the laser lift-off of lightly doped micrometer-thick n-gaN films from substrates via the absorption of IR radiation in sapphire," Semiconductors 51, 115 (2017). https://doi.org/10.1134/S1063782617010249

10

A. A. Arendarenko, V. A. Oreshkin, Yu. N. Sveshnikov, and I. N. Tsyplenkov, "Trends in the development of the epitaxial nitride compounds technology," Izv. Vyssh. Uchebn. Zaved., Mater. Elektron. Tekh. 18 (1), 10 (2015). https://doi.org/10.17073/1609-3577-2015-1-5-15

11

V. I. Osinskii and N. P. Prishchepa, "Initial stages of sapphire III-nitride epitaxy," Elektron. Svyaz', Thematic Issue Elektron. Nanotekhnol., No. 2, 23 (2009).

12

Handbook of Semiconductor Manufacturing Technology, Ed. by D. R. Nishi (Marcell Dekker, New York, 2008), Chap. 16, p. 41.

13

V. V. Gruzdov, Yu. V. Kolkovskii, and Yu. A. Kontsevoi, Control of New Technologies in Solid-State Microwave Electronics (Tekhnosfera, Moscow, 2016), p. 71 [in Russian].

14

A. L. Aseev, "Nanomaterials and nanotechnologies for modern semiconductor electronics," Ross. Nanotekhnol. 1 (1–2), 97 (2006).

15

M. V. Koval'chuk, "Nanotechnology—the foundation of a new high-tech technology of the 21st century," Ross. Nanotekhnol. 2 (1–2), 6 (2007).

16

S. K. Maksimov and K. S. Maksimov, "Controlling the surface functionality of nanomaterials," Nanotechnol. Russ. 4, 188 (2009).

17

V. A. Burobin, A. V. Zverev, and A. A. Arendarenko, "A method of obtaining an epitaxial layer of a binary semiconductor material on a single crystal substrate by means of organometallic chemical vapor deposition," RF Patent No. 2548578 (2015).

18

A. A. Malygin, "Molecular layering nanotechnology," Ross. Nanotekhnol. 2 (3–4), 87 (2007).

19

Gwyddion User Guide. http://gwyddion.net/download/user-guide/gwyddion-user-guide-ru.pdf.

20

A. A. Dedkova, E. E. Gusev, and N. A. Dyuzhev, "Scanning electron microscopy image processing program for analyzing inhomogeneities and particles in films," State Registration Certificate of Computer Program No. 2018664620 (2018).

21

V. A. Shvets, E. V. Spesivtsev, S. V. Rykhlitskii, and N. N. Mikhailov, "Ellipsometry as a high-precision technique for subnanometer-resolved monitoring of thin-film structures," Nanotechnol. Russ. 4, 201 (2009).

22

Fujiwara Hiroyuki, Spectroscopic Ellipsometry (Wiley, New York, 2003).

23

H. G. Tompkins and E. A. Irene, Handbook of Ellipsometry (Willian Andrew, Springer, 2006).

24

Handbook of Thin Film Technology, Ed. by L. Meissel and R. Glang (McGraw-Hill, New York, 1970), Vol. 2, Chap. 8.
ACKNOWLEDGMENTS
This study was performed using equipment from the Shared Research Center "Microsystem Technology and Electronic Component Base" of the National Research University of Electronic Technology MIET and the Center of the National Technological Initiative "Sensorics" of the National Research University of Electronic Technology MIET.
FUNDING
This study was supported by the Ministry of Science and Higher Education of the Russian Federation within contract no. 16.2475.2017/4.6.
About this article
Cite this article
Dedkova, A.A., Nikiforov, M.O., Mitko, S.V. et al. INVESTIGATION OF GALLIUM NITRIDE ISLAND FILMS ON SAPPHIRE SUBSTRATES VIA SCANNING ELECTRON MICROSCOPY AND SPECTRAL ELLIPSOMETRY. Nanotechnol Russia 14, 176–183 (2019). https://doi.org/10.1134/S1995078019020046
Received:

Revised:

Accepted:

Published:

Issue Date: