Abstract—
The article analyzes and comments on the results of the recent survey of Russian enterprises in the real sector conducted by the Institute of Economic Forecasting of the Russian Academy of Sciences. It reports the quality ratings that the enterprises have assigned to Federal and regional authorities for their economic policies. The survey embraces data on the current investment activity of the enterprises, their short-term investment intentions, and sources of financing; opinions on the quality of Russian-made machinery and equipment; and forecasting horizons for sales of their products. The article reviews activity of the enterprises with respect to certification for conformity with the international quality standards.
This is a preview of subscription content, log in to check access.
Access options
Buy single article
Instant unlimited access to the full article PDF.
US$ 39.95
Price includes VAT for USA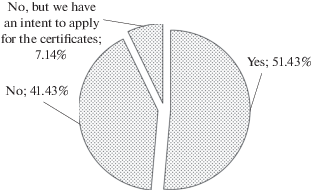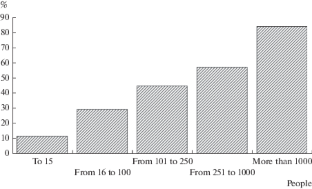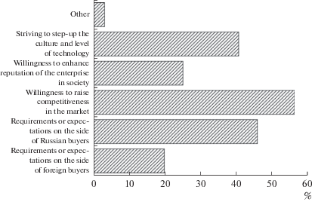 Notes
1.

The survey was conducted in November–December 2019. Total of 149 enterprises participated in research (power engineering; ferrous and non-ferrous metallurgy; chemistry, mechanical engineering; building supply industry, forestry, woodwork and pulp and paper industry; light industry, food, medical, pharmaceutical, and fragrance industries, and printing and publishing; agriculture; construction; transportation; and sanatorium-health-resort sphere) from 59 regions of Russia.
REFERENCES
1

Russian Federal State Statistics Service. Russian Statistical Yearbook (2018). http://www.gks.ru/bgd/ regl/b18_13/Main.htm.

2

Russian Federal State Statistics Service. Russia in Figures2019. http://www.gks.ru/bgd/regl/b19_11/Main.htm.

3

T. Gurova and P. Skorobogatyi, "Stopping in semi-periphery," Ekspert, No. 26 (2019).

4

V. V. Potapenko and A. A. Shirov, Probl. Sots. Polit., No. 9 (2019). https://ecfor.ru/publication/byulleten-problemy-sotsialnoj-politiki-vypusk-9/.

5

V. V. Potapenko, Candidate's Dissertation in Economics (Institute of Economic Forecasting RAS, Moscow, 2018).

6

Report on Human Development in the Russian Federation. Sustainable Development Goals of the UN and Russia, Ed. by S. N. Bobylev and L. M. Grigor'ev (Anal. Tsentr pri Pravit. Ross. Fed., Moscow, 2016) [in Russian].

7

UNIDO, Industrial Development Report 2018. Demand for Manufacturing: Driving Inclusive and Sustainable Industrial Development (Vienna, 2017).

8

PwC, Business Reporting on the SDGs: The Analysis of Goals and Targets (2017). https://www.pwc.com/ gx/en/sustainability/publications/assets/sdgs-business- reporting-analysis.pdf.

9

PwC, GMIS, and UNIDO, Delivering the SDGs: Seizing the Opportunity in Global Manufacturing (2017). https://www.pwc.com/m1/en/publications/documents/ delivering-sustainable-development-goals.pdf.

10

B. N. Porfiryev, "The green factor of economic growth in Russia and the world," Stud. Russ. Econ. Dev. 29 (5), 455–461 (2018).

11

B. N. Porfiryev and A. S. Tulupov, "Environmental hazard assessment and forecast of economic damage from industrial accidents," Stud. Russ. Econ. Dev. 28 (6), 600–607 (2017).

12

N. E. Terent'ev, "Green modernization of the company: Content, components, and priorities," in Scientific Proceedings: Institute of Economic Forecasting, Russian Academy of Sciences (MAKS Press, Moscow, 2015), pp. 418–434 [in Russian].
ACKNOWLEDGMENTS
The article was prepared with the participation of G.P. Belyakova, L.I. Pisareva, R.A. Galetskaya, and O.Yu. Galetskaya.
FUNDING
This work was supported by the Program for Basic Research of the State Academies of Sciences for 2013–2020 (topic 168_3 Development of Scenarios for Structural and Technological Modernization of the Russian Economy; Justification for the Direction, Shift Intensity in the Sectoral and Technological Structure of Production, and Interdependence of Socioeconomic and Technological Factors of Development).
Ethics declarations
The authors declare that they have no conflict of interests.
Additional information
Translated by E. Kuznetsova
About this article
Cite this article
Kuvalin, D.B., Zinchenko, Y.V. Russian Enterprises in Spring 2019: Picking Up From Multiyear Economic Stagnation. Stud. Russ. Econ. Dev. 30, 702–713 (2019). https://doi.org/10.1134/S107570071906008X
Received:

Revised:

Accepted:

Published:

Issue Date: