Abstract
Current–voltage characteristics of composite field-effect transistors with active layers based on inorganic perovskites, nanocrystals of cesium halides CsPbBr3, embedded into the matrix of a semiconductor polymer PFO (PFO:CsPbBr3) have been analyzed. An increase in current gain β in current–voltage characteristics of structures of this kind with increasing negative gate voltage was found and considered. It was shown that, if there is additional injection of minority carriers from electrodes into the transistor channel, composite light-emitting field-effect transistors with improved characteristics can be developed.
This is a preview of subscription content, log in to check access.
Access options
Buy single article
Instant unlimited access to the full article PDF.
US$ 39.95
Price includes VAT for USA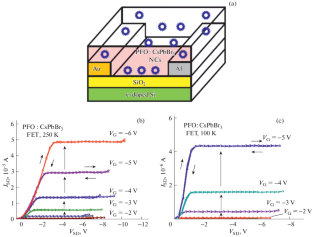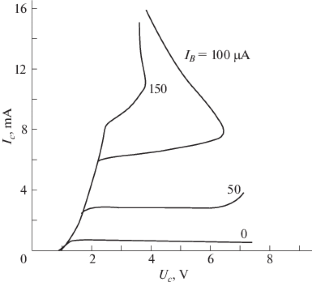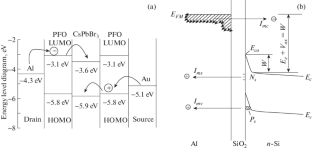 REFERENCES
1

L. K. Ono and Y. Qi, J. Phys. D: Appl. Phys. 51, 093001 (2018).

2

National Renewable Energy Laboratory. Best Research Cell Efficiencies. www.nrel.gov/ncpv/images/efficiency_chart.jpg. Accessed May 2019.

3

A. N. Aleshin, I. P. Shcherbakov, E. V. Gushchina, L. B. Matyushkin, and V. A. Moshnikov, Org. Electron. 50, 213 (2017).

4

A. N. Aleshin, I. P. Shcherbakov, D. A. Kirilenko, L. B. Matyushkin, and V. A. Moshnikov, Phys. Solid State 61, 256 (2019).

5

S. M. Sze, Physics of Semiconductor Devices (Wiley, New York, 1981), Vol. 2.

6

E. V. Ostroumova and A. A. Rogachev, Semiconductors 28, 793 (1994).
Ethics declarations
The authors state that they have no conflict of interest.
Additional information
Translated by M. Tagirdzhanov
About this article
Cite this article
Ostroumova, E.V., Aleshin, A.N. Specific Features of Current–Voltage Characteristics of Field-Effect Transistors with Active Layers Based on Composite Films of Semiconductor Polymers with Nanoparticles of Inorganic Perovskites. Tech. Phys. Lett. 45, 1212–1215 (2019) doi:10.1134/S1063785019120101
Received:

Revised:

Accepted:

Published:

Issue Date:
Keywords:
conducting polymers

nanocrystals of perovskites

field-effect transistors.